U.S. Women's Open
Is Rose Zhang too far back and four other final-round storylines to follow at Pebble Beach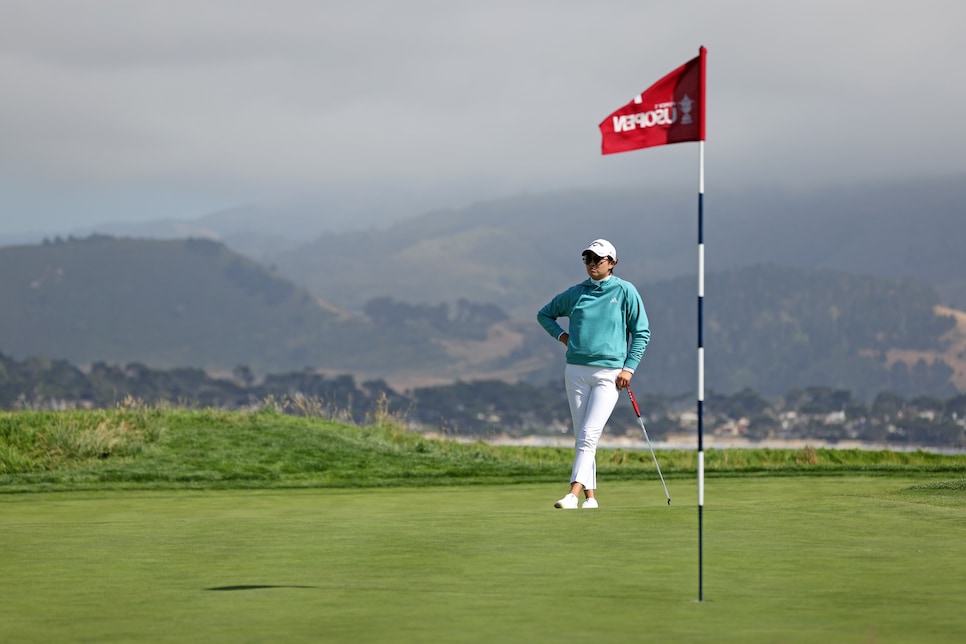 PEBBLE BEACH — A glance to the right of the 18th fairway at Pebble Beach Saturday provided a view of the field's ultimate dream, the Harton S. Semple trophy. Fans lined up for an opportunity to take a photo with it all day during the third round of the 78th U.S. Women's Open.
Now, we're 18 holes away from a player having their photoshoot with the trophy and emerging as champion. Nasa Hataoka has the inside track to win the major, holding a one-stroke lead at seven under par over Allisen Corpuz. Here are five storylines to follow during Sunday at Pebble Beach.
Is Rose Zhang too far back to win?
After an even-par 72 Saturday, Zhang sits eight shots back of Nasa Hataoka's lead. The women's competitive course-record holder knows to maintain a tempered approach Sunday to overcome the deficit.
"Over the weekend I wanted to be somewhat aggressive, but the definition of aggressive here at Pebble is completely different from other golf courses," Zhang said.
It'll take another record performance for Zhang to win. The largest final-round comeback in U.S. Women's Open history is five, done an impressive eight times (1962, 1969, 1986, 1990, 1993, 1995, 2020, 2021). However, one thing points to Zhang's potential in U.S. Women's Open history.
An eight-shot deficit was made up to force a playoff in the 1956 U.S. Women's Open by Barbara McIntire. However, McIntire lost by seven strokes in the 18-hole playoff to the 54-hole leader Kathy Cornelius at Northland Country Club in Duluth, Minn. To force a playoff, Zhang must accomplish what's yet to be done in nearly 67 years. That's five years shy of the mark she broke when Zhang became the first player in 72 years to win her professional debut on the LPGA at the Mizuho Americas Open in June.
Can a former World No. 1 in the Rolex Women's World Rankings win her first LPGA Tour event in a decade?
Jiyai Shin, former World No. 1, posted a two-under 70 to sit five off the lead. That's a typical sentence to write throughout her 11-time LPGA-winning career, except for one minor detail. The South Korean last won on the LPGA in 2013, leaving the tour to move closer to her family.
Shin started competing on the nearby JLPGA and remains dominant on the circuit. She's won 25 times on the JLPGA since leaving the tour, including most recently just two weeks ago at the Earth Mondahmin Cup. Following her latest victory, she dreamed of her recently departed grandmother, Kirim Kim. They shared a meal, with Kim wishing Shin to remain energetic and healthy.
The nicknamed "Queen of the Final Round" continues her success in her first start in the United States since the 2019 U.S. Women's Open. Shin eyed what it will take Sunday to catch up to Hataoka.
"If I play bogey-free round, I have a little bit of chance," Shin said.
How many players will end up under par?
At the end of Thursday, 20 players were under par. Following the second round, six were under par. Saturday, that number remains at six. Pebble's test continues to get more challenging. Leona Maguire, who shot a three-over 75 to sit at two over for the championship, explained she felt the afternoon waves were playing four to five strokes harder than the morning.
"I don't think there was anything easy about today," Maguire said. "I think you just had to get very creative with some of the shots. It was incredibly difficult."
Only 11 players posted an under-par round Saturday. Finding a way into red figures for the championship, on top of the lucrative paycheck, will likely result in a top-10 finish. That guarantees their spot in the 2024 U.S. Women's Open at Lancaster Country Club.
The amateurs got beat up Saturday. Can they recover?
Thirty-six-hole low amateur Aine Donegan made a move early Saturday, with a three-under start through seven, then she approached the challenging eighth, the hardest hole of the third round.
The LSU sophomore put two balls into the native area short of the green, settling for a 9 and cratering from two under to three over in one hole. Her coach and caddie, Gary Madden, gave her the perspective to help steady herself and finish with a three-over-par third round.
"Forget about the fact that it's a 9," Donegan explained of Madden's advice. "At the end of the day, you've had the exact same number of shots as seven pars and two bogeys."
Donegan leads the amateurs at four over par, sitting at T-19. All four amateurs struggled Saturday. Vendetta Moresco and Monet Chun shot four-over 76s to end up at T-45 and seven over par for the championship. Amari Avery, a rising junior and four-time winner at USC, fared the worst, with a seven-over back nine culminating in a six-over 78. Avery is at T-57 and nine over par.
Will a rookie win a major, again?
Zhang (T-9), Hae Ran Ryu (T-5), and 36-hole leader Bailey Tardy (T-3) are all vying to become the sixth rookie in the last eight LPGA seasons to win a major. In Gee Chun broke through at the 2016 Evian Championship, Sung Hyun Park won the 2017 U.S. Women's Open, Georgia Hall the 2018 AIG Women's Open, Jeongeun Lee6 the 2019 U.S. Women's Open, and Patty Tavatanakit won the 2021 Chevron Championship.
Ryu sits five shots back, with Zhang trailing by eight. Tardy leads the potential rookies at four under par following a 75 Saturday, three off the lead.
"I'm still in contention and I didn't play my best today," Tardy said. "Just focus on hitting more fairways tomorrow, and I think the rest will come easy."