U.S. Women's Open
Michelle Wie West ends her career with a magical final putt at Pebble Beach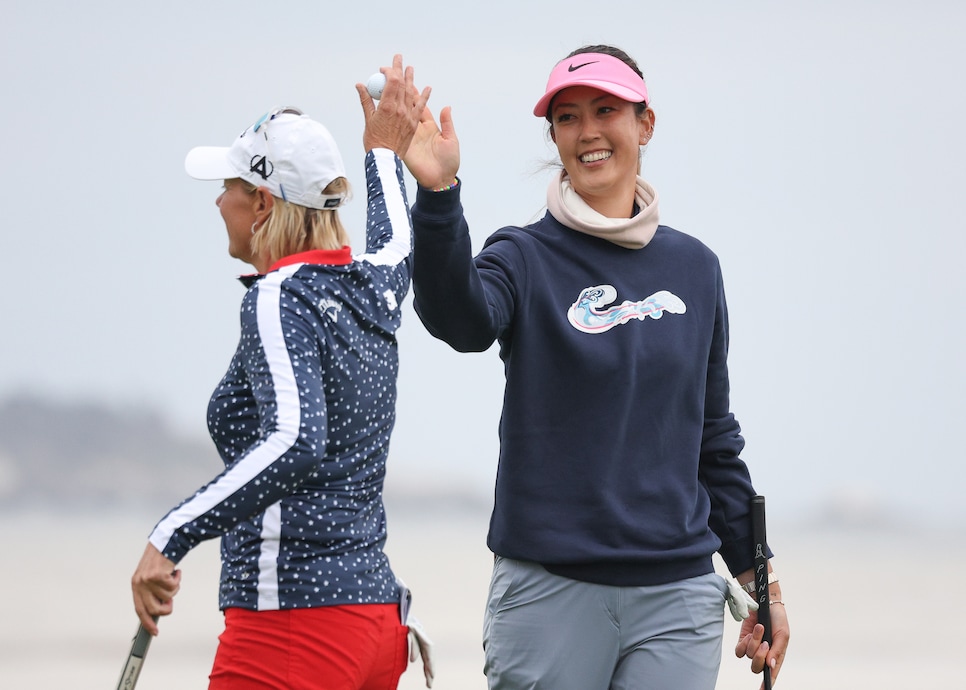 Michelle Wie West reacts to her birdie putt on the 18th hole by high-fiving Annike Sorenstam in the second round of the U.S. Women's Open.
Harry How
PEBBLE BEACH — Michelle Wie West and her caddie and husband Jonnie West approached the bunker fronting the 18th green at Pebble Beach Golf Links on Friday evening and found her ball in a wet and nearly plugged lie. It wasn't the way they had envisioned the one-time star and face of women's golf finishing up her final round of professional competition.
But golf, as Wie West would note a few minutes later, is funny that way. It can beat you down as easily as it lifts you up. Just wait for that next swing for the fortunes to change. She has always known that. And so Wie West lined up her 30-foot par putt, swallowed her emotions and watched her ball use its last ounce of steam to fall into the cup.
A smallish crowd, thinned by the wind and cold, cheered happily as Wie West laughed and traded high fives with her Hall-of-Fame playing partner, Annika Sorenstam, and walked over to wrap her arm around her husband.
Later, holding her 3-year-old daughter Makenna in her arms while she spoke to the media, Wie West said, "Well, the putts didn't drop all week, and the game is a funny game. And making that long putt on 18 definitely was a sweeter sendoff. It was just such an emotional day starting from 1 tee."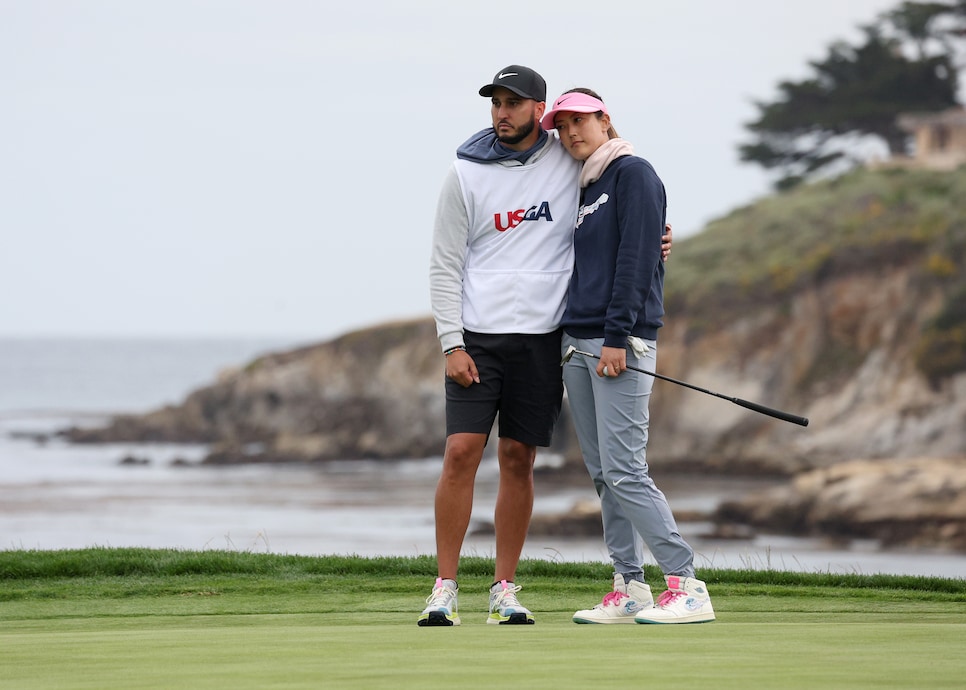 Michelle Wie West and Jonnie West stand together after she putted out on the 18th green.
Harry How
Nine years removed from winning her only major, the 2014 U.S. Women's Open at Pinehurst, Wie West, 33, decided last year that this U.S. Open would be her last tournament of competitive golf, 18 years after she announced she would turn pro just before her 16th birthday. That last call had much to do with the fact that the Open was being held at Pebble Beach, though Wie West hadn't played a full round on the seaside links until this week.
For the most part, Wie West already had put competitive golf and her five-win LPGA career in her rearview mirror, not playing fulltime on tour since 2018. She chose instead to extend her influence in the game through hosting the new LPGA tournament in New Jersey, doing a podcast and keeping in touch regularly with LPGA commissioner Mollie Marcoux Samaan. She's spent more time tending the garden at her Los Angeles home than hitting balls.
In an interview recently, Wie West was asked if she would be playing golf at all if she wasn't preparing for Pebble Beach. "No," she answered quickly, looking a bit embarrassed by how easy the response was.
Give Wie West credit. She had to know that Pebble Beach would be an enormous challenge, and it certainly proved to be, with only 10 players shooting under par for the first two rounds. Wie West shot 79 in both rounds, while the 52-year-old Sorenstam, who also said this would be her last U.S. Women's Open, scored 80-79.
Wie West said she fought back her emotions the entire round.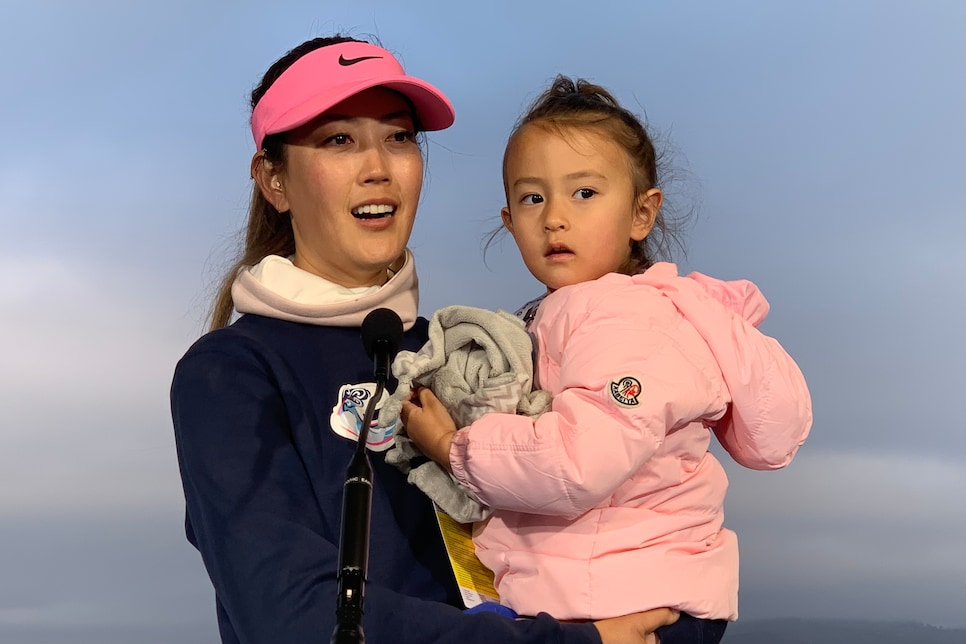 Michelle Wie West holds her daughter Makenna while answering questions in her Friday evening press conference at Pebble Beach.
"Even on first tee, it was such a weird feeling where I was nervous, but it wasn't because of me nervous of how I was playing. It was me just trying to hold back tears all day. It was a great experience out there. Honestly, I would have loved to have played better, but this whole experience was truly remarkable."
Standing in the scoring area afterward crowded with family, fellow players and friends, Jonnie West, the director of pro personnel for the Golden State Warriors, said he was taken off guard by the reality of the moment.
"It was strange," he said. "I felt maybe the same things as her. This is a relief, but also, wow, this is the last time that she's going to be doing it at this type of setting. … You get lost in a lot of what this is because of where you're walking, but yeah, I didn't think I was going to feel like a ton. Definitely walking up 18, that's when it starts to hit you, realizing that this is it."
Wie West said she will miss the adrenaline of playing competitive golf. "There's nothing that can replicate that," she said.
However, she didn't leave much of a crack in the door for a comeback.
"You never say never," Wie West said, "but a very slim chance probably."