For five years, the USGA's Shannon Rouillard has set up golf courses for all its women's championships. As a senior director, she has a team to offer input, but it's ultimately her call on how long to grow the rough, how narrow to pinch the fairways and how slick to make the greens. Her predecessors and counterparts for the men's events would likely all agree that it's an incredibly rewarding task—and also about as thankless as there is in the game. Getting 156 players to concur on what is "fair" and "playable" is like getting a gaggle of 5-year-olds to agree on their favorite vegetable. Good luck with that.
Even so, it is not a job that seems to daunt Rouillard in the least. "There's a method to her madness," says former LPGA player and current NBC/Golf Channel on-course reporter Kay Cockerill.
At this week's 76th U.S. Women's Open, Rouillard will arguably toe the thinnest tightrope of her career, and she will do so on one of her favorite golf courses on Earth. San Francisco's Olympic Club and its Lake Course are more than just another venue to her.
With her parents living in the Bay Area when she was a college golfer at the University of Oregon in the early 1990s, Rouillard showed some guts. She boldly asked and received playing privileges at Olympic Club in trade for working in the pro shop. And it was there she met her future husband, Tim, an assistant pro at the time. In the last few years, as she returned to Olympic for various duties, it has truly felt like coming home.
"Oh my gosh, this is really special for me," Rouillard said during a video call. "When the Olympic Club became a U.S. Women's Open venue, I started really looking forward to this one. I've played the Lake Course many, many times. It always kicked my butt. It's definitely one of the hardest courses I've ever played."
Take note of that last statement. USGA championships have been played on many of the greatest and most challenging courses in America. Most would agree that Olympic's Lake Course ranks high in difficulty because of its numerous doglegs, reverse-tilted fairways and claustrophobic greens. "The most difficult Open course I've ever played," says Brandel Chamblee, the Golf Channel analyst who competed in the 1987 and 1998 U.S. Opens played at Olympic.
The women are competing on the historic layout for the first time after it has hosted five U.S. Opens. The best winning score? Scott Simpson's three under in 1987. More recently, Lee Janzen won at even par in 1998 and Webb Simpson prevailed at one over in 2012.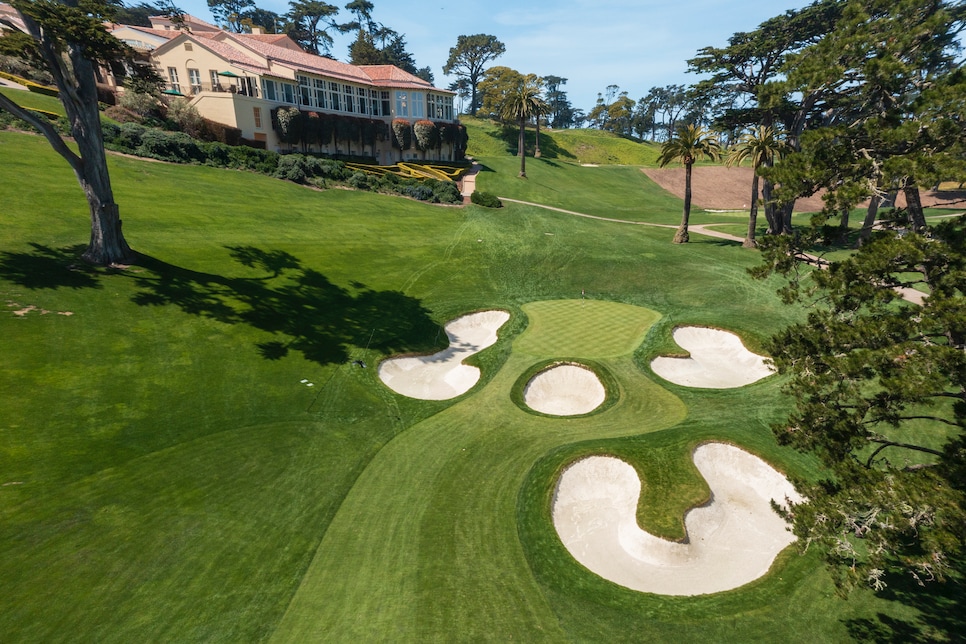 The 18th green at the Olympic Club in is one of the smallest in major championship golf.
Jeff Marsh
At the urging of players, the USGA is making an effort to take the Women's Open to more of America's storied venues, and to that end, after Olympic, Pebble Beach joins the list in 2023. In 2010 with the Women's Open at Oakmont and 2014 at Pinehurst No. 2, the choices seemed hugely successful, with the women posting comparable scores to when the men played those venues. Paula Creamer won at Oakmont with a three-under total six years before Dustin Johnson captured his first major there at four under. In '14, when the men and women played at Pinehurst in back-to- back weeks, Michelle Wie claimed her first major triumph at two under. Martin Kaymer made the men's Open a yawner with a jaw-dropping nine-under total, but runners-up Rickie Fowler and Erik Compton finished at one under.
At Olympic, however, this could be a case of "Be careful what you wish for," and more than ever it falls to Rouillard to find the balance between a good test or an examination that potentially embarrasses the best in the world.
"I think this is absolutely fantastic," Rouillard said of playing at Olympic. "The women want to test their games on the courses we take the U.S. Open. We are looking to deliver on that."
The challenge for anyone playing the Lake, which tips out at 6,457 yards at sea level for the Women's Open, are numerous. For one, the ball flies shorter because the coastal air is often damp. Then there are the numerous fairways that tilt away from the elbow of the doglegs. The fairway slopes also make sidehill lies common. Oh, and the greens are the size of "postage stamps," Rouillard judged. And there is this: Cockerill, who is a member at Olympic, says she heard that there will be no intermediate cut for the rough, so balls could move from fast-running fairways to several inches of thick, potentially damp rye grass.
"I thought that was pretty severe," Cockerill says. "And who knows, maybe [Rouillard] will change that."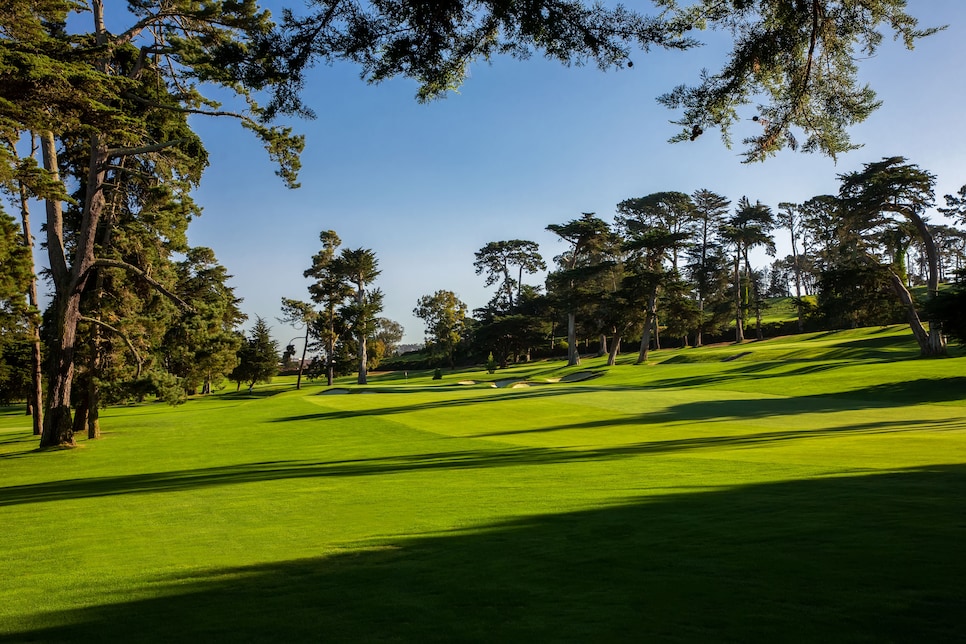 Sloping fairways like the one of the ninth hole at Olympic Club will make it tricky for players to find the short grass or avoid sidehill lies.
Kirk H. Owens
LPGA players are renowned for their accuracy off the tee, but at Olympic, that comfort will be heavily challenged. Says Chamblee, "If the fairways are firm and fast as they were in 1987 … it was almost impossible to find the fairways. Didn't matter how straight you were, you still were going to end up in the first cut of rough, as they sort of slid down these canted fairways."
Rouillard, who coached the Oregon women's golf team for 8½ years before starting with the USGA as a rules associate in 2010, has diligently done her homework. She's followed the pros as they played rounds on visits to Olympic, quizzed them on their club choices for shots, and even enlisted USGA Player Relations Director Jason Gore to go over every shot with Webb Simpson and his caddie from their triumphant final round in '12. The goal, Rouillard says, is to try to match the test to the players' abilities.
"It's important that we have the right clubs in their hands going into these greens," she says.
Ultimately, Rouillard's grade for the setup will be calculated and written into history on Sunday night, but her affinity for the Olympic Club will never waver.