U.S. Women's Open 2021
New Jersey high-schooler chases history, shares lead in the U.S. Women's Open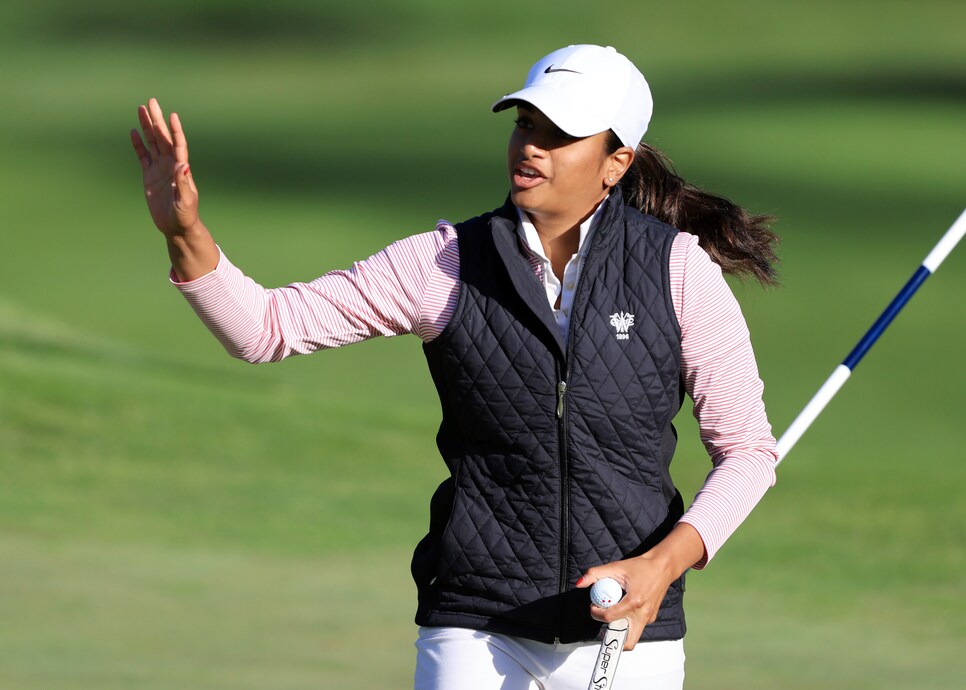 Megha Ganne reacts after finishing on the 18th hole during the first round of the 76th U.S. Women's Open.
Sean M. Haffey
SAN FRANCISCO — New Jersey high-schooler Megha Ganne is committed to Stanford for her golf and education, so she already has that going for her. She must have a good mind for figures, too.
In her U.S. Women's Open sectional qualifier, Ganne, 17 and heading into her senior year of high school, was playing the 18th hole and had a very good idea of where she stood in the field. If she parred, she'd probably be in a playoff for the berth in the championship at Olympic Club. She had a downhill putt, and though she really would have liked to gun for a birdie, she admits that she intentionally coaxed her ball to tap-in par range. She would be one of three players going for one spot in extra holes. She liked those odds.
"I was calculating the chances of me missing this versus the chances of me winning this playoff," Ganne recalled on Thursday. "And I was like, 'OK, let's just baby it down here and see what happens in the playoff.'
"I wasn't worried when I was in a playoff," she said, "because usually sudden-death situations like that usually work out for me."
Sure enough, Ganne prevailed. It's one of the most compelling aspects of the USGA's championships: the player who barely gets through the qualifier, only to make a splash on the big stage. Ganne joined that admirable group on Thursday when she made five birdies and opened with a four-under 67 that put her into a tie for first with English veteran Mel Reid.
It was an extraordinary effort that nearly put Ganne in the USGA record books. According to @JustinRayGolf, only three amateurs have scored 66 in the U.S. Women's Open. Ganne would have done that, but she suffered a bogey on the 18th hole when she drove into the rough, found the bunker with her second shot and fluffed her third swing into heavy rough. She followed with a deft chip to manage a 5. She became the sixth amateur in Women's Open history to shoot 67 or better.
"I didn't know," Ganne said about having a chance at tying the mark. "That's motivation for the next round."
Ganne is an avid scoreboard watcher. "I don't know how people don't watch scoreboards," she said. "If they say that, I think they're lying." She knew all the way that the impressive 32 she shot on the front side—Olympic's more challenging nine—put her among the leaders. That made it even more impressive that she managed three birdies, with just the one bogey, on the back.
Two years ago, when she played in her first U.S. Women's Open at 15, she admits she had no chance of producing such precise and confident round.
"I think the first time is nerve-racking for anybody and meeting your idols and being on the stage for the first time," she said. "But the second time around, even the practice rounds, I wasn't as nervous. I felt like I could come here and just play my game instead of soaking that all in."
Ganne is not new to the spotlight. She competed four times in the Drive, Chip & Putt national finals at Augusta National, reached the semifinals of the 2019 U.S. Women's Amateur and in April played in her first Augusta National Women's Amateur.
"It's really similar, really prestigious and a lot of cameras and a lot of attention on you," Ganne said. "So it was really good preparation. And I think I might have been more nervous to play the ANWA at Augusta than I was to play here. So I thought it was great preparation for the pressure."
That might change on Friday, teeing off as the co-leader of the U.S. Women's Open.