U.S. Women's Open 2021
At '98 U.S. Open, Paula Creamer could have had any souvenir she wanted. You'll be shocked at what she chose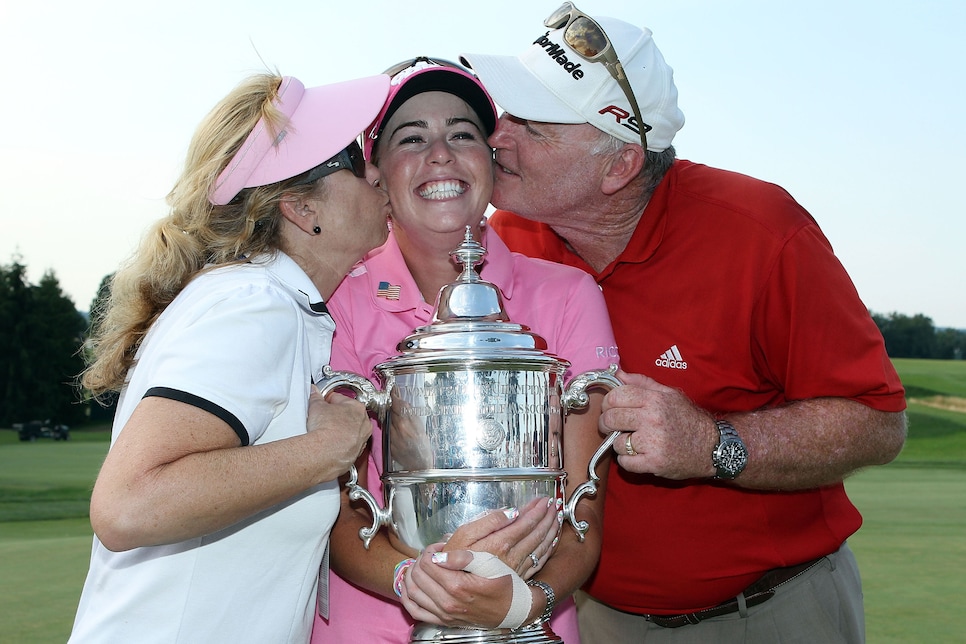 Paula Creamer celebrates her 2010 U.S. Women's Open win with her parents, Karen and Paul.
Scott Halleran
SAN FRANCISCO — Paula Creamer was just a 12-year-old golfer, using her pushcart on weekends in Bay Area junior tournaments, when the U.S. Open at The Olympic Club rolled around in 1998. The Creamers lived 50 miles to the east in Pleasanton, and her parents figured it'd be a good opportunity for their precocious only child to get a taste of a major championship.
Paula was enthralled by it all, and even happier when they visited the pro shop and her dad, Paul, said she could pick out anything she wanted. Anything. She could have chosen a shirt or hat or headcover or sparkly ball marker.
"I got an umbrella," she recalled on Wednesday with a laugh. "That's your typical NorCal girl right there, knowing she's going to need an umbrella to go play golf. We still have the umbrella. It's crazy. Stars and stripes, red, white and blue, The Olympic Club on it. It was bigger than me."
Twenty-three years later, the NorCal girl is back at Olympic Club for the 76th U.S. Women's Open that begins on Thursday. Life is immeasurably different. She moved to Florida as a junior golfer to attend the Leadbetter Academy and still makes it her home. She has been married and divorced. And at 34, she is just beginning what she hopes is a competitive comeback after years of struggling with injuries.
The champion of the 2010 U.S. Women's Open at Oakmont, Creamer is playing on a special exemption offered by the USGA. It's only her second competitive start since playing a full schedule in 2019 and taking all of '20 off.
"My second tournament back after a long break, and my expectations are very similar to at Oakmont," Creamer said. "I don't really have any right now, and I just want to get out there and play with no pain."
Just as with her playing partners for the first two days, Cristie Kerr and Michelle Wie West, that will be tricky. The rough likely is thicker than any they've faced in their careers, and like Creamer, Wie West has suffered myriad wrist injuries.
"I'm not going to lie; I didn't sit there and hit 100 balls out of the rough to see what I could do," Creamer said of her practice rounds. "I probably hit about 10, 15 shots over the last several days. If it gets in there, I'm not going to try to be a hero; take what it gives me."
Creamer contends that she's healthier than she's been in years. She's spent hours a day practicing at home, and though she says her game is "rusty," her biggest concern is getting into a competitive mindset after so much time off. Hitting shot at the same, familiar golf course at home is far different than trying to tackle the precision that the Lake Course will require.
"It's more of just the process of going about picking shots and executing them," Creamer said. "And when you're seeing different angles around greens and things that you're so used to week in and week out, I really haven't had that for quite a while.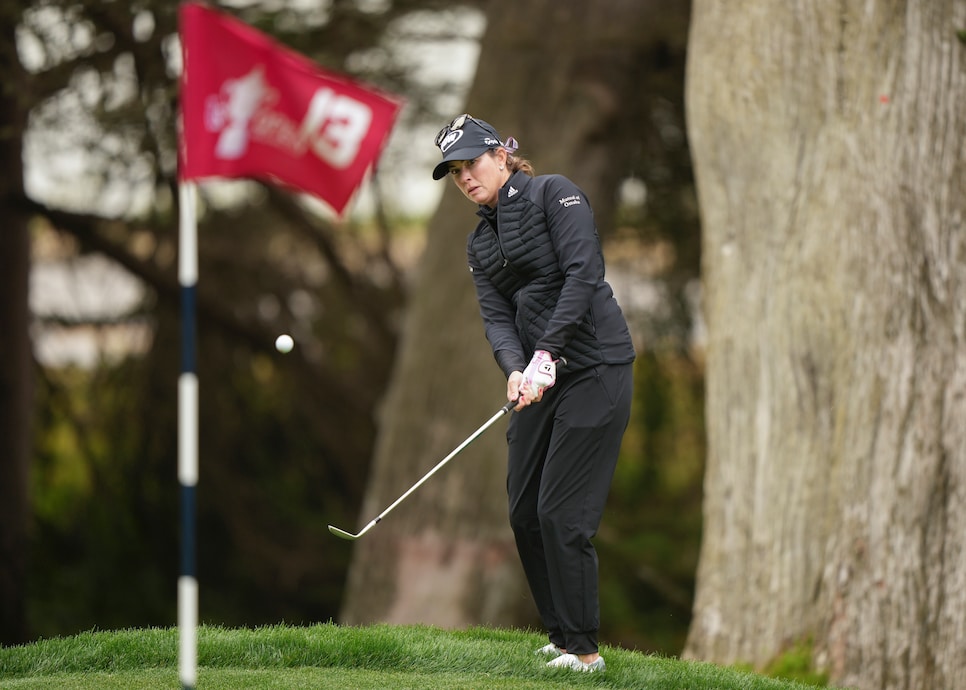 Paula Creamer hits a pitch shot on the 13th hole during a practice round at the 2021 U.S. Women's Open.
Darren Carroll
"That's where I think that the more tournaments I play, the better I'll get."
Her fans will be heartened to know that she expects to play a "full schedule" in the coming months, including next week's LPGA event just down the street from Olympic, at Lake Merced.
Returning to Olympic Club, so many years after that childhood experience, and doing so as a U.S. Women's Open champion, gave Creamer goosebumps when she arrived. But the experience also produces a bit of melancholy, looking back at the girl who had no idea of the triumphs and trials ahead.
"I worked really hard as a kid and I worked really hard as an amateur," Creamer said. "Coming out on tour, my mindset was only to win golf tournaments.
"As I get older, things obviously change, and injuries do play a part of that. … I wish when I was a little younger I would have said, 'Hey, way to go, good job,' instead of saying, Why couldn't I win by five [strokes] or something like that?' Instead of being so hard on yourself."
Good thing she's young and now healthy enough for second chances.