Majors
USGA CEO: Parking and shuttle issues will keep U.S. Open at Torrey Pines to no more than 10,000 on-site daily
This summer's U.S. Open at Torrey Pines will have a far different look than when the course last held the major in 2008.
Donald Miralle
SAN DIEGO — Through all of the logistical challenges that COVID-19 has created for professional golf tournaments, from safety protocols to testing to managing fans on-site, it appears that the two biggest events on the USGA's calendar this year—both scheduled for California in June—are going to come down to a problem that few saw coming: shuttles and parking.
Fresh off a video meeting with his executive staff on Monday morning, USGA CEO Mike Davis said that the amount of people who will be allowed on the grounds of the U.S. Women's Open at San Francisco's Olympic Club and the U.S. Open at Torrey Pines is being dictated by how much on-site parking is available. This is because the state of California has made it clear that it will not allow the USGA to use large buses or shuttles to transport people in from satellite parking sites.
"What we do know, and I think this is pretty much final, is that both in San Francisco and San Diego, we're just not going to be able to shuttle people from distances," Davis told Golf Digest. "It's hard for us, because how do we even plan?"
The trickle-down is this: For the U.S. Open, if the USGA can only park sizable volumes of cars on the Torrey Pines North Course, at nearby UC San Diego and on the gliderport that borders the South Course, that means a vastly reduced number of fans compared to when the U.S. Open was played at Torrey Pines in 2008. That year, nearly everyone who attended parked at Qualcomm Stadium—17 miles to the southeast—and rode some 200 shuttle buses per day to the tournament. Ultimately, there were a USGA-record 295,000 people on-site for the entire week of '08, including the Monday playoff won by Tiger Woods over Rocco Mediate.
This year at Torrey, Davis said that optimistically the number for the total people on the grounds, including players, USGA officials and guests, media, corporate sponsors and a small handful of general admission fans would be no more than 10,000. He mentioned possible figures of 4,000 and 8,000, too. With those numbers in mind, the USGA has sent letters to various volunteer groups, such as hole marshals, that their services will not be needed. The idea is to reduce the number to the fewest possible critical jobs.
"The answer right now is that we don't actually know [about attendance]," Davis said. "The city officials have been very cooperative. But some of the good news that has come out of California—what that hasn't translated into is that we don't have a definitive number on what we're going to have.
"There won't be grandstands," Davis said. "We're not doing a bunch of tents and stuff. It's going to be more than we saw at Winged Foot [for the 2020 U.S. Open played in September], which almost had the feel of a member-guest. But I'm fairly certain that it won't be as many as they had at the Players Championship and won't be as many as they had at Augusta [for the Masters]. We're just dealing with a different state and its different protocols."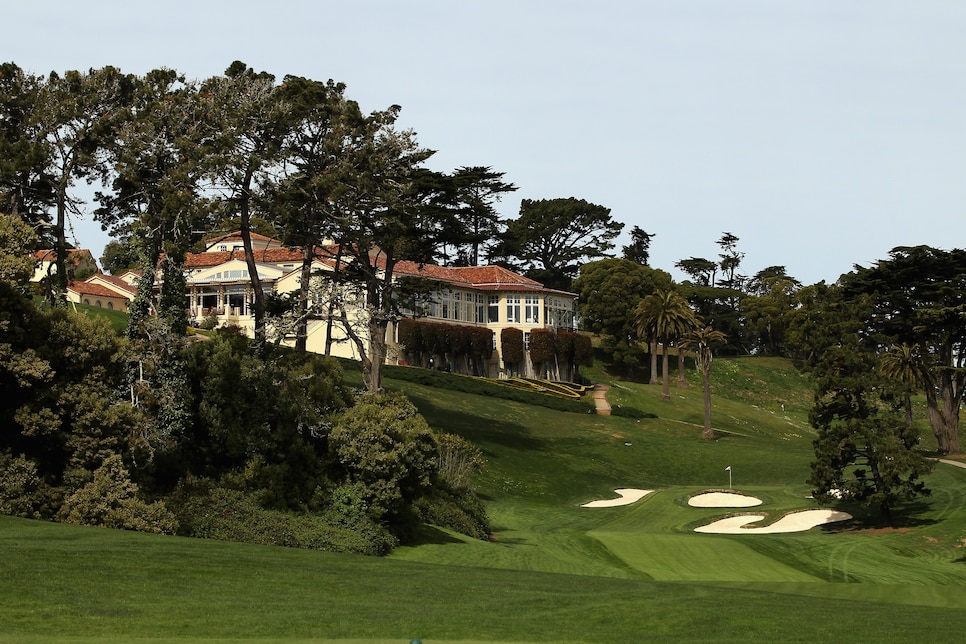 Spectators will also be limited at The Olympic Club when it hosts the U.S. Women's Open in early June.
Getty Images
Crowds at the Players Championship in March at Ponte Vedra Beach, Fla., were at 20 percent capacity, or an estimated 10,000. Augusta National doesn't release attendance figures, but the total daily attendance for last week's Masters was also estimated in the 10,000 range.
Among fans and outside observers, there seemed to be encouraging news out of California on April 6 when Gov. Gavin Newsom announced that the state would fully open up on June 15—two days before the first round of the U.S. Open at Torrey Pines. The plan is contingent on the COVID-19 vaccine supply being available for all adults and that hospitalization rates remain stable and low.
Since the start of the season, the Major League Baseball teams in California have been allowed to have fans at various attendance levels, depending on where a certain county is among the restrictive tiers. Spectators are being seated with social distancing in mind, and there are protocols at stadiums such as fans having to order food from their seats and not go to concession stands.
But golf is a different challenge, with spectators able to walk around freely while not necessarily observing face covering protocols. And, of course, putting dozens of people on buses is a problem that other sports don't face.
As the timing so happened for major championships that scheduled years out, the USGA has simply faced obstacles it wouldn't have at other venues in other states. The clock is ticking, of course. The U.S. Women's Open is only seven weeks away, followed two weeks later by the U.S. Open.
The USGA is saying that for the men's championship it will have definitive plans to announce no later than the end of this month.
"The state and the city have been very nice to work with," Davis said. "I just think they're being conservative. Nobody on our end is bitter. But it's more, 'tell us what we can do and we can plan accordingly.' We still don't know as of today."