Tiger Watch
U.S. Open 2021: Tiger Woods turned down NBC's invite to be part of broadcast from Torrey Pines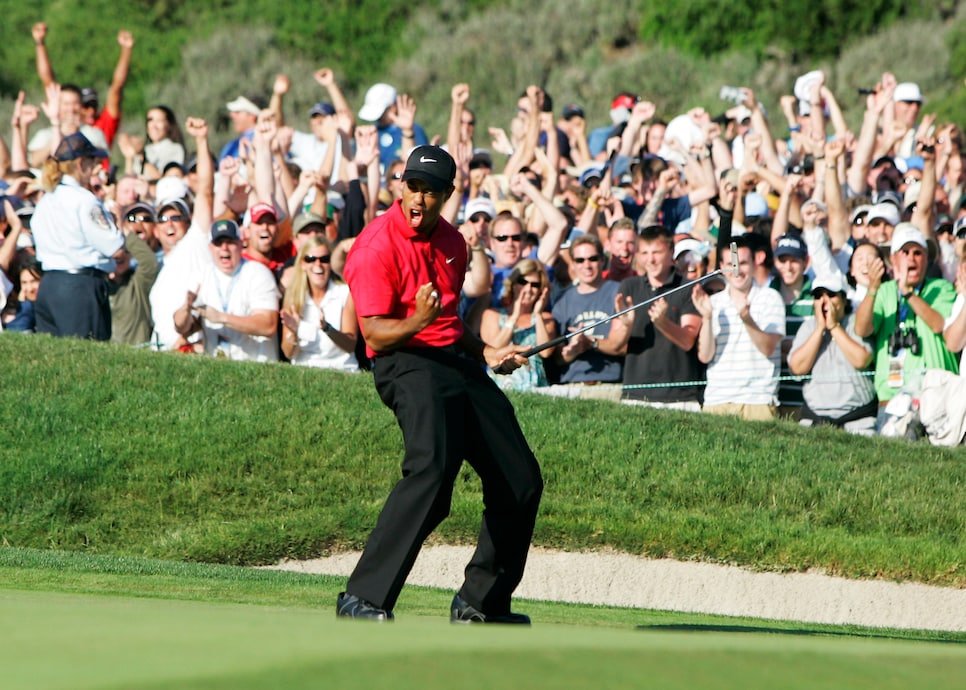 Tiger Woods celebrates his birdie the 18th hole on Sunday at the 2008 U.S. Open to get into a playoff against Rocco Mediate.
Icon Sportswire
It was a valid request for NBC. Really, for all golf fans. The U.S. Open returns to Torrey Pines next week, and inescapably there will be the chatter about the 2008 championship there and Tiger Woods' incredible performance in beating Rocco Mediate in a Monday playoff. What's the over-under on how many times we see the Sunday putt on 18 and the celebration?
The network wanted Woods to be a part of that reminiscing, but it sounds like that's not going to happen. On a conference call with reporters on Wednesday, NBC golf anchor Dan Hicks said that while the network invited Woods to contribute to the broadcast, he declined. Woods is missing the U.S. Open while recovering from the leg injuries he suffered in a car accident in February.
"We were thinking how good that would be," Hicks said. "Who better, if he couldn't be there, to voice it and have him be a part of the show? But we were rebuffed. He didn't want to do it.
"I understand his situation," Hicks continued. "There is a lot going on in his world right now. There's always a part of Tiger that he doesn't want to become a sideshow, an event, that we should be concentrating on what's happening. I believe that if he said 'yes' to something, it would be a nonstop parade of asks, and you'd have to start telling everybody 'no.'
"Hopefully, he'll be at home watching on TV, and he'll be inspired by us talking about what he did."
The images and words about Woods' victory—his last in a major until his 2019 triumph in the Masters—will no doubt resonate throughout the week at Torrey Pines. NBC golf producer Tommy Roy said on the call that 2008 is the highlight of a career in which he's seen a lot of drama.
"Definitely No. 1 on my hit parade," Roy said. "Growing up, Jack winning the '86 Masters was always the most exciting event I'd seen. But that was only on the back nine, and it was about an hour and 45 minutes. The thing that happened at the U.S. Open, we had unbelievable golf. It started at 13 on Saturday [with Woods' eagle], and then the chip-in at 17. We got off the air and I said, 'Can you imagine if this was Sunday?' Then it happened—him making the putt to force the playoff, then you get to the playoff, and then it goes extra holes. It just kept getting better and better. I have unbelievable memories of that whole week."