News & Tours
USGA picks Mike Whan as its new CEO
In naming the outgoing LPGA Commissioner, the governing body stays within the golf industry and finds a proven leader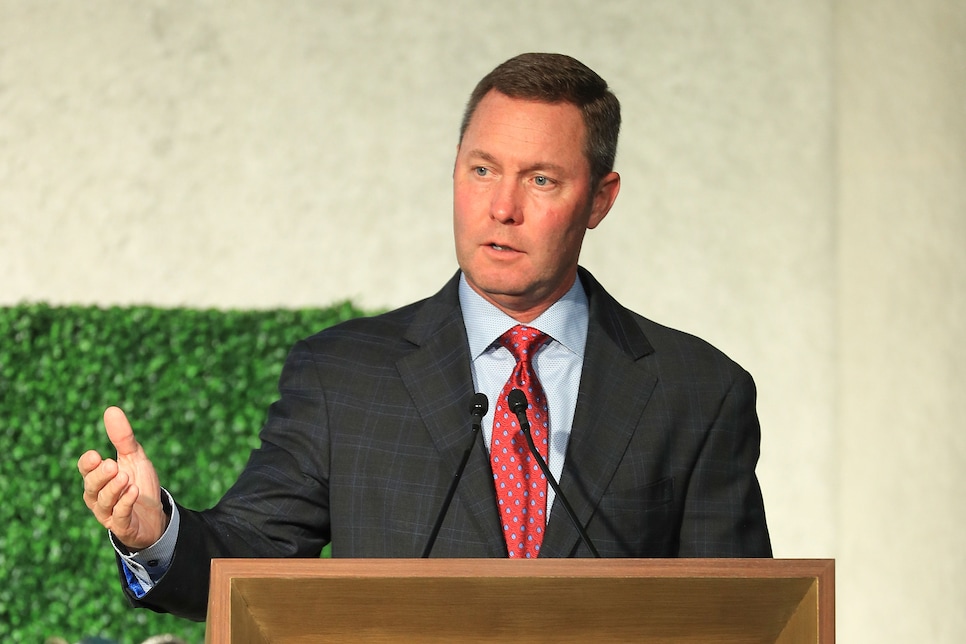 Mike Whan didn't waste much time moving into a new slot in the golf leadership hierarchy.
The man who orchestrated a record turnaround in the fortunes of the LPGA while serving as the longest-tenured commissioner in the organization's history, was named CEO of the USGA on Wednesday, set to succeed Mike Davis in the post.
"This one's pretty simple for me. I love this game. I love this sport. I love this country, and I really love the process of getting better and learning and building strategic alliances. And I get all of that in the USGA," Whan told Golf Digest after agreeing to become the eighth top executive in USGA history. "When I announced my departure from the LPGA, I said that I'm at the age where I sort of have one more big thing to do. I need to get some first-tee jitters again. I need to get nervous, and suffice it to say, I'm nervous. But I revel in that."
Whan, 56, is expected officially to take over at Golf House sometime this summer, giving him a period of time to work with Davis in a transition while enabling the LPGA to find his successor.
"I've had the pleasure of working with Mike Whan for many years, and I view him as a trusted, strategic leader who has a proven track record of building collaborative partnerships," Davis said in a statement. "I know the USGA will be in great hands, and I look forward to partnering with Mike to ensure a smooth and successful transition for the USGA."
"We had a ton of inbound interest, and we went through a pretty good process, but the shining light in all of that was Mike Whan," USGA president Stu Francis said. "Mike was head and shoulders above everybody else in terms of what he brings to the table. It's just sort of the perfect fit in our view."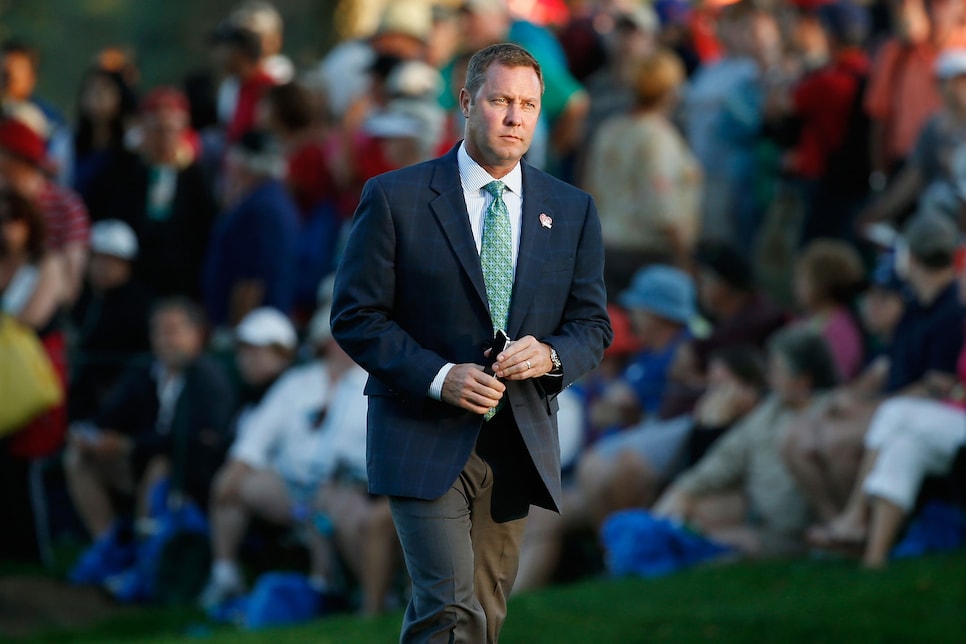 When Mike Whan took over as LPGA commissioner in 2010, the tour's schedule featured only 24 official events worth $41.4 million in prize money. This year, it has 34 events and a record $76.45 million in total purses.
Scott Halleran
Though sensing his work was done at the LPGA, Whan apparently didn't think he was done leading. He now will head up an organization that conducts 14 national championships, including the U.S. Open, as well as international and team competitions. Additionally, in conjunction with the R&A in Scotland, the USGA writes, interprets and administers the Rules of Golf. Headquartered at Golf House in Liberty Corner, N.J., the USGA employs approximately 450 people.
In taking over for Davis, Whan will inherit a handful of notable tasks on the USGA's short- and long-term agendas. Chief among them is the ongoing investigation into the impact of distance on the game. Earlier this month, the USGA spelled out a handful of proposed technical modifications to the equipment rules while outlining six areas of interest that could set the stage for future rules changes amounting to a potential rollback in distance.
Additionally, Whan will now help oversee the development of Golf House Pinehurst in North Carolina. The USGA announced in September that, with assistance from state and local authorities, it would build include a satellite office, museum and a new $18 million equipment test center.
Eager, he said, to continue to "make a difference in this sport," Whan said he has yet to map out a list of priorities for the USGA, making sure he educates himself thoroughly while working with Davis. That's not to say he doesn't have goals.
"I've got seven things that I think are going to be seven things for Mike Whan [to do], but I know from my experience with the LPGA that four are going to be wrong. I'm just not sure which four," Whan said. "I walked in with this vision of what I think are the right strategic priorities. But as I told Stu, I'm going to need 100 days, 100 days to make sure that all this stuff I think is right is right. Like any person I walk in with my points of view, and then I'll figure out pretty quickly, what are the areas of focus? And then my job, quite frankly, is to make sure between me and the [USGA Executive Committee] we've got real clarity so that we can let this team run. Cause I think we've got a good team there. We just want to make sure we're all aligned in the priorities and then get out of their way to achieve them.
"I wouldn't do a job I couldn't have fun doing, and I can promise you, I'm going to have fun doing this job, even if people don't have fun having me do this job," he added. "I don't know a commissioner of sport who's not comfortable with the fact that every decision you make, probably 30 percent of people don't like, and it doesn't mean you're right. It just means you got to make decisions to move forward. I've got to walk into a new place where they don't know me [except] by name. They don't know how I'm going to be better or worse for them. There'll be all kinds of anxiety about Mike's different from us, which is true. And getting through all that to real success is the fun part."
Whan took over as the eighth commissioner of the LPGA in July 2009 after Carolyn Bivens was forced out by a player revolt following a disastrous four-year term. (Marty Evans served as acting commissioner in the interim.) In 2010, when Whan assumed control, the LPGA schedule featured only 24 official events—its lightest slate in nearly 40 years—worth $41.4 million in prize money. This year, the LPGA schedule features 34 events and a record $76.45 million in total purses.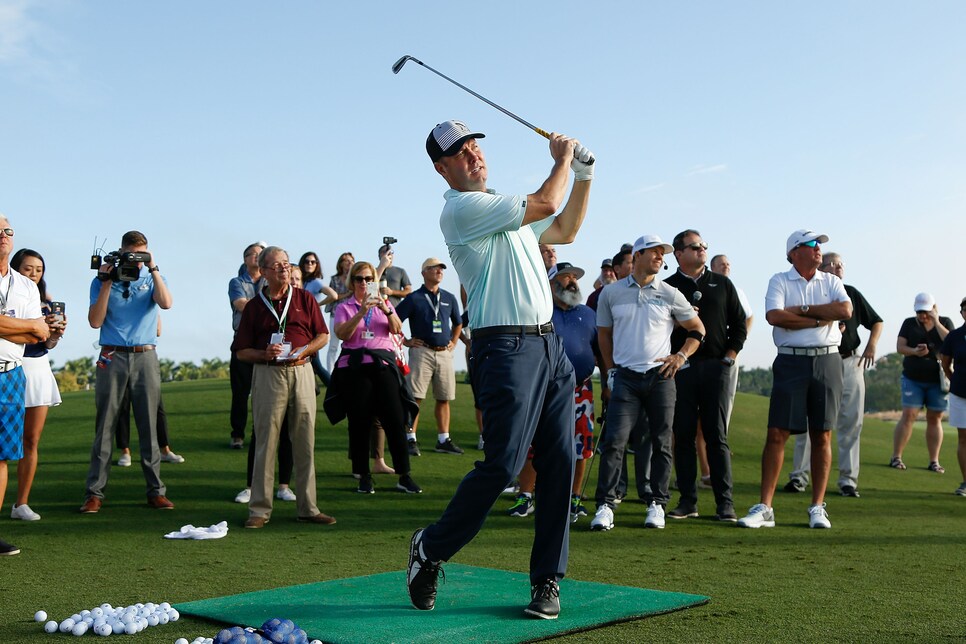 Whan played golf growing up in Ohio, growing his interest in the game while working as a caddie and on a grounds crew before going to college.
Michael Reaves
Whan's initiatives at the LPGA included the creation of the International Crown, the Founders Cup and the Race to the CME Globe, a season-long competition similar to the PGA Tour's FedEx Cup. He also forged a partnership with the Ladies European Tour and bolstered the LPGA's signature major by partnering with the PGA of America to transform the LPGA Championship into the KPMG Women's PGA Championship.
The debut of the UL International Crown, an eight-team biennial match-play event, the start of the Race to the CME Globe, and the deal that resulted in the KPMG Women's PGA Championship all occurred in 2014. In 2015, Sports Business Journal tabbed the LPGA as one of its five finalists for Sports League of the Year along with the Big East Conference, Major League Soccer, NASCAR, and the NBA.
"I think if you look at Mike's track record, certainly at the LPGA, he had a brilliant ability to think about where the future is going and move the organization to be most responsive to that," Francis said. "And we're no different, as the USGA is a great organization, but the world around us is changing rapidly. … There are a host of societal changes that we think Mike is just uniquely suited to work together with the senior team to figure out how can the USGA most effectively serve the game, and how can the USGA take advantage of that and be ahead of it?"
A native of Naperville, Ill., Whan cultivated an interest in golf as a youngster by working first as a caddie and then on the grounds crew at Cress Creek Country Club, which mostly interested him because he could play the course for free. When the family moved to Cincinnati in the early 1980s, Whan immediately found another golf job, at nearby Coldstream Country Club.
His first golf-related post after graduating with business degrees in economics and finance from Miami University, in Ohio, in 1987 came seven years later at Wilson Sporting Goods in Chicago, where he served as vice president and general manager of the golf ball and glove division. He also managed the marketing department, two manufacturing facilities and the Research & Development division. Two years later, he moved to Carlsbad, Calif., and TaylorMade Golf, where he eventually rose to executive vice president and general manager for the North American region.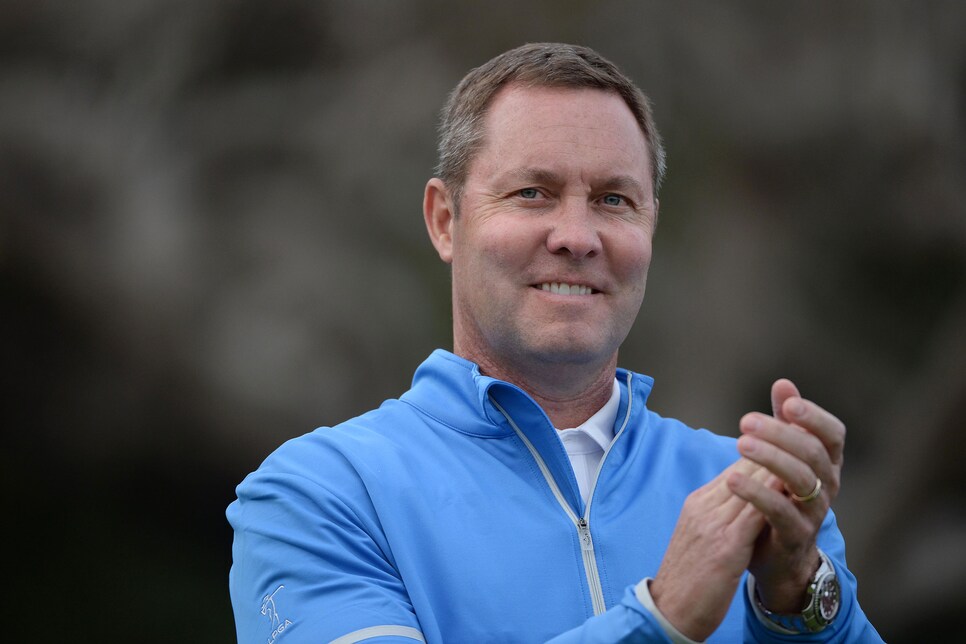 At the USGA, Whan will take over as the governing body, along with the R&A, continues its investigation into the impact of distance on the game.
Donald Miralle
Whan began his business career at Proctor & Gamble in Cincinnati. His last position before joining the LPGA was as president and CEO for hockey-gear maker Mission-Itech Hockey. He joined Mission Hockey in 2002, and during his seven-year tenure Whan restructured the company and oversaw its acquisition of Itech Sports in 2004 to create Mission-Itech Hockey, one of the largest hockey companies in the world.
The LPGA announced Feb. 1 that it formally opened its search for a new commissioner and that it was retaining the services of executive search and leadership advisory firm Spencer Stuart—the same organization that helped identify Whan as a candidate for the commissioner post in 2009.
"I remember when I walked into the LPGA," Whan said, "I told my father, 'I can't mess this up because the game means too much to me.' And my dad said, 'Because the game means that much to you, you won't mess this up.' And I feel the same way here. Golf matters to me. It's always mattered to me. I'm excited to feel like I can still make a difference in a sport that's made a huge difference in my life."