News
USGA CEO Mike Davis to leave the association in 2021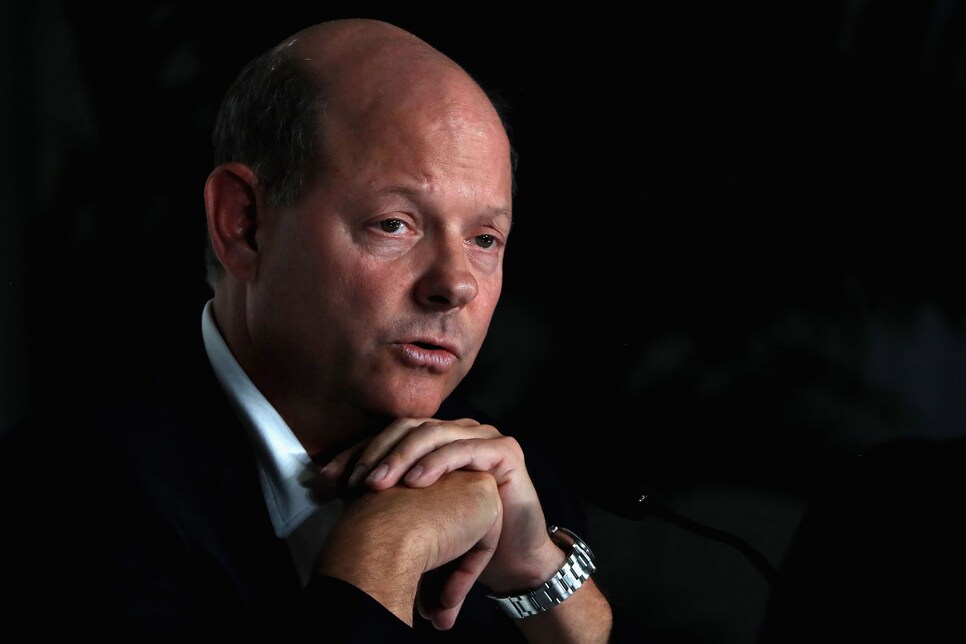 After 30-plus years with the USGA, including the last nine as it executive director/CEO, Mike Davis will leave at the end of 2021 to start a golf course design company.
Andrew Redington
Mike Davis has been setting up and preparing golf courses for USGA championships since he joined the association in 1990. It allowed him to scratch an itch, if you will, given that he has been fascinated by golf course design since he was a kid, when he would doodle his own golf holes on a notepad.
It probably was inevitable that one day he'd want to start etching his own ideas into the dirt.
The USGA on Tuesday announced that Davis is stepping down as its chief executive officer, effective at the end of 2021, to embark on a career in golf course design and construction. Davis plans to team up with Tom Fazio II to create a new golf course architecture company, Fazio & Davis Golf Design.
"I've absolutely loved the USGA, and I hate the idea of leaving," said Davis, 55, who became the USGA's seventh executive director in 2011, succeeding David Fay, a role that segued into that of CEO in 2016. "I've grown up around here. I mean, it will have been 32 years by the time I leave, and my work in championships and governance and so on is just ... in some ways, I never thought I'd leave.
"But at the heart of this, I have always loved golf course design. I loved learning, seeing, playing, studying golf courses. I'm closer to 60 than I am 50, and there was almost a sense that if I don't do this, I'm going to regret it."
The USGA under Davis made significant strides in several areas, including the modernization of the Rules of Golf, the launch of the World Handicap System, the creation of the USGA Foundation, expansion of the USGA footprint with a second Golf House location set for Pinehurst, N.C., and starting four new championships—the U.S. Senior Women's Open, the men's and women's Amateur Four-Ball Championships (which replaced the Amateur Public Links championships), and, probably starting in 2022 or '23, an event for golfers with disabilities.
Also during Davis' tenure, the USGA, along with the R&A, adopted a rule change that prohibits anchoring a club while making a stroke. And, more recently, again in partnership with the R&A, the USGA initiated the Distance Insights Project, a comprehensive study on the impact of distance in golf that was released earlier this year. Because of the COVID-19 pandemic, the governing bodies have delayed the next phase of the project—specific topics of further research. That delay, Davis said, likely means that decisions based on the study might come after he has departed.
"Mike has done a great job for the USGA on so many fronts," said Stu Francis, USGA president. "What first comes to mind is that he set it up to succeed without him, but that's just because it shows how good a job he's done in organizing the priorities and the leadership team.
"He's a terrific human being, he's a thoughtful guy, he's a thorough person," Francis added. "By far he's always had the USGA's best interests at heart in everything he does. And so from the standpoint of just interacting with a CEO, leading a major nonprofit organization, he just couldn't be a better guy to work with."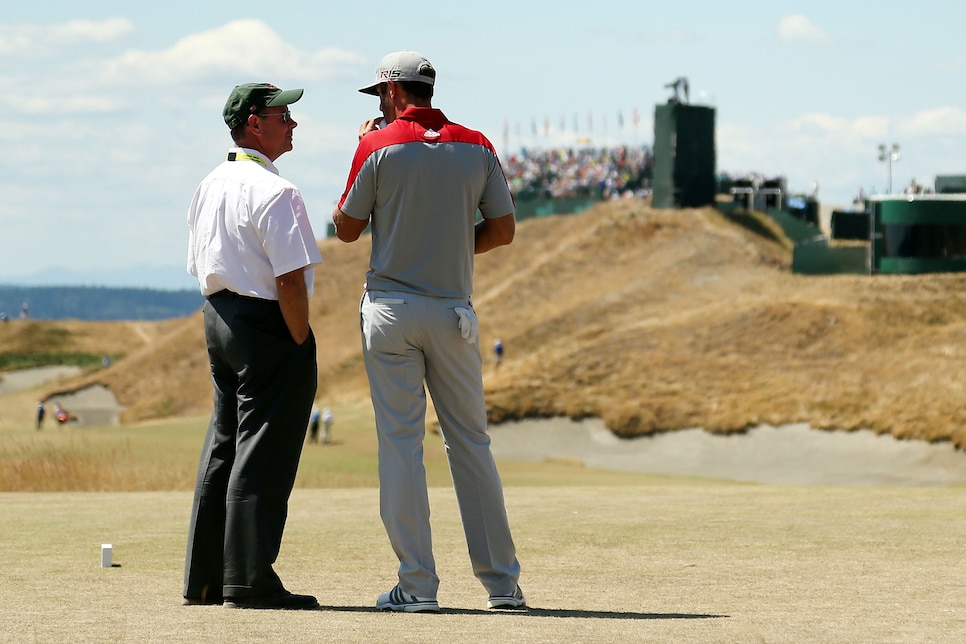 In setting up U.S. Open venues, Mike Davis tried to engage with players such as Dustin Johnson here at Chambers Bay in 2015.
Mike Ehrmann
A search for a successor to Davis already has begun in hopes that he or she will be on board before next year's U.S. Open at Torrey Pines in San Diego, giving Davis time to assist with the transition. His departure has been a long time coming, actually.
"When I got the opportunity to be executive director, which turned into CEO, at the time, I did tell Cece [his wife], 'I'm going to give this 10 years, and then we're going to move on,' and it will have been 11 years. And that's a long time."
A native of Chambersburg, Pa., Davis was an outstanding junior golfer and won the 1982 Pennsylvania State Junior Championship before playing college golf for Georgia Southern, where he earned a degree in business. He was working in commercial real estate in Florida when he got a call from the USGA seeking a manager of championship relations. He was familiar to P.J. Boatwright, then the executive director, and other USGA officials from playing in numerous high-level amateur events.
"I literally got a call out of the blue, and I went up and interviewed with Mike Butz, with David Fay, and with P.J. Boatwright, and they were dumb enough to hire me," Davis joked.
Before taking over as executive director, Davis served as the head of course setup for the U.S. Open starting in 2006. He was praised for his introduction of graduated rough, drivable par 4s and use of multiple teeing grounds to challenge players to take a more conceptual approach with how to play holes. In subsequent years, however, players called into question setups at Chambers Bay in 2015, Erin Hills in 2017 and Shinnecock Hills in 2018, and Davis handed over those duties to John Bodenhamer in 2019. There was also the frustrating handling of a rules issue involving eventual winner Dustin Johnson at Oakmont in 2016 that caused Davis and the USGA to receive condemnation.
Davis said he eventually plans to move to Jupiter, Fla., where he and Cece are building a home. Fazio, whose father, Jim, and uncle, Tom, are course designers, is based in Jupiter. Already Davis and Fazio have begun working together at Chambersburg Country Club, which was Davis' boyhood home course.
"For about a dozen years I have been helping them out a little bit, and I've really enjoyed it," said Davis, who was introduced to golf by his father when he was 8. "Then they asked me to do a master plan, so I brought Tom in, and I'm doing it pro bono, but he and I just really work together well."
Davis admits he still has a lot to learn, even though his tenure at the USGA has provided him a considerable education in course design. "This job the last three decades has afforded me a chance to see, really, most of the world's great golf courses," he said. "And I've played them, studied them, seen them, and I've gotten to meet a lot of great architects during this time, too. Having said that, I might be studied and well-read, but there's a lot I don't know, and I am looking forward to getting out there and getting my hands dirty."