News
With Pinehurst as an 'anchor site,' USGA signals shift in philosophy for picking future U.S. Open venues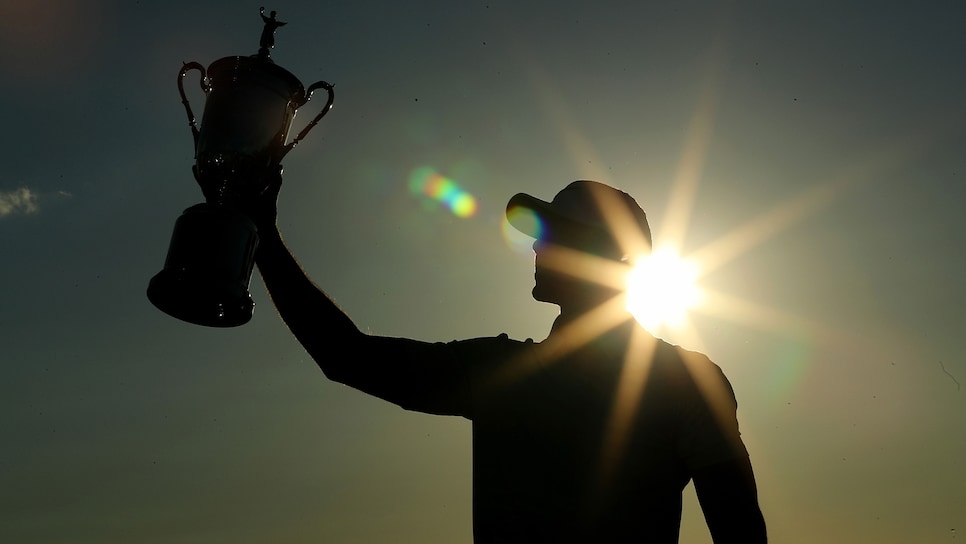 Brooks Koepka celebrates with the U.S. Open Championship trophy after winning the title in 2017 at Erin Hills.
David Cannon
At Wednesday's announcement, the phrase "anchor site" was used in referring to Pinehurst. According to Craig Annis, USGA chief brand officer, the talks toward bringing more U.S. Opens to Pinehurst started five years ago and grew as the USGA learned more about what direction it believed players and fans preferred for the U.S. Open.
"This is really linked to our U.S. Open strategy, which is to go to fewer places more frequently," Annis said. "This gives us more definition in terms of where and when we go, and to increase the level of connectivity that players have, that fans have with the courses that we go to, both those that come on site and those that watch on TV."
The USGA announced that in addition to the 2024 U.S. Open at Pinehurst No. 2, the event would be back in 2029, 2035, 2041 and 2047.
USGA CEO Mike Davis said on Wednesday that the association is further investigating the anchor-site concept, a move he hinted at a year ago. "It's pretty clear that we love Pebble Beach, Pinehurst, Oakmont and Shinnecock [Hills]," Davis says. "Those four meet all our criteria: They're great tests of golf, they set up logistically either very well or well enough, and—being honest—we're going to make money when we go there."
In discussing the idea after the Pinehurst annoucement today, he was more certain but less focused. Does he have other anchor sites in mind? "I would say yes, with no specificity right now on what those sites might be."
Unlike the Open Championship, which features a rota of nine courses (10 if you add Royal Portrush) and builds its schedule around holding the championship at the Old Course every five years, the U.S. Open has been to 14 different sites in the last 20 years. Fewer sites with more return visits means more efficiency, Annis said.
"I know there's been a lot of commentary lately from the players going to Winged Foot and playing the course for the first time," he said. "Obviously, there's a sense of excitement there, but also we want to take some of that ambiguity out for players, as well, so the more frequently we go to some of these places, the stronger the connection they will have.
"It also will help from a planning perspective, understanding the dynamics of each host course and each host club brings to our operation, as well."
And yet, it is a true philosophical shift for the association. In 2002, three years after bringing the U.S. Open to Pinehurst for the first time, the USGA celebrated with much fanfare taking the Open to Bethpage Black, the first municipal course to host the national championship. The diversity of courses continued with the Open being played at three other first-time venues in a 10-year span: Torrey Pines (2008), Chambers Bay (2015) and Erin Hills (2017). In 2022, another new site will be used comes to another venue making its major debut, Los Angeles C.C. That, however, appears to be the last for the foreseeable future.
As to what the other anchor sites might be, Davis' list is an interesting (and obvious) starting point. Beside Pinehurst, the three others each already have a future Open on the books (Oakmont in 2025, Shinnecock Hills in 2026 and Pebble Beach in 2027). Presumably each would be willing to host the championship on a relatively regular basis (Shinnecock's membership seemingly has gotten over its frustration with the USGA after the 2004 Open). Also, presumably, the USGA would be likely to take the championship to these venues even if they didn't have official anchor status, just as it likely would have taken the U.S. Open to Pinehurst No. 2 fairly regularly without the formal agreement or the financial incentives from North Carolina (although perhaps not five times in a quarter century.)
What the list lacks, of course, is a venue in the Midwest, specifically Chicago, the nation's third largest metropolitan area and traditionally a huge golf market. The U.S. Open has been to the Midwest once in the last 15 years and only five times has it been held at a course not on the East or West coasts in the last 40 years.
Hazeltine National, Whistling Straits and even past U.S. Open venues Erin Hills and Olympia Fields all could be possibilities but each has their entanglements or challenges. (Olympia Fields probably did well by itself two weeks ago when it stymied the PGA Tour's elite at the BMW Championship.) Mind you, it's not mandatory that there be a Midwest site, but it also seems like a missed opportunity.
What the Pinehurst agreement seems to make clear, though, is that the USGA gets more interested the more local and state governments and agencies are completely invested in the idea of being home to the U.S. Open, figuratively and literally.