Winning streaks do not proliferate in golf, a game generally too capricious for a player to dominate, notwithstanding the Tiger Woods and Annika Sorenstam eras. Yet along comes this precocious college freshman, her disposition reminding you of a San Diego weather forecast, sunny and warm, yet belies a killer instinct tempered by the reality that you can't, actually, win 'em all.
Heck's next start will be this week's U.S. Women's Open at The Olympic Club outside San Francisco, where earlier this month she shot a 66 to win the U.S. Open Collegiate Invitational.
Dare we ask the question, then? Can an amateur—this amateur—win the U.S. Women's Open? The answer, pun intended: Heck, if an old man can win the PGA Championship …
Heck, at 19, already is too mature and savvy to ramp up the pressure by making bold predictions or declarations, as a prominent former Cardinal golfer routinely did. "If I didn't feel that I could win," Woods, then 20 and still an amateur, said prior to the 1996 U.S. Open, "I wouldn't come to a tournament. It is that simple."
"Of course, I'm going to go into it trying to play the best that I can," Heck said. "Obviously, I'm a huge fan of Tiger, but I'd say we're pretty different in that respect."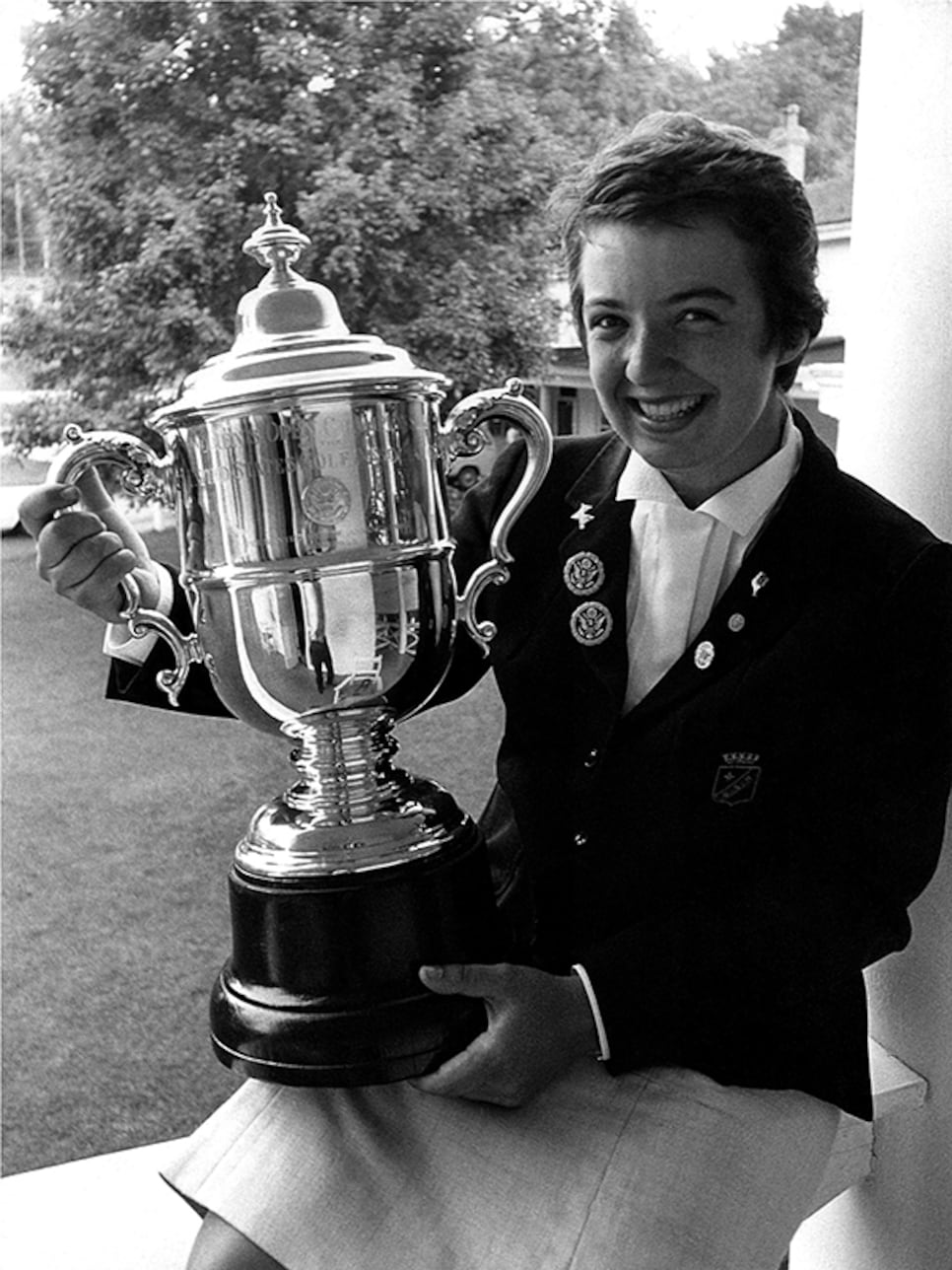 France's Catherine LaCoste is the only amateur to win the U.S. Women's Open in the championship's 75-year history, taking the title in 1967.
And yet Heck's knowledge of women's golf and the amateurs that have come before her is certainly impressive as she approaches the question at hand.
"Can an amateur win the Open? Obviously, but the odds are super low. Hye-Jin Choi almost did it when I was 15 and played in the Open [in 2017]. But it's not likely for any amateur to do it. All I know is that I'm going to go into it with the same perspective—to learn as much as I can, to embrace it and to enjoy the walk from the first tee to the last green."
Only one amateur has ever won the U.S. Women's Open, France's Catherine Lacoste in 1967 at The Homestead. Another amateur, Jenny Chuasiriporn, took Se Ri Pak to a 18-hole playoff before losing in 1998, while Morgan Pressel and Brittany Lang tied for second behind winner Birdie Kim in 2005, and Choi finished second to Sung-Hyun Park four years ago.
Heck's talent predominates, but infused with experience makes it a formidable combination that diminishes the wide eyes and intimidation factor an amateur might otherwise experience playing for a national championship. A native of Memphis, Tenn., Heck made the cut and tied for 33rd in the 2017 Women's Open at Trump National in Bedminster, N.J. The following year, she made the cut in another LPGA major, the Evian Championship, and tied for 44th. In 2019, at 17, she played in the ANA Inspiration, though she missed the cut. This year, whe played in the Augusta National Women's Amateur and finished third, one shot out of a playoff.
"It's helped so much, starting from the U.S. Open at 15, playing alongside my role models," Heck said. "Rather than just seeing them on television is huge. I admired how they go about their business, how they practice, how they don't get mad. It's helped my mental game. To be the best player in the world you can't have a bad attitude."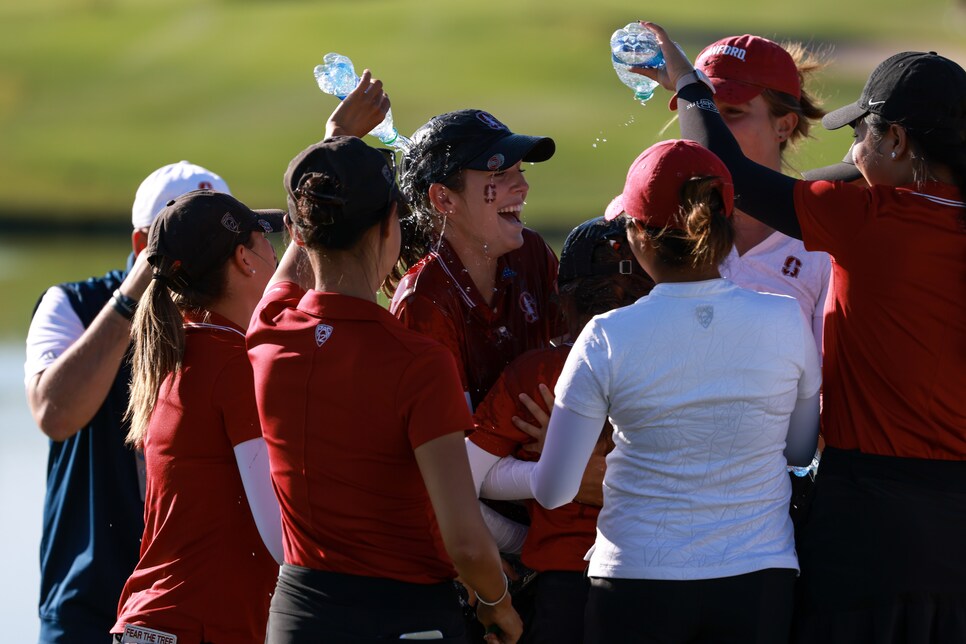 Heck won six times in nine starts as a freshman at Stanford, including her final five tournaments, breaking the NCAA single-season scoring-average record in the process and earning the Annika Award as the top college player in 2020-21.
Justin Tafoya
Heck has no time for a bad attitude, not in her multi-dimensional life that not only includes golf and Stanford classwork and their inherent time commitments, but also the fact that she joined the Air Force ROTC at school, taking a cue from boyfriend Sam Killebrew, a sophomore at the U.S. Military Academy at West Point.
"I became really interested in the military when I met my now boyfriend," Heck said. "I wanted to incorporate it into my life any way I could. I'm super grateful [Stanford] coach [Anne] Walker let me try out. It's something that has made me a better leader, a more competent person in general, and it has taught me discipline. These are definitely life skills that I want to learn. I have so much respect for everyone serving."
Too few hours in a day and too few days in a week suggest that her golf should suffer, yet the numbers don't lie. Heck is playing the best golf of her life, arguably the best in NCAA history. She won six of nine total starts during her freshman year, with only 16 players out of 609 she competed against beating her.
"I attribute it to not putting that pressure on myself, with ROTC, being in college, studying, starting my academic journey at Stanford. There's so much more to me than golf," she said. "When I'm on the course, I'm purely having fun. Of course, I want to play well, but it's not the be-all end-all. In golf that's huge to have that perspective. The mental part of golf is so important.
"When I used to be so focused on golf, I didn't care about anything else. Twenty-four hours a day at the course and if I didn't perform, well, I felt like a failure. So to have my eyes opened to so much more in life has helped me on the golf course so much. When golf is not the be-all end-all, it takes so much pressure off me. I have a thousand other things I want to do."
Presumably, she is the only player in the U.S. Women's Open field who has "joining the Air Force" on a to-do list that in all likelihood also includes "winning a U.S. Open" at some point.
So, posing the question again: Can an amateur—this amateur—win the U.S. Women's Open, this Women's Open? Probably not. But would it be prudent to bet against this extraordinary golfer about whom it might be said the sky's the limit? Or, in Heck's case, the wild blue yonder, her ceiling unknown?