College Golf
Stanford's Rachel Heck continues her astounding freshman season with an NCAA Division I victory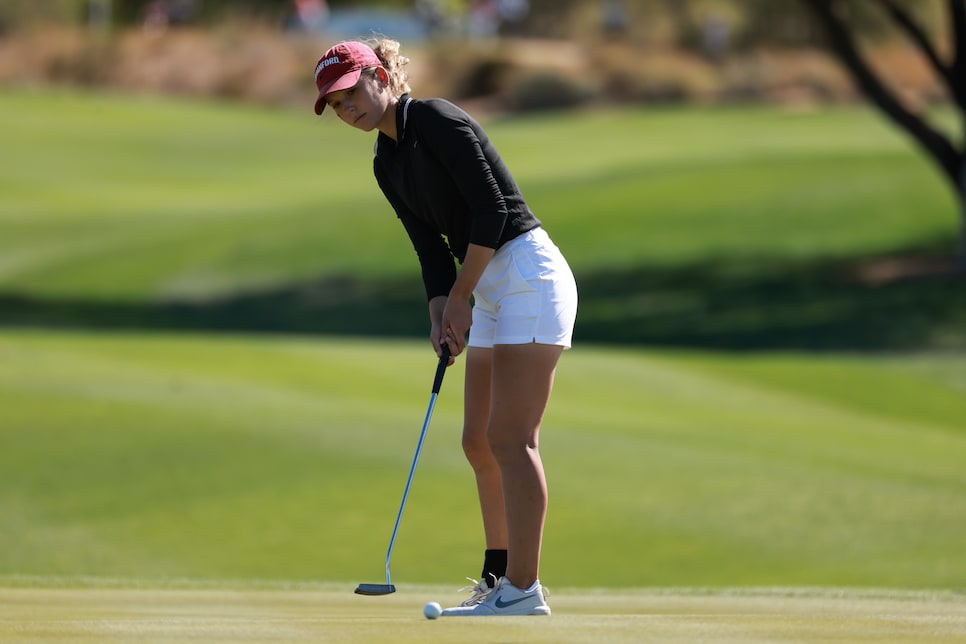 It is an unwritten, though not unavoidable, decree in school hierarchy that freshmen need to know their place. So it is that Stanford freshman Rachel Heck has spectacularly affirmed that her place is atop leader boards.
Heck, 19, from Memphis, Tenn., concluded the individual part of her remarkable freshman season by winning the NCAA Division I Women's Championship at Grayhawk Golf Club in Scottsdale, Ariz., on Monday, the first Stanford woman ever to win the individual title. It was her sixth victory, already tying her for third most in Stanford history, and she became only the ninth freshman in NCAA history to win the individual championship.
Moreover, Heck became the third woman in Division I history to win her conference championship (the Pacific 12), an NCAA regional (the Stanford Regional) and the NCAA Championship.
"Oh my gosh, I dreamed about it, but realistically, I didn't know," Heck said. "There are 140 amazing players here. Four days, anything can happen. I'm just so beyond blessed I'm at a loss for words right now. My heart's still beating really fast.
"Wow. I'm just so grateful for all the opportunities Stanford has given me. I have the best teammates in the world. Going into the fall, our season was canceled [by the pandemic]. We weren't on campus. Even in the spring everything was still up in the air. So we're just happy to have a chance to play. When I was sitting in my room in January and we were told we wouldn't come back for a few weeks, there's no way I pictured I would be here in a few months."
On deck is the team championship, match play that begins on Tuesday, into which Heck will lead Stanford, one of eight teams advancing by virtue of its 10-under total, 15 strokes better than runner-up Duke. The others to advance are Oklahoma State, Mississippi, Texas, Auburn, Arizona and tournament host Arizona State.
On another warm desert day, Heck, who began the final round leading Stanford teammate Angelina Ye by one, shot a two-over par 74 and won by one over UCLA's Emma Spitz. She completed 72 holes in eight-under 281. Spitz closed with a 68, while Ye shot a 71 and finished in third, two behind.
Heck, who has swiftly risen to No. 6 in the World Amateur Golf Ranking and no doubt will climb higher in the next ranking, had a streak of 12 consecutive rounds in the 60s before a third-round 70 here. In her run-up to the NCAA Championship, she won the Fresno State Classic, the Pac 12, the one-day U.S. Open Collegiate at the Olympic Club outside San Francisco, the regional and now the NCAA. She had previously won the Gunrock Invitational.
Between that collegiate reign, she finished third in the Augusta National Women's Amateur and qualified for her second U.S. Women's Open, to be played at the Olympic Club in early next month.