Young and powerful
At 14, Chloe Kovelesky is the youngest player in the U.S. Women's Open field. She's also one of the longest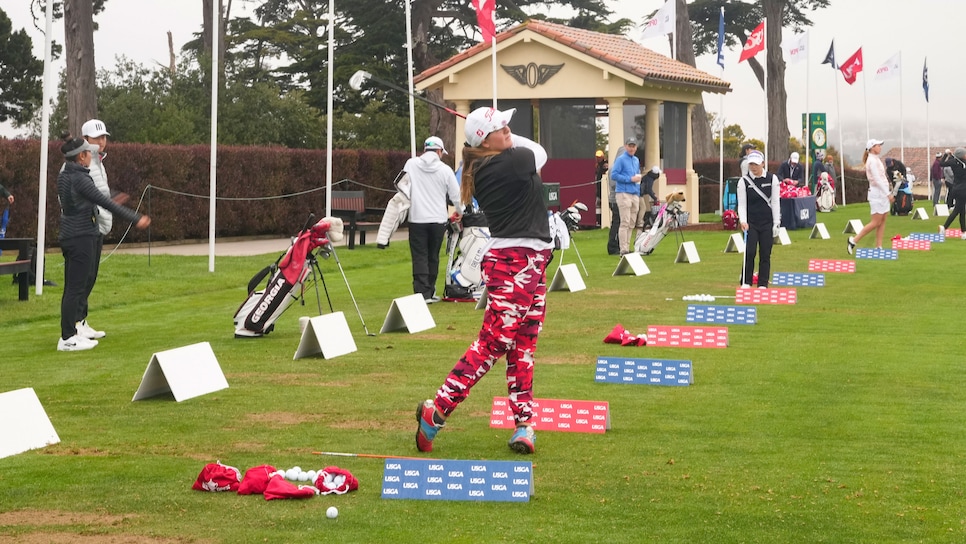 Chloe Kovelesky hits balls on the Olympic Club range during a practice round at the U.S. Women's Open.
Darren Carroll
SAN FRANCISCO — As 14-year-old Chloe Kovelesky prepares to swing, she gathers herself. The youngest player in the 76th U.S. Women's Open field has a slight squat motion that acts as her trigger before taking the club back, then mashing 280-plus-yard drives beyond some of the LPGA Tour competitors she's facing this week.
"It's been there for a really long time," Kovelesky said. "Usually when you see me hitting it bad, you'll see that trigger move is gone. That's when we realize, OK, got it. Just put that back."
It's a move Kovelesky has done for as long as she can remember. She regularly outdrives her peers back home in Boca Raton, Fla., including the 17-year-old boys she practices and competes with. She emphasizes CrossFit training to improve her stability and mobility.
Her distance stood out immediately to Cori McAuliffe, a Marriott Golf Academy U14 and U17 Junior League coach, who started working with Kovelesky at the beginning of 2020.
"I'm like, She's not hitting a sprinkler head. She's really hitting it that far and outdriving all the boys," McAuliffe said. "She hit it that far when I met her, and she proceeded to gain more distance over the last year."
Kovelesky's team invested in a Trackman over the last year, fine-tuning her game before arriving at her first U.S. Women's Open. They worked on dropping spin rates on her driver and hitting her wedges as high as possible to navigate the tricky Olympic greens, checking path and face to keep her on track.
But it's work on her short game in recent months that's the difference in taking her from a good player to a U.S. Women's Open participant.
"Before she could play 7,000 or 6,000 yards, and the score would be about the same," McAuliffe said. "What's the missing part? It's not distance. She's got that. If she can maintain the ball-striking, she can maintain her full swing, keep working on the short game. [Then] the sky is the limit for her."
In preparation for her first Women's Open, Kovelesky walked the course with LPGA veteran/Golf Channel analyst Morgan Pressel on Tuesday, her mentor for nearly half her life. Pressel's caddie, Barry Cesarz, is looping for the 14-year-old this week. They connected at Pressel's charity event, and the two-time LPGA Tour winner gave sage advice to Kovelesky.
"Stay humble," Kovelesky said. "It's a tough course. It's a very tough course."
That humility also applies to how she lives life off the golf course. Kovelesky says her motto is, "You have to be a great person to be a great champion." McAuliffe's first impression of Kovelesky after her lesson affirmed how the teenager is already fulfilling that mantra.
"She gave me this pin my first ever golf lesson for her," McAuliffe said. "She ran out to the parking lot and handed it to me. Ever since then, any tournament I've ever caddied for her I always wear it."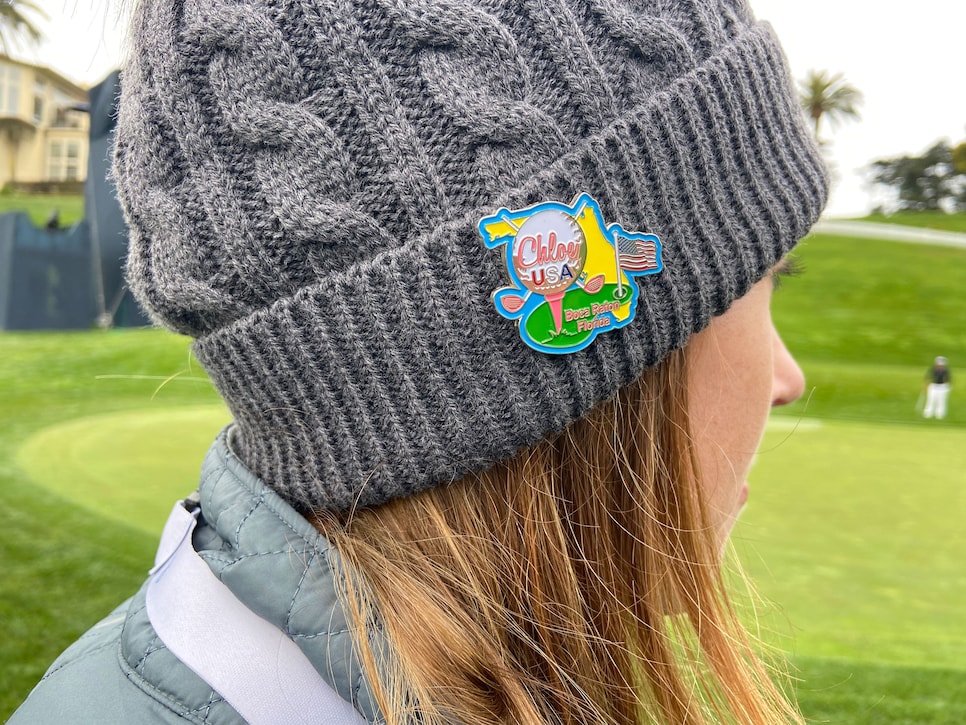 McAuliffe wears the pin that Kovelesky had made after her first win at a U.S. Kids tournament nearly 10 years ago. (Photo: Kent Paisley)
She and her family created the pin when she was 5 or 6 years old after winning a U.S. Kids tournament. It features the state of Florida, the American flag and "Chloe USA" surrounded by a golf ball. During the tournament, players traded pins or bracelets to remember their friends and time together.
"It's a cool reminder to know where I started and my first big tournament accomplishments were," Kovelesky said. "I know a lot of people around the world. A lot of them were from different countries. There's a back story behind them all."
Those stories and Pressel's belief in her fuels Kovelesky's dreams of being an example to others on top of being a great champion. She approached McAuliffe at the start of 2021, expressing her wishes to mentor the younger players on her PGA Junior League team. McAuliffe loved her approach but asked her to pick one mentee. Like Pressel to her, Kovelesky is mentoring an 8-year-old at the Marriott Golf Academy.
"She really took her under her wing," McAuliffe said. "Still texts her and reaches out to her. … That's special to see that relationship and pass that on."
As excited as Kovelesky is to make her U.S. Women's Open debut, her coach hopes she can appreciate what's in front of her before pursuing her mentorship dreams.
"I just wish her the best of luck and I know everyone is cheering for her," McAuliffe said. "I hope she can enjoy this moment. You only get one first."