News
U.S. Women's Open 2020: Preparing for a December major is anything but ordinary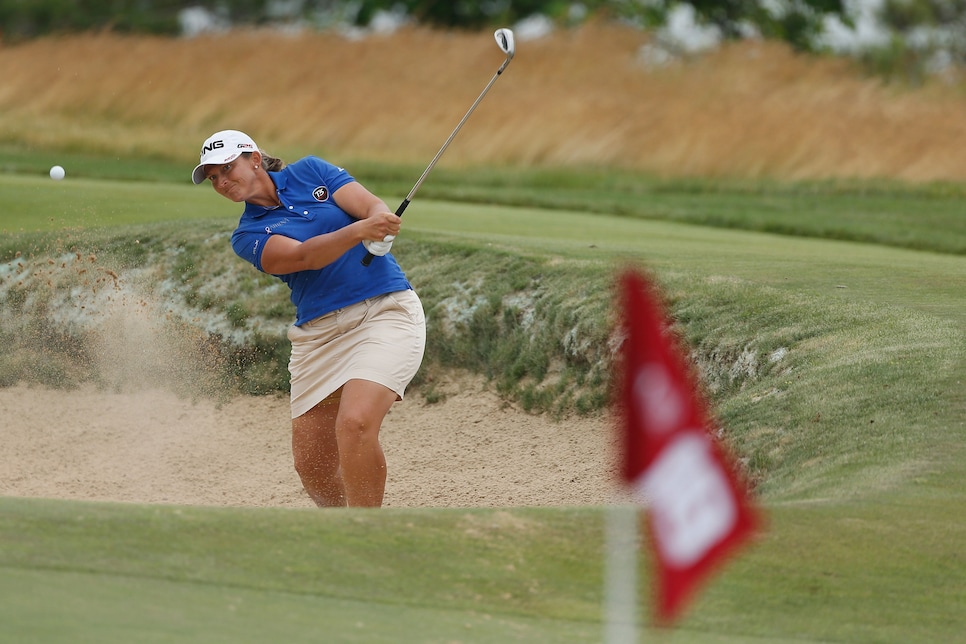 Angela Stanford, shown playing the 2013 U.S. Women's Open at Sebonack Golf Club, lives in Texas and has been able to get in practice rounds at Champions Golf Club in Houston.
Scott Halleran
Any major golf championship is hard to prepare for, obviously. But the 75th U.S. Women's Open at Champions Golf Club in Houston next week is likely the most difficult ever. And not just because it's being played in December or during a pandemic, keeping fans from attending. It's the toughest because instead of becoming familiar with one golf course for the championship, the 156 women competing have to learn two.
Due to the shorter window of daylight in December, USGA officials decided to play the Women's Open on two courses at Champions for the first two rounds: 6,731-yard Cypress Creek and 6,558-yard Jack Rabbit. Competitors will play one round on each par-71 layout in hopes of ensuring the opening 36 holes are completed before the weekend. After the cut is made, everybody will play Cypress Creek for the rest of the championship.
"A U.S. Open golf course is always hard anyway, and usually two or three practice rounds isn't enough to get to know it," two-time major winner Stacy Lewis said. "It's one of the biggest challenges for everyone coming here: getting to know both courses."
And at Champions, they're not just preparing for two golf courses; they're preparing for two very different layouts. Cypress Creek's defining quality is its greens. They're enormous.
"You could have a 70-, 80-, sometimes 90-footer," LPGA Tour winner Cheyenne Knight explained.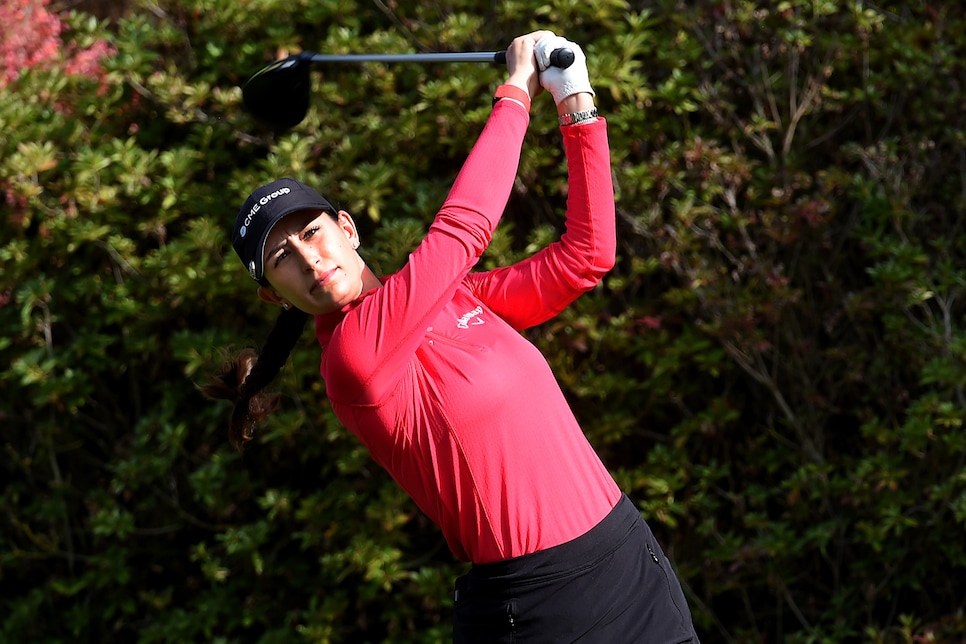 Cheyenne Knight says big numbers are possible in the U.S. Women's Open on the Champions Golf Club's Jack Rabbit Course.
Steve Dykes
There's not as much space on Jack Rabbit.
"You have to pay attention to Jack Rabbit," Knight said. "Because it's a lot different tee to green, and on the greens. It's a lot tighter. There's a lot of runoffs in the fairway where you could end up in the rough pretty easily. The greens are really small and a lot of undulation. … You can shoot a big number on Jack Rabbit if you're not careful."
Since three rounds will be played on Cypress Creek, it would make sense to spend most of the time preparing for that course. But if you fail to properly get ready for Jack Rabbit, you might not even make it to the weekend. It's an unusual situation for players, one that requires them to be more strategic with their time. Even veterans like Angela Stanford, who's playing in her 21st straight Women's Open, haven't had to prepare for anything like it.
Stanford has won six times on tour, including one major, the 2018 Evian Championship. She got close in the 2003 U.S. Open at Pumpkin Ridge, making it to the Monday 18-hole playoff and then losing to Hilary Lunke. Playing in her 20th season on the LPGA, Stanford agreed, "It's definitely the hardest one ever to prepare for."
Players are allowed three practice rounds before they arrive onsite for the championship. Luckily for Stanford, she lives in Texas, making it easier for her to get to Champions during off weeks. The tour is playing the Volunteers of America Classic, north of Dallas, this week, and if players didn't find time to get to Champions, they'll not only be trying to learn two courses in a couple days, they'll be doing so against waning daylight. This isn't June: the sun rises at 7 a.m. and sets at 5:22 p.m. in Houston, making the window for practice shorter than usual.
"Very thankful that I'm in Texas and I had this chance to come down here," Stanford said in the first week of November. "I know some other girls are coming down and playing. I can't imagine playing in a tour event, then going the very next week to an Open venue and having to learn 36 holes. In this case, I don't think you can learn everything on Cypress. I don't think you're going to map those greens perfectly in a year, much less a day."
While the challenges players will face are many, there's one serious benefit to playing a U.S. Open now instead of June: There won't be the typical, nearly impossible, rough to deal with.
"I think we dodged a bullet [with the rough] playing in December," Stanford said. "There's some there, but it's not as full as it would be in spring, early summer."