Course Strategy
For Old Course advice, the U.S. Walker Cup team is relying on secrets from two very connected sources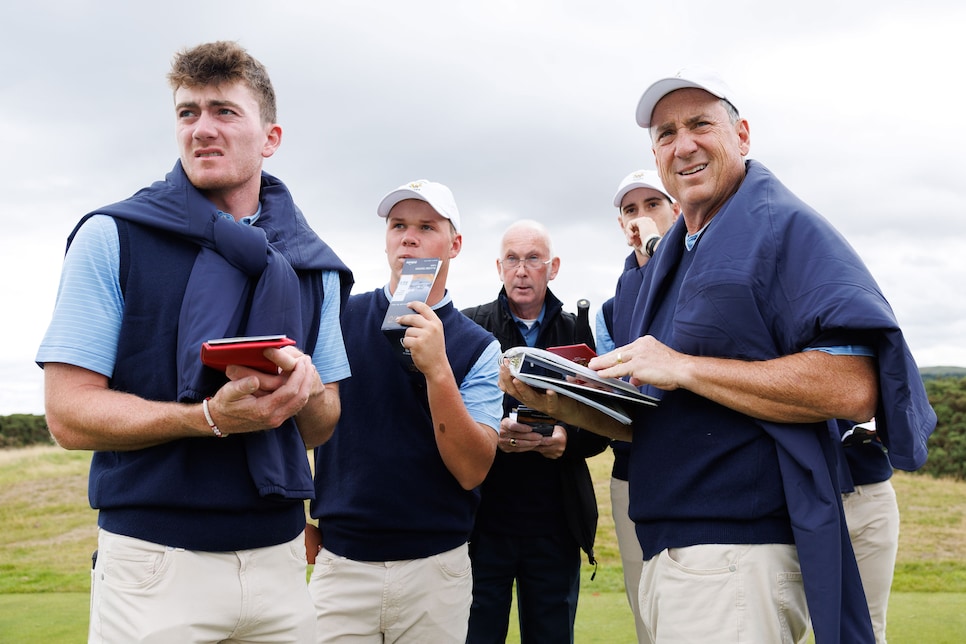 Team USA Members Nick Dunlap, Caleb Surratt, Nick Gabrelcik and coach Mike McCoy speak with local caddie Steve Jones during a course walk-through at St. Andrews ahead of this week's Walker Cup.
Ross Parker/R&A
ST. ANDREWS, Scotland — With two mostly full days of practice still to come, the United States Walker Cup team's preparations for this weekend's competition over the Old Course at St. Andrews were of the low-key variety Wednesday at the Home of Golf. Watched by captain Mike McCoy, members of the 10-man squad, having played the course more than once already, were focusing on the details they feel will help them to a fourth successive victory in what will be the 49th edition of the biennial contest with Great Britain & Ireland.
"To a man they love the course," says McCoy, who in 2015 at Royal Lytham became the third-oldest Walker Cupper of all-time at 52. "I can say for sure everyone is having a good time. And they are coming together nicely as a team. We've found some good pairings and already I can say we will be going with what we've discovered so far. We just want to be certain that they are comfortable with who tees off on the odd and even holes. That's really what we are trying to determine today. That and getting everyone confident about the lines they take off the tees. You absolutely need to know those because there aren't too many aiming points around here. So we're working on that."
One thing that U.S. team is not short of is good advice. In the run-up to the matches, McCoy leaned on his fellow Iowan, Zach Johnson for Old Course tips. This year's American Ryder Cup captain won the Open Championship at St. Andrews in 2015.
"Zach's advice was simple but the biggest thing he emphasized was to, in almost every case, be past the hole with the approach shots into these greens," McCoy said. "He was very generous with his time. And the guys have been finding that out for themselves since we got here. Listening to such a tough competitor who has won here has to be beneficial."
Speaking of which, another source of Old Course wisdom, Jack Nicklaus, has been passing on tips to members of the visiting team. Nicklaus, twice a Walker Cup player in 1959 and 1961, won two Opens at St. Andrews.
"There have been a few 'wow' comments from the guys," McCoy continues. "When they saw the double greens for example. And the size of the fitfh/13th green provoked some surprise. What didn't shock anyone is that the bunkers are truly a one-shot penalty. But we had them well-warned about that before we came over. A few of the guys have been exposed to Jack and that was his first piece of advice: 'Don't hit any club that can get you in a bunker.'"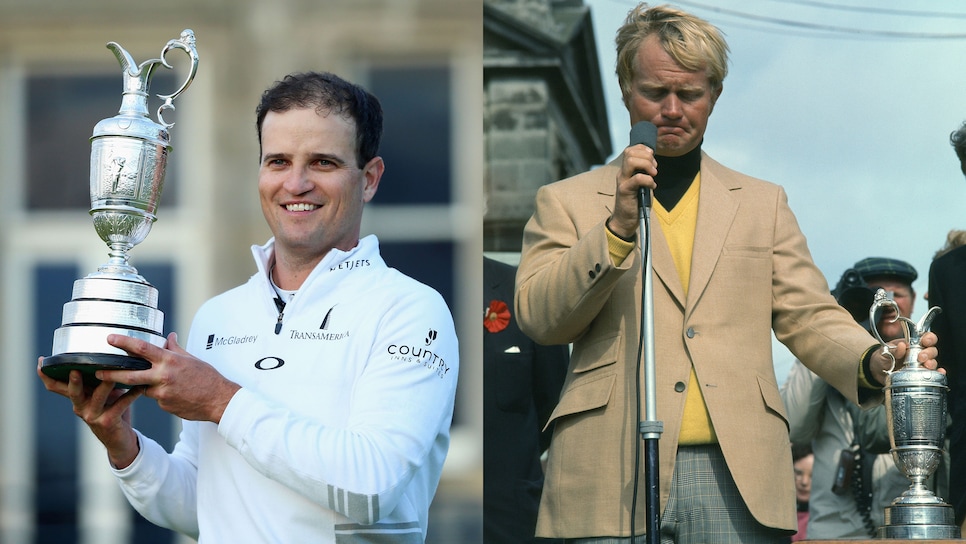 Zach Johnson and Jack Nicklaus, past Open Championship winners at St. Andrews, have been offering advice to the U.S. team ahead of this week's Walker Cup at the Old Course.
Other than those little gems, today was pretty much like prep for any event, with the speed of the greens being maybe the most important aspect. As is typically the case, they are a bit slower than the Americans are used to, albeit they are, to McCoy's mind, "running beautifully."
"Which is why we are doing a lot of lag putting," says the 60-year-old, who last year won the Senior Amateur Championship at Royal Dornoch. "Even really good players are inevitably going to get some long ones out here."
As for figuring out who drives on the odd and even holes, the thing that's proving a little tricky is the fact there are only two par 3s (the eighth and the 11th) on the course. It isn't as simple as putting the better iron player on the short holes.
"What we have looked at is the par 4s that can potentially be drivable," McCoy says. "Our stronger players will be driving on those, as much as possible. But even that can change. Today we are seeing a different wind, which is good. The first couple of days the holes on the front nine were playing into the wind. Today they are downwind. One of my biggest goals this week is that we are not going to be surprised by any sort of wind change once the matches start.
"That's why, after playing Kingsbarns and Dumbarnie earlier this week, we are going to stay here now. Tomorrow we'll play all 18 holes and Friday will be a light, nine-hole day. The guys will want to rest a little by then."