U.S. Open Preview
U.S. Open 2022: Rory McIlroy on his LIV Golf player miscalculation: 'I took them at their word, and I was wrong'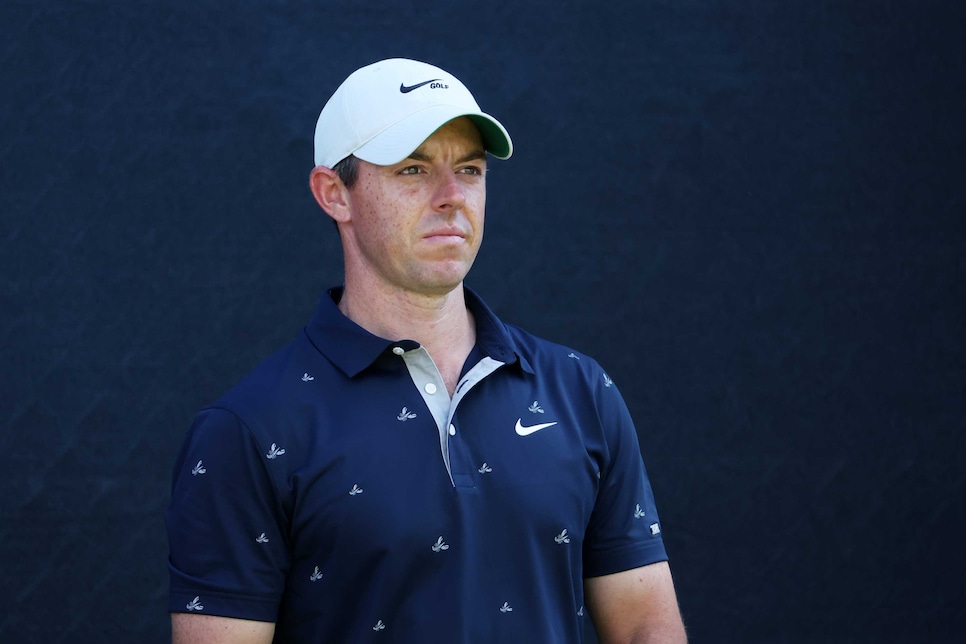 BROOKLINE, Mass. — It was quite a contrast. One day after one player tried his best not to answer questions, another did exactly the opposite. Two days before he tees off in his 14th U.S. Open, Rory McIlroy stood before the assembled media and offered his usual honest take on the world of golf.
There's a lot going on, of course, quite apart from what we are going to see at The Country Club over the coming days. And not all of it is, at least in McIlroy's active mind, good for the game at which excels. Predictably, after a cursory few quotes on what he thought of the nine holes he had played so far, it was down to business. Saudi business.
Four months on from pronouncing the LIV Golf Invitational Series "dead in the water," McIlroy was asked to identify just what he got wrong given that the Saudi-backed financial bonanza is up and running.
"I guess I took a lot of player's statements at face value," he said. "I guess that's what I got wrong. You had people committed to the PGA Tour, and that was the statements that were put out. People went back on that. I took them at their word, and I was wrong."
Still, McIlroy isn't making too many mistakes at the minute. He is in Boston on the back of a successful defense at the RBC Canadian Open, the climax of an 11-event PGA Tour run in which he has won twice and posted seven top-10s. Not surprisingly, that run of success and near-success provoked quotes that had an obvious confidence seeping from every word.
"Winning certainly puts a pep in your step," he said. "It gives you a lot of confidence. Going into last week, even coming off Memorial where I didn't have my best week, I still knew my game was there. I still knew that I was playing well. And the fashion in which I won last week gave me the most pride. I had a lead early in the back nine. Lost that lead. Was tied with two holes to go. Then I showed some really good resilience, birdied the last two holes to get the job done. I feel like everything is certainly trending in the right direction. So I'm happy with where the game is at."
Ah, but soon enough we were back in the Middle East. McIlroy once lived in Dubai so he is familiar with the region. But, as he has made clear with a vehemence no other player has displayed, he has no desire to switch his allegiance to anything Saudi-related. The Northern Irishman is a PGA Tour guy, first, last and everywhere in-between, even if, as he was quick to assert, "I don't feel I need to recruit anyone. I don't work for the tour; they work for me.
"Because in my opinion it's the right thing to do," he continued in response to a query regarding his leadership in this area. "The PGA Tour was created by people and tour players that came before us, the likes of Jack Nicklaus, Arnold Palmer. They created something and worked hard for something. I hate to see all the players that came before us and all the hard work that they've put in just come out to be nothing. The PGA Tour has certainly given me a lot of opportunities, and I've benefited a lot from that. You have to see a bigger picture that contains more than just the golf. So I've tried to take a wider view of everything. I just think it's the right thing to do."
Which led into questions on those, like Phil Mickelson, Lee Westwood, Ian Poulter, Patrick Reed and Bryson DeChambeau, who have signed on with LIV. Still, ever the diplomat, McIlroy was in no mood to distance himself from people he regards as friends.
"I don't think it will strain any relationships," he said. "I'm still going to be close with the guys that have made the decision to play those events.
McIlroy certainly wasn't about to throw Mickelson under any buses, double-decker or otherwise. The game's greatest-ever left-hander retains Rory's respect "as a golfer."
"Phil won a major championship 13 months ago, probably one of the crowning achievements of his career and one of the most impressive achievements in the history of the game of golf," McIlroy said. "I've been disappointed with how he has gone about what he has done, but I think he has come back and shown some remorse about how he has handled some things. I think he has learned from that. But who am I to sit up here and give Phil a lesson on how to do things? He has had a wonderful career. He is his own man. He is a great addition to the field this week. Am I disappointed he has chosen the route he has taken? I am, but I still respect him tremendously."
Not quite done on the LIV front, McIlroy was asked to compare his own decision to cross the Atlantic in search of, amongst other things, bigger purses. Again, he wasted no time in identifying important distinctions between his experience and that of those jumping to the LIV Series. Not renewing his PGA Tour membership back in 2011 is a decision—"I got bad advice"—that clearly continues to gnaw at the McIlroy soul.
"You've got three of the four major championships in the United States," he said. "The travel gets increasingly more difficult going back and forth [across the Atlantic]. To give yourself the best chance to further your career in terms of wins and legacy and trying to win major championships, America was the place to be. I don't think it was all to do with prize money. It certainly wasn't guaranteed. You had to show up and play well to earn it. That's the other thing."
Well, apart from the reason McIlroy is where he is this week. There is the little matter of claiming what would be a second U.S. Open title—and ending a major-championship drought that is eight years and (surprisingly) counting.
"I'm getting back to a place where I'm feeling a lot more comfortable with my game and a lot more comfortable at the biggest championships," he said. "My game is now at place where I feel confident going to courses set up more difficult than everyday tour events. I know I have the game and the mentality to succeed on them."