U.S. Open 2022
U.S. Open 2022: Let's imagine the U.S. Open groups that could have been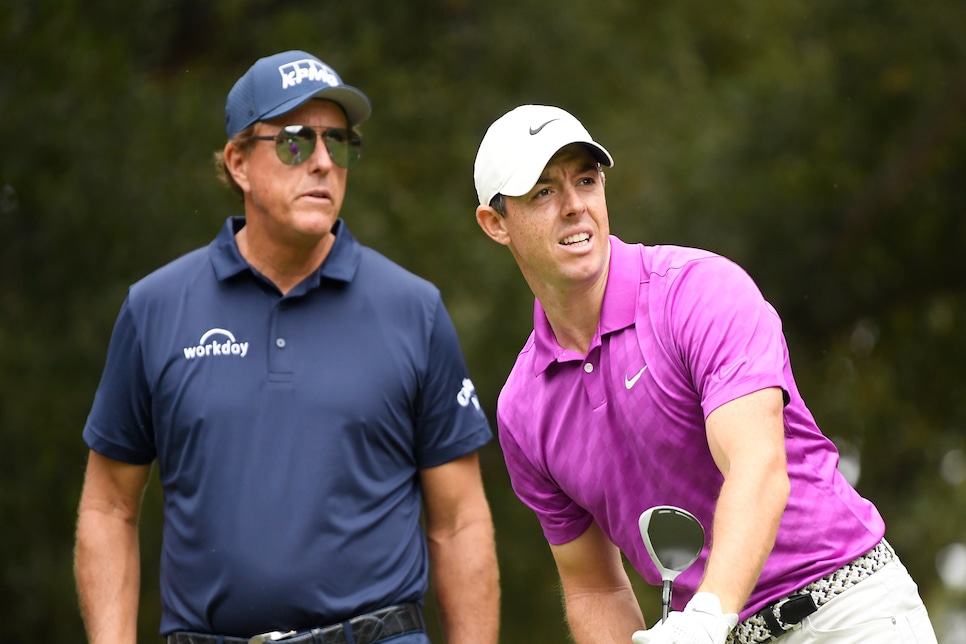 Amid historically contentious times in the world of golf, the USGA opted against fanning the flames. Which, of course, makes sense—LIV Golf is already dominating discourse on site at The Country Club, and the powers that be don't want all the drama to overshadow the U.S. Open. But the rational decision is often the less fun decision. This certainly qualifies.
The USGA could've leaned into these crazy times by continuing their long-running habit of arranging rather cheeky early-round pairings. In 2012, they put K.T. Kim, Y.E. Yang and K.J. Choi together. They veered close to mean-spirited territory on 2014 with the well-fed threesome of Brendan de Jonge, Shane Lowry and Kevin Stadler. They pounced on the low-hanging fruit last year with Tom Hoge, Bo Hoag and Joe Highsmith. You get the picture.
This year's opening-round pairings, on the contrary, are noticeably light on sophomoric humor. It's not for a lack of material; in addition to the normal petty drama that's always percolating on tour, the PGA Tour-LIV schism has introduced an Us vs. Them dynamic to the game. Cooler heads prevailed in the decision-making room, but there is an alternate universe where the USGA opted for chaos. In that universe, these are the first-round pairings.
Rory McIlroy/Brooks Koepka/Phil Mickelson
McIlroy and Koepka have been outspoken critics of LIV. McIlroy, along wtih Justin Thomas, has emerged as a spokesperson of sorts for the PGA Tour, and he has not been shy about zinging LIVers with every chance he get. He called Mickelson's comments to Alan Shipnuck "naive, selfish, egotistical and ignorant." After winning the RBC Canadian Open on Sunday, he made it very clear that picking up his 21st PGA Tour win carried extra significance because it's one more than Greg Norman has. Koepka has been similarly brash, stating bluntly that he doesn't like where the money is coming from and taking to Instagram to highlight the irony of Phil Mickelson calling someone else greedy.
Then there's Phil, who has been more closely linked to the upstart tour than any other player. He gave a very awkward press conference on Monday afternoon when he essentially repeated his messaging from last week's LIV event in London: he understands why people don't like his decision, but he stands by his decision. We'd love to see these three break bread.
Kevin Na/Grayson Murray/Anyone else
Na and Murray legitimately loathe each other. This goes beyond the normal golf kerfuffle, probably because Murray is among the more … passionate players on the PGA Tour. The origin of this beef dates back to January, when Murray roasted Na's deliberate pace of play on Twitter: "Kevin Na taking three minutes to putt … does get old." Na responded by pointing out Murray's habit of missing cuts. Murray then confronted Na on the driving range at the Mexico Open and things apparently got pretty heated. More recently, after Na announced his decision to join LIV Golf on Twitter, Murray offered less-than-friendly goodbye: "Like I said on the range in Mexico," he wrote, "you won't be missed."
Alas, they are not playing together this week. There is, however, this consolation: "Murray" and "Na" are directly next to each other on the alphabetical field list, which means their lockers are next to each other this week.
Scottie Scheffler/Richard Bland/Fran Quinn
The oldest-looking 25-year-old in the world in Scheffler. A man who stole hearts last year as the grey-haired, 48-year-old 36-hole leader at the U.S. Open in Bland. And perhaps the most unlikely qualifier for this week's U.S. Open, a 57-year-old journeyman pro from just down the road in Worcester who won an eight-for-three playoff at the New York final qualifying site. These three could compare hairlines and talk about the old country over a drink after the round.
Ryan Fox, Brandon Matthews, Matthew Wolff
The longest player on the PGA Tour, Cameron Champ, isn't in the field this week … but the longest hitter on the European Tour, Ryan Fox, and the longest hitter on the Korn Ferry Tour, Brandon Matthews, are. Wolff, No. 2 in driving distance on the season at 319.5, would serve as the PGA Tour representative in this long-drive contest.
Justin Thomas/Matt Fitzpatrick/Bryson DeChambeau
Justin Thomas has been waiting for Bryson DeChambeau to make the LIV jump for a long time. He's hinted as much in press conferences, and he mentioned Bryson again, unprompted, in his pre-tournament press conference on Monday.
"He was very adamant about it for a while," Thomas said in response to a question about Mickelson, "so I don't think that decision or Bryson really surprised any of us. They were talking it up not only to a lot of their peers but other people." He also mentioned, dripping in disdain, that "everyone has a price." So, where does Fitz fit into this equation? He was the one who suggested that DeChambeau's bulk-up was making a mockery of the game and that "it's not a skill to hit the ball a long way in my opinion." In the time period since, Fitzpatrick has made a concerted effort to add speed and is hitting the ball significantly longer than he ever has. In related news, he's having his best season on the PGA Tour.
Chris Gotterup, Sam Bennett (a), Fred Biondi (a)
Gotterup, who just graduated from Oklahoma, was the top-ranked player in college golf last season. Texas A&M's Sam Bennett finished the year at No. 4 and will return to College Station this year rather than turn pro and play the Korn Ferry Tour, which he could've done given his standing in the PGA Tour University rankings. And Fred Biondi finished his junior year at Florida as the No. 10 player in college golf. This would've been a comfortable threesome for our college contingent.
Min Woo Lee, Danny Lee, K.H. Lee
This one's pretty self-explanatory.