FIRE PIT COLLECTIVE
U.S. Open 2022: How Matthew Fitzpatrick overpowered The Country Club for a career-changing win
Editor's Note: This article first appeared in Fire Pit Collective, a Golf Digest content partner.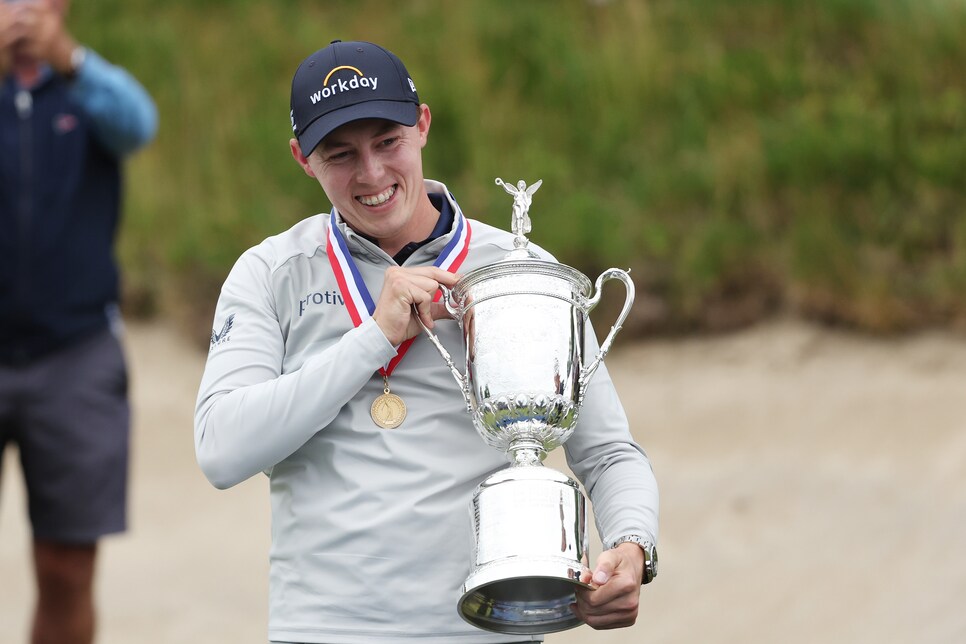 BROOKLINE, Mass. — Sunday evening, under cool gray skies that called for wool, or maybe tweed, the 122nd United States Open returned golf to a simpler time. A thrilling three-man play was reaching its denouement, and the giddy fans crowded the 18th fairway like it was 1913 again. It was shoulder-to-shoulder on the balcony of the stately yellow clubhouse of The Country Club, one of the founding members of the USGA. Moments earlier, the clubhouse lead had been set at 5 under by Scottie Scheffler, both the hottest player in golf and a walking Tom Petty lyric (Loves Jesus and America, too.) Now the final group was playing the 72nd hole. Will Zalatoris, who looks like Zorro on short putts but Iron Byron on full swings, smoked a perfect drive, leaving him just a wedge in and a golden birdie opportunity. He was tied with Scheffler, one stroke back of Matt Fitzpatrick, who is as boyish as the young Eddie Lowery. Fitzpatrick hit a nervy hook off the 18th tee, raising new questions about his mettle. The 27-year-old Englishman was 0-5-0 in two previous Ryder Cups, and just last month at the PGA Championship was tied for second heading into the final round but looked shaky en route to a 73. Professional golfers tend to have selective memories, because it is a job requirement; Fitzpatrick's takeaway from Southern Hills was that even without his best stuff he finished only two strokes out of the playoff, of which Zalatoris was a part.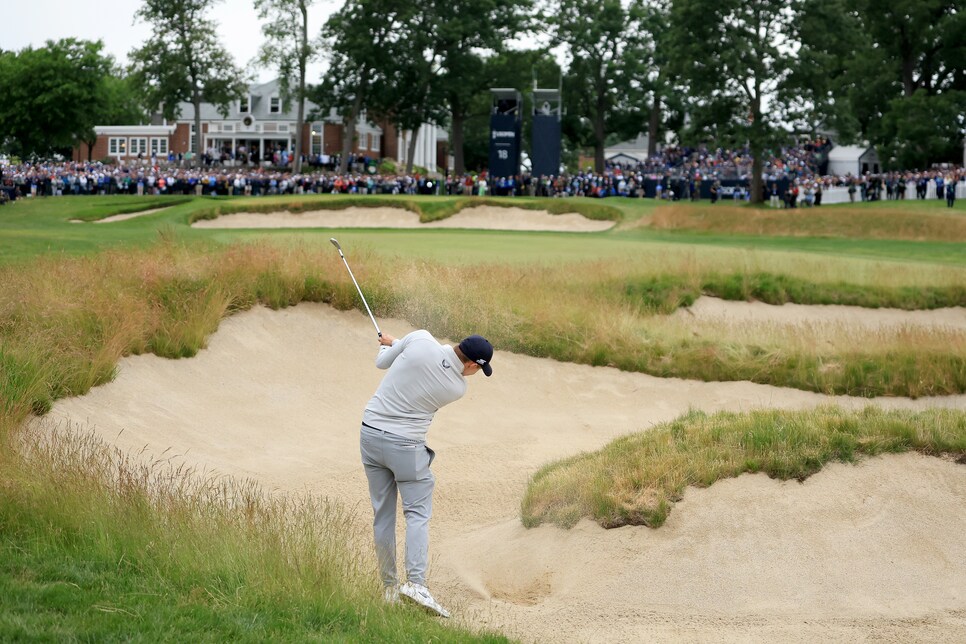 Now, in the fairway bunker on the 18th hole, Fitzpatrick faced a defining moment, and so did his sport. The subtext to this Open week was the ongoing battle for the soul of golf between rival bureaucracies, one funded by dirty oil money. But all of that unpleasantness was quickly forgotten on Open Sunday as world-class players on a spectacular venue gave us a rarity at the national championship: a back-nine shootout. Fitzpatrick settled into the crunchy sand, in nearly the identical spot from which defending champion Jon Rahm had made a killing double bogey the day before. But the lad from Sheffield made a fearless swing with a 9-iron and the contact was crisp. The ball traced such a majestic arc that even before it reached its apex, the crowd was at full-throat. It fell out of the sky just beyond the flag, instantly joining the pantheon of legendary 72nd hole shots at the major championships: Hogan's 1-iron at Merion in 1950; Jack Fleck's 7-iron at Olympic in 1955; Arnie's 6-iron at the 1960 Masters; Jerry Pate's 5-iron at the '76 U.S. Open; Sandy Lyle's 7-iron from the fairway bunker at the '88 Masters; Faldo's 3-iron at Muirfield in '92; Corey Pavin's 4-wood at Shinnecock in 1995; Shaun Micheel's 7-iron at the 2003 PGA; Tiger at Torrey in 2008. As his sport has become engulfed by bitchy press releases and the threat of litigation and pointed press conference barbs, Fitzpatrick struck a shot that reminded us why tournament golf is such thrilling theater. Alone in that bunker, with the world watching and all of England holding its breath, he met the moment. Undaunted, Zalatoris zipped his approach to 14 feet, a step closer and basically on the same line. The Country Club shook.
Fitzpatrick cozied his putt for a tap-in par, and now the stage belonged to Zalatoris. His putter can get so wobbly on shorties that, when asked on Sunday what he thinks while watching his old rival putt from close range, Collin Morikawa quipped, "I pray for him." But Zalatoris is dangerous on mid-length putts, and he rolled the ball beautifully throughout the final round. On the 72nd hole he made a smooth stroke but played a touch too much break. Fitzpatrick stood frozen on the edge of the green, knowing his life had just changed. Then he comforted his caddie, Billy Foster, who was already in tears after finally having won a major championship after four decades on the job.
"The feeling's out of this world," Fitzpatrick said in victory. "It is so cliche, but it's stuff you dream of as a kid."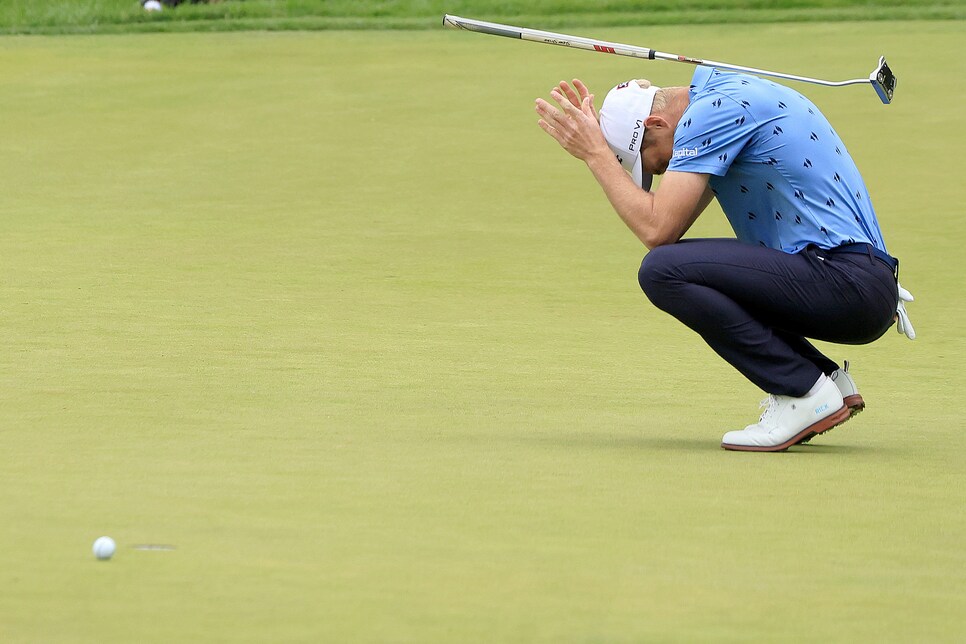 It's been quite a journey from Sheffield, a gritty steel town that is landlocked in the north of England. Fitzpatrick brings a working man's mentality to his glamorous job. "He's a grinder," said Jordan Spieth, the 2015 U.S. Open champion. "I understand he comes from a blue-collar town. At this golf tournament you have to be so good at brushing off bad breaks. With that DNA in him, it's not a surprise he does that so well."
Fitzpatrick won the 2013 U.S. Amateur at The Country Club. (He and Jack Nicklaus are the only men to win an Amateur and an Open on the same course; Big Jack's came at Pebble Beach.) Fitzpatrick turned pro the following year and won his first European Tour event at the 2015 British Masters, at 21. He has been a consistent winner in Europe with his precise, calculating play, but two years ago he decided he needed more length off the tee to compete on the bigger ballparks of the major championships. Fitzpatrick offers this scouting report of where he was: "Putting was good. Short game was good. Approach play was fine, but my driving, I was straight but just didn't have that distance to take advantage of everything else."
After laborious, intentional work with Dr. Sasho MacKenzie, a biomechanist who developed the Stack System, Fitzpatrick has gained easily 20 yards off the tee. He's like a diminutive point guard who grew six inches over the summer and is now dunking on fools but still possesses his wizardly ball skills. For the first two rounds at The Country Club, he was paired with future Hall of Famer Dustin Johnson, who is half a head taller and oozes testosterone, with a luscious beard and arm hair as thick as U.S. Open rough. Fitzpatrick matched him yard-for-yard, which surprised everyone in the golf world except for the baby-faced neo-bomber. "It's really changed the way that I play the game," Fitzpatrick said of his newfound length.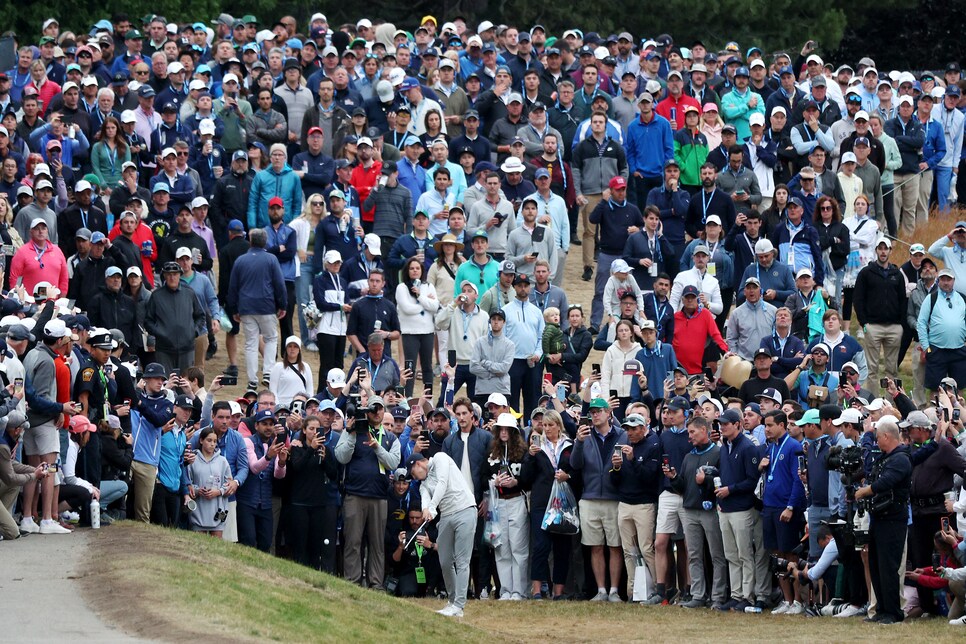 Rounds of 68-70-68 left him tied with Zalatoris for the 54-hole lead, but Open Sunday loomed as the ultimate test. Fitzpatrick exhibited zero fear, swinging with abandon as he cut doglegs and flew his drive onto the green of the 301-yard uphill par-4 5th, setting up a key birdie. Still, after bogeying the 10th hole from a greenside bunker and 3-putting the 11th, he was two strokes behind the relentless Zalatoris, who has now finished eighth or better in six of his eight major championships as a pro. But Fitzpatrick ran him down with a 50-foot birdie bomb on the 13th hole and then a 220-yard 5-iron from well off the fairway to 18 feet on the brutal 527-yard par-4 15th hole, where Zalatoris made bogey for a two-shot swing. On a breezy day and a tight, twisty golf course with rain-soaked rough, Fitzpatrick hit 17 greens in regulation, one of the great ball-striking performances in the recent history of the U.S. Open.
It should be noted that the new champ putts with the flagstick in and chips cross-handed. He has kept detailed, homemade stats on every shot he has struck in competition. He's a golf tragic, an iconoclast and an obsessive—basically Bryson DeChambeau minus the hubris and girth. "If it's better and it works and it helps you win, may as well do it," Fitzpatrick said, summing up his worldview. "I'd rather win than worry about looking stupid."
His candor is refreshing and so are his Old World manners. "He is incredibly nice," said Joel Dahmen, who tied for 10th. "I've never heard anyone say a bad word about him."
But that gentle sentiment is better suited to the old Matt Fitzpatrick—the sweet kid with the cute little game who no one took too seriously. After his macho performance to win this U.S. Open, it's time to think about Fitzpatrick differently. He's now the big, bad wolf.