FIRE PIT COLLECTIVE
Ask Alan at the U.S. Open: The Country Club's greens, blind shots and LIV's effect on the Ryder Cup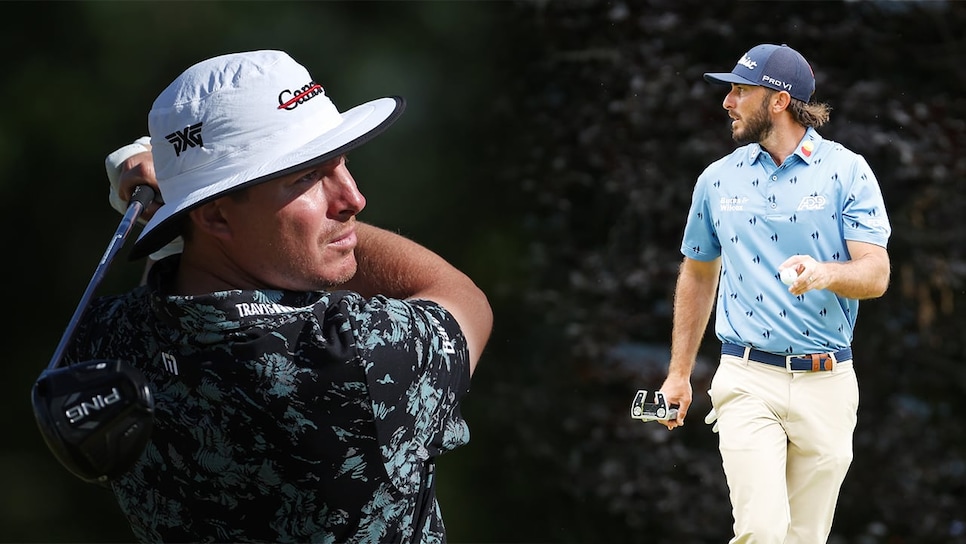 Is a daily #AskAlan too much? Possibly. But the U.S. Open is supposed to be a war of attrition … for the readers too. So let's get to your excellent questions…
Why in the world is the USGA watering the greens with weather in the area? Getting out of control already on a Friday morning? @hendygolf
Well, it's an outdoor sport and things don't always develop the way you think they might. The forecast called for temperatures in the high 80s. It looked like this course was going to cook, but then this weather system tacked a different way and we got some sprinkles. So the USGA is doing the best it can. It was golf gods versus meteorologists, and you never know who's going to win that one. But the course is pristine. It's perfect. A little moisture is a good thing—we don't want the greens to get too fried.
What golfer at the U.S. Open would you like to see keep an honest, reflective daily journal throughout the tournament to be published on the Fire Pit Collective site? @forearmshivers
Well, Phil Mickelson, obviously, if you could really get to his inner life, which would be fascinating, but honest is the key here, so that might disqualify Phil. Someone who actually would be fun? Joel Dahmen would be fun. Max Homa. I mean some of the obvious characters, but how about Dustin Johnson? If you could really get inside his lizard brain and understand what was happening, it would be phenomenal because, as Rory said about Dustin not too long ago: he's more switched on than any of you guys in the media know. I would like evidence of that. So I'm going to say Dustin.
Why doesn't the USGA do a rota like the R&A? @melz19230
Well, they have gone to this idea of anchor sites: Oakmont, Oakland Hills, Pinehurst and Pebble Beach, hitting four parts of the country. And there's some talk they might add a couple others. So there is a low-key rota. But the problem with being locked into a rotation, of course is, What if something gets built that's phenomenal? Or there's an incredible restoration of a beloved muni course, or whatever it may be. So I think it is important to have a little wiggle room for the unexpected.
Would you rather have Tiger Woods reference the infamous picture of you with Greg Norman in the background in a press conference and mention you as his favorite writer, or play Augusta National? @TapInForBirdie
I've played Augusta National. It's no big deal. So getting dapped up by Tiger would be funny. Given our long, complicated history, I don't see it happening, but it would be quite delicious if he were to call me his favorite writer. Then again, I don't need Tiger's approval. I care about you, the reader, the listeners. So I guess I'll play Augusta National. I just talked myself into it.
If all the rumored defections to LIV happen, how does it affect the Ryder Cup going forward? @themurn
That is a very fundamental question. Seth Waugh, who runs the PGA of America, initially took the hard-line stance that if you're not a member of the PGA of America, you can't play in the Ryder Cup. But that's crumbling now that it's proving not to be a deterrent and all these guys are going anyway. It doesn't serve the interests of the Ryder Cup to be missing a number of top Americans and Europeans. You don't want to water down the competition because half of the world's best players have taken the LIV money. So I think in the end, they're going to figure out a compromise and everyone's going to play in the Ryder Cup, as it should be.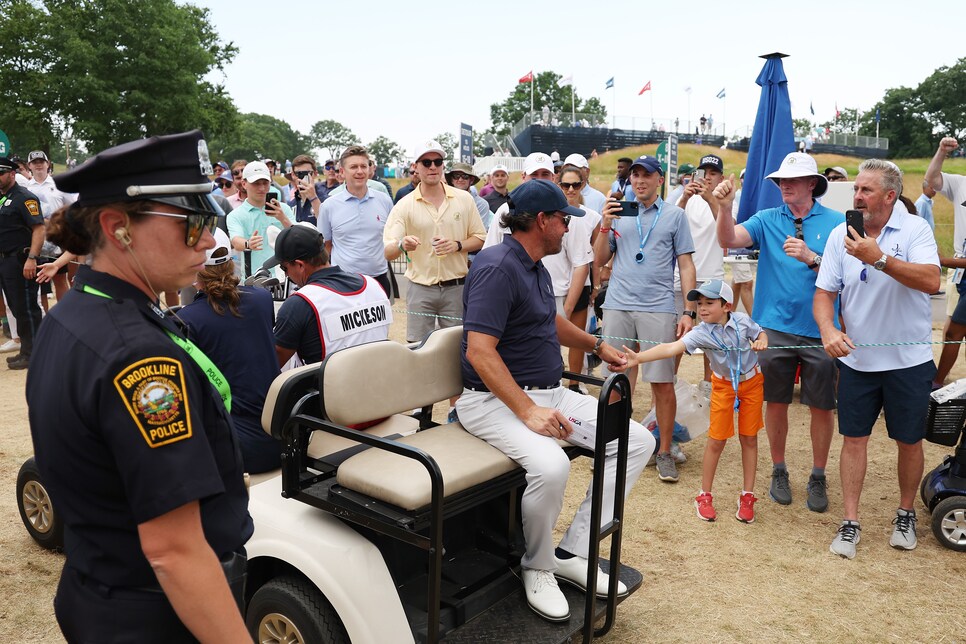 Phil is used to being pretty much beloved and admired by all. Do you think part of his poor performance of late is the shock to his psyche of being reviled in many quarters? @gkellynyc
I do. It was really interesting to see the look in his eye during his press conference on Monday here. He looked a little defeated and it felt like a moment of clarity where he was realizing, Dang, all these reporters in this tent, whom I used to get along with and even enjoy, are now throwing these really tough, almost angry questions at me. And even though the crowd was mostly on his side, there were still a few stray barbs. (That is not a reference to Barbara Nicklaus.) There was still a different feeling in the air. I think Phil is realizing he crossed the Rubicon and there's no going back, and that's weighing on him. No doubt his poor play is also due the fact he took four months off from competitive golf, but he definitely has a hangdog look, and for a guy who has always been an emotional golfer who's kind of fueled by the crowd and their energy, that's a problem. So we'll see if he can find his old mojo. I'm not exactly sure it's going to happen this year. There's just so much bad juju floating around.
How many times have you or someone you played with hit a shot and then turned away refusing to look at the outcome? Zero, right? Now that we've established that no one actually likes blind shots, what psychological defect is it that makes people think they like them? @HenriDeMarsay
Despite the very aggressive wording of this question. I like blind shots. Put me on the Dell hole, or the 14th at Cruden Bay, it is so fun to just hit what you think is a good shot and leave it in the lap of the gods. And you run up that hill and you can't wait to see the outcome. That's cool. Maybe it is a defect, but you know, golf is not meant to be played in a dome. There's always going to be an element of chance and luck. And the blind shot just elevates that because you don't even know what happened for your ball to get where it got. So I love blind shots. You're right, it does make the pros uncomfortable, and I think that's a good thing. It's just one more mental hurdle they have to overcome here at the Open with the myriad blind shots at The Country Club.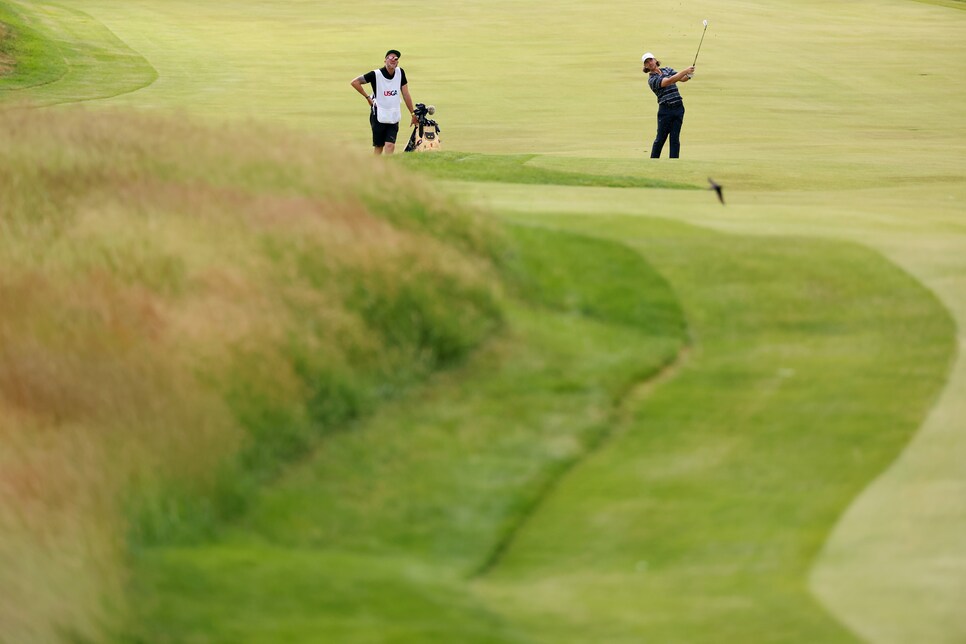 What's the percentage of people who became interested in the human rights abuses of Saudi Arabia when it became apparent their sports washing exercise pose a legitimate threat to the PGA Tour? @jarodhitchcock
Good question. For sure, there has been plenty of selective outrage, but I would argue that anytime as a citizen you become a little more aware of what's happening in the world at large, it's a good thing. So sports can be a vehicle for education as well as entertainment. And the fact that we're all plugged into the geopolitical ramifications of Saudi Arabia and its role on the world stage, I think that's important. And if you came to that through golf, that's a good thing, not a bad one.
Why don't the Opens do random draws for the opening two rounds? @golf_stash
It's a TV product. They want some superstar pairings, they want to mix up the big names in the morning and afternoon waves. The PGA Tour also has a computer that supposedly does blind draws, but no one believes that. There's always been an element of showbiz to this stuff. So maybe Justine Reed is right in that they are conspiring against her husband, but I'm OK with that too, because that creates entertainment. At least on Twitter.