Voices
U.S. Open 2021: Mike Davis thinks differently about his legacy as USGA CEO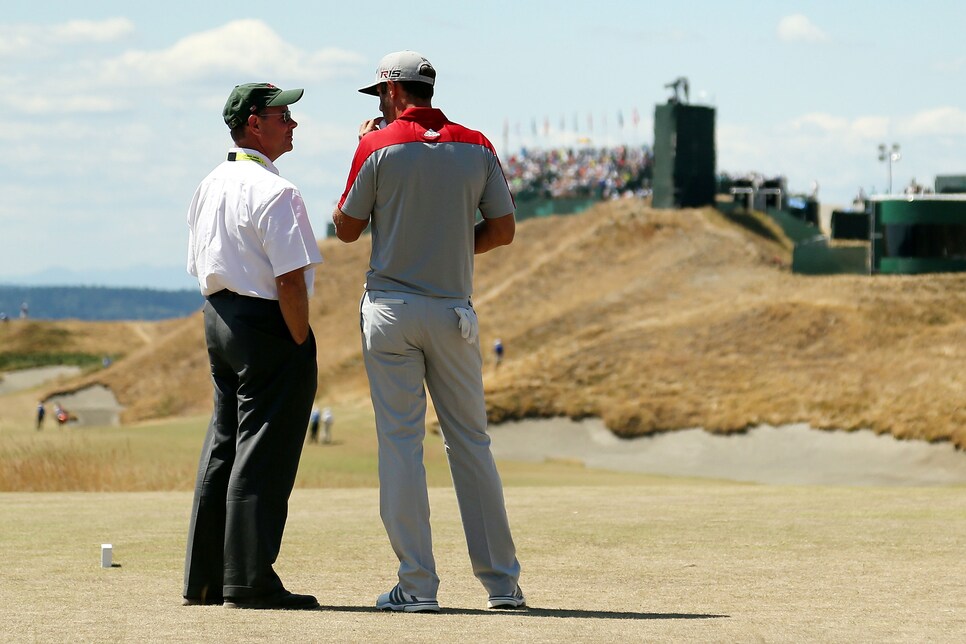 Renaming its golf course sustainability program in honor of Mike Davis was just about the most appropriate gesture the USGA could make on behalf of its outgoing CEO. Last week, the USGA announced that its $45 million Golf Course Sustainability Research Program will become the Mike Davis Program for Advancing Golf Course Management.
If there is one word that sums up Davis' overarching philosophy during his 11 years leading golf's governing body as executive director and CEO, it would be "sustainability." It suggests a long view of things and a concern for the future of the game—how it is played, how it impacts the environment, how its archaic rules can be simplified, how it can attract new participants and fans while retaining its core traditions.
After 30 years with the organization, Davis is counting down the days—15 as of this writing—before he departs Golf House, ventures to Florida where he and his wife CeCe are building a home, and soon after begins a new career as a partner with Tom Fazio II in a golf course design business. The upcoming U.S. Open at Torrey Pines is his "swan song," as he puts it. He won't have much of a role there. He'll largely bounce around the property while offering his insights to his successor, Mike Whan, who spent the last 11 years as LPGA commissioner.
"I remember David Fay [Davis' predecessor as executive director] used to make comments to me like, 'You'd better watch what I'm doing because you're going to one day be here.' And I said, 'No way,'" Davis recently told Golf Digest. "Because, really, I loved championships and I loved overseeing the governance functions. It was just pure golf, those things.
"I'd see all that he was doing, everything from board meetings to finance meetings, to budgets, to HR issues, to IT. Not that I dreaded any of that. It's just that those weren't my areas of expertise. I've always viewed myself as just a golf person."
Davis has been a golf person just about all his life, going back to his junior days in Pennsylvania, so it is no surprise that his tenure has been marked by what one might think of as nerdy, minutia-type initiatives. That would include rules, equipment, the handicap system, course maintenance and sustainability practices, and course setups and architecture.
The last of those is where Davis' legacy gets sticky, at least in some corners, because the most public of his roles has been the setup of USGA championship sites, particularly for the U.S. Open. The architectural wonk in him led to setups that broke with tradition, be it graduated rough, chipping areas, rerouted fairways and the use of multiple teeing grounds. Some courses didn't resemble a U.S. Open test at all, such as Chambers Bay in 2015 and Erin Hills in 2017. Old standbys, such as Winged Foot and Oakmont, largely were met with approval, but critics nitpicked aspects of Merion, Pebble Beach and Shinnecock Hills.
Davis looks on during a practice round prior to the 2018 U.S. Open at Shinnecock Hills.
Andrew Redington
It bears pointing out that the harshest criticism came from PGA Tour players whose ideas of "fair" or "crossing the line" differed sharply from Davis'. Not that this is anything new. Bobby Jones prematurely quit his practice round for the 1926 U.S. Open at Scioto Country Club in Columbus, Ohio, infuriated by the introduction of a new setup feature—thick rough. Players have been grumbling about setups ever since. But in the era of 72-hole television and internet coverage, and the proliferation of social media, Davis and the USGA never were going to win many arguments. Not even ones where they stood on solid ground.
The scoring discrepancy between morning starters and the leaders teeing off in the afternoon at the venerable Long Island layout was so substantial that Daniel Berger and Tony Finau, who barely made the cut, shot 66s and made up 11 strokes to tie for the 54-hole lead. Phil Mickelson's gallop across the 13th green to hit his ball while still rolling was an embarrassment that in the end was more an indictment—unfairly—of the USGA than of Mickelson. When Davis overcorrected the next day and slowed down the greens, the optics were even worse. Tommy Fleetwood tied the championship record with an early 63 and nearly stole the title, stopped only by Brooks Koepka's gritty 68 that yielded a one-stroke victory and a repeat victory.
Public opinion of Davis should hinge, though, on more than just one aspect of his job, which, by the way, and few ever note, he approached with the best intentions, something at least one tour player recognizes.
"I mean, obviously, I just see the side that influences the professionals and myself and the U.S. Open, so it's probably not a fair judgment of what he's done for the USGA because I know that there's definitely some events that could have gone a little bit better in terms of course setup," said 2017 PGA champion Justin Thomas. "He handled them all with grace and tried to continue to get better, and I know that he's created a great pathway for the future of the CEOs of the USGA, and he's done a lot of great things for the game of golf.
"I think his setups of the U.S. Open are just a very miniscule part what have he's done for the USGA," Thomas added. "I would say 99½ percent of what he's done for the USGA is stuff that I'll never know. He's grown the USGA, whether it's events, internally, making the game better in a lot of areas that I don't know."
Thomas scores a direct hit when he mentions how Davis helped to make the game better in areas of which he might not be fully aware. Some have been well publicized, such as the USGA and R&A ban on the anchored putting stroke, a controversial move that received pushback from the tour and the PGA of America but which purists applauded as long overdue. There is the Distance Insight Project, again in partnership with the R&A, a comprehensive study on the equipment and its impact on the game. The two organizations in 2019 rewrote and simplified the Rules of Golf. In recent years the USGA has created four new championships, including the U.S. Senior Women's Open.
Furthermore, under Davis, the USGA helped establish the World Handicap System, made sustainability a primary goal through its "brown is the new green" messaging that has resulted in untold savings in water usage and course maintenance budgets, expanded its footprint with the creation of a second Golf House in Pinehurst, N.C., and created the USGA Foundation. And because he recognized some of his own shortcomings in non-golf aspects of his job, he surrounded himself with capable individuals, leaving the USGA a stronger organization overall.
It happens that Davis takes the most pride in those very ideas and initiatives that Thomas and so many others probably aren't aware. "I look back, and when somebody says, 'What are you most proud of?' it's those little things a lot of times that no one even knows anything about," Davis said.
He will tell you in the next breath, however, that big topics mattered, too. "I think we took on some hard things that would have been easy to sweep under the rug," he said, noting the anchoring ban and distance study. "The easy thing is to turn your back on those issues, do nothing. They are not easy subjects. They're polarizing, but they are really important long term to the game. When I look back, I will feel a sense of us accomplishing things that were good for golf."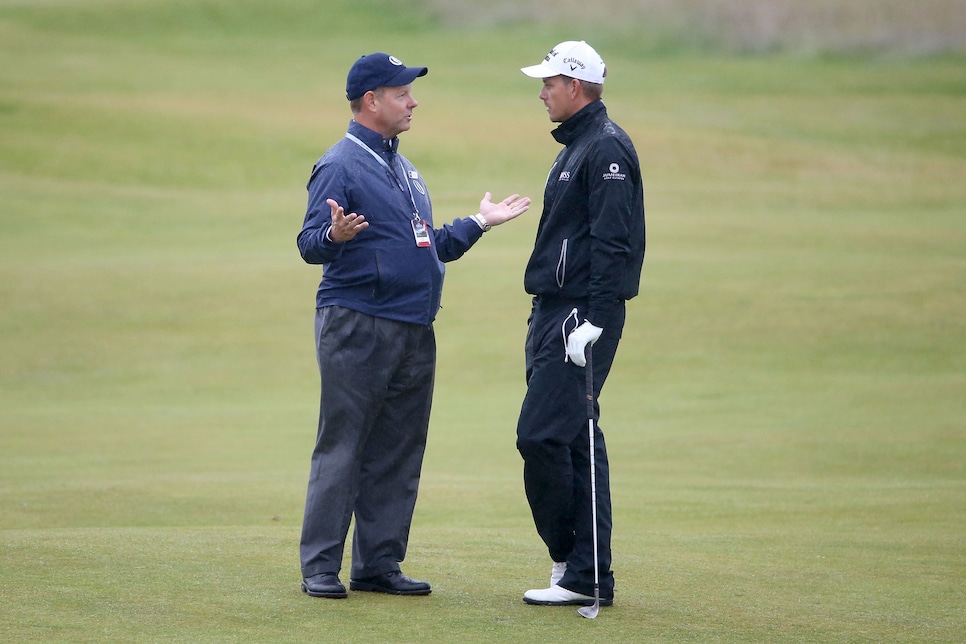 Davis and players didn't always see eye-to-eye on topics, but the outgoing CEO tried to hear out players on issues regarding U.S. Open course setup, equipment and rules.
Streeter Lecka
Jack Nicklaus, whose USGA career began in 1955 at the U.S. Junior Amateur when Joe Dey was executive director, hasn't always seen eye to eye with Davis, but he has appreciated his earnestness and dedication.
"I think Mike has done a nice job, because he cares so much about the game," said Nicklaus, an eight-time USGA champion who has been one of the loudest and most consistent critics of the increasing distance the golf ball travels. "Mike's been very willing to listen and talk about the future of the game, and he's been very involved in doing what's best for the future of the game."
"Mike did his job and worked hard on behalf of the game across the board, all levels," said 2009 U.S. Open champion Lucas Glover. "He put together tons and tons of great championships in his career, not just the U.S. Open, and he was very conscientious about the way he went about everything he did."
It is appropriate that Davis will attend his last U.S. Open wearing the USGA colors at Torrey Pines, where a hobbled Tiger Woods triumphed in 2008 with a stirring and gritty performance. "That was as dramatic as any I've seen, and my only hope is that this one is half as good," Davis said. "So, this is as good a place as any to bow out."
And after bowing out, he plans to check out for a while. After a role, "that was, in reality, seven days a week for 11 years," Davis is ready to step back.
"In some ways, I grew up here. It started when I was 25, so this is very bittersweet," Davis said wistfully. "But I'm actually looking forward to catching my breath for just a little while. CeCe and I want to finish the house, get things in order before I go diving into this next phase. I've had this [course design] in the back of my mind for years, so we'll see how it goes. I may be lousy at it, but I'm going to have fun with it and try my best. That's all I've ever tried to do because I love the game."
As legacies go, that should be enough. Or, shall we say, sustainable.