News
U.S. Open 2020 live updates: Matthew Wolff leads by two over Bryson DeChambeau at Winged Foot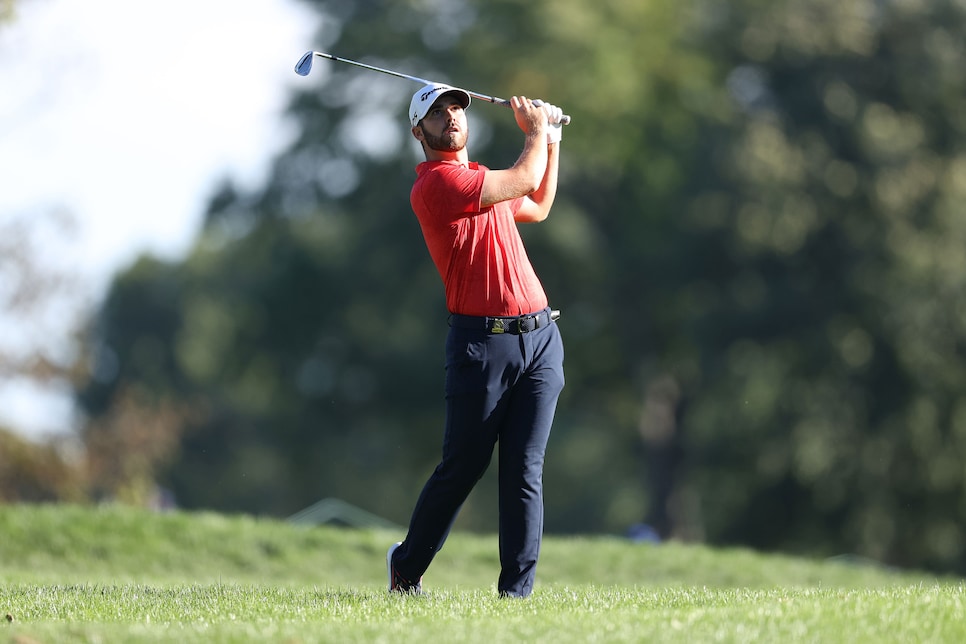 It's been a tale of two rounds at the 2020 U.S. Open at Winged Foot. On Thursday, 21 players broke par, including Justin Thomas, who cruised to a five-under 65. Your grandfather's U.S. Open, this was not.
But on Friday, the iconic A.W. Tillinghast-designed course fought back, as did mother nature. Just three players—Bryson DeChambeau, Hideki Matsuyama and Bubba Watson—shot under-par rounds. Only six have under-par, 36-hole totals heading into the weekend.
Leading the way is Patrick Reed, who grinded out an even-par 70 in Friday's brutally difficult second round. The 2018 Masters champion needed all of his short-game heroics, as he hit just 5 of 14 fairways and only half of his greens in regulation. Is that type of play sustainable on the weekend of a U.S. Open? Reed is going to find out.
On Saturday he'll play alongside DeChambeau, who shot a wild 68 on Friday that included five birdies, five bogeys and one eagle on his final hole of the day, the par-5 ninth. DeChambeau is one back of Reed at three under. They will tee off in the final pairing at 2:25 p.m. ET.
In front of them will be Spain's Rafa Cabrera Bello and Harris English, who are tied for third at two under. Justin Thomas is also at two under, which puts him in the third-to-last group off with Jason Kokrak at 2:03 p.m. Before all those fireworks get started, we'll keep you updated on any important early-round action in our live blog below.
6:40 p.m.: DeChambeau misses the fairway again at 18, then comes up short and right with his approach. Instead of using the slope behind the pin, he clipped one that rolled about four feet past the hole. After a lengthy look and discussion with his caddie, he just missed the par putt on the high side. Demoralizing way to end, but he should still be really thrilled with how he played the last 16 holes. He finished with an even-par 70, which puts him at three under for the week. He'll play in the final group with Wolff, who leads by two.
Here is a look at the top of the leader board after 54 holes:

What do you guys think, is that any good? Tomorrow might as well be Christmas.
6:21 p.m.: Just like Wolff, Bryson continues to miss fairways and not get punished for it. He just hacked one out of the rough on 17 from 155 and it rolled up to seven feet. And yes, he did make the putt, just curling it in the side door again to reach four under. "Every part of me wants to not like this," says Roger Maltbie, referring to Bryson's strategy of overpowering the golf course. A lot of people may agree, but it's obviously working for Wolff and Bryson right now.
6:12 p.m.: If you bet on Bryson this week, you may have just had a heart attack. After walloping a drive at 16, he hit a wedge to 10 feet and his birdie putt hung on the left edge and somehow dropped. Remember that bogey-bogey start? Bryson has gone two under without making a bogey since. He's sticking to the game plan and it's working.
6 p.m.: After a wildly disappointing first eight holes of the back nine, Xander Schauffele curls in a long birdie putt at the 18th to shoot even par. He's even for the week, five back of Wolff. Definitely a guy to keep an eye on betting-wise this evening.
Back at 15, P-Reed makes another bogey. Missing every fairway and green has finally caught up to him. he's plus five on the day, plus one for the tourney. Bryson keeps plodding along and making his pars, exactly what he needs to do to stay within striking distance.
5:53 p.m.: What. A. Round. Wolff trickles in the birdie putt for 65 at 18, putting him in the clubhouse at five under. He hit TWO fairways. It's almost unfathomable to shoot 65 at Winged Foot when you miss 12 fairways.
5:43 p.m.: Wolff pulls iron at the 18th tee and skanked it out to the right, but it took a very fortuitous bounce out of the rough and into the first cut. Would it have even mattered if it ended up in the rough? Guy has been living there all day and he's four under. It's remarkable.
At 14, Reed bangs a long par putt off the back of the cup, but it lips out. He's now fallen all the way to even par. DeChambeau saves his par to remain at two under.
Wolff strikes his second and it's an absolute beauty. He'll have less than 10 feet for birdie to shoot a five-under 65, which would be the lowest round of the week, and would all but lock up the 54-hole solo lead.
5:37 p.m.: Everybody seems to be paying the price for missed fairways today, except for Wolff, who missed the 17th fairway and blasted a 164-yard gap wedge out of the rough onto the green. A two-putt par puts him one par away from shooting the round of the day.
5:28 p.m.: Hideki Matsuyama with a disaster of epic proportions just earlier at the 17th. He shanked his third shot into a bunker from the left rough, then blasted one well past the hole and two-putted for bogey, dropping him to even par for the tournament. He's still just four back, but he had done such great work to get within two. Brutal, brutal way to finish, though he still has one hole remaining.
Back at 13, Reed makes another bogey, three-putting from long range. He's fallen to one under for the week. Bryson DeChambeau made his par, but he just snap hooked one into the rough on 14.
Nobody is feeling better than Louis Oosthuizen right now. He just cleaned up his par at 18 to post a two-under 68, giving him the clubhouse lead at one-under 209. What a round.
5:20 p.m.: Wolff's par putt was never on line at 16, snapping his streak of 19 consecutive holes without a bogey. He still holds a two-shot lead over Reed, DeChambeau and Matsuyama, who is staring bogey in the face at the 17th.
5:16 p.m.: Good lord. Reed's birdie effort from six feet slides by, and Bryson, who put his chip to literaly tap-in range, didn't even SCARE the hole. Two incredibly disappointing pars, and they both remain at two under for the championship. They're currently three back of Wolff, who took his medicine at the 16th by pitching out to the fairway and hitting his third to around 10 feet. Could be a very, very clutch par save if he makes.
5:10 p.m.: Looks like it's going to be a war for Wolff on these last few holes. He just hit a bad pull on the 16th. Par would be miraculous from where he is. Back at 12, Bryson launches a drive then hits a 3-wood to the moon and has a fairly straightforward chip out of the first cut. Pretty big moment here for Bryson. Could be the last good birdie chance. As for Reed, he's on in three, and he's got a six-footer for birdie. Big moment for him as well.
5:00 p.m.: Matthew Wolff sticks an unbelievable approach at the 15th hole from the thick rough just in front of the creek ... he has about 15 feet for another birdie. And with Patrick Reed's double bogey, the young 21-year-old now has a three-shot lead.
Sportsbooks think Wolff's lead is cushion-enough ... his odds are now +163 to win the U.S. Open.
4:54 p.m.: Captain America is a scrambling wizard ... but he's even struggling now at Winged Foot. He made the bogey at No. 10, and now after a poor second shot from the right rough at 11, he hit a poor third shot ... and now has six feet to save bogey. Anddd P-Reed misses the six-footer above the hole. He has work just to save double bogey.
4:40 p.m.: Tillinghast might've called the par-3 10th at Winged Foot West his favorite par 3 ... right now, Patrick Reed wouldn't agree. P-Reed's 7-iron tee shot came up way short, and then his chip shot got caught up in the grass around the green. He ends up with a bogey to avoid further damage ... that drops Reed out of the lead and back to 4-under.
Hideki Matsuyama continues to stay hot—making his sixth birdie of his round ... this one at the 14th hole ... to move within two of Matthew Wolff's lead. Hideki is putting on a ball-striking clinic. According to our friend Rick Gehman and his RickRunGood.com live strokes-gained leaderboard, Hideki is gaining more than 7.7 strokes on his approaches against the field. Sure ... he's losing more than 2.5 strokes/putting, but on Saturday, he's picking up a lot of ground in pursuit of his first major.
4:31 p.m.: Patrick Reed recaptures a share of the lead with an impressive scramble from just off the green to make a birdie. He's 1-under after nine holes and 5-under overall, tied with Wolff as Wolff is playing the par-3 13th.
4:28 p.m.: Oh my ... this second shot from Bryson DeChambeau is full Bulked Up Bryson—we'd love to know what iron he hit here ... 8-iron from 238 yards. Look at this:
4:24 p.m.: Wow, Matthew Wolff JUST misses his birdie putt at the 12th hole ... he left it a little short uphill. If there's ever a disappointing par at Winged Foot, that could be one of them.
4:19 p.m.: Justin Thomas just found out why everyone talks about the difficulty of Winged Foot's beastly par-3 10th hole. JT chunked his chip shot into a tough lie in front of the front bunker, and misses the bogey putt to end up making a double bogey. It's a tough Saturday for Justin Thomas ... he's now 2-over and seven back of Matthew Wolff's lead. Wolff just stuck his third shot at the par-5 12th hole to about 8 feet for a chance at his sixth birdie of the day...
4:13 p.m.: Both players in the final group—Bryson and Reed—were in really precarious spots at the par-4 eighth, but they did well to make par. Bryson had a really deep lie in the rough around the green and hit a fantastic shot to a foot to save par. And Reed had a great two-putt from the other side of the green ... nearly making it ... to stay at 4-under and one back of Matthew Wolff. Bryson is 2-under and three back.
4:08 p.m.: Rory McIlroy finishes up with a 2-under 68 to very quietly stay at 1-over, which is currently six back of Matthew Wolff. If the conditions get a little tougher for the leaders coming down the stretch, who knows—maybe he ends up a few strokes closer. "We'll see how it goes. ... The hole locations are tough coming in. If Matt pars in, I'm within six coming into tomorrow. That's not a lot at this golf course." -- Rory told Steve Sands in his post-round interview with Steve Sands
3:59 p.m.: It's been a quiet Saturday thus far for Bryson DeChambeau—but he just made his first birdie putt at the par-3 seventh (a 23-footer) to move to 2-under overall, three back of Matthew Wolff's lead.
3:54 p.m.: Matthew Wolff hit a peach of a tee shot to eight feet below the hole at the par-3 10th, but he JUST misses the birdie effort. That would've been six birdies in his first 10 holes ... he settles for a par.
3:50 p.m.: Wow ... Xander Schauffele is finding some magic with his putter right now—he follows that putt from off the green at No. 8 with an eagle putt at the par-5 ninth. Xander walked that in from 15 feet to move to 2-under and just three back of Matthew Wolff's lead.
3:43 p.m.: We have a new leader at the U.S. Open: Matthew Wolff two-putts for birdie at the par-5 ninth hole—carding his fifth birdie against zero bogeys on the front. That's a front-nine 30 (!) ... and now we get to see how the Oklahoma State product plays with the lead at a major. Such stellar play.
Collin Morikawa took down the PGA last month ... imagine if Matthew Wolff took down the U.S. Open right after it. There's a LOT of golf to go, but this is such an impressive Saturday thus far from Wolff after he shot 4-over yesterday.
3:37 p.m.: Patrick Reed found the fairway bunker at the fifth hole and it ended up costing him. From the greenside bunker, he came up a little short and missed the putt—moving him back to 4-under and even par for the day.
Matthew Wolff, meanwhile, is on the green in two at the par-5 ninth hole—he'll have two putts for a birdie that would take the outright lead. Just an unbelievably great start to this round for the 21-year-old.
3:30 p.m.: Xander Schauffele, like Justin Thomas, had a tough start to his round—being 2-over in his first four holes. But Xander has surged back to even-par with a few birdies—the most recent one in really, really impressive fashion.
3:22 p.m.: Patrick Reed hit an unbelievable shot—the closest of the day at No. 4—to set up a 3-footer for birdie to get to 5-under and one-under on his round. At this point, Reed needs to with Matthew Wolff playing how he is—the 21-year-old just put it to six feet at the par-4 eighth to card a fifth birdie on his front nine. Ah ... Wolff misses the birdie look but makes the comebacker to stay at 4-under, one back of Patrick Reed.
And wow, apparently some fans just off the grounds got into it a little bit with Reed before he hit that beautiful approach.
3:11 p.m.: Oh. My. Goodness. Matthew Wolff BURIES another birdie putt at the par-3 seventh, and he's now tied for the lead at four under. What a savage.
3:04 p.m.: There are some serious moves being made on Winged Foot's front nine. Matthew Wolff just made another birdie at No. 6 to reach three under, while Billy Horschel just made the turn in two-under 33 to get to level par for the week. Reed, the solo leader, just let everyone get a little closer with a bogey at No. 3. Things are heating up.
2:54 p.m.: BANG. Reed holes the birdie putt at No. 2. Cannot ask for a better start. His partner, DeChambeau, just made another bogey. Reed's now four up. That was quick.
Reed shouldn't feel too comfortable, though (not that he would anyway at Winged Foot). Hideki Matsuyama is coming on strong. He's two under through six, and that's without a single par. Four birdies, two bogeys.
2:48 p.m.: Bryson hooked his drive on the second into another area code, then had to play it back over the trees and will be fighting for par. Reed, meanwhile, missed another fairway, but rather than hitting it in the rough he hit it into a fairway bunker. From there, he found the putting surface and has a solid look at birdie. Imagine if this guy could hit a fairway?
Up at the par-5 12th, Rory McIlroy gets the shot he dropped at 10 back with a birdie. He's back to one over for the week. LurkTown, USA.
2:39 p.m.: Rough start for Bryson DeChambeau, great start for Patrick Reed. Bryson bombed one and had just 120 yards left, then wedged it on and three-putted for bogey. Reed missed the fairway, chopped one out and got up and down with ease. The scramble-fest continues for the 2018 Masters winner.
2:30 p.m.: Oh dear. Bogey-bogey start for Justin Thomas, who did this on the second tee:
Next up? The long par-3 third, where you kind of need to swing it well to have a chance at par. Not a great start for JT.
Matthew Wolff, on the other hand, is off to a scorching start. The Oklahoma State Cowboy is two under through four, which has moved him into a tie for third. Whatever happens, this is an incredible start to his majors career. He went T-4 at last month's PGA in his first major start, and now he's contending for the U.S. Open at Winged Foot.
2:13 p.m.: Just when you think Rory McIlroy is fully locked in, he promptly takes a step backwards. The Northern Irishman missed the green at the par-3 10th, and ended up with an absolutely horrible lie and an even worse stance. To his credit, he hit a great chip and left himself with a good look at par, but it missed low. He's still two over for the tournament and very much alive, but that hurts the momentum.
Back at No. 1, Justin Thomas picks up where he left off on Friday, and by that we mean he missed another fairway. He wasn't able to save par, dropping him to one under.
2 p.m.: Uh oh, here comes Rory! McIlroy shoots a 33 on the front, and didn't make a single bogey. He's the only player who went bogey-free on the front nine so far today. Watch out.
1:57 p.m.: It looked like "The Massacre at Winged Foot: Part 2" early on, but the birdies are falling on Saturday, and there's nothing wrong with that. Brendon Todd and Matthew Wolff, who are playing together, both made long birdie putts at the first to reach one under for the week. Up at the ninth, Zach Johnson holed out for eagle to turn in two-under 33, which jumped him into a tie for 14th at two over. Will Zalatoris, who nearly made two aces on Thursday, made his birdie at the ninth to turn in 34. Furious action, and the leaders haven't even teed off yet. Let's have a DAY.
1:28 p.m.: This truly is the stuff of legend from Alex Noren. He saved his par at 17, then found the fairway at the 18th and stuffed one to four feet. After some serious grinding, he poured it right in the heart for a three-under 67. "One of the best rounds you will ever see played," said Paul Azinger. Yep. That gets the Swede to three over for the championship, seven off the current lead. He could end up within four or five by day's end, though.
Then again, it looks and sounds like it could play a little easier as the day goes on. Well, not easier, but a tad less difficult. There are already a few players in the post-noon wave that have started off strong, including Tony Finau and Billy Horschel, who are each one under through two holes and one over for the championship. Rory McIlroy is also moving forward, having just birdied the par-3 seventh to get to two over for the week.
1:08 p.m.: We could be witnessing a 30-for-30 in the making right now from Alex Noren - "The Day One Man Shot Under Par." The Swede is two under on the day through 16 holes, which has him at plus four for the week. Can he hang on these last two holes? He's got about eight feet left for par on the 17th. We shall see.
12:15 p.m.: Still a ways to go before the leaders tee off, but a few thoroughbreds are on the course. Rory McIlroy starts his day with a gutsy par save from about 10 feet at the par-4 first, keeping him at three over for the tournament. Back at the first tee, Dustin Johnson snipes one into a tree down the left side, his ball coming to rest in the thick stuff. In typical DJ fashion, he laughed about it.
Up ahead at the 13th, Alex Noren continues to hang on for dear life. After making par at the 12th, he found a greenside bunker at the par-3 13th. He then splashed one out to 12 feet and made the putt. What a grind fest.
By the way, DJ's drive was so far left he was actually in the ninth fairway. Not a bad play. His second found the front right portion of the green, where he'll face a difficult two-putt.
11:50 a.m.: Noren saves his par at the 11th, and now goes into the gauntlet that is 12, 13, 14 and, well, the rest of the back nine. Good luck! If he's somehow able to eek out a 69, or even a 70, a four or five over total after 54 holes might not look all that bad by the end of the day.
11:45 a.m.: Folks, it is brutal out there. Just two players on the course are under par, and with the way it's going, that likely won't last much longer. Alex Noren, who is still one under on his around, has about eight feet left for par at the 11th. Amateur John Pak, the only amateur to make the cut, just made birdie at the second to get to one under on the day, four over for the week. But he just missed the green at the third.
11:02 a.m.: We're over three hours away from the leaders teeing off, but there are 22 players already on the course. The best round belongs to Sweden's Alex Noren, who opened his third round with five straight pars and then made back-to-back birdies at the sixth and seventh holes. At the par-4 eighth, where everybody tends to give one back, Noren just missed a five-footer for par. Bit of a momentum-killer, though he can get that stroke back at the par-5 ninth. The 10-time Euro Tour winner is now one under on the day, five over for the championship.