News
U.S. Open 2020 live updates: Patrick Reed takes solo 36-hole lead, Tiger Woods misses cut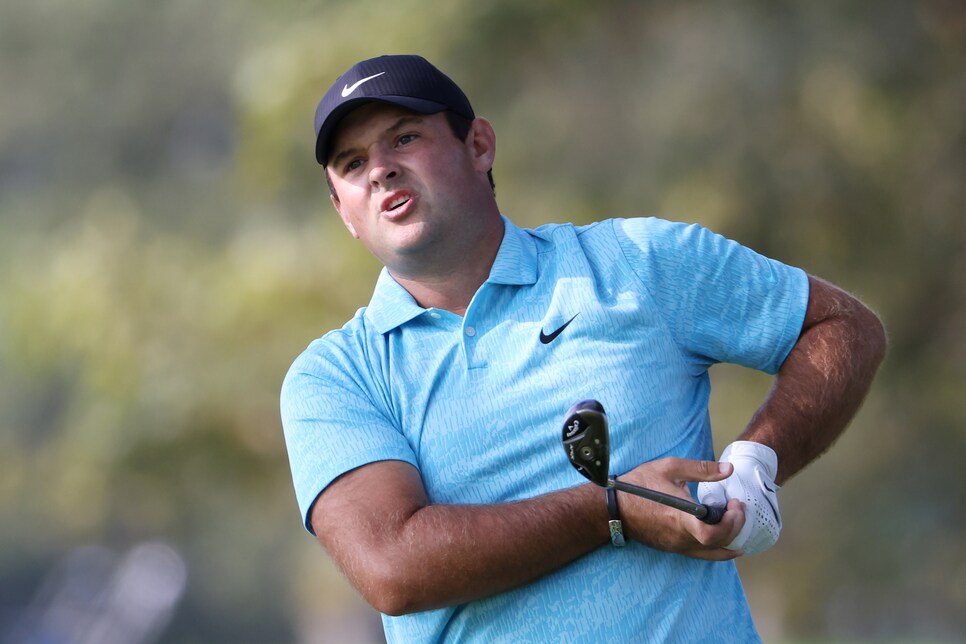 After 14 years, the U.S. Open is finally back at Winged Foot. Surprisingly to some on Thursday, the vaunted major venue played a little easier than ever—with Justin Thomas shsooting an opening-round 65 to grab the lead and shoot the lowest round in a U.S. Open ever at Winged Foot.
Thomas—playing alongside Tiger Woods and recent PGA champion Collin Morikawa—will tee off at 1:27 p.m., so he'll get to see if these scores continue to go lower by the time he tees off. Patrick Reed (-4, one back) tees off in the group just before Thomas. And there are some lower rounds on the course this morning, including Thomas Pieters, who stood one back before teeing off this morning, but made a few early birdies to actually surpass JT atop the leader board. We'll see what Winged Foot yields as Day 2 goes on.
7:18 p.m.: No dice for everyone at 7-over. Robert MacIntyre makes par on his last to make par, which seals the deal for the cut line. These guys are playing in some TRUE darkness. The Winged Foot clubhouse lights are all lit up, giving everyone a chance to wrap up their second rounds. What a fun second round with some really difficult conditions. Winged Foot bit back on Friday.
7:04 p.m.: Some POSSIBLE hope for the players at 7-over, though it's looking slim. Troy Merritt, who was 5-over, just three-putted the eighth hole to move to 6-over. There are currently 63 players inside the cut, with a few rounds still on the course. Merritt would need to bogey the ninth hole (his 18th), which isn't likely since it's a par 5. Then Robert MacIntyre (+5), with one hole to go, would need to double bogey, and Sebastian Munoz, with one left, would need to double bogey his last (he's 4-over). Maybe not important to the championship, but for anyone with money on pools and with someone at 7-over (raises our hands), that could be important.
By the way, it is DARK out at Winged Foot, but with just a couple groups on the course still, the USGA is doing their best to finish up today.
6:40 p.m.: Justin Thomas had a chance for another birdie at the par-5 ninth but didn't hit a good putt, settling for a par—good for a 3-over 73, putting him two back of Patrick Reed. A pretty good round in these brutal afternoon conditions—JT played his final seven holes in two-under. JT is in striking distance for his second major. Meanwhile in the same group, Collin Morikawa also missed a birdie putt that would've put him at 6-over, which would've made the cut. Instead Morikawa'll miss the cut after his PGA win ... an unexpected missed-cut from the young gun who's been so consistent in his young career on tour.
6:25 p.m.: Spoke too soon on P-Reed. He did, in fact, make birdie at the par-5 ninth, hitting his bunker shot to five feet and draining the putt. That's an even-par 70, which, paired with his first-round, four-under 66, gives him the solo lead after 36 holes. Unless Justin Thomas makes eagle on No. 9 (unlikey given he just missed the fairway) no one is catching Reed today.
6:09 p.m.: Despite getting a great read off of Hideki Matsuyama's putt, Patrick Reed just missed his birdie at the eighth. After missing the fairway at No. 9, he hacked one into a fairway bunker. Birdie looking unlikely, but par would be enough to grab a share of the clubhouse lead.
Back at the seventh, Justin Thomas drops a bomb for a two, getting him back to two under. That is so clutch, as he'll likely make another at No. 9 with his length off the tee. If so, we could have a three-way tie with Reed, Thomas and DeChambeau after two rounds. Not bad at all.
5:47 p.m.: Another missed green leads to another bogey for Reed. Back to three under, which still has him tied for the lead.
5:39 p.m.: Gutsy par from Jason Kokrak at the 18th, and even even gutsier par from Harris English at No. 8. Kokrak finishes with a one-over 71, which puts him at one under heading into the weekend. English still has the par-5 ninth to play. Back at the sixth, Reed holes a nice birdie putt to grab the solo lead once again, but he might give it right back at No. 7. He missed the par-3 green left and found some thick rough, though he's had plenty of success out of that stuff all day.
5:26 p.m.: Missing fairways and greens finally caught up to P-Reed, who had played his last five holes in one under without making a bogey. But he just dropped oneat the par-4 fifth, where he failed to get up abd down from a greenside bunker. Reed is now tied for first at three under with Bryson DeChambeau, though he'll have three good chances to take his lead back at the 6th, 7th and 9th holes.
By the way, Reed is not the only one showing plenty of fight. We've failed to mention Jason Kokrak yet, which is a big oversight. He's one over on his round, one under for the week, and he's just found the 18th green in regulation. Harris English is grinding away as well. He's made nine straight pars, and has five feet left to make it 10 in a row at the par-4 eighth (his 17th). At two under on the week and even for the day, English still has a shot to reach three under after 36.
5:08 p.m.: Tiger Woods needed birdies and all he's doing is adding more bogeys. He's dropped all the way to 10 over, basically guaranteeing his week is over barring a miracle.
Justin Thomas, however, did pick up another birdie, this one at the extremely difficult par-3 third. JT hit a 3-wood with some serious cut right over the flag, then snuck in the putt. Huuuuge. He's back into red figures for the week at one under, putting him three back of Reed, who continues to get up and down for par from insane places.
4:54 p.m.: At the par-3 third, Patrick Reed goes full Billy Casper, coming up well short of the green and getting up and down for par. The grindfest continues.
4:39 p.m.: After making just one bogey on Thursday, Justin Thomas has now made five on Friday, including a double just now at the par-4 first. He's five over for the day, even for the tournament.
4:32 p.m.: Just as he took back the lead, Reed looked like he was going to give a shot right back at the par-4 second, which has been the hardest hole on Day 2. After finding the fairway he missed the green short and right, but his ball came to rest in a bunker. He easily got up and down like the scrambling god he is to stay at four under. Impressive grit being shown by Captain America right now.
4:21 p.m.: Because of the carnage, six over (and maybe even seven over) might get it done in terms of making the weekend. Unfortunately, Tiger Woods is distancing himself from that number, making his second double of the day at the par-4 18th. He's dropped to eight over for the week, meaning he'll likely need a clean, two-under card on the back nine. That, um, doesn't seem likely.
Woods' playing partner, Justin Thomas, makes his first birdie of the day at the difficult par-4 18th. A massive momentum-changer. He's back to two under, two back of Patrick Reed, who took back the solo lead with a birdie at the first hole.
4 p.m.: Another dropped shot for Thomas at the 17th. That's four bogeys in his last five holes, and he's now fallen to one under for the week, two back. Don't worry Justin, it gets easier. Wait, just kidding.

3:47 p.m.: Not to get too graphic, but there are literally blood and guts splling all over this course right now. It's an absolute war and Winged Foot (and mother nature) are taking BODIES. After starting the day with a birdie, Rory McIlroy has gone bogey-bogey-double bogey-bogey-par-bogey-par. He's down to two over for the championship. Only two players have under par rounds going, and only six are under par for the week (as opposed to twenty one yesterday).
3:31 p.m.: Just after Reed picked apart the 16th, JT and Tiger got their butts beat by the 488-yard par 4. Thomas badly hooked his drive and fought hard for his bogey. Tiger got relief from a sprinkler head, setting him up with a great lie out of the first cut, and still managed to make a double bogey. JT is now two over on his round and two under for the week, which still has him just one back. Tiger is back at six over, which is the current projected cut line.
3:22 p.m.: A birdie! We have a birdie! Thanks to an absolutely laced, 334-yard 3-wood off the tee, Patrick Reed took advantage of the 16th hole, hitting a wedge to 10 feet and draining the putt. He now leads alone at four under.
3:13 p.m.: Justin Thomas stops the bleeding with a nifty, lip-in par save at the 15th, which keeps him in a tie for the lead with Reed and DeChambeau. Tiger Woods also saves par at 15 with a clutch two-putt from 40 feet. He's at four over.
2:52 p.m.: Another bogey for Justin Thomas at 14 drops him to three under, and it looks like Patrick Reed is about to bogey the 15th, which will drop him to three under as well. If you open your handy dandy DraftKings Sportsbook app, you'll notice that Bryson DeChambeau is now a -305 favorite to be the leader after Round 2. He's also a +275 favorite to win the tournament. What a wild turn of events. CARNAGE!
2:35 p.m.: It's starting to feel like one of those days where we're going to be updating the live blog because guys are making bogeys, rather than birdies. That's what this update is for, as Justin Thomas drops his first shot of the day and his first since his third hole yesterday. He's back to four under, tied for first with Patrick Reed. Harris English, who quickly got to four under with a pair of early birdies, just made his first bogey to fall back to three under. We imagine Bryson DeChambeau is watching this while guzzling down his 3rd post-round protein shake and laughing maniacally.
2:18 p.m.: Tiger Woods plays the par-5 12th to perfection, except he missed his eight-foot birdie putt. Pars are great today, but that one hurt. He remains at three over, while playing partner Justin Thomas also makes par to stay at five under. That'll be enough to take the solo lea, as Patrick Reed just made his first bogey of the day at the par-3 13th to drop to four under.
Rory McIlroy, who birdied the par-4 first, dropped a shot at No. 2 and has some work to do to save par at the third. He's at three under, two back.
2:06 p.m.: Quick leader board update: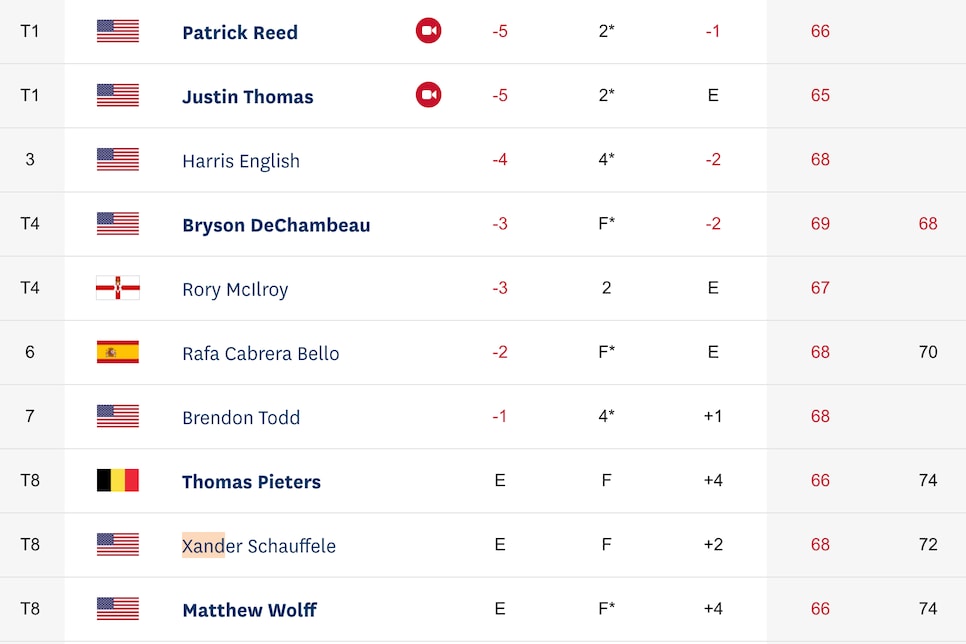 Prettaayyy, pretttayyy, pretttayyy good.
1:41 p.m.: Not to get all depressing up in here, but Phil Mickelson just three-putted for bogey from two feet at the par-5 ninth, his 18th, to finish off a 74. His week is over, and, not to be hyperbolic, but his U.S. Open career could potentially be over too (we wouldn't bet on that, though). As he walks off the green, he tells Jon Rahm and Paul Casey to "have a good weekend." Painful to watch. As my colleague Joel Beall perfectly put it following Phil's Thursday 79, Lefty deserved better than this at Winged Foot.
Now, for some good vibes, we go to Tiger Woods at his opening hole, the par-3 10th, where he pulled off a miraculous up-and-down from behind the green to save par. At 11 he peels a cut with a 3-wood down the left side of the fairway, then finds the front edge of the green with his approach. Strong start for the Big Cat.
1:19 p.m.: The broadcast has focused heavily on DJ/Bryson/Finau grouping, so we haven't seen much from Jon Rahm. That was until just now, when the Spaniard made back-to-back birdies at 7 and 8 to get back to even for the week. He'll have a chance for a third in a row at the par-5 ninth.
Speaking of the par-5 ninth, Bryson DeChambeau just made an EAGLE to close out a second-round 68. Absolutely massive. He now has the round of the day by one over Bubba Watson, and he heads to the clubhouse at three under through 36 holes. Would not even be a little shocked if that's the solo lead at day's end. What a finish. Seven birdies, five bogeys. Can he continue this style of play and win? Going to be fascinating to watch.
As for the pre-tournament favorite, Dustin Johnson, he finished with an even-par 70. Could have been better, but even par is "making a move" today.
1:10 p.m.: With each passing minute, that Bubba Watson 69 is looking like it could be the low round of the day (and he made double at the last!). Dustin Johnson was one under, but he just bogeyed the eighth (his 17th) to fall back to even on the day, three over for the tournament. Another round that's going to look really good by the end of today is the even-par 70 from Rafa Cabrera Bello, who is two under for the championship. That could be tied for the lead heading into the weekend if this carnage keeps up.
12:48 p.m.: We wanted a real U.S. Open, and that's exactly what we are getting on Friday. Of the 89 players who have completed their rounds or are currently on the course, three are under par. One of them is Dustin Johson, who still as two holes to play. One is Bubba Watson, who finished with a 69, which could hold up as one of a handful of under par rounds on the day. The last belongs to amateur Preston Summerhays, who just teed off and birded his first hole of the day. As of right now, the projected cut is six over. It's ON.
12:29 p.m.: Bubba Watson's special round was just spoiled at the 18th hole, where he was just short of the green in two, attempted to putt it up the slope and watched it roll all the way back toward him, past where he hit his third shot. He then bumped his fourth to 13 feet and missed the bogey putt, ending his day with a disastrous double. He did still finish with a one-under 69, which puts him at one-over after 36 holes.
Back at the sixth, Bryson rams his eagle putt 10 feet past but makes the comebacker for birdie. He's back to even on the day, one under overall. Five birdies, five bogeys for DeChambeau today. The bomb and gouge life.
As for Finau, he takes his medicine and makes bogey, which drops him to two over.
12:20 p.m.: At the drivable par-4 sixth, Dustin Johnson lays up with an iron and finds the fairway. His playing partners, Tony Finau and Bryson DeChambeau, both wait for the green to clear. Finau strikes first and flies the green, finding a creek. DeChambeau smashes one just in front, setting up what should be an easy birdie. Some fun risk-reward golf on TV right there. That's the good stuff.
12 p.m.: The sneakiest round of the day belongs to Bubba Watson, and by sneaky we mean best. He just rolled in his fourth birdie to reach three under on his round, which has him one under for the championship. Two more pars and there's a legitimate chance he ends up with the round of the day.
11:56 a.m.: Just a brutal, brutal finish for Thomas Pieters. Another short par miss at the 18th leads to his sixth and final bogey of the day. He'll sign for 74, putting him at even par after 36 holes. Honestly, not a bad place to be, but it has to sting considering he reached six under at one point today.
11:38 a.m.: Unfortunately, Thomas Pieters continues to go backwards. The Belgian just made his fifth bogey of the day, all of them coming on the back nine. He's dropped to three over on the day, one under for the championship, with just one hole to play. If there is one positive to take, it's that he hasn't had a total meltdown, i.e. a double or triple bogey. Bogeys could end up being just as good as pars today. If Pieters pars 18 and stays in red figures, he should still be in good position heading into the weekend.
Dustin Johnson, meanwhile, continues to move forward. After shooting a somewhat shocking three-over 73 yesterday in beingn conditions, DJ is thriving while everyone else falters. He's two under on his round, one-over for the tournament, through 13 holes. Xander Schauffele, also through 13 holes, is making his move as well. He's one under on his round, which puts him three under for the week, just two off the lead.
11:22 a.m.: We really thought there was a chance we could see players play the par-3 third without reference to Billy Casper famously laying up all four days in the 1959 U.S. Open, but Nick Faldo couldn't help himself. Regardless, DeChambeau hits an absolute bullet into the center of the green, leaving himself a 33-foot putt for birdie. DeChambeau makes the putt to get back into red numbers.
11:09 a.m.: Finally a real miscue. DeChambeau misses another fairway, and flails his second shot on the par-4 second out to the right. He makes bogey to drop back to even par. Meanwhile, Thomas Pieters has had his own problems on the back nine. After a flawless front, he's four over on the back, three shots off the lead.
10:51 a.m.: Even when DeChambeau misses he makes it work. His drive misses the first fairway and has to punch out, but wedges his third shot to 6 feet and makes the putt for par to remain at one under, four shots off the lead.
10:32 a.m.: For those golf purists hoping Bryson DeChambeau's bomb-and-gouge game plan would backfire on a penal setup like Winged Foot's, sorry to disappoint you. DeChambeau's last three holes have featured absurdly long drives and short approaches as a result. He played those holes in one under.
10:23 a.m.: In the "Don't ever try this at home" department, Phil Mickelson pulls his drive on the 17th into the deep rough lining a fairway bunker. Did he chip out? No. Did he hit an iron? No. Instead, Mickelson hits a fairway wood from an incredibly awkward stance and somehow hits it clean, albeit slightly over the green. Incredible stuff, but fairly typical from Phil. Remarkably, Paul Casey had almost the exact same shot and knocked it even closer, but he gets demerits for hitting an iron.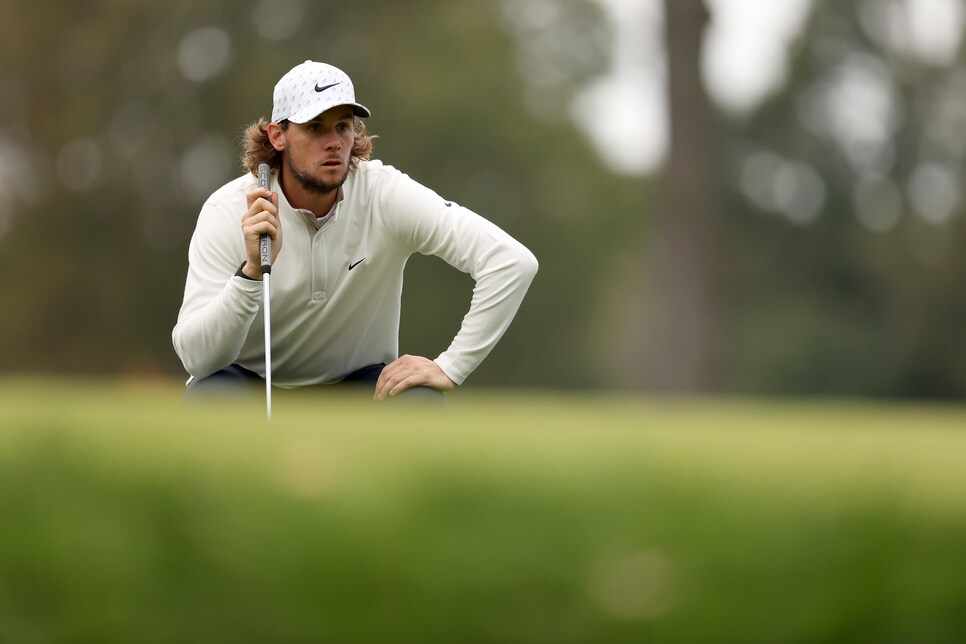 10:17 a.m.: Another hole that is proving pivotal, the 10th. Daniel Berger played his front nine in 31, but just overcut his approach on the long par 3 to short side himself in the bunker. As with Pieters, the hole has stalled some of his momentum as a result.
9:59 a.m.: OK, never mind the 15th green being tough. Jon Rahm missed it and got up and down from the back, and then Matthew Wolff leaves himself an impossible long bunker shot there and spins it to two feet. That said, with wind and cooler temperatures, it's increasingly apparent Friday will be a much tougher day than the first round.
9:47 a.m.: Jon Rahm airmails the 15th with his approach, which is as good a time as any to remind everyone how difficult this green is even when you hit it. You can see as much in this cool interactive we built on the 15th. Meanwhile, Pieters' missed fairway leads to a missed green, and a second consecutive bogey.
9:38: a.m: Thomas Pieters arrives at the famed 10th, and swiftly makes his first bogey of the day to drop into a tie with Justin Thomas. Compounding matters, he pulls iron off the tee on the 11th and still misses the fairway badly. And now the wind is picking up . . .
9:29 a.m.: Thomas Pieters makes the turn in 2-under 33—making a par at the par-5 ninth hole to keep his bogey-free streak of 24 holes going strong. Pieters leads Thomas (yes, that gives us pause, too) by one shot entering his inward nine.
9:18 a.m.: Louis Oosthuizen (-3), who shot a second-nine 30 yesterday, drops his first shot of the day at the fourth hole to move to 2-under. Joaquin Niemann is also struggling a bit after a stellar opening day—he's 2-over on the day to move back to even-par.
Tony Finau is the latest to player to drop a shot after he had it to 2-under for a bit—he bogeys the 14th hole after a poor drive to move back to 1-under. We're definitely seeing more over-par rounds than yesterday early on at Winged Foot. It should only get tougher as the greens firm up more in the afternoon.
9:12 a.m.: After two bogeys to start his round, Matthew Wolff gets one back at the par-5 12th—moving back to 3-under, currently three back of Thomas Pieters' lead. Pieters found the rough at the par-5 ninth hole, forcing him to lay up. We'll see if he can get up and down to add a birdie.
9:01 a.m.: Thomas Pieters continues to go around Winged Foot unscathed. He saved another par at the par-4 eighth hole to remain in the lead alone at 6-under—Pieters only has one bogey on the week (the par-5 12th hole). Just incredible golf at Winged Foot.
Also ... Pieters is giving us a double take every time he's on the screen. The long hair ... the Nike apparel ... and the silky swing. He's giving us serious Tommy Fleetwood vibes. And he's playing a U.S. Open like Fleetwood often does (Fleetwood, by the way, is 5-over through the championship—so he'll have to play better to make the weekend).
8:49 a.m.: The best round of the afternoon wave Thursday was Matthew Wolff's stellar 4-under 66, putting the 21-year-old one back of Thomas entering today. Wolff's moving in the opposite direction today—bogeying his first two holes to move back to 2-under.
8:41 a.m.: Even NBC's Mike Tirico can only laugh in amazement with the way Korn Ferry Tour star Will Zalatoris has played the holes-in-one this week. Of course, he made an ace at No. 7 yesterday, then had this unlucky bounce at the 13th hole, too. Well, he nearly made one to start his round at the difficult par-3 10th hole at Winged Foot. Zalatoris capitalized on the birdie to move into red numbers (-1).
8:33 a.m.: Thomas Pieters looked like he might be in a little trouble at the sixth hole—being out of position in the front right rough with his tee shot at the short par 4. But after an OK pitch shot for his third, the Belgian holed his par putt to remain at the sixth hole.
Another former European Ryder Cupper is also making a bit of a surge this morning: Spain's Rafa Cabrera Bello. Cabrera Bello shot an opening-round 68 and has made two birdies to start his day—one at the 10th and he just drained a long birdie putt at the par-3 13th hole. That has Cabera Bello two back of Pieters' lead.
8:24 a.m.: Perhaps Winged Foot is getting a sharper set of teeth on Friday. There are only a handful of under-par rounds at the moment—one of which came from the World No. 1 golfer, Dustin Johnson, who started his day with a great birdie at the difficult par-3 10th hole. The NBC announcing crew reported that DJ worked with his instructor Claude Harmon III after his 3-over opening round to shorten his swing a little bit after struggling yesterday. We'll see if that's successful today to give DJ a chance to play his way into contention for the weekend.
8:15 a.m.: Much had been made about new father Rory McIlroy entering this U.S. Open. More under the radar was another European golfer who's now a new father: Thomas Pieters. Pieters is continuing his stellar play from Thursday (a 4-under 66) with two early birdies at Winged Foot—one at the first hole and now one at No. 5.
He's been quiet for a few years, but Pieters was a force for the European Ryder Cup team in 2016 at Hazeltine (going 4-1). Funny enough, he paired together with McIlroy a lot—and now both guys are new dads. That baby swag is working nicely so far this week at Winged Foot.
8:02 a.m.: One of the familiar names near the top of the leader board on Day 1 was veteran Lee Westwood, who shot a steady 3-under 67 at age 47. But so far it's been a struggle for Westy, bogeying his first two holes of the day to fall to 1-under.