News
U.S. Open 2018: What are the ingredients to a highly-rated major? A somewhat scientific look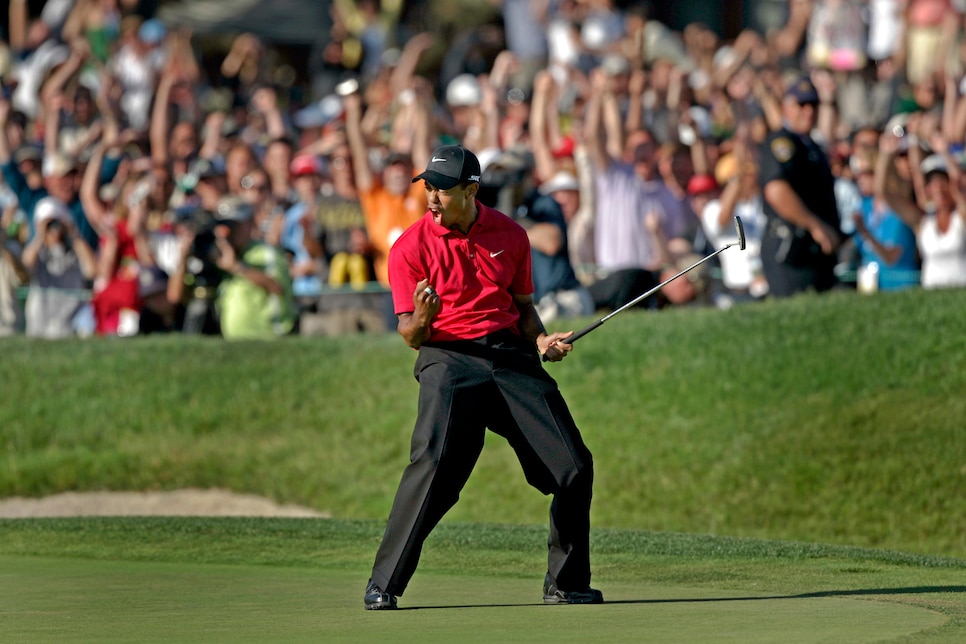 It's hard to believe how lucky we got 10 years ago, when the golf gods decided to hand us one of the most memorable majors of all time. I mean seriously, the 2008 U.S. Open had everything: We had Tiger Woods. We had storylines (Tiger Woods with a broken leg vs. European hunting for overdue first major vs. journeyman underdog). We had thrilling golf. An iconic, recognizable course was the host. And, to make matters even better, the whole thing was broadcast in prime time.
It makes sense, looking down this list, that the event boasts one of the highest-rated Sunday majors in history.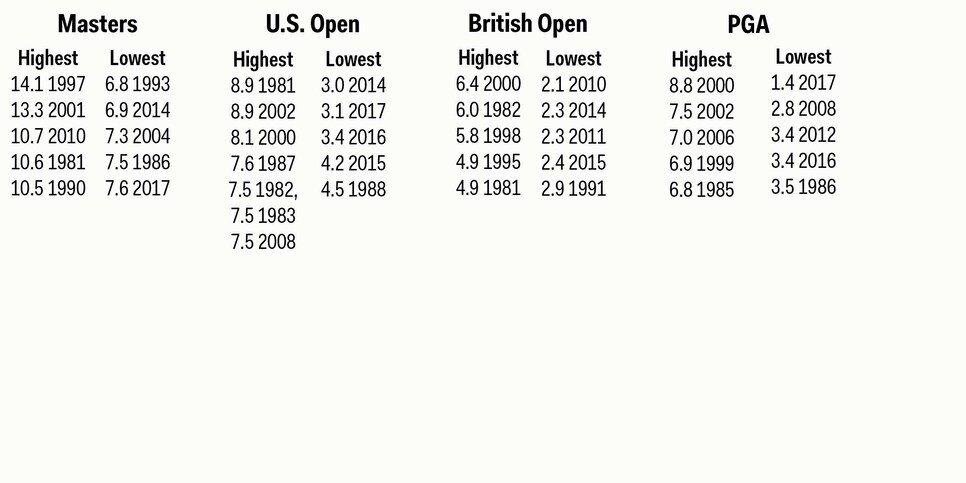 The 2008 U.S. Open was a great major, and it makes sense that so many people tuned in to watch it. But what can we learn from that week at Torrey Pines? And what, exactly, makes for a good major?
Looking at the list above, there are some obvious winners alongside some surprising losers. To try to make sense of it all and pick up on the various trends, we plotted all those majors into a handy set of Venn Diagrams.
Let's start with the highest-rated majors. As you can see, the 2008 U.S. Open is in the middle of it all.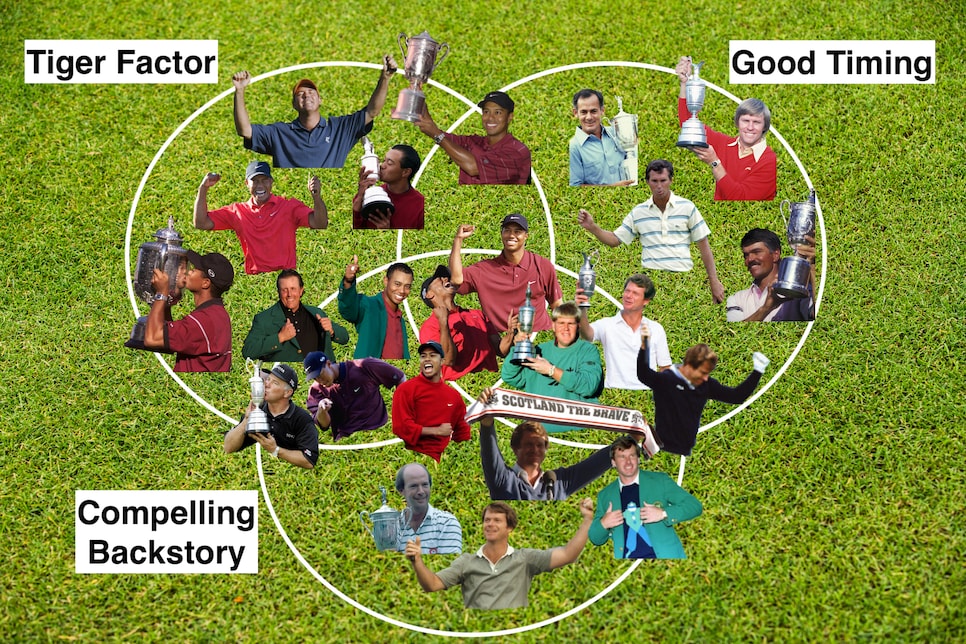 I've divided all the majors into three categories: "Tiger Woods," which I've defined as Tiger playing a central role in the event; "Good timing," which either means the event was broadcast in prime-time or had some other outside factor that helped boost ratings; and "Compelling backstory," which is pretty self-explanatory. ​ I was a little hesitant to devote an entire circle to Tiger, but there's just no way around it. He doesn't necessarily need to win— Mark O'Meara and Rich Beem's majors got a bump from Tiger being in contention, as did Phil Mickelson's 2010 win when Tiger returned from his scandal. If Tiger's in the mix, the ratings are going to be good. It's pretty much that simple.
A good backstory can go a long way, too. Nick Faldo chasing back-to-back green jackets is a notable one, but before Tiger, it wasn't always enough by itself. The Open Championship was arguably the most anticipated major throughout the 1980s and early 90s, which is why you see so many of Opens from that era among these ranks.
Also, finally, how about showing some love for Tom Watson? Four of his eight majors were among the most highly-rated in history. Dude can draw a crowd.
And now, onto the lowest-rated majors...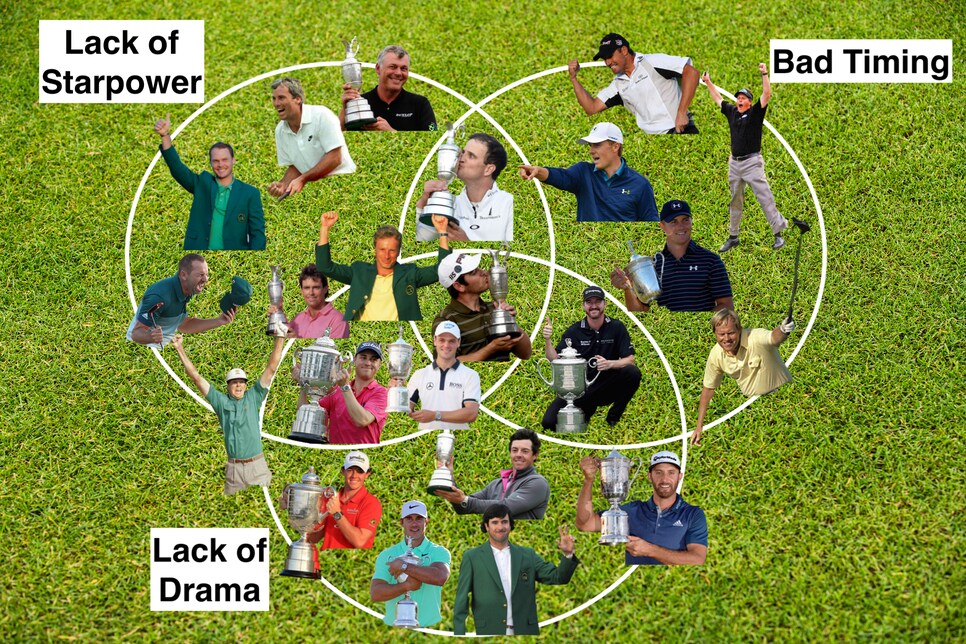 As you can see, the categories are basically the inverse of the previous Venn Diagram.
There are a few surprising majors in here. Jordan Spieth's Chambers Bay win? Jack Nicklaus' 1986 Masters? Phil's first green jacket in 2004? The Harrington-Garcia shootout at the 2008 PGA Championship? They were dramatic majors that simply fell victim to bad timing. The 2015 U.S. Open was the first year the tournament was on Fox. Nobody thought Nicklaus would actually win until his (very) late Sunday charge in '86, Tiger was nowhere to be seen at the 2004 Masters, and was out injured for the 2008 PGA Championship. Let's also not forget, of course, that TV viewership in general has been declining owing to the sheer number of digital options out there for viewers. Given that and the literal absence of Tiger Woods from the scene, it makes sense that several majors of late rank among the lowest-rated in history.
If I was being unkind, I could rename "Lack of Starpower" to "Lack of Americans," because it's hard to overlook. Truth is, looking at the evidence, Americans seem more eager to tune-in to watch Americans than non-Americans. This category often combines with devastating effect to "Lack of Drama." You may quibble with some of those I've featured in the latter category, like Dustin Johnson's win at Oakmont, but that major was actually pretty flat until the infamous rules controversy. And even then, let's be real: neutrals aren't tuning in to watch a confusing golf rules controversy.
And, of course, there's Louis Oosthuizen's 2.1-rated 2010 Open Championship in the middle of it all. Never find yourself in the Louis zone.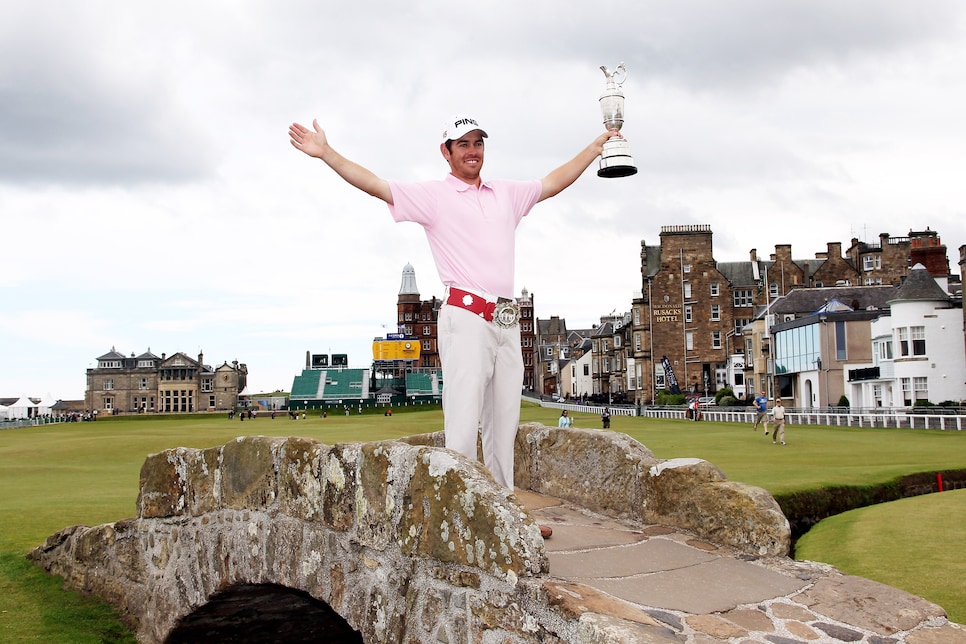 Ross Kinnaird/Getty Images