Tiger Woods: The Greatest by the Greatest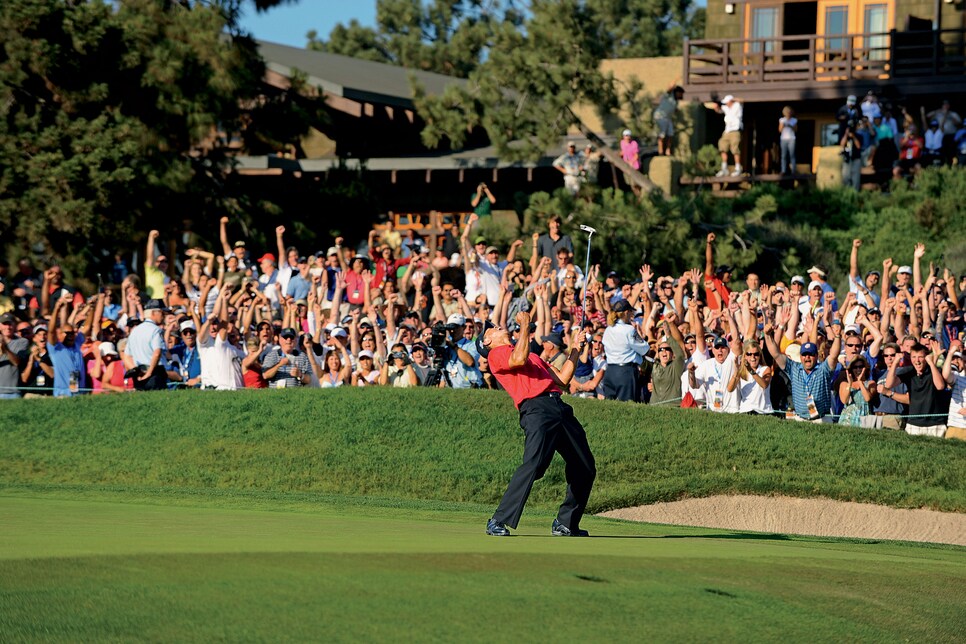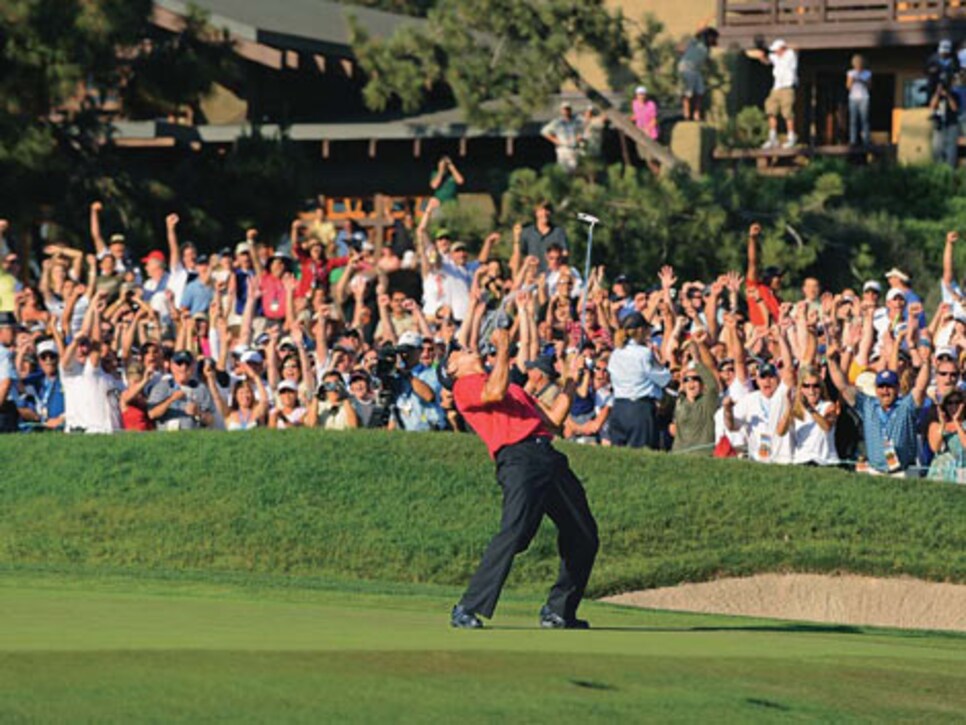 LA JOLLA, Calif. -- It's not easy to write about the 2008 U.S. Open with this bad knee.
It doesn't hurt as bad as Tiger Woods' knee, of course. I only twisted mine trying to get from Microsoft Word to aol.com, and Internet Explorer kept laughing at me.
It turns out that Tiger had opened a huge can of hurt before and during the Open, playing two months after surgery on his left knee. He was limping so much at Torrey Pines but still hanging in so well that some twisted Bubbas out there are going to do the Tonya Harding/Jeff Gillooly thing and whack a pipe across their knees in an attempt to play better. Coming soon to Golf Digest: "How to Break 100 With a Busted Knee," by Nancy Kerrigan.
Nancy, of course, has a better chance of winning later this year on the PGA Tour than Tiger does: Two days after going 91 holes to outlast Rocco Mediate in a playoff that went 19 holes, including one of sudden death, we learned that Tiger was done for the year. He played the Open with a torn anterior cruciate ligament and two stress fractures in his leg, requiring reconstructive surgery -- the fourth on his left knee.
Tiger had wanted to play the Memorial two weeks before the Open to gauge his progress, but he withdrew. Now we know why: That weekend, doctors told him he had to be on crutches for three weeks and would be inactive for six. Tiger's reply? "I'm playing in the Open, and I'm winning it."
Tiger might never win a tougher major, which was his 14th as a pro and his 17th overall with the three U.S. Amateur trophies. Now at the age of 32 in his pursuit of Nicklaus' record (18 and 20), Tiger's closing in on Jack, but the knee thing is an obvious concern. He ended the year playing just six events, winning four and finishing second in the Masters. Here's the question: Have we seen the best of Tiger Woods?
Open playoffs used to be epic. They involved most of the greats of the game, and they were exciting. But over the last 25 years they've tended to be dogs. There hadn't been a good one since Trevino and Nicklaus at Merion in 1971. Then along came Torrey Pines, and it gave us grand theater as well as the proper winner.
Woods actually missed a chance to achieve further fame in his playoff with Rocco, which Tiger led by three after 10 holes, then suddenly fell behind by one after 15, and then extended it to a 91st hole with a birdie at the 18th.
Most of the greatest players in the game lost an Open playoff somewhere along the way: Harry Vardon, Bobby Jones, Gene Sarazen, Byron Nelson, Sam Snead, Hogan, Arnold Palmer, Nicklaus.
Tiger certainly gave himself a chance to do it against Rocco, who for most of the day was the most popular 45-year-old journeyman with a bad back that golf had known for a while. This guy hadn't won a tournament in six years, but there he was giving Tiger fits. "I'm sure I scared him," Rocco said, and he was right. Tiger kept clawing for pars, saved by his putter.
In one comeback stretch, Rocco birdied the 13th, 14th and 15th to take the lead. At the 15th, he rapped a 35-foot putt that was breaking three feet and went in for a birdie.
"If it doesn't hit the hole, it's like 10, 12 feet by," said Woods, "but he hit it dead center, and it went in."
Except Rocco couldn't close the deal. He missed a birdie putt of about 18 feet at the 18th that could have won it, forcing Tiger to make a four-foot birdie putt (this after a must-make 12-footer for birdie at the 72nd hole on Sunday). With the 18-hole playoff now sudden death, Rocco drove into a terrible lie in a fairway bunker, and when his par putt curled around the hole, Tiger had won another major, one that he said might be the sweetest of all. In pretty sweet surroundings, by the way.
The ocean-bordered southern part of California has always been a place of Hollywood make-believe, casual opulence, suntans and jewelry. And, as S.J. Perelman once said, it's the state that gave us the shirt worn outside the pants. So it was about time the Open came to that area of sprawling San Diego where the people of La Jolla and the people of Rancho Santa Fe have a notion that the citizens who earn less than $500,000 a year probably qualify for food stamps.
The big surprise was that Torrey Pines presented such a stern challenge for this Open. With too many pros calling it "very fair," it was expected that the layout would get sliced up like barbecue brisket. That it didn't is something of a tribute to Mike Davis, who took over as the USGA's course preparer two years ago. He's the guy who took the players back to five-over-par 285 at Winged Foot and Oakmont. He's also the guy who knew the gnarly Kikuyu grass bordering Torrey's fairways; the uneven, Poa-infested green speed; and his mixing up of tee boxes would take their tolls even though the course didn't play at its advertised length of 7,643 yards. That's how Davis held the total at one-under-par 283 before the playoff.
All that aside, the USGA figures Torrey Pines is a keeper for future Opens. The organization took enough money out of the week -- start the estimates at $50 million -- that might allow one entire USGA officer's family to live in a home in Rancho Santa Fe, depending on the upkeep and the size of the garage.
In this environment, the USGA knew how to entertain the 400 million spectators. It offered the pairing in the first two rounds of Tiger with the Magnificent Magician, Phil Mickelson (the deep thinker who was going with no driver and five wedges), and Australia's young and single Adam Scott.
The most fascinating incident on Friday had nothing to do with Tiger's game, although it did involve his threesome. Tony Navarro, Scott's caddie, got into it with an unruly fan at the ninth tee. The caddie suggested they meet at the bottom of the hill. They did, and observers declared Navarro the winner on points. The 7-year-old son of the unruly fan was in the gallery, as was the unruly fan's father, who was also apprehended. In the end, it struck those of us who appreciate dark humor that the kid, seeing his dad and granddad being led away, would in future years have a fond remembrance of an incident that occurred within 48 hours of Father's Day 2008.
There's no doubt that Saturday was the most surreal and exciting day of a U.S. Open since the Open used to end on Saturdays. Tiger made two eagles and holed out for a birdie from greenside rough, all in the last six holes. This after finishing with a 30 in his final nine on Friday.
The funniest thing was how Mickelson ended his chances on the par-5 13th hole on Saturday. That day he put the driver back in his bag and removed one wedge. Could have been the one he needed to pitch the ball onto the green in less than four tries on his way to a 9.
That begged the question of whether Phil's brain needs more rehabilitating than Tiger's knee.
Editors' Note: This story first appeared in the August 2008 issue of Golf Digest