News
U.S. Open 2018: Stenson and Rose happy for friendly Sunday pairing after frustrating Saturday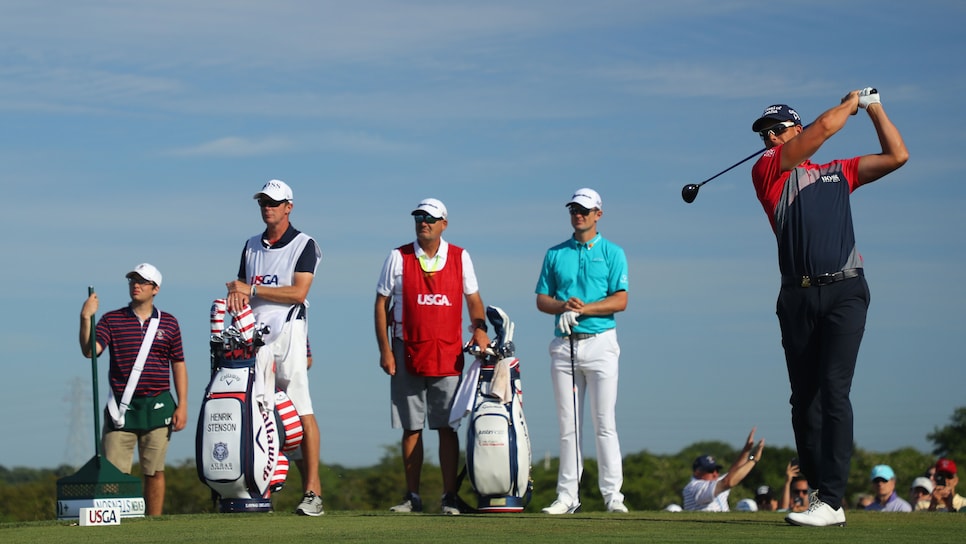 Warren Little/Getty Images
SOUTHAMPTON, N.Y. — Close friends, the Englishman and the Swede have been together a lot over the years. Ryder Cup teammates on multiple occasions. Olympic Gold and Silver medallists in Rio. Two-time partners at the PGA Tour's Zurich Classic. And there they were again in the third round of the 118th U.S Open at Shinnecock Hills: Justin Rose and Henrik Stenson, paired in the second-to-last group off the first tee on Saturday.
They will play together again in Sunday's final round, too, but with a slight difference. Rose is one shot out of the four-man pack that holds the lead; Stenson is two. So next time out, the duo will have twice as many rivals for the title playing behind them.
They had one last thing in common by the end of Day 3 at Shinnecock. Both left the course with the same dazed expression on their faces. Playing at a time when the course was drying out rapidly—to the point where Ian Poulter in the group ahead labelled some of the pin positions and putts "impossible"—Rose and Stenson labored round in 73 and 74, respectively. Unlike Daniel Berger and Tony FInau, they did not benefit from the relatively benign morning conditions that produced matching 66s. Instead, this was 18 holes of near purgatory.
Little wonder then that both Stenson prefaced his post-round television and radio interviews with naughty words containing four-letters. On-air, their frustration was just as obvious, if more gentile and articulate. Asked if the course had gone over the edge, Stenson was quick to agree. And just as ready to blame the USGA.
"They never fail to fail," he said, the smile on his face of the grim variety. "I think they lost this golf course today, certainly on the back nine that we played. I don't know what it was like earlier, but look at 18. You can't hit it short of the green because the ball will roll back 20 yards. And you can't hit it long because you are putting it down that slope. So I don't know what they want me to do there.
"I think we could use the word 'silly' at times and 'brutal' at points. Some of the pin positions. … It's like glass around the hole and not a smooth surface either. It's gone really crusty. You barely need to breathe on a downhill putt to knock it five-feet past. You could easily three-putt from three feet."
The 42-year-old wasn't too hopeful about the final round, either. Clearly hacked off, Stenson was in no mood to let the USGA off the hook.
"We'll see that they do," he said. "I don't think they're interested in listening to my remarks or anyone else's remarks because then we would have seen maybe slightly different pin positions and set-up over the years. So it is what it is. We'll be back out there fighting tomorrow."
All from a man—holder of the record-low score in major-championship history—who professed to be "really happy" with the way he performed, calling his four-over-par round "some of the best golf I've played on a really tough course."
As for Rose, the 36-year-old Olympic champion was more diplomatic about a lay-out he had "never seen change that quickly." There was room for some sarcasm though. "I didn't know Shinnecock had sub-air," said Rose, his smile not quite portraying the same level of menace Stenson had earlier affected. But it was close.
"I feel like the course was on the line," he continued. "I think some of the pin placements were over the line. I don't think the course was necessarily over the line, but pin placements relative too speed and firmness were, on a couple of occasions, on the edge. The edge was reached. You needed to hit great shots just to make par"
Through it all, however, both men, hugely experienced, still did enough to give themselves a chance of ultimate victory.
"Still at the races," said Stenson, summing up a rare moment of positivity. Both made five bogeys, but both recognized the fact that they were not the only players making mistakes. Which is not to say they were having fun. Rose professed to be "shell-shocked" walking off the 18th green. And he left with one last barb, albeit one tinged with optimism.
"We've all been asking for a 'real' U.S Open again," he said. "And I guess we got one this week. It is going to take a special round tomorrow, but at least we have the opportunity."
And perhaps best of all, they will do it all together. Again.