News
U.S. Open 2018: Four players share the 54-hole lead after a crazy Saturday at Shinnecock Hills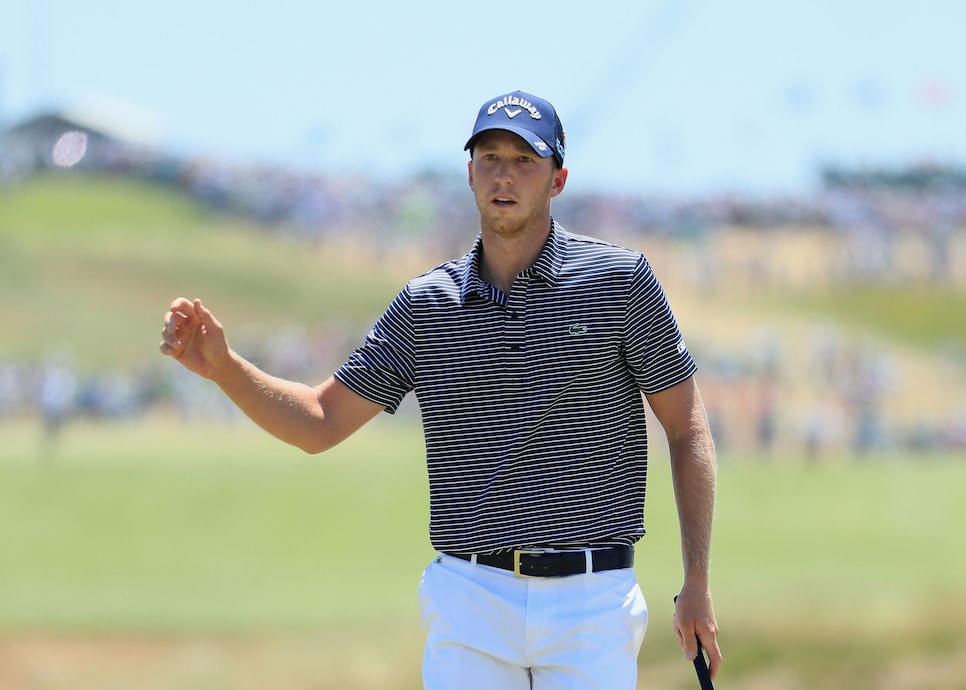 It was a bewildering Saturday at Shinnecock Hills, where the USGA played with fire and, in the opinion of some, got burned. As sunset came to Southampton N.Y., the leader board for the 118th U.S. Open showed the singe marks, with two of the four players tied for the lead having finished their third rounds roughly four hours before the final twosome were shaking hands—and shaking their heads—on the 18th green.
What was Dustin Johnson's championship to lose is now a wide-open affair with Daniel Berger and Tony Finau sharing the lead at three over—and playing in the final twosome on Sunday—along with Johnson and defending champion Brooks Koepka.
Windier than expected conditions turned an already treacherous golf course into a madhouse on Saturday that left more than a few players angry. Johnson, who had posted rounds of 69-67 to take a four-stroke lead into the third round, struggled to adjust, shooting a seven-over 77 including a bogey on the final hole that dropped him into the four-way tie.
"Today's round … I don't feel like I played badly at all," Johnson said. "I was seven over ... that's usually a terrible score but with the greens the way they got this afternoon, they were very very difficult. I felt like I had seven or eight putts that easily could have gone in the hole that didn't."
It was the same beating for all those who teed off late Saturday afternoon. Of the golfers in the final five groups, no one shot lower than 72 and they combined to shoot 67-over par on a day where just three players posted scores in red numbers.
Two of them were Berger and Finau, who had the benefit of playing early before the worst of the winds arrived. Both sat at seven over par when they teed off shortly after 10 a.m., 11 strokes behind Johnson in a tie for 45th. When they were done with their rounds, they had each shot matching four-under 66s. Safe in the clubhouse, the duo then got to watch the entire field fall back to them.
"I'm excited about this," Finau said. "The golf course was really tough, and I had a feeling the leaders might be coming back to Daniel and I. I had a really nice round.
"I never thought I would be tied for the lead and playing in the last group. It is extremely cool."
Suffice to say, they were among the only ones to walk away from Shinnecock Hills with smiles on their faces.
One who definitely had mixed feelings was Phil Mickelson. The five-time major champion, celebrating his 48th birthday on Saturday, was muddling along when he caused a controversy on the 13th hole. Putting for bogey, his ball slid by the hole and looked like it was going to roll off the green. But Mickelson made sure it didn't by hitting his moving ball back toward the hole.
For his action, Mickelson added a two-stroke penalty to make a 10 on the hole, en route to a 11-over 81. He defended his actions and claimed he did not mean to show disrespect to the USGA or the tournament, but many questioned the decision.
Certainly other players would have also liked to keep their balls from moving well past the hole. Zach Johnson was among the most vocal. "They've lost the golf course," the two-time major champion told Sky Sports after shooting a respectable two-over 72.
"I hope these greens are good enough to play tomorrow," noted Koepka, who closed with a 72. "They're very borderline [on Saturday] to be honest with you."
USGA officials did not deny the claim. Mike Davis, the association's CEO, admitted they "missed it with the wind" and thus left itself open to criticism.
"We want the U.S. Open to be tough, we want it to be a complete test. But there is no doubt if you look at how this morning played compared to the afternoon, it was a tale of two golf courses," Davis said. "And no doubt we would admit there was some aspects of this set up that simply went too far in the sense that well executed shots in some cases were not only not rewarded but were penalized. We don't want that."
Davis pledged that the course would be softened come Sunday, the memory of the disastrous Sunday at Shinnecock in 2004 serving as a haunting omen.
For all the pain inflicted on the players on Saturday, the leader board is stocked with several marquee players. In addition to Johnson and Koepka, trying to become just the first player to win back-to-back Open titles since Curtis Strange in 1988-'89, 2013 U.S. Open winner Justin Rose is one stroke back (after a Saturday 73), and will be paired with 2016 Open Championship winner Henrik Stenson, two strokes off the lead after a third-round 74.
Three off the lead is reigning Masters champion Patrick Reed (72) and 2003 U.S. Open winner Jim Furyk (72).
Considering that Berger and Finau were 11 back of the lead to start Saturday, as many as 53 players have a "chance" come Father's Day to wrestle up the U.S. Open trophy. More realistically 18 players are within five strokes.