News
U.S. Open 2018: Has the U.S. Open become a 'specialist's' event?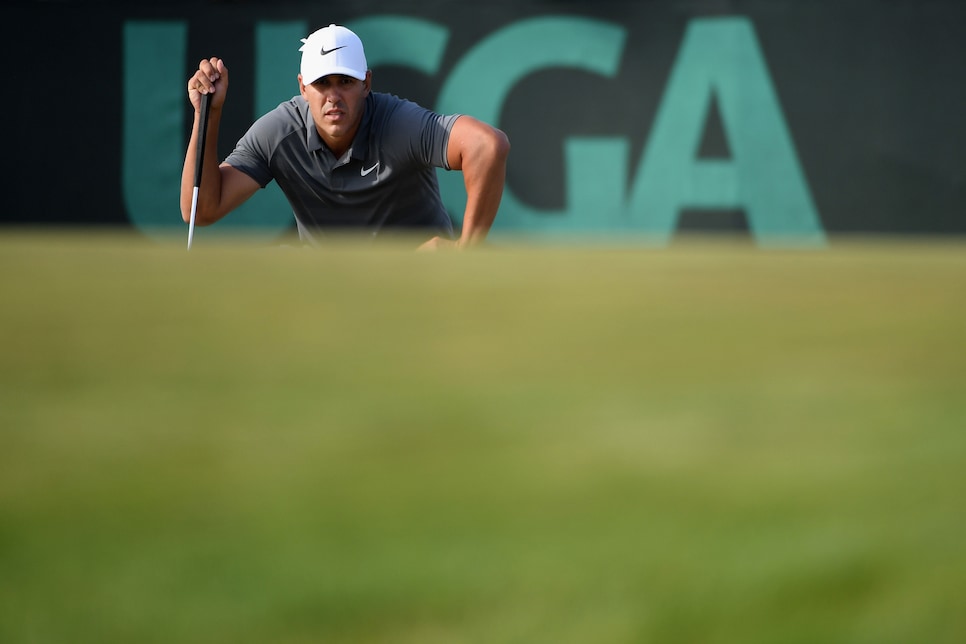 Ross Kinnaird/Getty Images
It's a common refrain that the U.S. Open is the most democratic of golf's majors. In the immortal words of Roy (Tin Cup) McAvoy:
"They can't ask you if you're a garbage man or a driving-range pro whose checks are signed by a stripper. You qualify, you're in."
It's still true, of course, and it's one of the many things that makes the U.S. Open so great. But in practice, the USGA's marquee event has also undergone a subtle, but noticeable shift in recent years. Whereas the Open Championship, for example, has boasted winners of all sorts—aging stars like Phil Mickelson, to bombers like Rory McIlroy, to plodders like Zach Johnson—a subset of tour pros has emerged as U.S. Open specialists, guys who have a specific skill-set that helps them stand out in the national championship.
Leading the way the newly (re)crowned champion, Brooks Koepka, who became the first back-to-back U.S. Open winner in nearly 30 years. Prior to his two victories, he finished T-4, T-18 and T-23, hinting that big things could be instore. But it's not just him is the obvious example. Koepka was surrounded by players with similar games, many of them past champions themselves, along with a host of other players with impressive records at the event.
So what makes a U.S. Open specialist? Looking at the stats of seven different players with some of the best U.S. Open records since 2013—Koepka, Tommy Fleetwood, Rickie Fowler, Xander Schauffele, Dustin Johnson, Jason Day, Justin Rose), there are a few common threads:
It's tempting to say that big-hitters thrive at U.S. Opens, and while that's not untrue, it's more accurate to say that players with high swing speeds do well at U.S. Opens. Only one of the seven players listed above (Fowler, who knowingly sacrificed some swing speed when he switched to a shorter driver rank outside the top 50 on the PGA Tour in swing speed with players like Koepka and DJ (and Tony Finau, who may be on a list like this next year), often falling in the top 10.
Why look at swing speed rather than driving distance? Because driving distance could be the result of lots of things, like how efficiently a player swings, and how finely tuned their equipment is. Swing speed doesn't just indicate power, but it also extends throughout the bag. In other words: If you swing your clubs at an above-average speed, you're not just likely hitting your driver further. It also makes hacking your way out of rough a lot easier, which is a thing at most U.S. Opens.
The importance of power is self-evident—after all, on today's PGA Tour, you can't be a great driver without hitting it far—but you can't get away with bombing-and-gouging your way around the U.S. Open. You need to hit it far, but you simply won't survive not hitting fairways. That's why you'll see the U.S. Open contenders littered among the top not just of the strokes gained/off-the-tee rankings, but also the more primitive and much-derided Total Driving statistic.
Fleetwood, Rose (first and fourth so far this season) Fowler, and Schauffele have all ranked within the top 25 of Total Driving within the past two seasons, while stroke gained/driving routinely highlights DJ, Koepka and Day's driving prowess.
The most intangible factor on the list, but no less important. I opted for "experience," but "ability to grind" is probably a more accurate to say this.
Justin Rose won his U.S. Open in 2013 with a one-over 72-hole total at Merion and showed his toughness grinding-out a 73 on Saturday despite hitting just six of 18 greens. Fast forward to last weekend, and the number of clutch putts Koepka made down the stretch on Sunday at Shinnecock was incredible. And this week also showcased Fleetwood bouncing back with nine- and 15-shot round-over-round improvements following his first to second rounds (75 to 66) and third to fourth rounds (78 to 63).
The U.S. Open truly is the most unique test in golf. It may be a borderline cliche, but the ability to be tough, grind out a score and stay mentally strong is probably the most important quality for a successful Open player to have.