News
U.S. Open 2018: Shinnecock is revealing an embarrassing truth about some of golf's biggest names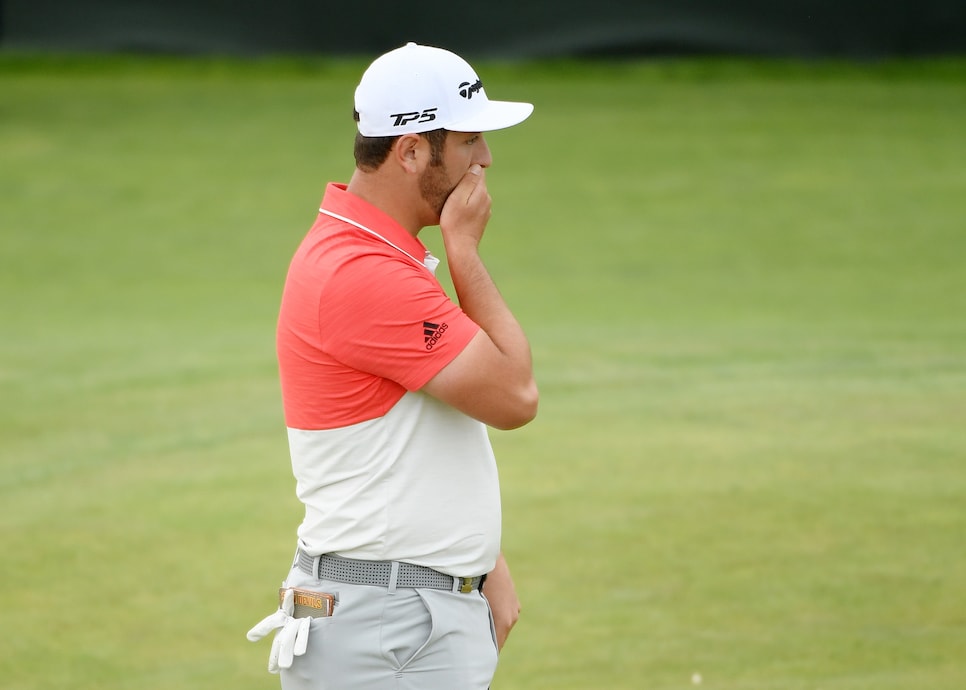 SOUTHAMPTON, N.Y. — "We're not trying to humiliate the best players in the world," Sandy Tatum famously said at the 1974 U.S. Open. "We're simply trying to identify who they are." A line annually cited at this championship, and will be for eternity, due to its heterogeneous nature. Critics of the USGA believe it epitomizes a sense of self-importance, a desire to embarrass the game's elite. Others insist it's the foundation, and genuine aspiration, of this event.
At this year's Open at Shinnecock Hills, it leans toward the latter. In spite of high scoring, few players complained about the set-up, most deeming the links tough but fair. If that sentiment is true—and as history has shown, players have no qualms taking the USGA to task when need be—the U.S. Open leaderboard is damning.
For Shinnecock is revealing an embarrassing truth about some of golf's biggest names.
Bomb and gouge—the idea of hitting the ball as far as possible and, if need be, chopping it out of the rough and onto the green—is not new. While it gained popularity in the mid-2000s, players like Seve Ballesteros and Arnold Palmer had utilized a variation of the "launch first, ask questions later" blueprint long before.
However, in the past decade or so there's been a growing dependence on it. The strokes-gained statistic proved the strategy's validity, while massive gains in equipment manufacturing raised the ceiling of its success. Courses, at least on the PGA Tour, did not necessarily offer a defense. Instead, they continued to facilitate, even encourage, this type of play. As a corollary, it not just de-emphasized other aspects of the game, it almost rendered them obsolete. That Jordan Spieth is the lone non-bomber in the world's top 10 is not a surprise.
"We talked about this, that the next generation of player was going to be an athlete who can take advantage of the technology and hit bombs, but can also chip and putt," Phil Mickelson once told Golf Digest. "Basically long-drive guys who can play."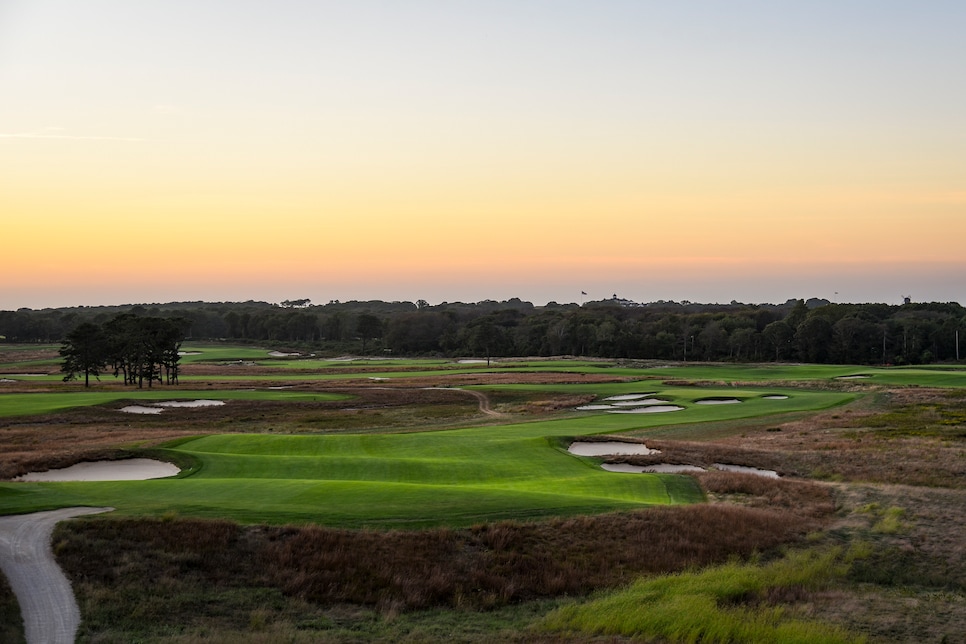 The U.S. Open, though, is not a tour event. The USGA prides itself in presenting a complete test, putting all facets of the game to the fire. One of the reasons Erin Hills rubbed traditionalists the wrong way was not just the low scores but the lack of game plan involved, as Brooks Koepka's only "strategy" was to grip and rip the Wisconsin property to shreds. To state the obvious, Shinnecock Hills resides on the opposite end of the challenge spectrum, where the Open has historically resided. The course is long, yes, the par 70 weighing in at 7,400 yards. The way to survive Shinnecock, though, is to not beat it into submission with the big stick. The primitive opinion is that accuracy in drive and approach is paramount, for finding the rough likely translates to a par and missing the green means much worse. To an extent, that's true. But what makes Shinnecock an authentic Open test is much more nuanced.
It requires exactness, yes … but not just in the fairway. The drive has to be in a particular position to allow for the right second shot. Anything failing to meet these prerequisites will be disciplined. Also punishing: the lack of rough around the greens. Whereas the surrounding tall stuff at tour venues allows a player to blast a 60-degree wedge without much trouble, Shinnecock's run-offs cannot be played in a universal manner. Each requires its own creativity and scheme; it's why players have used putters, wedges, irons and woods when finding the collection area behind the 14th green this week. A sign of a proper course, and nightmare for players who operate on a "paint by numbers" wavelength.
As for putting? The complexes are as agitating as greens can get. They can't be attacked, but don't reward defensiveness, either. And unlike other links, which offer an array of difficulty, Shinnecock's layout is confluent, each hole as hard as the last. A setup that tests the cerebral and emotional parts of the game, especially when kissed—or as seen the past two days, thrashed—by the wind.
Unfortunately, the importance of bomb and gouge has made a startling amount of players one dimensional. They are unquestionably the world's best, but on golf's toughest test, many have received a failing grade.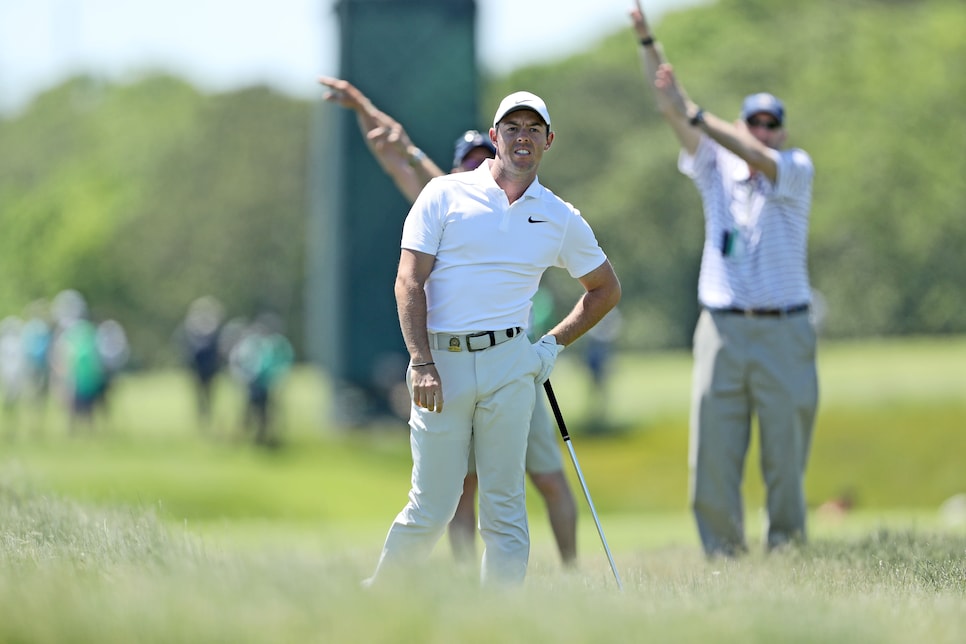 Jon Rahm is second on the tour in sg/off-the-tee and possesses incredible touch around the greens. Precision, though, is not his forte (129th off the tee), and his iron game remains a work in progress (114th in approach). That he was ejected from Southampton with a 15-over score was a fate more should have seen coming. Jason Day usually doesn't bother with keeping the ball straight, knowing he just has to put it somewhere on the green (177th in approach) and let his flat stick and short game do the work. That doesn't cut it here, with Day stumbling to a Thursday 79. The Aussie hit just six greens, which kept his deadliest weapon in the bag, and will head home at 12 over. Bubba Watson missed the cut by a mile, while Tony Finau, who continues to be circled as a breakout star, is out of contention. Hideki Matsuyama, who has six straight top 20s at majors, is nine shots back.
The venerable Mickelson and Tiger Woods, two of the bomb-and-gouge pioneers, were considered viable contenders. But Tiger's roar was weakened by the Shinnecock greens, not cooperating with his irons (16-for-36 in GIR) or putter (115th strokes gained). Even Mickelson, the short game savant, was at a loss from 50 yards and in, ranking 132nd in scrambling.
For posterity, it's worth noting that Koepka, the reigning champ, was seven over through 25 holes, going on a run only when the winds died down for the first time this week.
Then there is Rory McIlroy, arguably the poster boy of letting it fly. He's captured three of the four majors, four titles in all, including this championship. To call him a one-trick pony is mistaken. In that same breath, he's won in the same fashion, via birdie barrage, propelled by prestigious length. Kiawah, Valhalla and Liverpool are not confining off the tee, and soaked terrain took a major bite out of Congressional. They were all low-scoring affairs, subtracting onus from the grind-it-out mentality usually associated with major championships. It's somewhat telling that since his 2011 U.S. Open win, McIlroy has just one finish inside the top 20 at the tournament.
That streak will continue to Pebble Beach next summer, as McIlroy's championship hopes vanished on Thursday after an opening-round 80. Finding seven fairways and only five greens, he was unable to stave off the big scores or stop the bleeding when they came, and Shinnecock prohibited his famous red-number runs from taking root. (Perhaps his tournament ended before it began: Rory conceded he prepared with "fun" rounds at neighboring Long Island courses instead of Shinnecock.) McIlroy will contend again for a major title, maybe even a U.S. Open. In his game's current construction, it will not be at a course like this.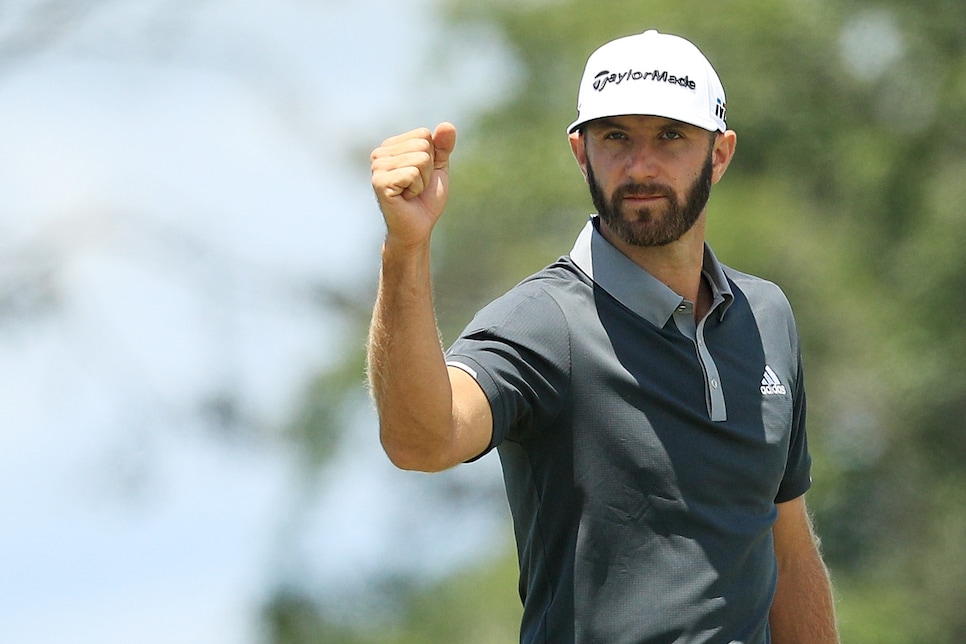 As incriminating as Shinnecock has been to some, it's been as endorsement for others. Justin Rose, the hottest golfer in the last eight months, proved his game travels. Rickie Fowler, who came up just short at the Masters, will be in the weekend mix.
But Shinnecock has been particularly revelatory for Dustin Johnson. Despite winning the U.S. Open at Oakmont, DJ is viewed by some as nothing but off-the-tee octane. Through two days in Southampton, Johnson has answered these slights, and answered with vigor. For the most part, his length hasn't been seen (44th in distance) and his irons haven't awakened through 36 holes (81st in sg/approach). But they've been rescued by a lights-out short game. The 33-year-old ranks first in scrambling, getting up-and-down at an absurd 73.3 percent clip, and has been stout when on the greens, his putting over eight shots better than the field average. He is a long driver, yes, but not defined by it.
To be fair, only so much can be extrapolated from 36 holes of golf. Bad days happen, rough breaks occur. But Tatum, who passed away last year, would be pleased to know that the Open has identified more than just the game's best at Shinnecock. It's exposed what they lack.