News
The story behind Sandy Tatum's enduring line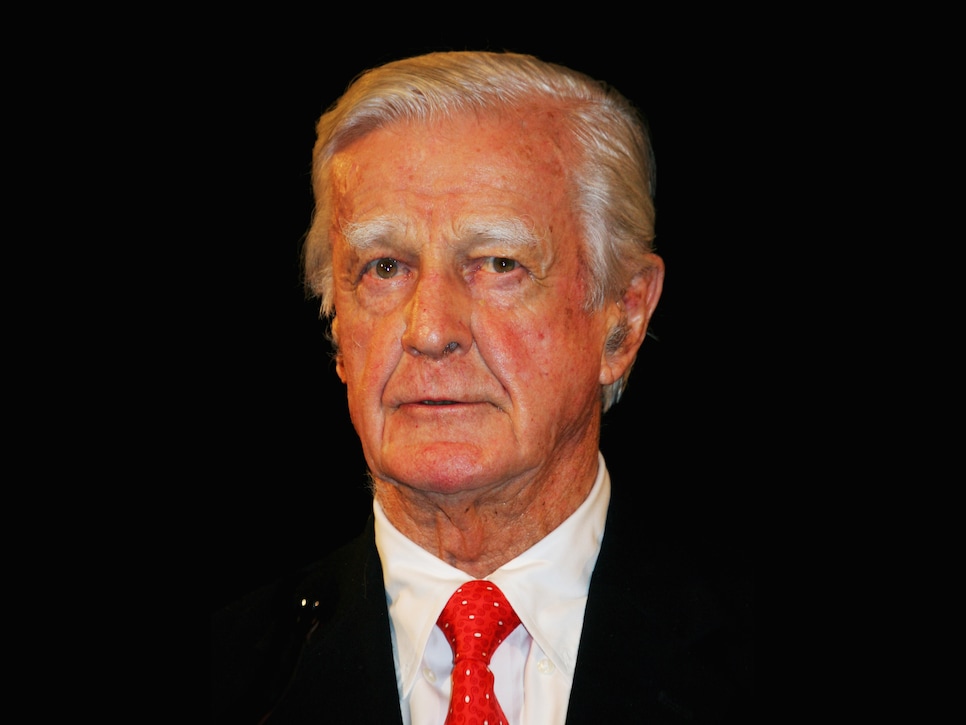 David Cannon/Getty Images
Sandy Tatum insisted there was never a specific question. When he uttered the words that came to define the U.S. Open—and to an extent, his legacy—he was only responding to the pervading atmosphere around him.
By Thursday evening of the 1974 Open, that atmosphere was toxic. After the first round at Winged Foot, there was not a single player under par. The best one among them, Jack Nicklaus, had rolled his first putt that day right off the green. With each passing moment, Tatum, the man largely responsible for the course setup, said, "It felt like radiation was spreading."
And so came the line, the one you hear every year at the U.S. Open, and likely will for as long as they play it.
"We're not trying to humiliate the best players in the world," the chairman of the USGA's competition committee declared that day. "We're simply trying to identify who they are."
Tatum, one of golf's noblest and most beloved figures, died on Thursday at 97, leaving behind a lifetime immersed in the game he loved, and words that have transcended more than just that week at Winged Foot. When I spoke to him years later about that Open, he insisted on the precise wording of his famous line. You'll hear different versions on occasion. Sometimes "embarrass" is used. Sometimes it's Tatum responding to a question from a reporter. Even the day before, as described in Dick Schaap's book, The Massacre at Winged Foot, Tatum used a variation of the famous quote in a press conference, saying the USGA was not out to "confound the best golfers in the world." But that was Wednesday, when discussion of the difficult Winged Foot setup was still mostly speculative. Thursday was another matter.
"The scores were now in," Tatum said. "The bomb had fallen."
It's difficult to overstate the influence of Tatum's words at Winged Foot. They've become a rallying cry for the entire USGA in conducting the national championship. They help explain why players treat the Open with a mixture of reverence and disdain. And they were a hallmark for Tatum, a former Rhodes Scholar, accomplished lawyer and USGA president who knew those words likely will remain attached to his name even after he was gone.
"I don't remember the reaction as it came out," he said. "But I have to say, I've been more than surprised and more than pleased it's had the legs it has."
It's not as if '74 was the first Open to be overly penal. There was 1951 at Oakland Hills, where a victorious Ben Hogan claimed to have brought a monster to its knees but still finished at seven-over par. There was a dozen years later at The Country Club outside Boston, where nine-over par was good enough to get you into a playoff. Long before the golf world returned to Winged Foot, Sam Snead had cracked that Open fairways were usually so narrow, you had to walk down them single file.
But there was something different about '74. To players, Winged Foot was not just set up unfairly, but in a way, maliciously. Tatum could have said whatever he wanted. To many players, the "massacre" that year was a direct response to what had happened in the Open the year before, when Johnny Miller shot 63 at Oakmont to win his first U.S. Open.
"It certainly seemed that there had to be a reason why this one was so much more difficult than any other Open anyone can remember. This was only my second Open, but a lot of the veteran guys in the locker room were saying they've never seen an Open set-up this difficult, so the consensus was it was because of Johnny's 63."
The sentiment has been echoed by everyone from Miller on down, but the one person who argues otherwise is the man who presided over the set-up. Yes, Tatum said, Oakmont was an aberration. Yes, there were extenuating circumstances that led to it being a more forgiving test than he and the championship committee had envisioned.
"But that was not in any shape or form on my mind when I went through the setup at Winged Foot," Tatum said.
Besides, Tatum still didn't see what the big deal was. A former NCAA champion at Stanford, he played the West Course early in the week of the '74 Open and determined the course was eminently fair.
"As the week evolved, there was never a time that I had any question about the validity of the set-up," he said. "If the players played it at the level they were capable of playing, they could still make birdies."
By the end of play Thursday, however, when Gary Player held the first-round lead at even-par 70, it was apparent that birdies would be in short supply. Players were fuming. Conspiracy theories began to gather momentum. And when the press came looking for a response, Tatum displayed a more deft touch than any player in the field.
"It was totally spontaneous," he said. "But it was obviously in my head that people thought what the USGA was all about was humiliating these guys."
Years later, that perception hasn't changed. Maybe what happened at Winged Foot wasn't the first example of an Open confounding its participants, but Tatum agreed that Open setups have become consistently more difficult ever since. Every year the national championship represents the most difficult challenge of the season. Players lose their patience. Many curse the course. Others just curse the USGA.
At least now, thanks to Sandy Tatum, the USGA has a comeback.