News
U.S. Open 2018: After a decade, a golfer and a writer reunite at Shinnecock (Sort of)
SOUTHAMPTON, N.Y. -- As hordes of fans at Shinnecock Hills made their way out to track a certain Tiger Friday morning, I trudged toward the clubhouse to catch up with another golfer destined to miss the cut. The crowd following Mike Miller wasn't quite as big, but it was pretty hearty. As Miller, a native of Brewster, N.Y., noted on Tuesday, playing in the U.S. Open on Long Island "is about as close to a home game" as he can have.
It's also as close to a feeling work-related deja vu as I've ever experienced.
Much has been made of Tiger Woods' 10-year anniversary since his last major win, but I realized this week also marks a 10-year reunion of sorts for me. The last time I covered Mike Miller at a golf tournament was the 2008 New York State High School Championship when I was the high school golf beat reporter for The Journal News in Westchester, and Mike Miller was basically the Tiger Woods of Section 1. (He also hadn't chopped off his long hair yet, and I hadn't added that extra 15ish pounds of, um, mass to my mid-section.)
At the time, I would have put money on Miller playing in a future U.S. Open. Me working at Golf Digest, not so much. He set the section's scoring average record as a freshman and finished eighth at state. The following year, he nearly tracked down future PGA Tour pro Dominic Bozzelli in the event. A few months later, I got laid off for reasons that had nothing to do with my golf prose. At least, I don't think. It was so long ago I couldn't find my game stories online to check how bad they were. . .
Miller, 26, meanwhile, took an interesting route to Shinnecock in the decade since. He never quite won that state title (as a senior, his playing partner banked in the winning putt off his ball marker), but after a quick stint at Penn State, he turned pro and won the 2014 New York State Open by firing a final-round 65 at Bethpage Black. He now plays with a caddie and a his name on his golf bag, compiling a mostly mini-tour career thus far, highlighted by 10 wins on Florida's Minor League Golf Tour. And he's had a couple good Web.com Tour finishes when he's gotten a chance, including a T-11 at this year's United Leasing and Finance Championship.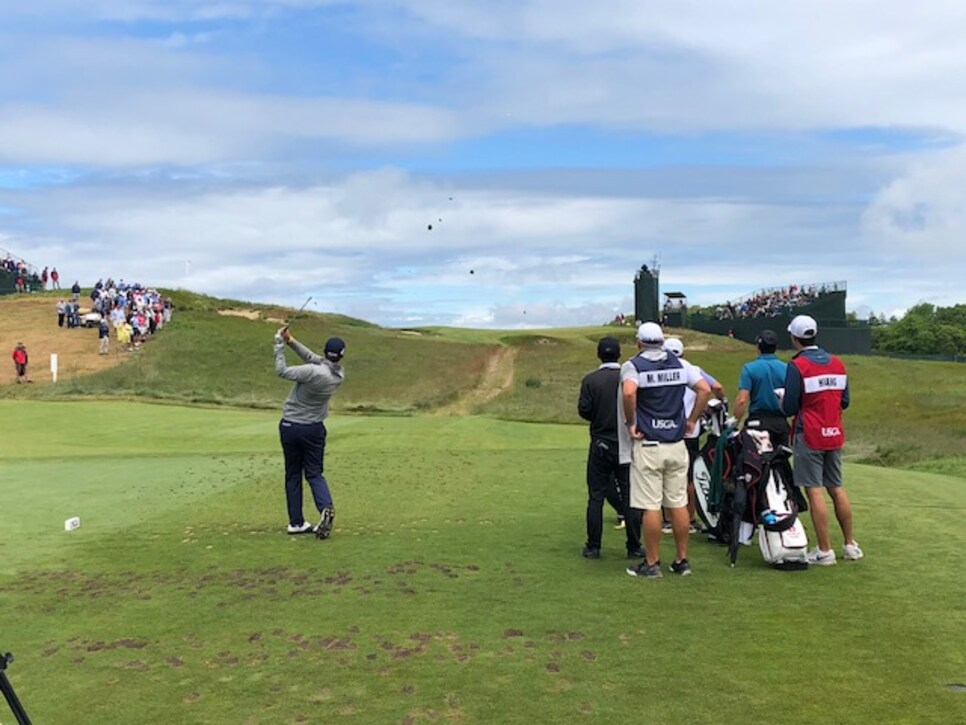 He's probably best known, however, for a different type of big break. After making a hole-in-one in a 2013 pro-am at Elmsford's Knollwood Country Club — where his father, Bob, is the head pro and Mike holds a course-record 60 — Miller "tried to pull a Rich Beem" by jumping on the car he'd just won. Instead, he cracked the windshield.
Miller also qualified for the 2016 U.S. Open at Oakmont, but I was stuck in the office that week. After an opening 72, he missed the cut. Armed with that experience, Miller arrived at Shinnecock with high expectations, but wound up walking away with a similar result after rounds of 77 and 78.
"It stinks," said Miller, who will piece together a schedule for the rest of the season before Q School. "The U.S. Open got me. That's truly what happened. It hurts your confidence because of how well you come in playing, and you walk away thinking, 'Man, what do I need to change?' It's just really hard."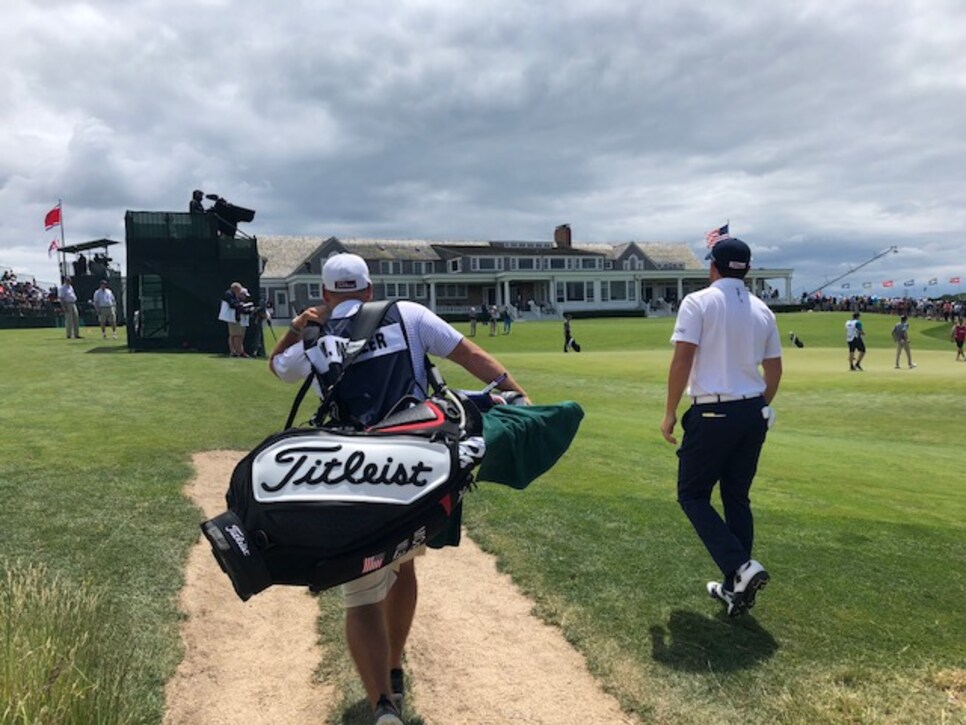 But he'll also leave with lessons learned from invaluable practice rounds with big names like Webb Simpson, Graeme McDowell, and Tommy Fleetwood, who Miller could tell would have a good week after playing with him on the eve of the tournament. Miller -- and several other tour pros -- wore a white ribbon in support of his uncle Jim Turnesa of the famed Turnesa golf family. But Miller's last name, although common, isn't quite a household name yet.
"Who's that, McMiller?" a fan wondered on No. 10, mistaking the "M." (A second Miller, Cam, was also in the field) on the back of his caddie's bib.
"No, Miller," a friend corrected. "Matt Miller."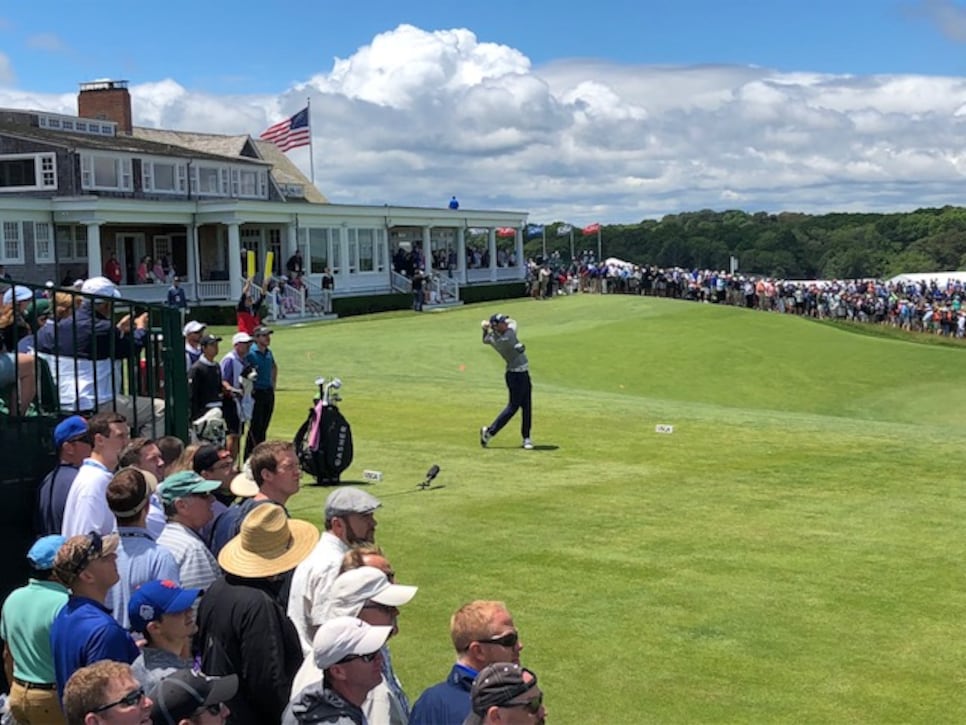 As he waited to tee off on No. 14 with Shinnecock's signature clubhouse in the background, Miller took a quick glance over at the ninth green where the Spanish pairing of Sergio Garcia, Jon Rahm and Rafa Cabrera-Bello were shaking hands after finishing their second round. Then he turned his focus back to the tough par 4 in front of him and took a swig of water. If the magnitude of the moment affected Miller, he did a great job of playing it cool. It certainly hit me.
I'm still covering Mike Miller. Only now, it's at the U.S. freaking Open. How cool is that?
And I'm betting I won't have to wait another decade to do it again.