U.S. Open 2017: With a 63 at Erin Hills, Justin Thomas makes history but has another goal in mind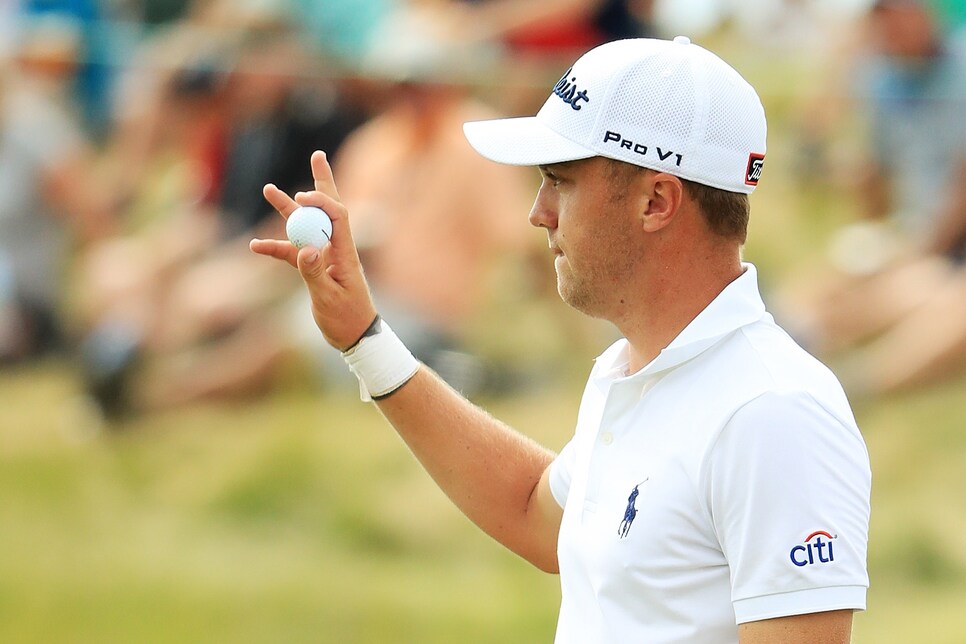 ERIN, Wis. — There are any number of stats that will objectively quantify how good a round Justin Thomas' nine-under 63 was on Saturday at Erin Hills. The fact it was the lowest score in relation to par in 117 playings of the U.S. Open. That it matched the all-time lowest score, period, in the championship's history. That it was achieved despite the 24-year-old Kentucky native making two bogeys on an overcast day where greens were soft and red numbers were plentiful.
Still, it's the subjective measures of the round that Thomas will carry with him now until his next big accomplishment—which he hopes will be picking up the U.S. Open trophy on Sunday evening in the Wisconsin sunset. Most specifically, the rising star will remember the feel of the ball coming off the 3-wood second shot that he hit on the 667-yard par-5 18th, a shot he figured would end up in the front bunker at worst but flew nearly 300 yards, snuggling to eight feet and leaving him an eagle putt for history.
"That was pretty sweet," said Thomas, as was the roar he heard from the crowd when the ball disappeared in the center of the cup.
What kind of highlight-reel round was it for Thomas? Consider that in the moment what looked like a candidate for the most memorable birdie of the year on the PGA Tour ultimately became just his third most impressive shot of the day, a curling 18-foot putt on the par-4 fifth hole that Thomas rolled up in the fringe of the green then watched trundle toward the hole.
But the best of all was the second on 18, struck after Thomas hit his tee ball with a 3-wood some 330 yards. Thomas was debating between 2-iron and 3-wood, going with the latter after weighing the pros and cons with caddie, Jimmy Johnson.
"It was sitting good to where if I smoked it, I decided all I tried to do is tried to overcut it," Thomas said. "If I did overcut it, I could hit it perfect. If it gets a little spiny, comes up in the front of the bunker, it's fine. If I overcut it in the right fairway, it's fine. [It] still was 310 hole. I still obviously needed to nuke it. But I just felt like I could get it up in the air enough to hold the green as soft as they were. And it came out nicely."
Some will say if he only made the putt on the 15th, he could have shot a 62 and stepped past Johnny Miller, Jack Nicklaus, Tom Weiskopf and Vijay Singh, the four men prior to Thomas to shoot 63s in U.S. Open history. But Thomas knows he was also given a gift when he made bogey on the par-4 fourth hole after getting a horrible lie around the green.
"Every golfer thinks it could have been a bit better," said Justin's father, Mike Thomas, the head professional Harmony Landing Country Club in Goshen, Ky., and the man who taught his son the amazing efficient golf swing. "I'm proud of him. You can't help but be."
Thomas wasn't quite ready to determine where this ranked in relation to everything else he's accomplished in an amazing 2017 season. To date, he has shot a 59 in a PGA Tour event, set the tour's 36-, 54- and 72-hole scoring records on top of becoming the 28th player to shoot a 63 in a major championship.
Perhaps that's because he knows there is still work to be done at Erin Hills. While the 63 lifted him to 11-under par, he is one off the lead of Brian Harman with the true prize to be determined on Sunday.
"I've never been here before," Thomas said. "So I can't tell you what it's going to feel like tomorrow. All I know is I'm really looking forward to it. I've put myself into a good position today. That's all I can ask for."
You are using an unsupported version of Internet Explorer. Please upgrade to Internet Explorer 11 or use a different web browser.