News
U.S. Open 2017: Rust? What rust? Rory McIlroy says he and his once-injured ribs are ready to go at Erin Hills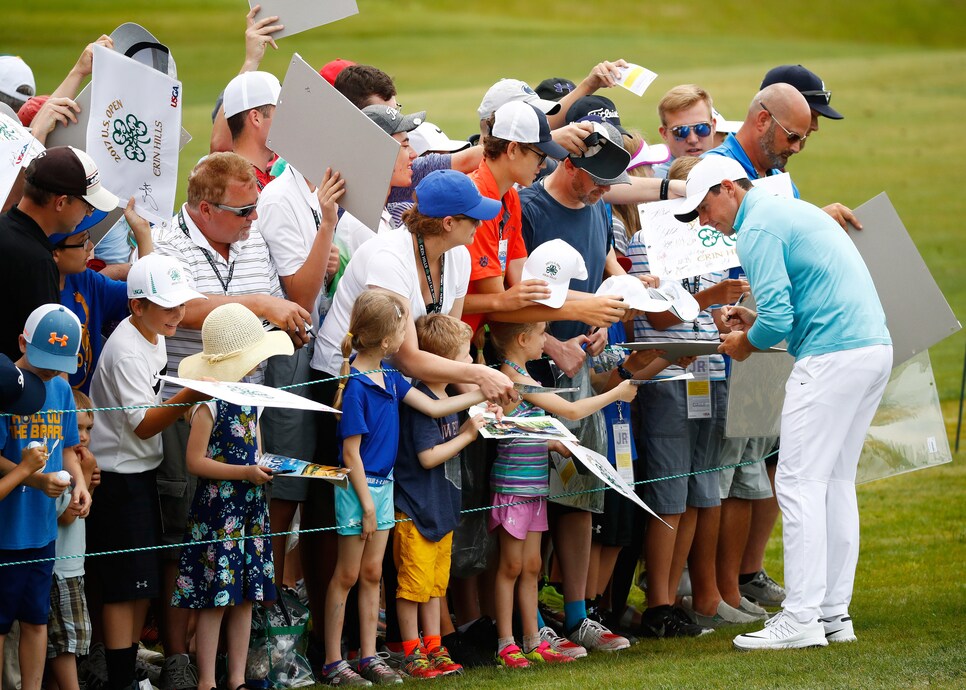 Gregory Shamus/Getty Images
ERIN, Wis. — For a man who has played only 19 competitive rounds in 2017 and is now one month short of three years removed from his most recent major-championship victory, Rory McIlroy was making plenty of positive noises during his pre-U.S. Open press conference at the suddenly less-hirsute Erin Hills. Refreshed after two weeks of restrained practice in Portugal, the rib injury that has troubled the Northern Irishman for much of this season has apparently healed to the extent that he has played "eight or nine" times in the last 10 days.
Two of those "very beneficial" rounds were completed over the weekend at Erin Hills, during which McIlroy enjoyed the company of course architect Dana Fry. He enjoyed the (potentially) 7,741-yard course, too.
"From what I've seen so far, it's really good," he said. "It lets players be aggressive. You can be aggressive off the tee. You can be aggressive with your approach shots. If you do miss a green, it's not that you're going to be chipping out of the thick rough. It goes in these collection areas and run-offs. It's a little bit of a different challenge than what we have faced in U.S. Opens in the past. But it's really good. I'm excited for it, and I think it's going to be a huge success."
Clearly, the World No. 2 has no intention of falling into that well-known U.S. Open trap—complaining about the severity of the challenge ahead to the detriment of his on-course attitude and chances of ultimate success. And, perhaps more importantly, McIlroy is happy with his body, his swing, his short game and the new TaylorMade Spider putter in his bag. So just about everything really.
"I feel really good, as long as I manage the load that I put myself through in terms of practice and hitting a lot of balls," he said. "There are no limitations on my swing whatsoever. Preparation wise, I may be a little behind, instead of hitting five bags of balls. But it's not as if I can't hit balls. It's just a matter of managing how many repetitions I put myself through. I'm totally fine to play. I don't feel [the rib] at all. It's just a matter of managing that sort of practice load, which isn't a bad thing.
With McIlroy's unexpected absences in the early part of 2017, he has done some tweaking to his playing schedule. He's playing for the first time next week at the PGA Tour's Travelers Championship and has added the Scottish Open, one week prior to next month's Open Championship. "This is the point in the year where you don't need to be practicing that much. You want to go out and play," McIlroy said. "I feel like I figure stuff out on the golf course more than on the range sometimes."
More specifically, McIlroy was all but licking his lips at the prospect of wielding the best and favorite club in his bag more often than he would normally on a less-challenging venue.
"I don't think it's a secret that I feel like my driver is one of the biggest weapons in my bag," he said with an air of relish. "I think driving the golf ball is a big skill in golf, and I feel like this course definitely tests that. And you need to have driver in your hands here if you want to take advantage of the course. So if I can get that in my hands regularly and if the field has to hit driver more as well, that all plays into my hands. I wasn't crying when I saw the rain last night and this morning. It's a long golf course, and it's only going to play longer. That benefits a few guys, and luckily I'm one of them."
There was, amidst all of this jollity, perhaps only one moment of doubt. Take away McIlroy's victory in the 2011 at Congressional, and a couple of "back-door" top-10s, and his record in America's national championship makes slightly depressing reading. Three times in eight previous appearances he has missed the halfway cut, including last year at Oakmont.
"This is one of those tournaments that if you let it get into your head, you're already defeated before you tee off," he said, again following the positive doctrine espoused by the likes of four-time U.S. Open champion Jack Nicklaus. "And there have been a couple of times where I have let it get in my head. I did in 2015 at Chambers Bay, even though I played a great last round. Before that, I was a little bit disillusioned with the way the course was playing and really had no chance. That's not the way you want to start off. You want to start off with positivity and a positive frame of mind, and that's the way I'm trying to approach it this week."