Amateurs
An unusual finish awaits at the U.S. Mid-Amateur after early week rain wreaks havoc on the schedule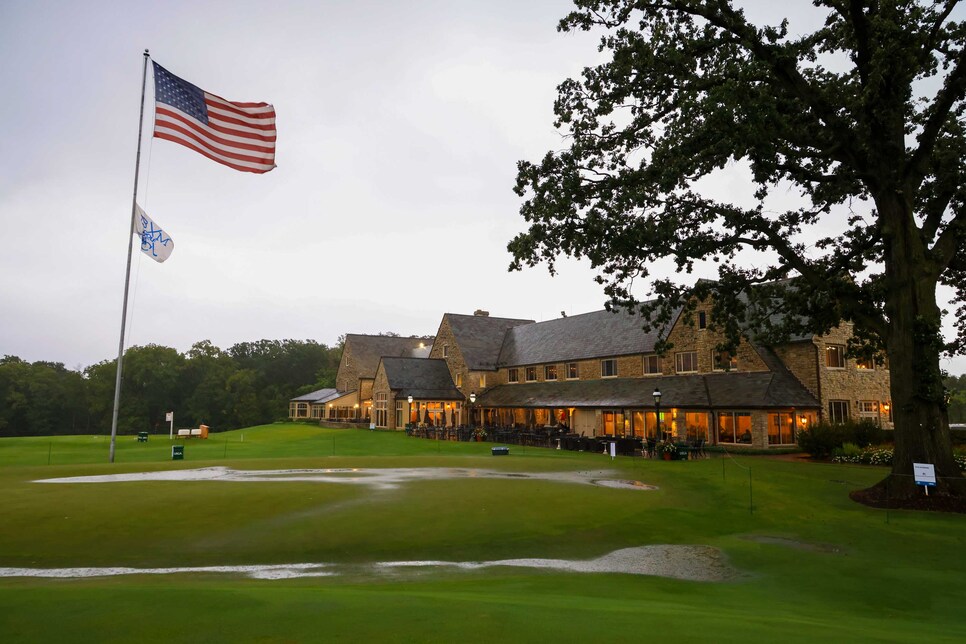 Water pools up on the practice range next to the clubhouse before the second round of stroke play at the 2022 U.S. Mid-Amateur.
Steven Gibbons
A U.S. Mid-Amateur champion was supposed to emerge from the gloaming at Wisconsin's Erin Hills Golf Club on Thursday. But Mother Nature had other ideas.
Torrential rain on Sunday—upwards of five inches to be precise—washed out the second round of stroke-play qualifying, and more delays on Monday meant the task of winnowing down the original 264-man field to 64 match-play contestants wasn't finished until Tuesday morning. The two-day holdup resulted in officials hustling to finish the quarterfinals on Thursday evening rather than crown a champion.
Unfortunately, the championship won't wrap up on Friday either. The USGA's plan is to play the semifinals in the morning and then play the first 18 holes of the championship match in the afternoon before returning on Saturday for the remainder of the match. Erin Hills had been scheduled to re-open for public play on Saturday, and the plan is to do so approximately one hour after the championship match starts back up at 7 a.m. local time.
The last man standing will be a first-time winner of the event. Defending champion Stewart Hagestad fell to Josh Persons, 1 up, in the Round of 16 on Thursday morning. Persons, a 38-year-old reinstated amateur from Fargo, N.D., playing in his first U.S. Mid-Am, then went on to defeat 2014 champion Scott Harvey in 21 holes in the quarterfinals.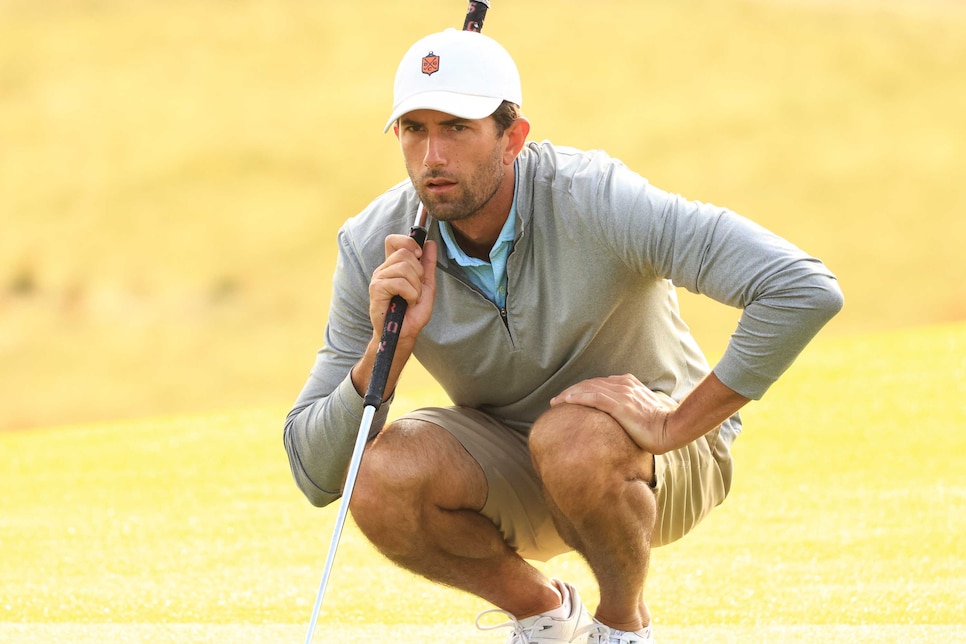 Stewart Hagestad's attempt to win a third U.S. Mid-Amateur title ended Thursday morning in the Round of 16.
Steven Gibbons
Persons will face Matthew McLean of Ireland in one semifinal match, with the other pitting Bryce Hanstad of Minnesota against another Irishman, Hugh Foley.
"I think it's almost just kind of a numbing feeling being exhausted," Hanstad said on Thursday after knocking off Andrew Paysee in 19 holes. "It's almost tough to muster up a little bit of nerves, but they still seem to creep through."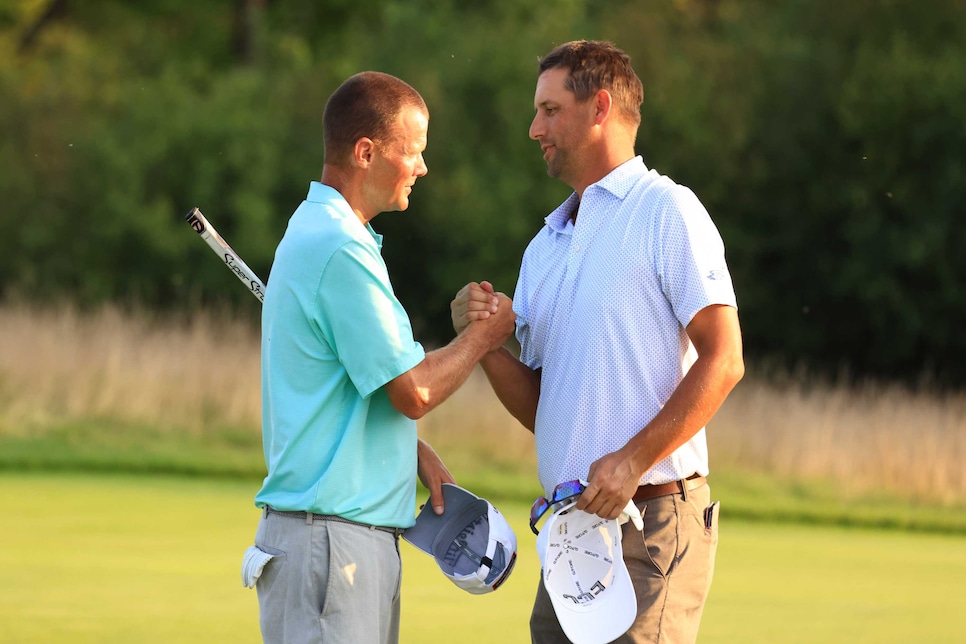 Scott Harvey (left) congratulates Josh Persons after Persons won their quarterfinals match in 21 holes.
Steven Gibbons
The nerves will surely return for the championship match, with the winner likely to earn an invitation to the 2023 Masters as well as a spot into the U.S. Open.
Splitting up play in the championship match is quite rare, but not unprecedented. It happened actually a year ago at Massachusetts' Sankaty Head Golf Club, when a fog delay in stroke-play qualifying forced a shift in the schedule that also saw the 36-hole final to be scheduled over two days before Hagestad became just the sixth multi-time winner of the championship.