News
U.S. captain Steve Stricker happy with decision to put Ryder Cup on hold for a year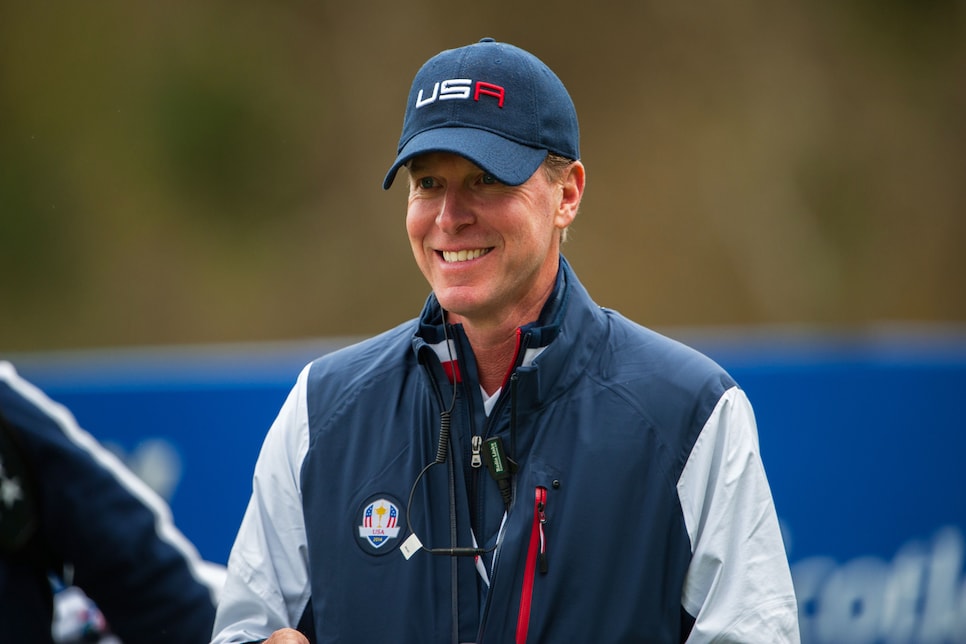 U.S. Ryder Cup captain Steve Stricker thinks the decision to postpone the matches to 2021 made the most sense for the sake of the competition.
Montana Pritchard/PGA of America
The PGA of America and Ryder Cup Europe avoided having "a yawner" of a Ryder Cup, in the words of U.S. captain Steve Stricker, if the two organizations had gone forward with the spectator-less 43rd edition of the matches in September.
"A Ryder Cup without fans wouldn't be much of a Ryder Cup," Stricker said Wednesday at Muirfield Village Golf Club, where he is competing in the PGA Tour's Workday Charity Open. "This event is built around the fans, and the players feed off that energy from the fans. The people love coming to this event. It's an unbelievable spectacle, and to play it without fans would be out everybody, every golf fan in the world."
Earlier Wednesday, the two managing organizations jointly announced the Ryder Cup scheduled for Sept. 25-27 at Whistling Straits in Haven, Wis., would be postponed until Sept. 24-26, 2021. The Presidents Cup now will occupy a spot on the 2022 PGA Tour schedule.
A Wisconsin native and captain of the winning 2017 U.S Presidents Cup team, Stricker said that player sentiment undoubtedly played a role in the decision along with the obvious concerns for safety amid the ongoing coronavirus pandemic. Most potential participants said they had little interest in the competition were it to be contested without fans in attendance.
"There's been some pretty vocal players saying that it just wouldn't be much fun, and I'm kind of in agreement that it wouldn't be a lot of fun without fans," said Stricker. "It would be more like an exhibition. And that's not what that event is about.
"It was a tough decision. And I'm confident it was the right decision."
The PGA Tour returned to competition four weeks ago without allowing fans on tournament grounds. The Memorial Tournament, which immediately follows the Workday Charity Open at Muirfield Village, had plans for limited patron attendance, but tournament officials reversed course on Monday.
"We might not see fans the rest of the year. No one knows," USA stalwart Dustin Johnson told Golf Digest. "It's been different without fans [since the restart], but we've gotten used to it. But to have a Ryder Cup without fans is not something that made a lot of sense. I totally get it. Yeah, it's disappointing not to be playing it this year, but I have no problem with them waiting."
England's Justin Rose said he might have been OK playing in a Ryder Cup without spectators, though he admitted having enjoyed the challenge of playing in front of a hostile American crowd.
"I think you want the Ryder Cup to be important, and so the only way it's important is if it means something to us, and we're passionate about representing our country," Rose said at Muirfield Village. "If guys weren't going to be as up for it without the crowd and the patriotic nature of the Ryder Cup, then that means something, obviously, and America definitely took notice with that. I was interested to see if we could create this real intensity between two players, like no one else around, eyeball to eyeball type of scenario, so for me I wasn't completely against playing with no fans. But look, I think the Ryder Cup will be better for it in 2021."
Attention immediately turned to the qualifying process for the two sides. The European Tour announced that its qualification process for Team Europe will be frozen until the beginning of 2021. Stricker said that points currently are still accruing for the U.S. team, but he expects that a review is in the offing in the near future. When the tour restarted four weeks ago, the PGA of America announced that it was changing it selection process to give Stricker six captain's picks (instead of four) to go with six automatic qualifiers.
"It may stay the same. I don't know. Or we may go back to eight and four. I don't know that, either," he said. "We'll take a look at all the scenarios. We just want to put our best team forward."