News
What went into the complicated decision to postpone the Ryder Cup (including a call to the Green Bay Packers)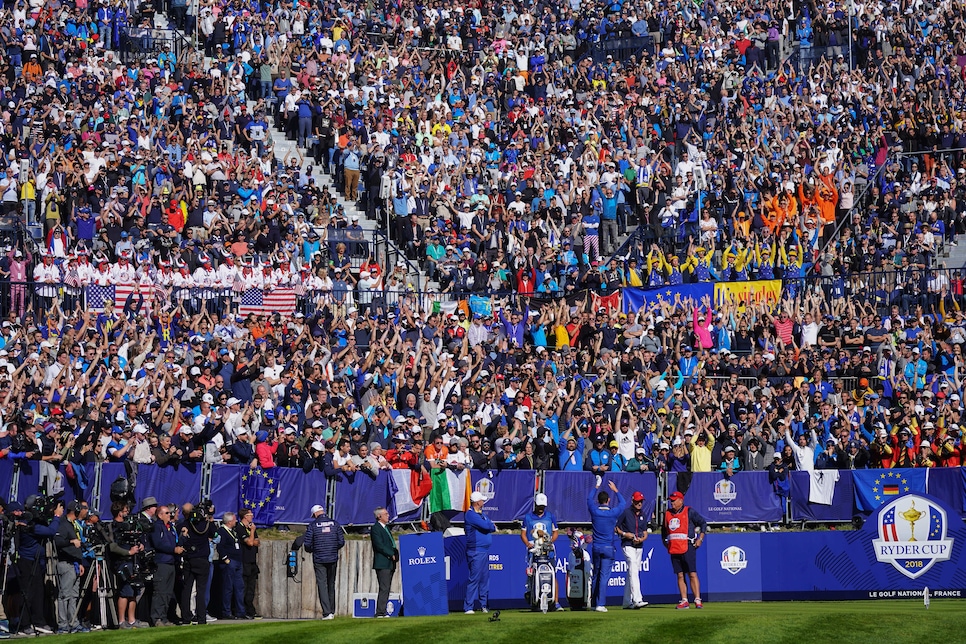 Rory McIlroy of Europe leads the clapping on the first tee during the 2018 Ryder Cup at Le Golf National on September 30, 2018 in Paris, France.
Dave Winter
Seth Waugh has a precise notion of what the Ryder Cup feels like, looks like, sounds like. The CEO of the PGA of America remembers being on the first tee of the 2018 Ryder Cup outside Paris at Le Golf National, waiting for American Tony Finau to strike the biennial competition's opening shot. Nearby sat NBA legend Michael Jordan, as pumped up as anybody to see that first ball fly.
"The flags are waving. People are singing. Jets are flying over," Waugh recalled. "It's one of those iconic moments in sports."
On Wednesday, Waugh used that scene to provide perspective on what he described as one of the most important and wrenching decisions of his life and career. Faced with the prospect of playing the 43rd Ryder Cup in September at Wisconsin's Whistling Straits with a huge reduction in fans, or holding off until 2021, because of the worldwide coronavirus pandemic, Waugh and his cohorts on the European side simply could not picture how that could possibly stir souls the way the event has for decades.
In the end, the decision was made: No fans. No Ryder Cup in 2020. That choice became official on Wednesday when Waugh, Guy Kinnings, the deputy chief of the European Tour, and PGA Tour Commissioner Jay Monahan held a joint press conference over Zoom to announce that the Ryder Cup at Whistling Straits would be postponed until September 2021.
The change had a cascading effect, causing the PGA Tour to push the Presidents Cup at Quail Hollow in Charlotte back to 2022, then the subsequent Ryder Cup in Rome to 2023.
"It was a very tough decision," Waugh said. "People think it might be easier than it is. But, frankly, since the speculation started a couple of months ago in the press and elsewhere that the Ryder Cup would be postponed, we've done everything we could to make it one of those 'Dewey beats Truman' headlines. We really wanted to play this."
Waugh envisioned putting an exclamation point on a very difficult year for sports fans around the world. "It took on more importance after the Olympics was postponed," he said. "We could replace some of that nationalism that everybody cares so much about."
The nightmare of COVID-19 kept interrupting those dreams. The PGA Tour resumed play on June 11 and continues to stage tournaments without fans, but cases have spiked in many U.S. states amid moves to reach some level of normalcy and reopen the economy. The Ryder Cup is one of the largest corporate events in golf, and the PGA of America had a virtual city to build at Whistling Straits with the prospects of that enterprise, costing millions of dollars, becoming a ghost town.
Waugh said he even consulted with the NFL's Green Bay Packers and made the analogy that he had to construct a venue akin to famed Lambeau Field.
"That's really complicated," Waugh said. "We, frankly, didn't want to build Lambeau Field, get the ropes up and have it canceled. It felt like that was certainly where we were headed."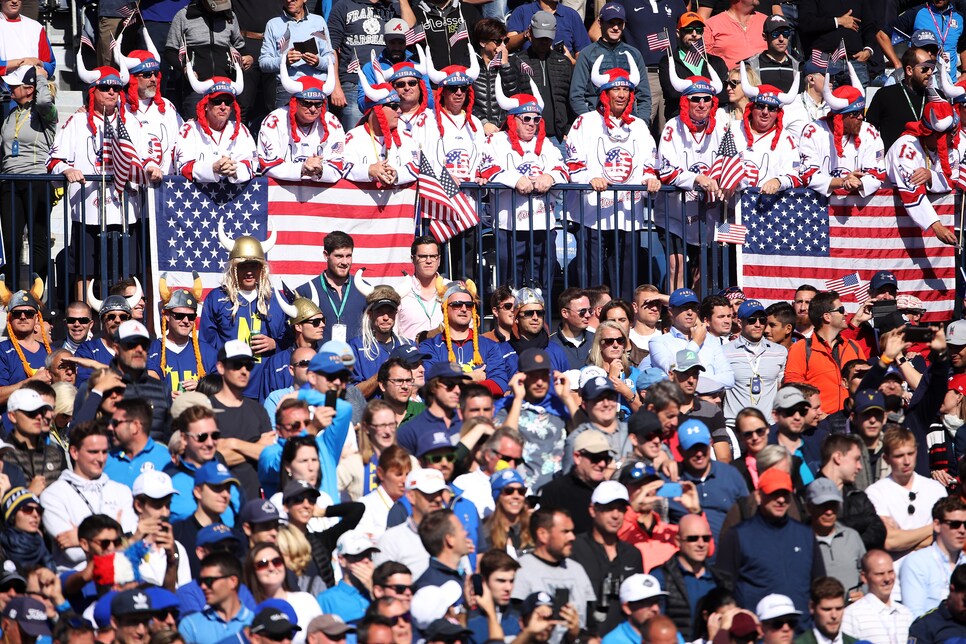 American fans traveled in large numbers to the 2018 Ryder Cup in France.
Christian Petersen
Paring down the number of fans was a serious discussion over the last couple of months, according to Waugh. It was broached with the captains—Steve Stricker of the U.S. and Padraig Harrington of Europe—and prospective players that maybe 10,000 people on site would still work instead of 40,000. Waugh gauged there was support for such an idea. But when the Ryder Cup organizers revisited the potential risks with health advisors, as well as state and local officials in Wisconsin, the task seemed daunting.
"There was zero certainty that we could do it with fans," Waugh said, "and a huge, high degree of risk that local authorities were uncomfortable with."
For the PGA of America and the European Tour, they were also putting a long and storied legacy in jeopardy—one that earns them both fans and a significant portion of their annual operating budgets. Waugh called the Ryder Cup a "24/7" operation because it's that important in every corner of his organization.
"How do we protect the brand and the importance to the ecosystem of this awesome responsibility?" Waugh said. "That's why we came to the conclusion that no fans really wasn't a Ryder Cup. … It's no longer just about golf. It is about one chance for Europe to be a country, if you will, a team. It is a rock concert. It is the Super Bowl. It is bigger than the game."
Any scenario with fans likely eliminated the ability to host very many people from Europe, and those who have followed the Ryder Cup closely know that European fans, with their chanting and singing, create more than their share of the atmosphere. Those supporters from the other side of the Atlantic Ocean would have faced the arduous prospects of a pre-Cup quarantine in the U.S., followed by another quarantine when they returned home.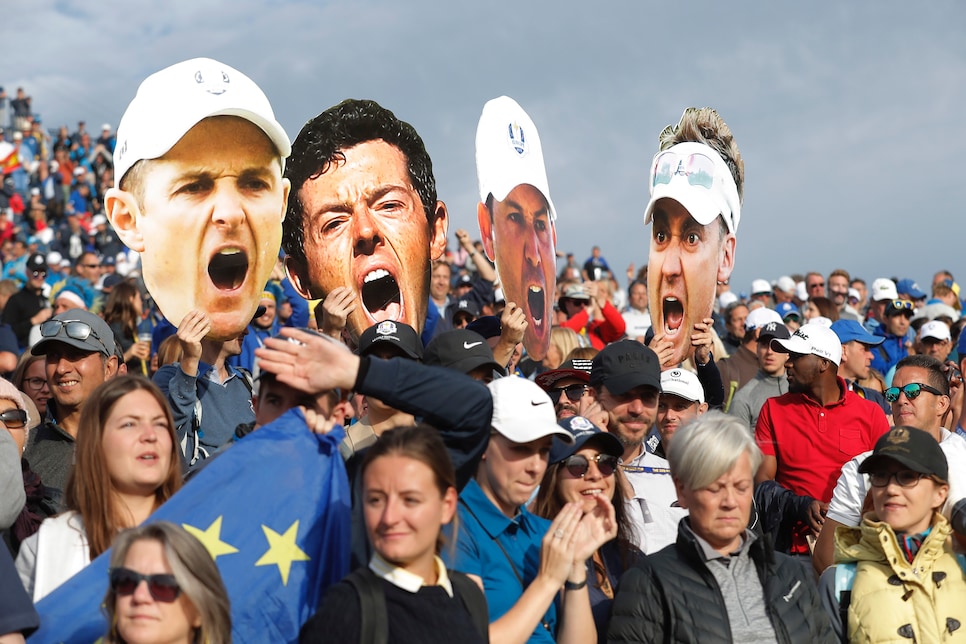 European fans cheer during 2018 Ryder Cup in France.
Tom Jenkins
"Thirty-one days to watch a golf tournament is pretty hard to imagine," Waugh said.
The decision to cancel was difficult enough, but there were deep repercussions. The PGA Tour had to agree to move the Presidents Cup forward a year, and it meant putting off the next European-hosted Ryder Cup to 2023. Even the PGA Tour's regular-season schedule was affected, because Quail Hollow was to be skipped in 2021 as the regular venue for the Wells Fargo Championship. The tour reinstated it as the site for next year with TPC Potomac now hosting in 2022.
"If you go back to the minute we reset the schedule," Monahan said, "players on both sides had questions about whether or not we were going to be able to play the Ryder Cup. Everybody wants to play it. But as we sit here today, for Seth and Guy, the players completely support and understand the decision and are likely very proud of the thought and effort that went into staging it."
One more reality check came in the form of a question about there being no guarantees that a Ryder Cup next year can be played, given the current state of COVID-19 outbreaks and no vaccine on the near horizon. Waugh made clear that if the Ryder Cup could not be staged in 2021 it would likely be canceled, not postponed again.
"We can't perpetually roll things forward," he said. "That's not fair to the game.
"We're hopeful that we will hold it, but all bets are off on what's going on in the world," Waugh added. "If I were a betting man, I would bet on science to figure out how to truly reopen the world in 15 months' time."
Waugh also put his own tribulations and those of his peers in a larger perspective.
"This pandemic has caused so much pain across the world," he said. "This is a paper cut relative to what so many others are going through. We're going to live to fight another day and hopefully have the Ryder Cup we've dreamed about."