Podcasts
U.S. Amateur winner Nick Dunlap on Peyton Manning's pump-up speech and Nick Saban's golf intensity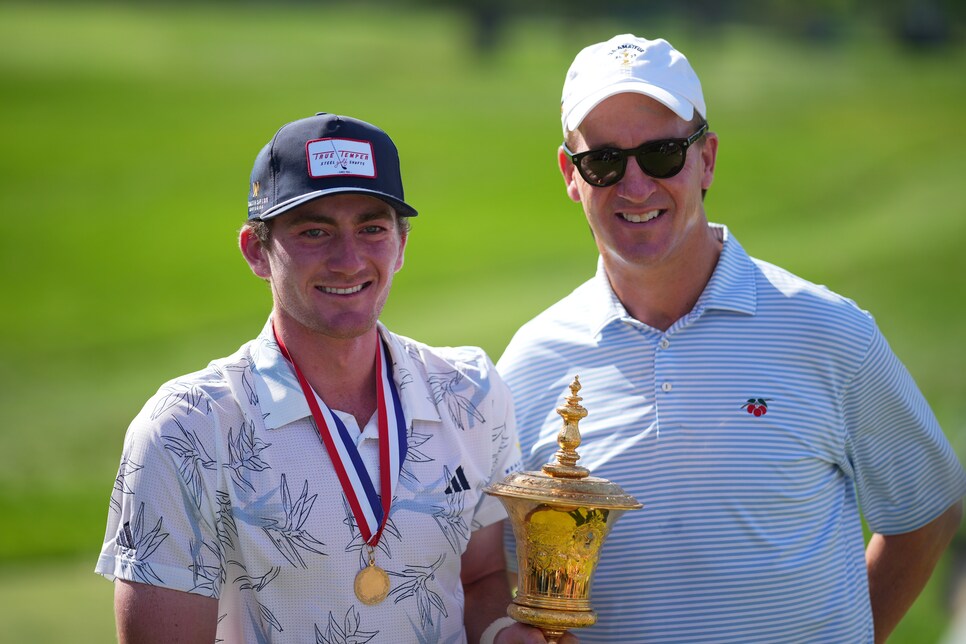 With a record of 85-48 on the road in his career, Peyton Manning was no stranger to going into somebody else's house and pushing them around . The scene at the U.S. Amateur final on Sunday at Cherry Hills Country Club wasn't exactly like going into Foxboro in January, but for 19-year-old Alabama sophomore Nick Dunlap, it did have a bit of an away-game feel.
That made Manning the perfect guy to lean on for advice ahead of Dunlap's final match against Ohio State's Neal Shipley, who became an overnight folk hero thanks to his heroic shot on the 17th hole on Saturday night that propelled him to a semifinal victory over Auburn's John Marshall Butler. His long flowing locks certainly played a role in him becoming a fast fan favorite, too:
The viral moment had everybody instantly in Shipley's corner, both online and on site. Dunlap had his supporters there, too, but it became quickly apparent that he'd be the party-spoiler should he go on to win. He did just that, later crediting Manning for a pre-match pump-up speech that wasn't even supposed to be directed at only Dunlap.
"Peyton Manning came and talked to us," Dunlap said on The Loop podcast, referring to himself and three other members of the U.S. Walker Cup team who were on hand in Colorado. "He talked a little bit about what we're going to see at St. Andrews [the site of next month's Walker Cup].
"We asked him what playing on the road was like, and not being a fan favorite," he said. "When we go over there, there's not going to be a ton of people rooting for us. It doesn't really matter what the weather is—it could be raining, cold, windy—we're there for one reason and that's to win and have fun and not let anything stand in our way. Stick to our game plan, our process, no matter what the crowd does. They're going to be loud and not in our favor most of the time.
"I kind of channeled that a little bit [on Sunday]," Dunlap added.
In other words, Manning inadvertently motivated Dunlap to the biggest win of his career. The guy is good.
Another football legend, Alabama head coach Nick Saban, reached out to congratulate Dunlap while his name was still being etched onto the Havemeyer Trophy. The two have become close since Dunlap came to Tuscaloosa, Saban often picking the young lad's brain on golf:
To hear our full chat with the U.S. Amateur winner, please have a listen below.