News
There were upsets aplenty in first day of match play in U.S. Amateur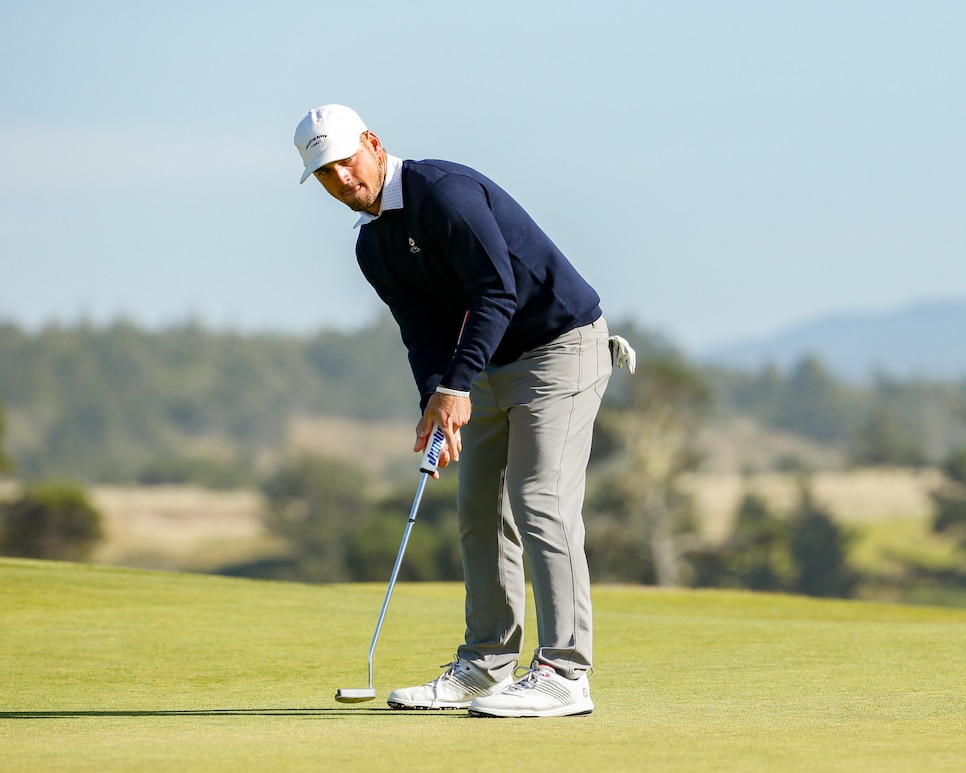 Wilson Furr avoided the first-round upsets by handily winning his Round of 62 match on Wednesday.
Steven Gibbons
BANDON, Ore. — Matthew Sharpstene couldn't help but notice. It was as if he was suddenly cast in a reality television show. Just as his tense, back-and-forth U.S. Amateur match on Wednesday with last year's runner-up, John Augenstein, reached a critical point, the Golf Channel cameras showed up.
In all of his years in golf, the 21-year-old from Asheville, N.C., had never played in front of thousands of people he could not see.
"I feel like I was a little nervous," Sharpstene admitted. "But it's fun, just proving to a lot of people what I can do."
What viewers saw is yet another talented prospect taking down a player of considerable renown at Bandon Dunes. Seeded 58th for match play, Sharpstene lost his lead on the 15th hole, gained it back with a birdie at the 16th, and held on to beat the seventh-seeded Augenstein 1 up.
Augenstein's credentials are impressive, including playing for the winning 2019 U.S. Walker Cup team and qualifying for this year's Masters and U.S. Open with his runner-up finish last year in the U.S. Am. But Sharpstene, who is transferring to Charlotte this year after previously playing at West Virginia, is beginning to establish his own stature. In late June in the North & South Amateur, he fired a 64 to set the Pinehurst No. 4 Course record, though his bid to win ended in the match-play Round of 32.
The chance to take on Augenstein, on television no less, was a big motivator.
"I was excited," Sharpstene said, "just because I wanted to play against someone good, and that way, coming out of the gates, if I win it just shows that I can play. Here I am."
There were a few of those "here I am" moments on Wednesday. Fifteen of the 32 winners were lower seeds, and the upsets included the ouster of the World Amateur Golf Rankings' highest-rated No. 4 Davis Thomas [beaten by Jonathan Yuan, 3 and 1], as well as No. 3 seed Ben Shipp (by Cameron Sisk, 5 and 4) and No. 4 Travis McInroe (by Sam Harned, 4 and 3). Sisk was one of three players to emerge from an 18-man playoff on Wednesday morning to complete the match-play field.
Evan Katz, another playoff survivor, led No. 2 seed James Piot 2 up through 12 holes, but eventually lost in 19 holes. The last qualifier, Aaron Du, ran into one of the hottest players in the field. Wilson Furr, who was the stroke-play medalist after shooting 62 on Tuesday, suffered no letdown, making one natural eagle and another conceded eagle in storming to a 6-and-4 win.
Among the highlights were Furr holing out a wedge from 68 yards for eagle at the par-4 eighth and driving the green at No. 10 and earning a conceded 15-foot eagle.
Perhaps the hardest part of the day for Furr was simply waiting for his tee time. He and Du didn't tee off until 2:25 p.m. local time. Furr bided his time by eating two meals, making a call to his girlfriend and watching some TV.
"It's not easy," he said. "But we made do."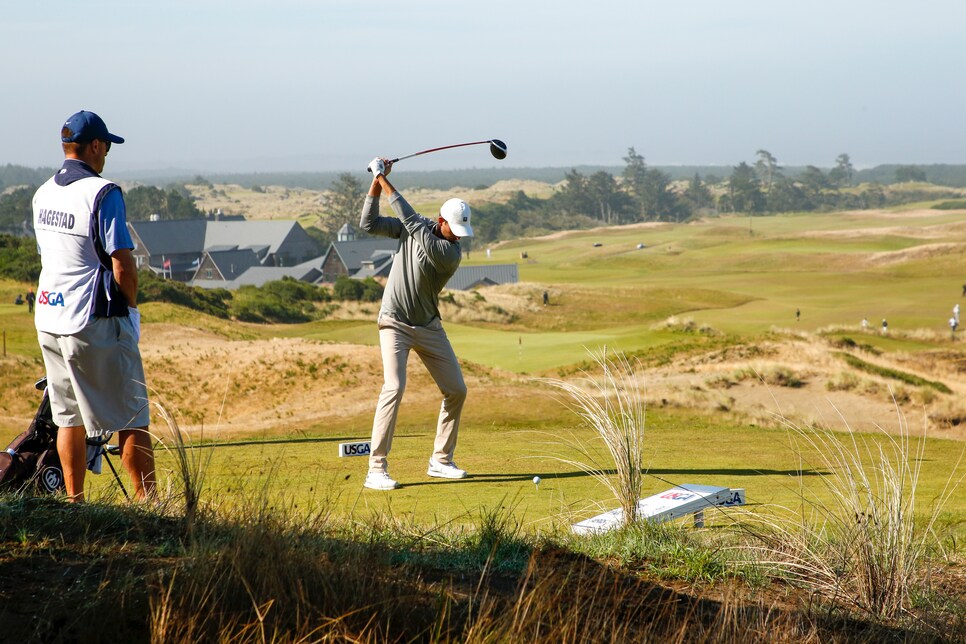 Stewart Hagestad hits his tee shot on the third hole of Bandon Dunes in his match-play win.
Steven Gibbons
Among the mid-amateurs who made it to match play, only one survived. Former U.S. Mid-Amateur champ Stewart Hagestad, 29, trailed from the second hole, got all-square with a birdie at 17 and won on 18 when 18-year-old Abel Gallegos suffered a bogey.
"I don't want this in any way to come off as arrogant, but if I at 18 years of age played a two-time Walker Cupper that had played in a few majors, I'd be terrified," Hagestad said. "… So the fact that he came out swinging and had me 2 down at one point, he's got a ton of game."