U.S. Amateur Champioship
Neal Shipley is now a Cherry Hills legend after his stunning shot and crazy crowd reaction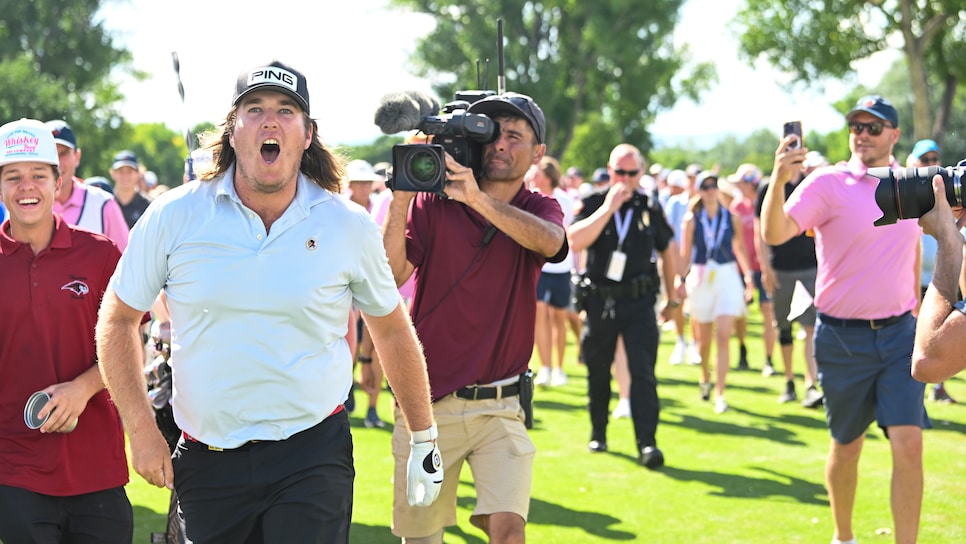 Neal Shipley yells after playing his approach shot on hole 17 during the semifinals of the 2023 U.S. Amateur.
Kathryn Riley
In a matter of moments on Saturday, Neal Shipley was surrounded by hundreds of new friends at Cherry Hills Country Club. Hitting one of the most clutch shots in the U.S. Amateur will do that.
On a tear after coming from 3 down to John Marshall Butler with eight holes to play in the semifinal match outside of Denver to take a 1-up lead, Shipley was already riding on a high when he hit his approach to the island green on the par-5 17th. Then his approach landed past the flag, and spun back and back, looking like it might travel far enough to drop into the cup for an eagle.
It stopped just a few inches short instead, but the large gathering of fans in the fairway knew how big the shot was. It was a virtually kick-in birdie that likely could win the match, though Butler had a look at tying the hole.
Shipley pumped his fist and let out a whoop and, in one of those fantastic scenes that can only happen in a U.S. Amateur where there are no ropes, the golfer was swamped with high-fives, back slaps and shouts of "Let's go Ship!"
Cherry Hills' clubhouse is filled with Arnold Palmer lore from his comeback win in the 1960 U.S. Open. Maybe they can find a small space on the wall for "Shipley's Shot." He is, after all, another Pennsylvania native, who has caddied at Arnie's beloved Oakmont Country Club.
Shipley was conceded the birdie putt at 17, Butler missed his try, and Shipley prevailed 2 and 1. On Sunday over 36 holes, he will will face World Amateur No. 9 Nick Dunlap, who beat Parker Bell 3 and 2 in the other semi.
"After that shot, just raw emotion. I was just so excited," Shipley said. "I saw it almost go in and I knew it was tight just because it looked like it touched the shadow on the bottom of the flagstick, and everyone was going crazy, I was going crazy.
"It was really tough, after JM gave it to me. I had to calm down, and I was on the side of the green saying, 'he's going to make this, he's going to make this, we're going to have to hit 4-iron on 18 tee, we're going to have to tie that hole.' After all that I was trying to focus back in and get locked back in."
The 22-year-old Shipley is an easy guy for the Cherry Hills folks to back. He's tall, gregarious, sports flowing long hair and isn't afraid to show emotion. On the 14th hole, he had to pull back on a fist pump when his birdie putt didn't fall. Butler appeared to shoot him a look and then drained his own 14-foot putt for a tying par.
"Oh, gosh, I thought that was in the hole the whole way," Shipley said. "After I did that, I was like, well, he's going to run this in on me, gave me a big fist pump." And Butler did. "And I bet you that was on TV. But that happens," Shipley said. "He did look at me. We walked off afterwards. We had a good banter the entire time. I deserved that one after that, and he's like, yeah, you did."
In a match in which 12 of the 17 holes were won, Butler, a rising senior at Auburn and the highest remaining seed at No. 11, appeared to be in full control at the midpoint. When he won the 10th, it was the third hole he had taken in the last five.
"I felt in control of the match. I felt in control of my golf swing," Butler said. "I kind of let him back in."
Said Shipley, "Three-down after 10, I wasn't mentally defeated, but I knew I was going to have to do something pretty special and continue to hit a lot of good golf shots, and I think I did just that."
Shipley won the par-5 11th and then Butler hit into the water at the 12th, and when he did so again at 15, the match was tied. Shipley then won the 16th, setting up the eventual pandemonium at 17.
"That shot on 17 was so cool," said Shipley, "and that scene was just something I'm going to cherish for a long time. That's unbelievable. I haven't really processed it."
Shipley, who transferred into the master's program at Ohio State a year ago after earning a bachelor's degree in quantitative mathematics in three years at James Madison, is having an incredible summer. Leading up the Am, he'd finished second three times and third once in four of the most prestigious tournaments in the country. The young man who has caddied at Oakmont was ranked outside of the top 1,000 in the Official World Amateur rankings only a couple of years ago.
"I truly believe I'm one of the top 35 players in the world and I have a lot of faith in my game, and I feel like if I play well, I can beat anyone," said Shipley, whose current ranking of 132nd will get quite a boost after this week.
Butler, 21, was disappointed with the defeat, but contended that it didn't shake the confidence he has in himself.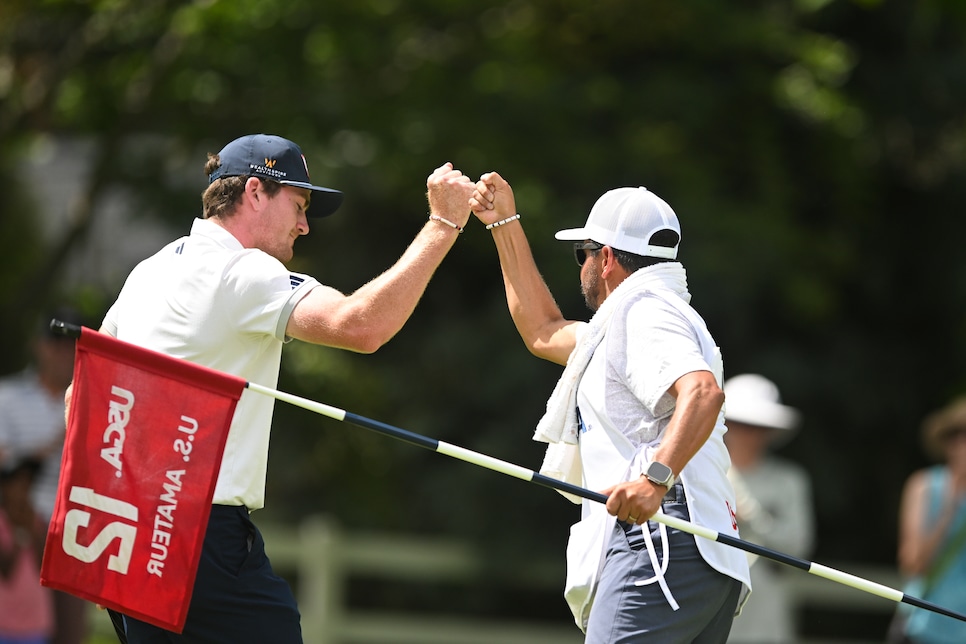 Nick Dunlap gets a fist bump from caddie Jeff Curl after sinking his putt on the 12th hole of Saturday's semifinal.
Kathryn Riley
"I still believe I'll be the No. 1 player in the world. I still believe I'll be competing on the PGA Tour, and I still believe that I'll be winning majors," he said. "Yeah, right now it kind of stings, but it doesn't change anything. There have been a lot of really good players who haven't won this tournament, and yeah, it would have been great, but it's whatever."
In the other semifinal that featured a pair of 19-year-olds, the winner was a player who is on everyone's radar for greatness. Dunlap, a former U.S. Junior Am champ who already has been chosen for this year's U.S. Walker Cup team, went 1 down to the University of Florida's Bell on the fifth. But Dunlap tied it on the eighth with a birdie and took the lead on the ninth with a par. Bell didn't make a birdie the rest of the way and Dunlap won both par 3s, including making a 30-foot birdie on the 12th, on the back to close it out.
Dunlap, a Huntsville, Ala., native who will play for Alabama beginning this fall, ran his record in match play to a remarkable 29-2, including a 6-0 mark in winning the 2021 U.S. Junior and his five wins this week at Cherry Hills.
Asked what makes him so formidable in match play, Dunlap said, "Just a belief in myself. I'm a fighter. I don't give up, no matter what the situation is, no matter what's thrown at me. I see it as a challenge, and I kind of take the mindset of I get a bad break, it's not why me, like why not me."
There is plenty on the line on Sunday, specifically the Havemeyer Trophy and the chance to add your name to the list of winner's in the world's most prestigous amateur championship. But just getting to the finals comes with huge rewards for Shipley and Dunlap as both have earned likely invitations to next year's Masters and spots in the 2024 U.S. Open at Pinehurst.