sweet flow
The hair. The brain. The game. U.S. Amateur semifinalist has a lot going for him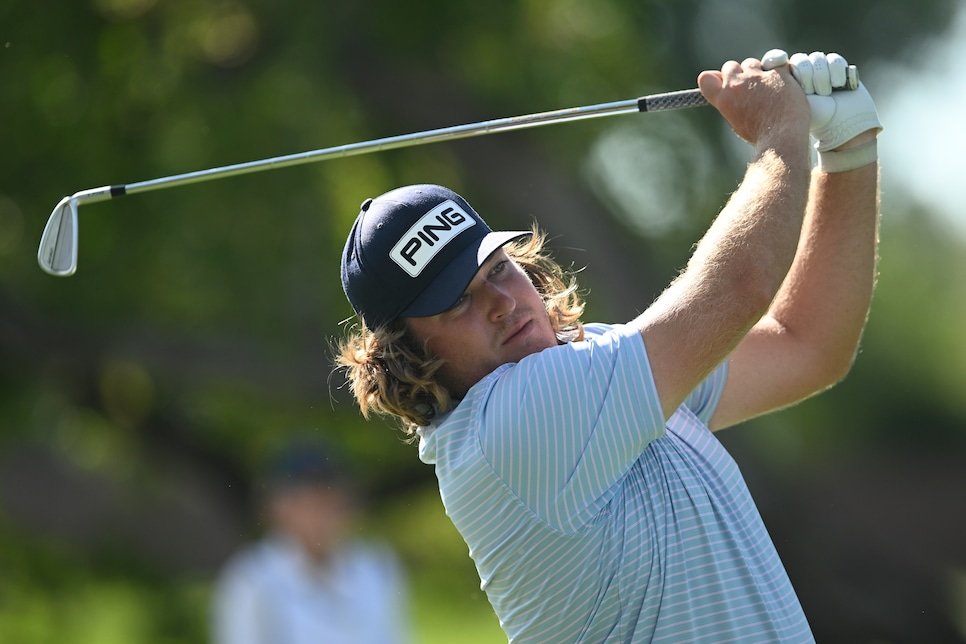 Neal Shipley watches his tee shot on the third hole during the U.S. Amateur quarterfinals on Friday.
Kathryn Riley
CHERRY HILLS VILLAGE, Colo. — You couldn't miss U.S. Amateur semifinalist Neal Shipley whether he was teeing it up on the golf course or standing in line at the grocery store. Growing up outside of the Steel City of Pittsburgh, he was a strapping kid who grew to be Steelers' tight end big at 6-foot-1. And since Shipley has sported dark brown hair to shoulder-length since the start of the pandemic, he has been an unmistakable figure this week at Cherry Hills Country Club.
But it's Shipley's brain that should make opponents' fearful this weekend, with the semifinals set for Saturday morning, when Shipley takes on rising Auburn senior John Marshall Butler. Awaiting on Sunday will be the winner of the other semi between former U.S. Junior champion Nick Dunlap and rising Florida sophomore Parker Bell.
The oldest player remaining in the field at 22, Shipley is a cerebral player. He should be, considering he earned a degree in quantitative finance, with minors in math and economics in just three years at James Madison while he played on the golf team.
With that accomplished and wanting to focus on golf, Shipley went into the transfer portal and chose Ohio State, where he's already earned a master's in data analytics.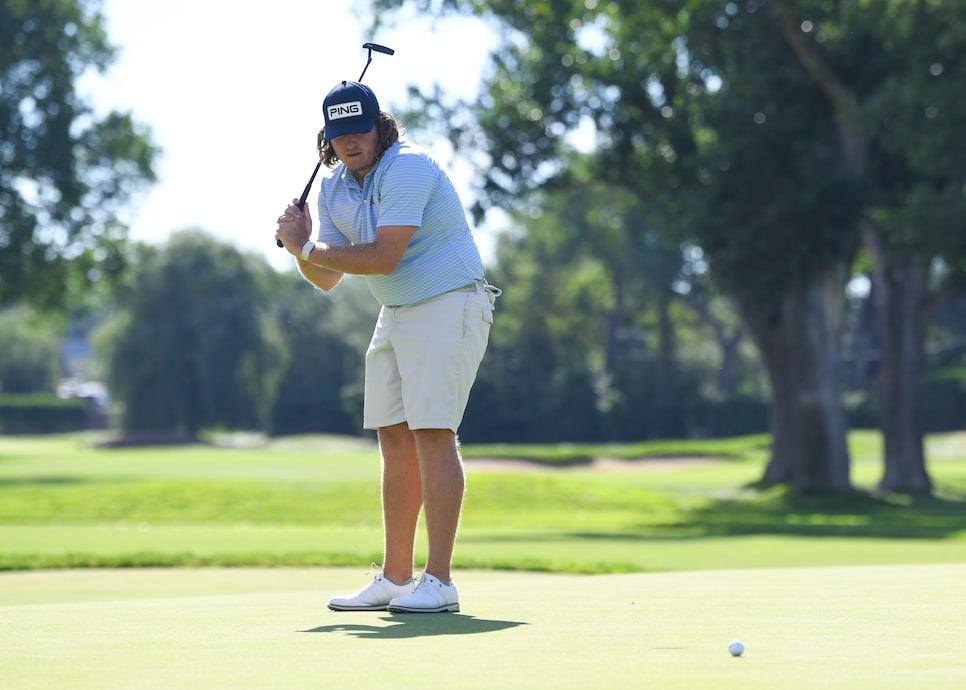 Neal Shipley reacts to missing his putt on the third hole.
Kathryn Riley
What this all means is that Shipley is adept at analyzing the golf course, and that can be especially dangerous in match play, when it's as much about how your opponent plays as you do.
"More than in stroke play, you want to stay more level-headed," Shipley explained on Friday after he'd rallied from an early deficit to beat the University of San Diego's Andi Xu 2 and 1 in the quarterfinals.
"You're playing the guy in front of you, and you've got to be patient and keep your ball in the right position. I feel like if you do that all day, the other guy is going to make mistakes."
It has happened all week for Shipley. In the four matches he's played since emerging from stroke play as the 47th seed, he never trailed in two of them, was behind briefly in one, and then on Friday, Xu got 2 up on him through six holes, but Shipley rallied by winning 8, 9 and 10, and then Xu handed him two other holes with errors.
Anybody playing Shipley now has to be concerned, because he's been the hottest amateur this summer. He has three seconds and one third among his last six starts—and they all came in prestigious events. The runner-up that stung the most was when Shipley nearly had his hands on the Trans-Mississippi Amateur, but triple bogeyed the 17th hole, birdied the 18th to get into a playoff, but lost to Jake Holbrook.
"I've always had a lot of self-confidence in myself and my game, but I think my game finally started to catch up to that confidence. Fake-it-till-you-make-it type of deal," Shipley said. "My ball-striking this spring was phenomenal, but I really putted terribly. Finally turned that around, got my speed putting in check, and I think that's been actually a strength of my game this week. I'm not leaving myself a lot of work after my first putt on most holes. I think it's taken a lot of stress off my game."
At home, Shipley has some fantastic courses to practice on. He caddied for several years at Oakmont Country Club, and between Monday privileges and having friends who play there, he figures he's played 50 rounds on one of the most vaunted layouts in the country. He said his home course in St. Clair Country Club south of Pittsburgh, where the greens regularly run faster than 14 on the Stimpmeter.
"I think these greens are running about a half-foot slower this week," Shipley said Cherry Hills, where there is some scary speed on downhill putts.
Shipley has fond memories of attending the 2007 U.S. Open at Oakmont, when he said he rode on his dad's shoulders during a practice round to watch Tiger Woods. Of course, then, he couldn't have imagined now playing on the weekend in an USGA event that Woods won three straight times.
"It's pretty surreal, honestly," Shipley said. "You've got to beat so many good players, and I've had a lot of really tough matches."
While some of the other players have looked completely exhausted after their matches, Shipley looked fresh-eyed and ready to play another round on Friday. "Guess it's the adrenaline," he said with a big smiile.
On Saturday, he draws the 19-year-old Butler, who won seven holes in beating Mexico's Jose Islas 3 and 2. It was Butler who made a remarkable par in the dark on Thursday to force a playoff with Paul Chang, and then Chang all but handed him the match on the first extra hole when they came back on Friday.
On the other side of the bracket, Dunlap, the World Amateur No. 9, rolled in a 20-foot birdie on the 19th hole to beat teenager Jackson Koivun. He will face another 19th-hole winner in Parker Bell, who got life in the match when Ben James missed a bogey putt of less than three feet on the 18th hole that would have bested Bell's double bogey.