Amateurs
This U.S. Amateur favorite only gained more confidence with this amazing rally in Round 1 of match play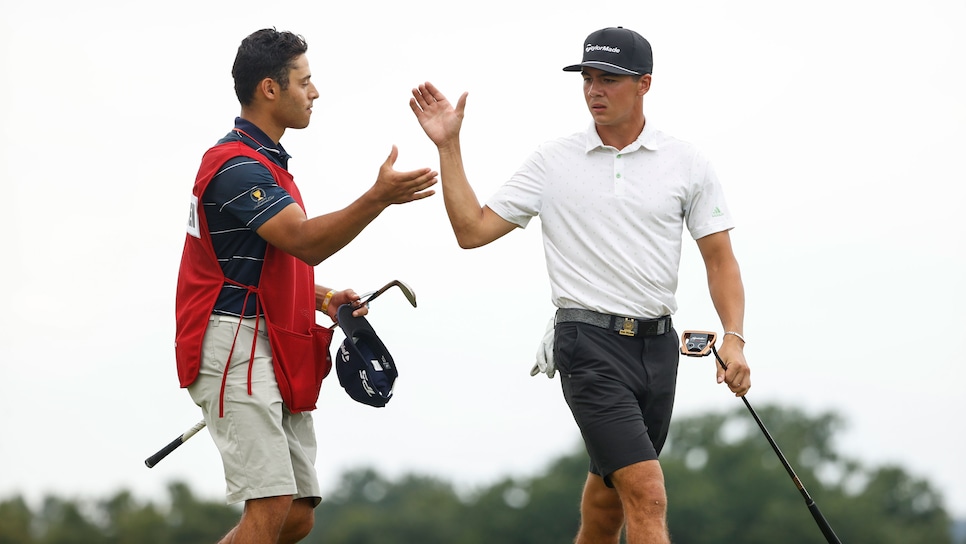 Michael Thorbjornsen and his caddie celebrate winning their match on the 17th hole the first round of match play at the U.S. Amateur.
Chris Keane
OAKMONT, Pa. — The look on Michael Thorbjornsen's face as the Stanford sophomore walked toward the Oakmont clubhouse on Thursday morning was mixture of relief and satisfaction. The 2-and-1 score in his opening-round victory over Vanderbilt's Harrison Ott didn't do justice to just how volatile the match had been.
Or how close one of the pre-tournament favorites had come to being bounced.
"It was one of the toughest matches I've ever played," Thorbjornsen said, which is no small admission when you consider the amount of match-play experience he's got having won the U.S. Junior title in 2018 and most recently the Western Amateur just two weeks ago. "Didn't have things going my way the first 12 holes."
Indeed, on the 13th tee, Thorbjornsen was 3 down, having lost the previous hole after his drive ended up stopping next to a sand-filled divot. This came after he'd missed some short putts on the previous holes that kept him from cutting into Ott's lead.
"I just tried to stay positive," he said. "I don't know why, but I knew something was bound to happen."
Something indeed, as Thorbjornsen hit his tee shot on the par 3 to 18 feet and make a birdie to win his first hole of the day.
Then on the par-4 14th, fairway, green and another birdie. And on the par-4 15th, another birdie.
On the par-3 16th, he hit a laser of a 4-iron 231 yards to three feet for yet another birdie, this time to take the lead.
One last circle on his scorecard on the par-4 17th, making a 12-footer for birdie that closed things out.
That Thorbjornsen would get that hot shouldn't be a surprise to those who've followed him over the course of the last few months. The 19-year-old from Wellesley, Mass., has been on a pretty solid heater.
It started at the Massachusetts Amateur, where he took the title at Brae Burn Country Club, beating former U.S. Mid-Amateur champion Matt Parziale, 8 and 6, in a 36-hole match, making 18 birdies in the process.
From there, he went on to Glen View Club outside of Chicago and the Western Amateur, where he earned medalist honors in the 72-hole stroke-play qualifying (shooting a course-record 62 in round 2) then went on to take the title over incoming Vanderbilt freshman Gordon Sargent, 4 and 3.
Moving on to Oakmont, Thorbjornsen earned the third seed heading into match play, shooting rounds of 65 at Longue Vue Club and 69 at Oakmont.
What explains the torrid stretch for Thorbjornsen? He credits work with his father on his swing this summer, the duo making sure that Michael keeps his head back at impact so as not to come out of his swing.
"We've been close the last couple years. Fortunately now things are starting to look good with it," Thorbjornsen said. "I hit the ball straight, it feels like I've hit it straight and I can trust the swing too. Those three things there are very important. Sometimes I'll hit it good, but it doesn't feel good. Other times it feels good, but I don't trust the swing. Fortunately, all three of those things are lining up correctly."
Oh, and his putting has come around too. "Yeah, I've never been known for my putting, but it's been outstanding this summer. I'm not exactly sure why, but I'm not going to complain. The game feels good, everything about it."