Amateurs
Pepperdine's Joe Highsmith came away a hero at the NCAAs. Little did anyone know how big a week it really was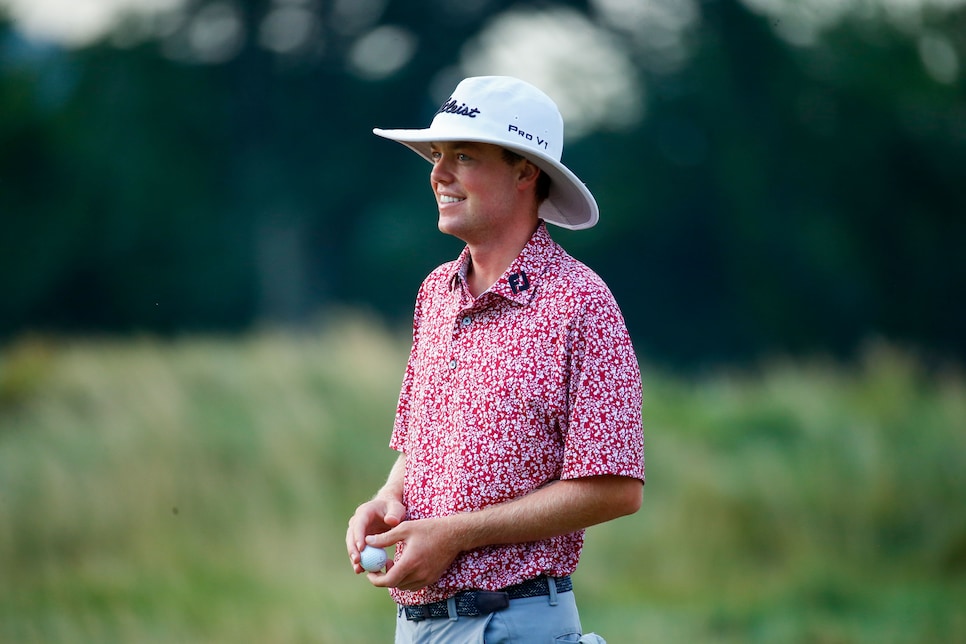 Joe Highsmith has played in the U.S. Amateur four times but this was the first year he advanced to match play.
Justin Aller
OAKMONT, Pa. — Golf is not a game of perfect, something Joe Highsmith has come to understand all too well in 2021.
In many respects, this past year has been the best of his golf life, the 21-year-old rising senior at Pepperdine winning the Western Intercollegiate last spring, going 3-0 in NCAA match play to help the Waves claim the national title, qualifying for the U.S. Open at Torrey Pines and advancing to the Round of 32 at this week's U.S. Amateur.
In other respects, it's been the most challenging. Before becoming an NCAA hero in Scottsdale, the lefty known for his bucket hat was frustratingly benched for the start of stroke-play qualifying at Grayhawk Golf Club, a byproduct of a horribly-timed slump and the impressively deep Waves team. Highsmith did play in Round 2 and shot a 72, but a 78 in Round 3 had him doubting himself again.
That Highsmith has come out the other end a better, more focused golfer wasn't a given, but it was the hope when he and Pepperdine coach Michael Beard had a heart-to-heart conversation at nationals.
"It was tough. I love this kid," Beard said. "But we had to start over. We had to forget his past successes and figure out what he could do every day to start getting better, and what he needed to get better at."
The problem for Highsmith boiled down to staying focused during a round, his talent almost becoming a liability. Highsmith thought he could just turn things on when he needed to, but it wasn't quite that simple. Golf is not that easy.
So Beard and Highsmith went back to square one, forgetting about score and focusing on commitment over every shot. At the end of each round, practice or tournament, the pair would go through every shot and grade each one for the level of commitment he had made to it.
"There was so much going on. I was mentally not in the right place," Highsmith said. "Me and coach kind of just tried to really dumb it down and settle back in. Just start focusing on the shot. Try not to make the shot bigger than it is, which was kind of what I was doing."
A final-round 67 in stroke play seemed to shake everything back into position for Highsmith. He stormed through match play to help accomplish his top college goal. "That's the tournament you feel you've got to win when you have a really good team," Highsmith said. "And we were able to pull it out."
Over the summer, his game has stabilized. He missed the cut at Torrey Pines, but was second at the Pacific Coast Amateur, got to the quarterfinals of the North & South and reached match play at the Western Amateur.
Then came the U.S. Amateur, the fourth time Highsmith had qualified. With rounds of 64 at Longue Vue and 73 at Oakmont in stroke-play qualifying, he accomplished a new career best, making it to match play for first time.
Still, Highsmith knows that things can go south quickly, old habits creeping in. His first-round win over Michael Cliff, proved that. The match began late Wednesday afternoon, the start pushed back by a weather delay earlier in the day. When darkness fell, Highsmith was 2 down through four holes. Returning on Thursday, he won the fifth but lost the sixth and eighth to fall 3 down, admitting once again that his concentration level wasn't high enough. But he was able to identify that as a problem and fix it, winning five of the final eight holes to claim a comeback 2-and-1 win.
"He's taken ownership of everything," Beard said. "He doesn't need to have someone tell him now 'What are you doing?' He can feel it. He knows where to go to get back on track. Honestly, that's probably the biggest thing between this summer and two summers ago."
Highsmith was back at it Thursday afternoon for his second-round match against Oklahoma State's Grayson Blunt, an 8-and-6 winner in Round 1 over Clay Merchant. When rain and lightning rolled through suspending play at 6:35 p.m., Highsmith was 2 down through 12 holes.
The storm that stopped play seemed to come at a good time for Highsmith, who bogeyed the 11th and 12th to allow Blunt to take the lead. Highsmith will come back Friday morning rested and with a clearer mind, hoping he can turn things around as he did against Cliff.
Win or lose, a more confident Highsmith will be returning to Pepperdine.
"I feel like just the level of golf is a lot higher," he said. "It's cool to see how far I've come. My bad golf is a lot better and my good golf is a lot better."