U.S. Adaptive Open
As the 'stepchildren' in adaptive golf, paraplegics rally for more respect and recognition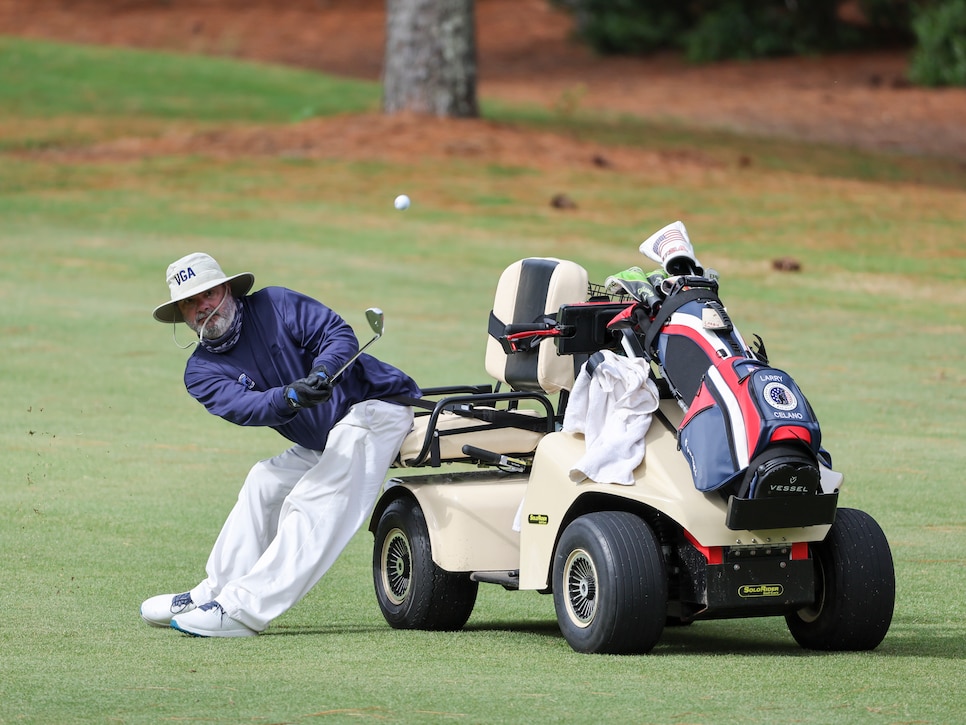 Larry Celano hits an approach shot on the 11th hole during the first round of the U.S. Adaptive Open.
Jeff Haynes
PINEHURST, N.C. — They have heard it more times than they'd like to admit. "Get off the green with your cart!" That's the reality of paraplegic people who play golf and require a modified vehicle to enjoy the game. To putt, they have to drive onto the green, and for most golfers, that might be etiquette's No. 1 no-no. People, the seated golfers will tell you, sometimes freak out at the sight.
"It definitely takes some education," Randy Shack says.
The 38-year-old Shack is a formidable man, even sitting in his SoloRider cart after his round in the U.S. Adaptive Open at the Pinehurst Resort. He's got broad shoulders and a wildly long black beard with some strands of gray. But there's a gentle vibe about him that tells you he's not going to get overly riled up about an ignorant comment from an unknowing bystander.
Shack, of Sulphur Springs, Texas, is going on his eighth year of playing seated golf after he suffered a spinal cord injury when his Army vehicle was blown up by an IED in Iraq in 2006. Through the PGA Hope program, he took up golf. "Without it, I wouldn't have gone out of the house much. I'd still be home drinking," Shack says. "I'm three years sober and I haven't really stopped playing."
Shack is one of seven seated players competing in the Adaptive Open this week at Pinehurst No. 6. They have a couple versions of carts in which they drive forward and the seat swivels to the side when they line up to hit a shot. And as for them driving on the greens: SoloRider, the company that makes the majority of adaptive carts, said the PSI from a cart's tires is no more than it is for a person's footprint. That has been evident at Pinehurst this week, with no visible tracks on the putting surfaces.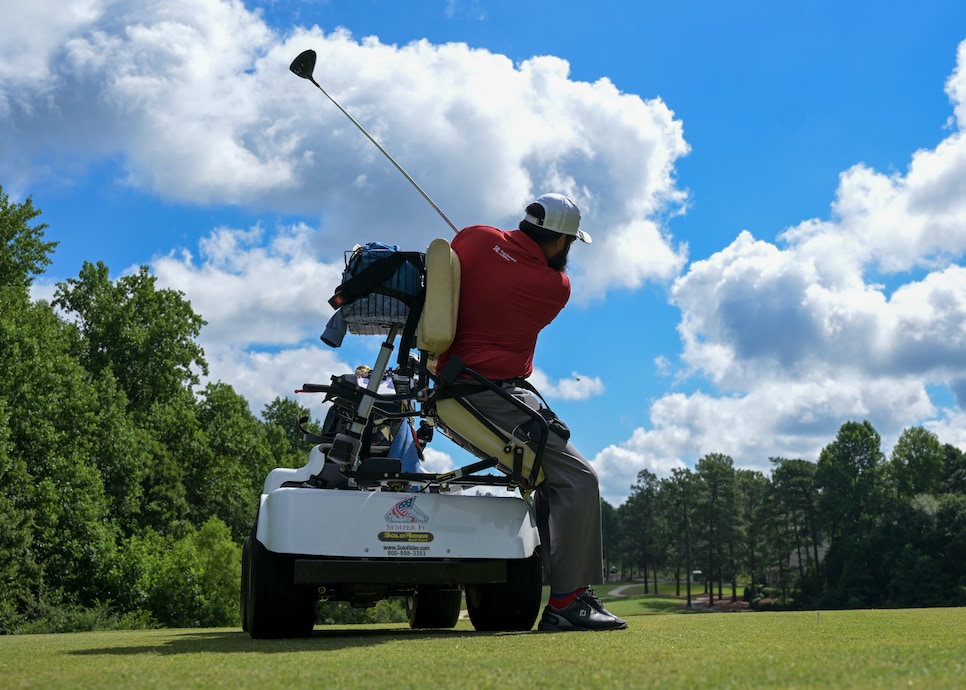 Randy Shack hits his tee shot on eighth hole during the first round at the 2022 U.S. Adaptive Open.
Robert Beck
Seated players are a small group that seems to be growing. A few years ago, it was common for only about four players to show up at a national event. Now, says another seated player, Larry Celano, there could be 40.
"That's why we're here," Celano, 63, of Chandler, Ariz., said. "We're here to grow the game. We need to see the guys in wheelchairs. We needed the USGA to back us, and they did."
He said he was moved to tears at a dinner this week in personally thanking John Bodenhamer, the USGA's chief championships officer, for the opportunity to play in the inaugural Open.
Mariano Tubio hits from a greenside bunker during the first round of the U.S. Adaptive Open.
Jeff Haynes
Celano has a spinal cord injury he suffered after being shot during the 1989 U.S. invasion of Panama. He regularly competes as a seated golfer in the Veteran Golfers Association and represents his group on the board of the U.S. Adaptive Golf Alliance (USAGA). He is what you might call a "live wire," moving with quick energy and chatting to himself and others throughout the round. On his last hole on Monday, Celano was motoring up the fairway when he quickly whipped his cart around to greet a young spectator seated in a wheelchair. "You going to play golf?" he asked. The boy nodded, and Celano handed him a souvenir golf ball with his personal logo on it.
Celano is as self-deprecating as they come. Asked about how much sensation he has in the lower half of his body, he says there is some feeling in his upper legs, which allows him to "stand" a bit when he swings, but he has no muscle in his backside or hamstrings. "The VA pays me for lack of use of my ass," he deadpans.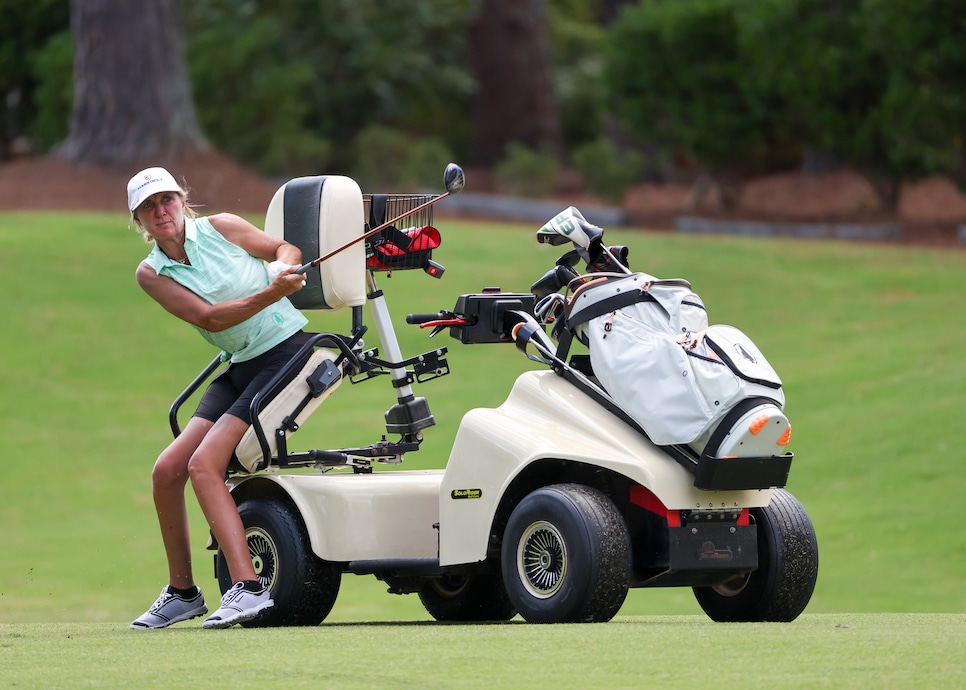 Annie Hayes hits an approach shot on ninth hole in the first round at the 2022 U.S. Adaptive Open.
Jeff Haynes
Not surprsingly, Celano is outspoken on all aspects of adaptive golf. In 2008, he and fellow seated players successfully sued the Marriott hotel chain to provide carts for seated players at its facilities. Too, he says seated players have been the "stepchildren" within the adaptive community. Early on, he said, adaptive organizers didn't know what to do with those in carts. They needed more considerations than most and one of the bigger mistakes was forcing seated golfers to play from the same tees as other divisions. The problem is that paraplegics can't "load" on their legs while swinging, so their power is greatly reduced. While Shack is one of the bigger hitters in launching drives at 200 yards, Celano hits his driver about 170. His 9-iron distance is 90 yards.
The USAGA has done a lot to move the allowances in a positive direction. In the U.S. Adaptive Open, tees for the seated men are set at 5,100 yards. For the women, it's 4,700. We should say for the one woman—Annie Hayes, of Lee, Mass. The 59-year-old, who was paralyzed from the waist down in a mountain biking accident, was somewhat disappointed to find that she was the only female player, though she was hardly surprised; she has never played with another woman in her circumstance.
"I didn't know if I would be good enough," said Hayes, who plays several times a week at her home club, Berkshire Hills Country Club. "But I figured I wanted the disability to be represented, because it's important to get other people out here."
Hayes opened the tournament with a score of 95 on Monday and lamented the shots she lost because of the bunkers. The USGA has given the seated players a couple of options: They can drive into the sand and take a shot or take relief from the bunker onto the grass but accept a one-stroke penalty. Hayes tried a shot from the sand on her very first hole and couldn't get out, and she figured she lost seven shots in all during her round because of the bunkers. When she plays at home, she doesn't have to take penalty strokes for relief.
"From now on I'm adding a stroke [at home]," Hayes said, "because I have to do it out here. I need to find somewhere to work on it."
There are other ways carts can become problematic. In Tuesday's second round at Pinehurst, Shack's vehicle simply stopped working on his ninth hole. There was a scramble to get a replacement, and then SoloRider General Manager Deryck Jernigan, while trying to wolf down a quick lunch, got another emergency call because the seat on Shack's replacement was a few inches higher than normal. Imagione suddenly being asked to balance on 2x4 in the middle of your round.
These are the challenges that the seated players face, so we should all probably take a deep breath and chill when our cart's yardage screen isn't working or the brakes are a little sticky. Adaptive players will tell you those are "normie" problems, after all.
Lee, Moore lead their divisions
Simon Lee, a South Korean who is on the autism spectrum and has played professional golf in his home country, shot his second straight one-under-par 71 on Tuesday to stand at two-under 142 and hold a two-shot lead in men's overall standings of the U.S. Adaptive Open. In second is Sweden's Felix Norman, who has an intellectual impairment and scored a tournament-best 69 in the second round.
In the women's division, Kim Moore, a single-leg amputee from Portage, Mich., shot 80 in the second round and was alone in first at 12 over, four shots ahead of Ryanne Jackson (Intellectual Impairment), who also carded 80.