Tales From the Crypt
Urban Meyer has been fired for 10 seconds and the horror stories are already rolling in from Jacksonville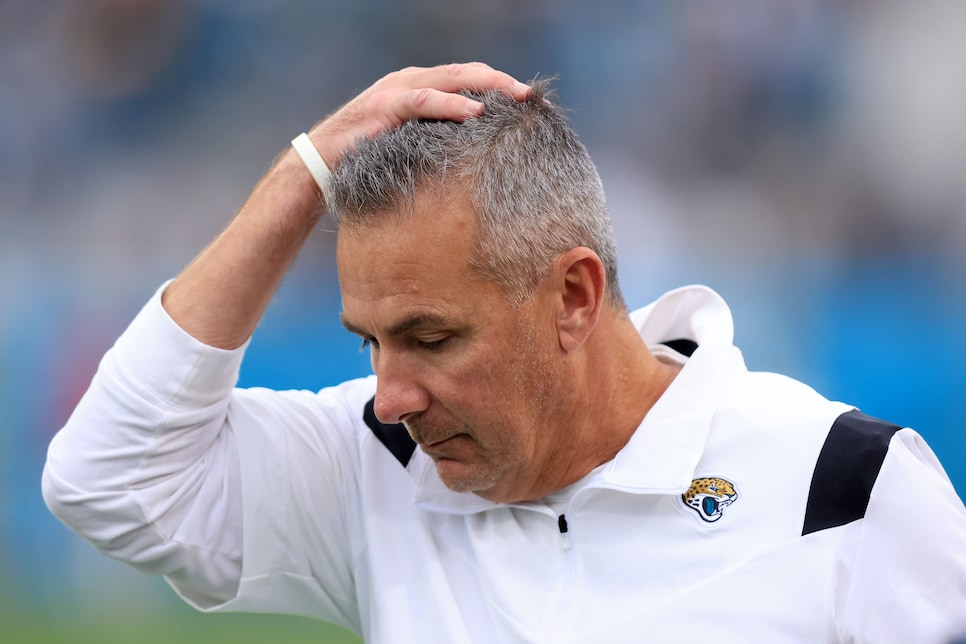 It's hard to remember an NFL coaching appointment more immediately disastrous than Urban Meyer. A legend in the college ranks, Meyer made the ill-fated leap to the pro ranks in 2021 and lasted all of 13 games before being fired in the dead of Wednesday night. By Thursday morning, the horror stories out of Jacksonville, already at a steady drip, became a gushing fire hydrant. If you're just waking up from a months' long coma, let's get you caught up.
The parade began Wednesday evening, when former kicker Josh Lambo accused Meyer of literally kicking him during training camp (and then essentially saying f-you, kicker, I'll kick you when I want, kicker!) in a story so ludicrous that it couldn't possibly be made up.
It remains to be seen whether Jacksonville will be on the hook for the remaining five years (and reported $45 million) of Meyer's contract or if they fired him with cause. The timing of Meyer's walking papers, however, suggests that maybe physically assaulting a former player was that cause.
While Meyer's physical altercations were limited to Lambo (and a woman in Columbus bar), a big part of the dysfunction in Duvall apparently stemmed from his rocky relationship with his coaching staff. And by rocky, we mean they hated his stinking guts.
Yeeouch. Bowling Green? Low blow, coach. So low in fact, that Jaguars coaches were reportedly discussing a walk-out at the end of the season, and some had already accepted jobs elsewhere (literally anywhere else).
Then finally, was the Marvin Jones detente, with the Jacksonville Jaguars receiver acknowledging earlier reports on Wednesday that he and Urban Meyer had a pyrotechnic blow-up, which lead to Jones storming off the Jags campus. "We handled it like grown men," Jones said, probably giving Meyer more credit than he deserved.
Jones wasn't the only player popping champagne on Thursday, however. At least not according to NFL Network's Mike Garafolo, who capped the Urban Meyer era in Jacksonville with one final anecdote on Good Morning Football.
Peace out, Urban. Don't let the door hit ya.