The Loop
Update: All the sports news is bad again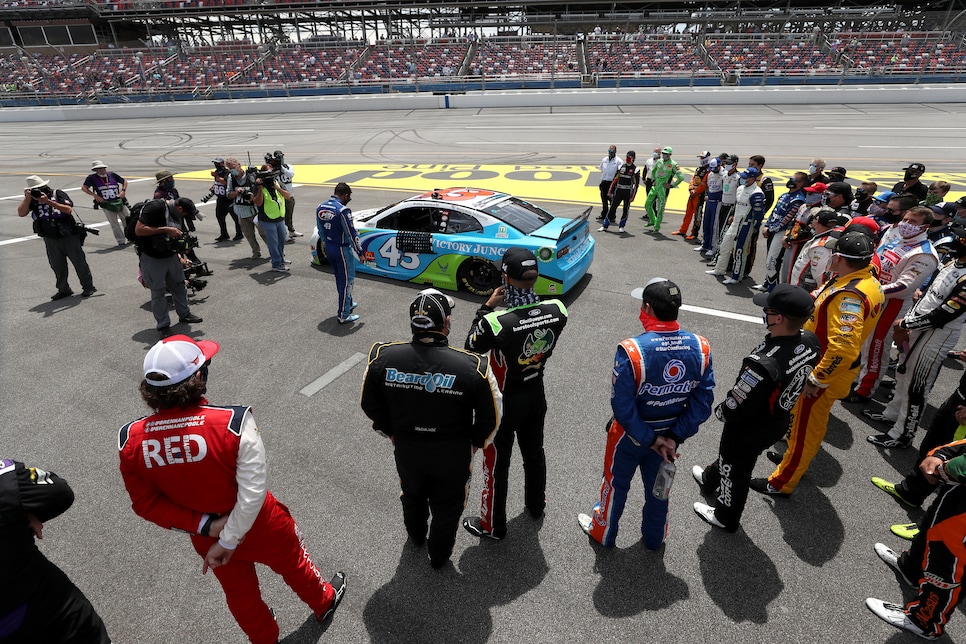 Eagles tight end Dallas Goedert got sucker punched and knocked unconscious at a bar. Someone left a noose in the garage of Bubba Wallace, NASCAR's only black full-time driver. Someone else flew a "White Lives Matter" banner over an English soccer match. And that's just in the non-corona category. Venture into the realm of the virus, and....well, where to begin? People are testing positive for COVID-19 from college football to golf to soccer. The Ryder Cup is probably going to be postponed. The NBA resumption is being threatened because of a (very predictable) spike in Florida, and some players are opting out already. Major League Baseball is still fighting, and all the training camps have been shut down because of a rash of outbreaks. Women's soccer teams are withdrawing from key competitions. In men's tennis, players like Grigor Dimitrov, Borna Coric, and even world no. 1 Novak Djokovic have tested positive. Even exhibition tournaments that I probably wouldn't watch are being threatened.
When there's good news, it's tentative. Some sports, like soccer and golf, are back. The PGA Championship just got approval to play in San Francisco, albeit without fans. Tennis is coming back in August. But as each one of us can feel deep in our bones, everything that's yet to come is in jeopardy, and everything that has returned can easily be taken away again. I won't even say "I hate to be the bearer of bad news," because I'm not; the bad news is in the ether.
This was always the risk with coming back too early, if indeed we are too early. Losing sports once—and our economy, and everything else—is bad, but losing it twice would be devastating. Needless to say, it also makes the road to true recovery longer. We're seeing it now in states that have re-opened for business, where in many cases, COVID-19 is at worse levels than the alleged peak back in early April. Those places haven't just jumped the gun; they've extended the curve, and further delayed the time when it's truly safe to begin again. Worse, there's now an incentive to keep going at all costs, since retreating would be disastrous on a few different levels.
You can't blame sports, since it's only reflecting society, but the two run on parallel lines. Society is vastly more important than sports, but that doesn't mean the two are independent. Sports can't be an escape anymore, if it ever was, and it can't exist outside the rest of life. In 2020, our games are only as good as our culture, and when the news is bad on the bigger scale, it's inevitably going to trickle down.
Good Sports News of the Week: The First NBA Team is in Orlando
I won't lie to you—I want the NBA back, and I want it bad. So even knowing that it could still be wrenched away, it was with great joy that I read about the Raptors arriving in Florida. They had to get there a little earlier to quarantine, since they're Canadian, and now boots are on the ground. And speaking of military metaphors, this made me laugh:
As FreeDarko noted, it sounds like an imminent invasion. And maybe it is! The Raptors are defending champs, Kawhi or no Kawhi, and they're sitting pretty at second in the east. We may regret not shooting them down when they crossed the border.
Tough Act to Follow of the Week: The Three Antetokounmpo Brothers
Giannas, Thanasis, and Kostas Antetokounmpo play, respectively, for the Bucks, Bucks, and Lakers. But did you know there's a fourth brother? It's true! His name is Alex, he's the youngest, he just graduated high school, and he's going to play in Spain. He was a solid high school player who averaged 20 points and seven boards and had a few offers from mid-level D-1 schools. Most normal people would kill to be that good. Instead, he's the least of his family. Some of the quotes from that story are rough:
"I don't really believe in pressure like that but it's definitely a lot of expectations on you and being the baby brother, it's a lot of being told what to do a lot of the times but you've just got to take the criticism and move on."
Or this one, from Giannis:
"I'll tell you one thing. It's hard to be Alex. It's hard to have three brothers get drafted. He wants to get drafted but he's got to get better every daY...there's going to be other days where he's playing well like today, and we've got to find things to tell him that he sucks like 'your hands are down on defense.'"
You read that right: His older NBA brothers are going to find ways to tell him he sucks when he's had a good day. Now, Giannis' larger point is about keeping him humble, or something, but my God, being the fourth Antetokounmpo brother is definitely equal parts blessing and curse.
Restart Juggernauts of the Week: Manchester City
It's a good thing Liverpool has an insurmountable lead in the EPL, and that there's no such thing as playoffs, because Man City looks amazing. Watch them drop five on Burnley: