The Loop
Marty Smith's five-minute destruction of the trash human who hung a noose in Bubba Wallace's garage is mandatory viewing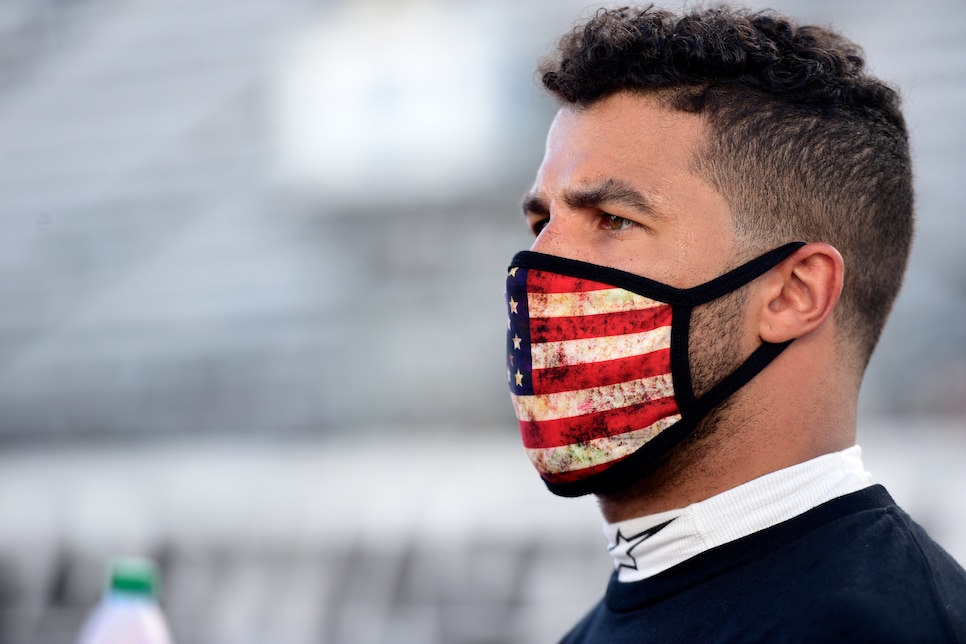 NASCAR had a rough weekend. Just before the green flag at Talladega Superspeedway on Sunday, a lightning storm swept through central Alabama, bumping the circuit's second biggest race to a Monday finish. And that's not even close to half of it. In fact, an almighty smiting was exactly what the charade deserved after Bubba Wallace—NASCAR's only black driver, who recently showed support for social justice in America by getting behind the wheel of the no. 43 #BlackLivesMatter car—found a noose hanging in his garage late Sunday night.
This should have been the biggest sports story of the weekend. It should probably be the biggest sports story of 2020. With no disrespect to coronavirus, sporting events have been cancelled for far less this year. Even LeBron, who has been criticized recently for his relative passiveness, stood up and said something.
But while LeBron's words were poignant and IMPORTANT because they came from a black man who understands this sort of despicable persecution first hand, perhaps the strongest message of condemnation came from ESPN's resident drawl guy, Marty Smith. Shortly after the news broke, Smith joined Sportscenter at Night with Scott Van Pelt shortly to deliver a five-minute fire-bombing of the senseless, brainless, d*ck-less dumpster fire of a human (if you even want to call them that) who hung the racist death threat in Wallace's garage, and if you're even tangentially fan of sports and/or human decency, it is mandatory viewing.
Marty Smith is nicknamed the "Marty Party" for a reason. A crawdad eating contest at an SEC football game? Send Marty. An interview from the passenger seat of a 900-horsepower stock car while it whizzes around at 175 miles an hour? Marty again. These things, fun things, are what Smith has always excelled at it, so watching him choke back tears and f-bombs on live TV says about all you need to know. Playtime is over in this country, especially if Wallace finds this inbred cockroach with a tire iron before NASCAR does.
Unfortunately that wasn't quite all for the poor folks at NASCAR PR. Hours before Wallace discovered the noose in his garage and less than two weeks after NASCAR banned Confederate Flags and memorabilia at all races, some equally oatmeal-brained knuckle draggers decided to make a statement of their own at Talladega on Sunday.
Like we said, a bad weekend for NASCAR across the board, but it's better to drag the sport into the modern world kicking and screaming than not drag it at all. Especially if we can kick back along the way.