Mic drop
Tyrrell Hatton has an idea for how he could be mic'd up for TV without it becoming too NSFW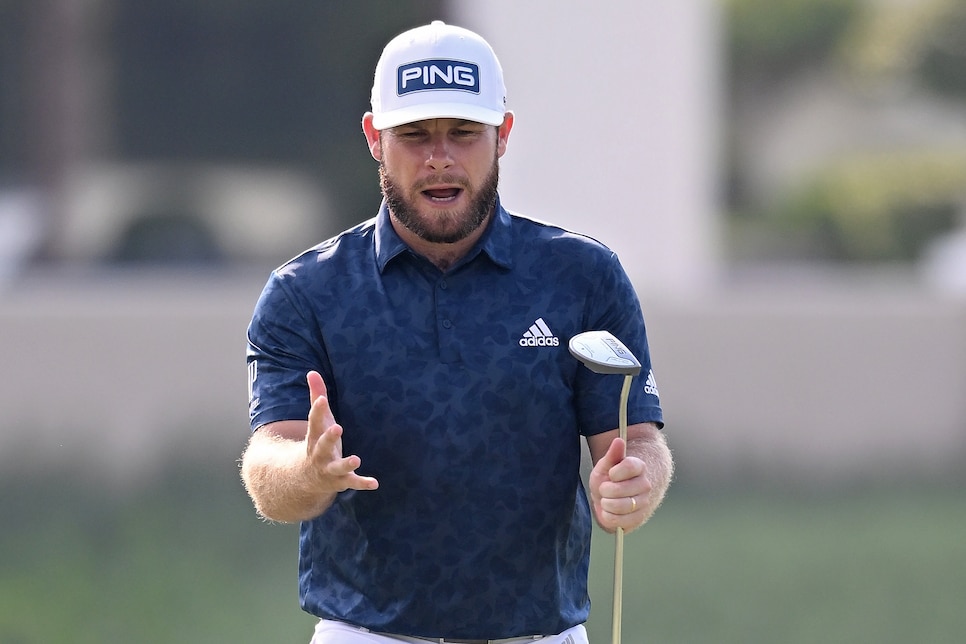 The reactions Tyrrell Hatton has on the golf course are often hilarious.
Ross Kinnaird
PACIFIC PALISADES, Calif. — Hey CBS, the golf world is waiting. We know you must have thought about it. You've weighed the pros and cons. You've consulted the people in the production truck who have their trigger finger hovering over the seven-second delay button. You created this monster and now it's time to truly feed it.
So we ask the question: When is Tyrrell Hatton going to get his turn at being mic'd up during a live broadcast?
It can be said that the network has taken the safe (albeit entertaining) route so far by choosing Max Homa at the Farmers Insurance Open, Keith Mitchell at the AT&T Pebble Beach Pro-Am and Tom Kim at the WM Phoenix Open to do a one-hole walk and talk to test out the new segment on its broadcasts. They are popular guys, plenty chatty and all had rather informative appearances. By all appearances, it's a been a big hit. But how long before we get a little bored with the banter and need a bleeped-out F-bomb here or there to spice things up?
That's where Hatton comes in. If Jordan Spieth is the master of talking to his ball, Hatton is the king of speaking to no one in particular and being hilarious doing it. There's a full 10-minute video on YouTube produced by the DP World Tour that has snippet after snippet of the 31-year-old Englishman's dry reactions to mostly bad shots that sometimes go with the most artful nonchalant club tosses you'll ever witness.
"Have you seen a worse golf shot?"
"That is one of the worst putts you will ever see."
"That was so close to being so good, and now it's sh---e."
"That's the most disgusting thing I've seen in a while."
"That deserves to plug and never be seen again."
The most endearing part about Hatton's self-flagellation is that he mostly seems to do it with a smile on his face and in a tone of voice as gentle as someone reading a bedtime story. That makes him the world's jolliest angry golfer. Thus, there's a small but growing legion of fans out there who want to see Hatton get the full mic'd up treatment.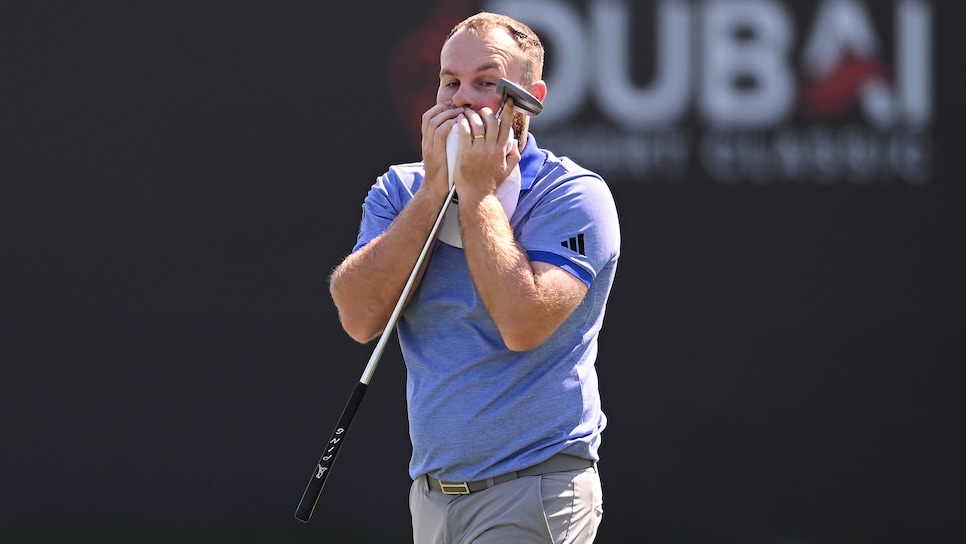 Tyrell Hatton of England reacts on the 18th green during the third round of the 2023 Hero Dubai Desert Classic.
Ross Kinnaird
We posed that question to Hatton, the 24th-ranked player in the world, in Culver City on Monday night while he attended a party thrown by Adidas to introduce its new shoe and clothing line. Hatton is competing in the Genesis Invitational at Riviera this week and coming off a T-6 in Scottsdale. He was casually dressed and wearing bright white Stan Smith tennis shoes, and he's as affable and soft-spoken off the course as he is demonstrative on it.
His reaction to the mic query was a bit surprising. It was like he'd never considered it.
"I don't know," he said hesitantly. "It would be hard. Sometimes you're kind of talking without thinking … then you might hit a bad shot and something slips out. That's always not going to go down particularly well."
But, see, that's the point. He'd know that he had a live mic on and could be prepared for it.
Hatton frowned and shook his head. "Then you're treading on eggshells and you're not yourself," he said. "I don't think that's fair for me, because I'm trying to play the best golf I can.
"Unless I'm a little between clubs and a little uncomfortable, I keep things very simple in that sense. So I don't want to try to talk about a golf shot and overcomplicate it just for people watching at home. I don't know that I'd be a good person in that sense."
That does remind us that these guys are indeed playing for millions of dollars and every shot counts.
So, unfortunately and despite our lobbying, it looks like Hatton is probably going to take a pass on the mic'd up thing. Though he's the one who came up with a far better idea anyway.
"Maybe if they mic me up for a whole round and bleeped out some of the stuff they don't want to hear, then that might go down a bit better," he said with a grin.
As long as the seven-second delay person doesn't take a nap, right?
"Me and him would become friends," Hatton said.
And there you go: the very reason why Hatton should always be mic'd up.