Tiger Watch
Tiger Woods hints that the end for him competing in the Masters might come sooner than anyone hopes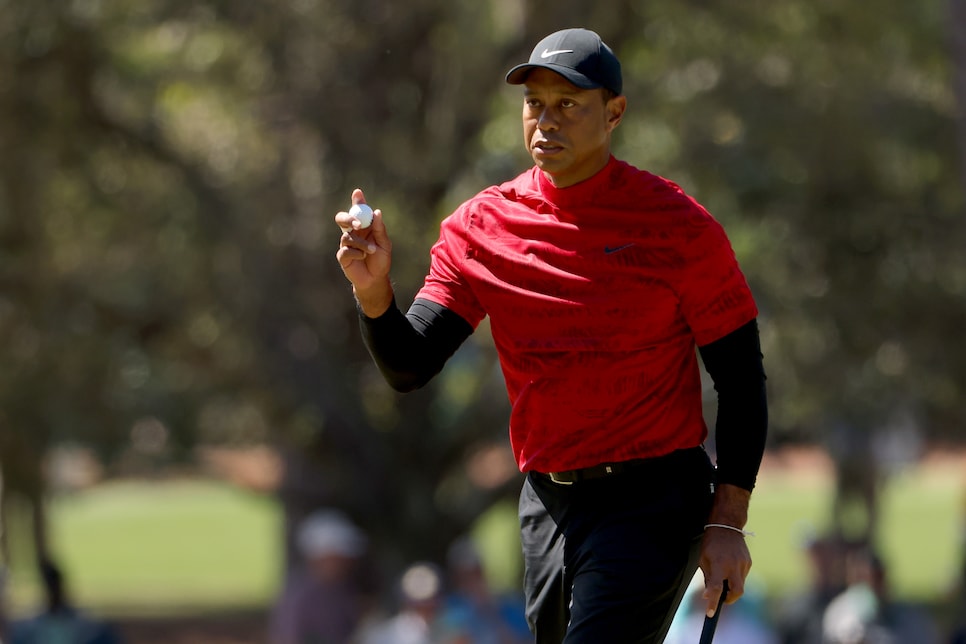 Tiger Woods reacts after making par on the third green during the final round of the 2022 Masters.
Jamie Squire
PACIFIC PALISADES, Calif. — Tiger Woods can rattle off some of the more incredible longevity milestones in golf. "My hero, Arnold Palmer, hell, he played in 50 straight Masters. Fifty straight. I'm not even 50 years old yet," Woods marveled on Tuesday in his press conference at the Genesis Invitational.
He also mentioned Gary Player starting in 51 Masters—though he was off by one. The actual number is 52, which is the record at the tournament that has allowed past champions to continue to play long after their prime. That produced a natural follow up about if Woods might reach that plateau, though the question wasn't fully out of the reporter's mouth before Woods interrupted.
"Nope, nope, I'm not playing that many, sorry," Woods said emphatically.
"I have not come around to the idea of being … if I'm playing, I play to win," he added. "I know that players have played, and they are ambassadors of the game and try to grow the game. … I can't wrap my mind around that as a competitor."
At 47 years old, Woods has played in 23 Masters and won five of them—the last coming in spectacular fashion in 2019. To reach Player's record, he'd have to play every year from now until he's 76 years old. Player was 73 when he played his last Masters in 2009 and became one of Augusta's honorary starters in 2012. But the South African also is golf's original fitness nut who has kept himself in incredible shape. Woods hasn't had that choice, overcoming numerous life- and career-changing surgeries to his legs and back due to athletic injuries and his 2021 car crash.
"There will come a point in time when my body will not allow me to do that [compete at Augusta] anymore, and it's probably sooner rather than later," Woods said. "But wrapping my ahead around that transition and being the ambassador role and just trying to be out here with the guys—no, that's not in my DNA."
For now, at least, Woods can point to his Masters record as a reason to believe. He hasn't missed a cut there as a professonal, and last year, while coming back from his car accident and playing for the first time in an official event in more than 17 months, he tied for 38th.
"Ambassador role in hosting events like this, in hosting the Genesis Invitational or the Hero, doing those type of things, I totally get it," Woods said. "But as a player, I flip the hat around and become a player, and from a player standpoint, I'm here to get that W."