Save some for the rest of us
You might not believe how one golfer aced the same hole in consecutive rounds at a top-100 course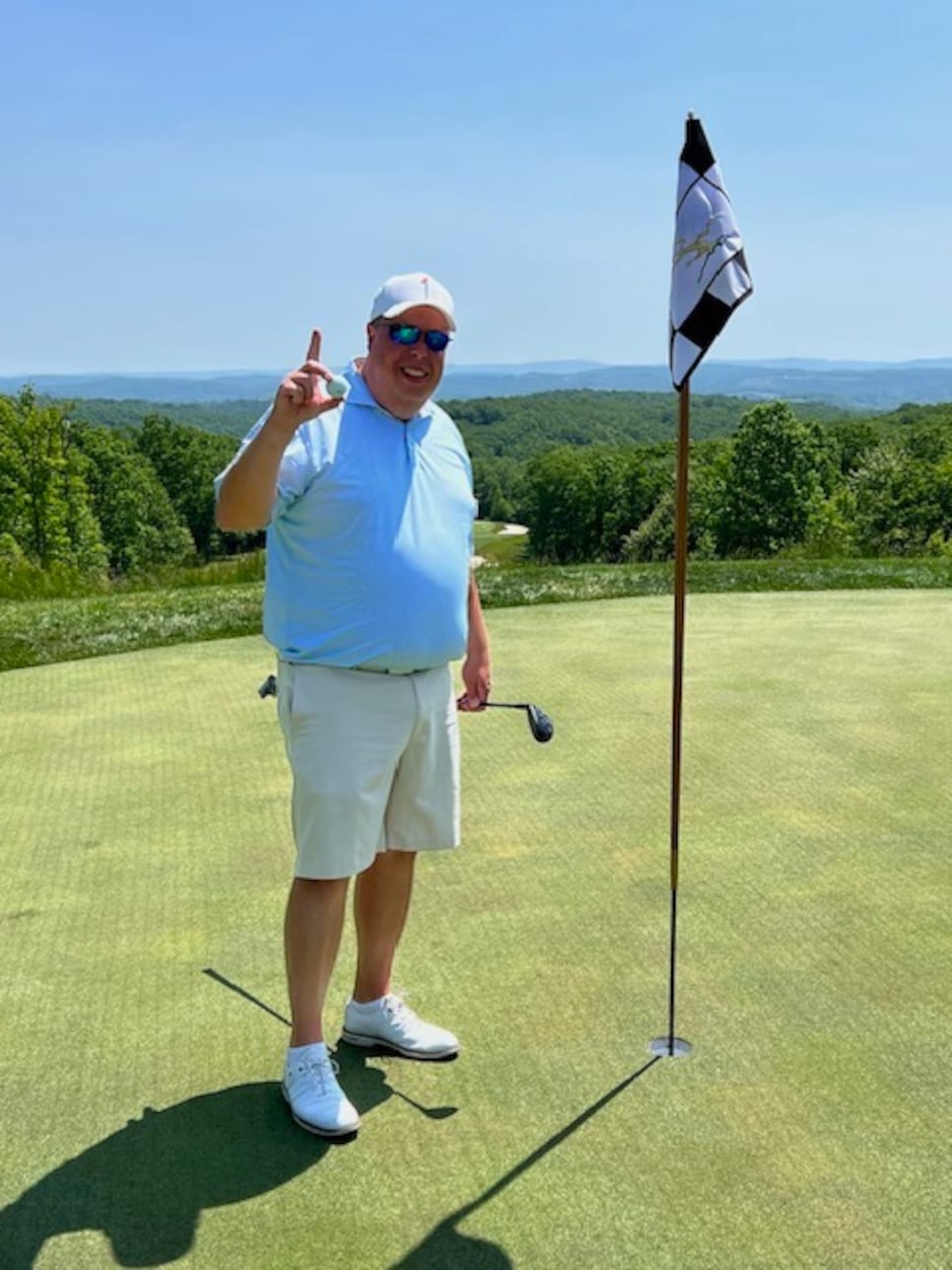 Rob Klune is a surgeon. It follows, then, that the 3-handicap from Annapolis, Md., is adept with his straight-faced long irons. Trading a scalpel for golf's sharpest tool—a 3-iron—Klune is in his element.
Turns out, it's impossible to be more proficient with a 3-iron. Klune's story about his ace on a morning in May 2021 on the long par-3 third hole at Pikewood National Golf Club is Morgantown, W.Va., is amazing enough—but even more so when you hear about how he followed that up.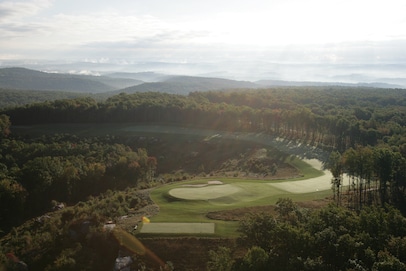 In 2000, mining company officers John Raese and Bob Gwynne started building a golf course on a newly acquired parcel of forest that their firm will eventually—a hundred years from now—mine for high quality limestone. Using company engineers and construction equipment, and guidance by veteran tour pros Johnny Pott and Dow Finsterwald, they spent almost a decade creating Pikewood National. A natural waterfall became the backdrop for their par-3 fifth hole and the linchpin of their routing, which plays along bluffs, through forest over rapids and, on the hook-shaped par-5 eighth, around a gulch.
View Course
"In the afternoon round, as we're walking off the green, the caddie says that this is the only par 3 here that's never had a hole-in-one," Klune says.
Makes sense. The brute is 228 yards on the card and plays slightly downhill to a long bottleneck green that drops off into bunkers on each side. Klune opted for his 3-iron the next morning when the pin was in the front left.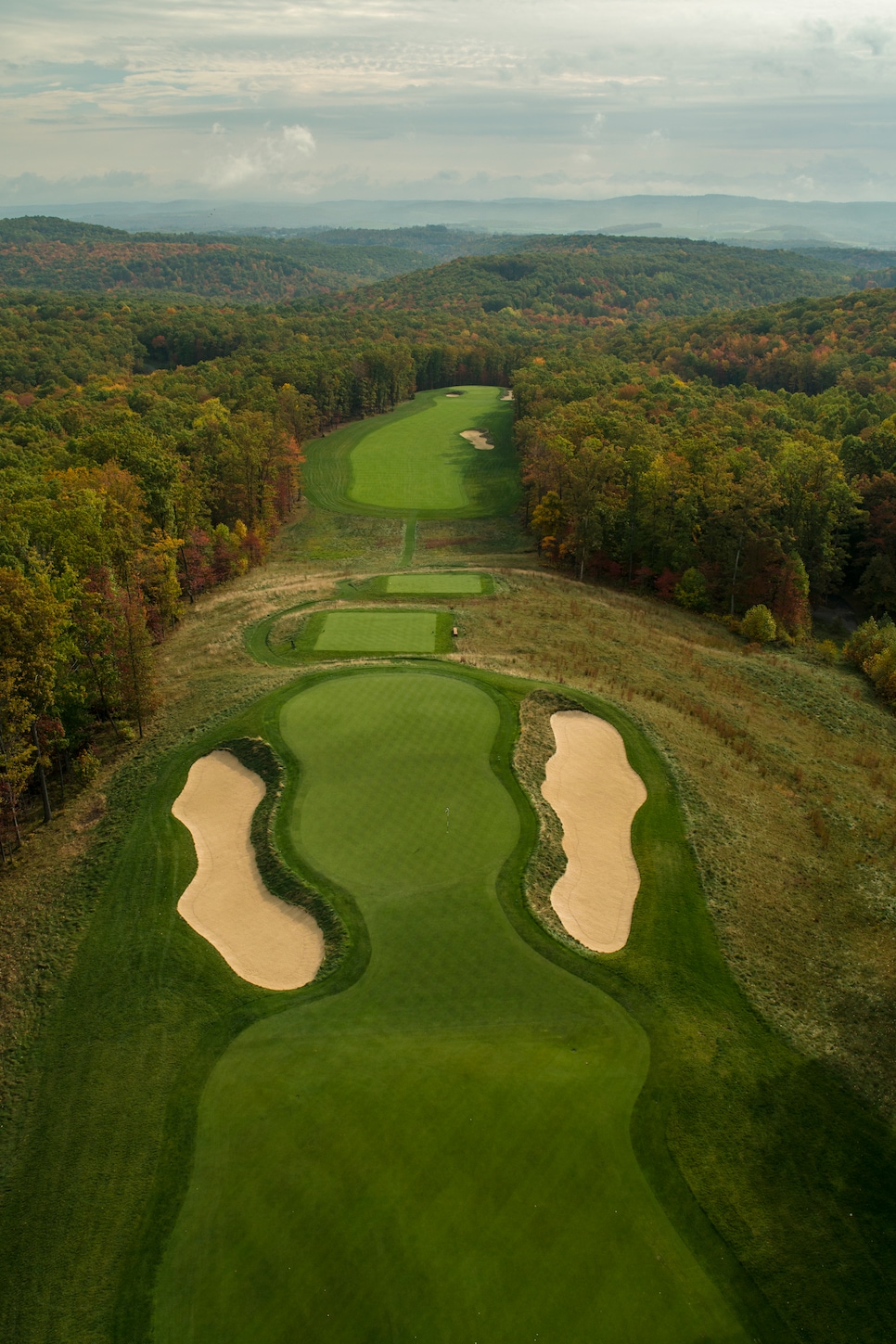 The third green at Pikewood National Golf Club in Morgantown, West Virginia.
Joann Dost
"I hit a great shot—it rolls in. Hole-in-one. I couldn't believe it," Klune says in a nonchalant manner as he recalls his first-ever hole-in-one. Klune's friend Todd Pratt, who wasn't at Pikewood to witness, couldn't believe it either.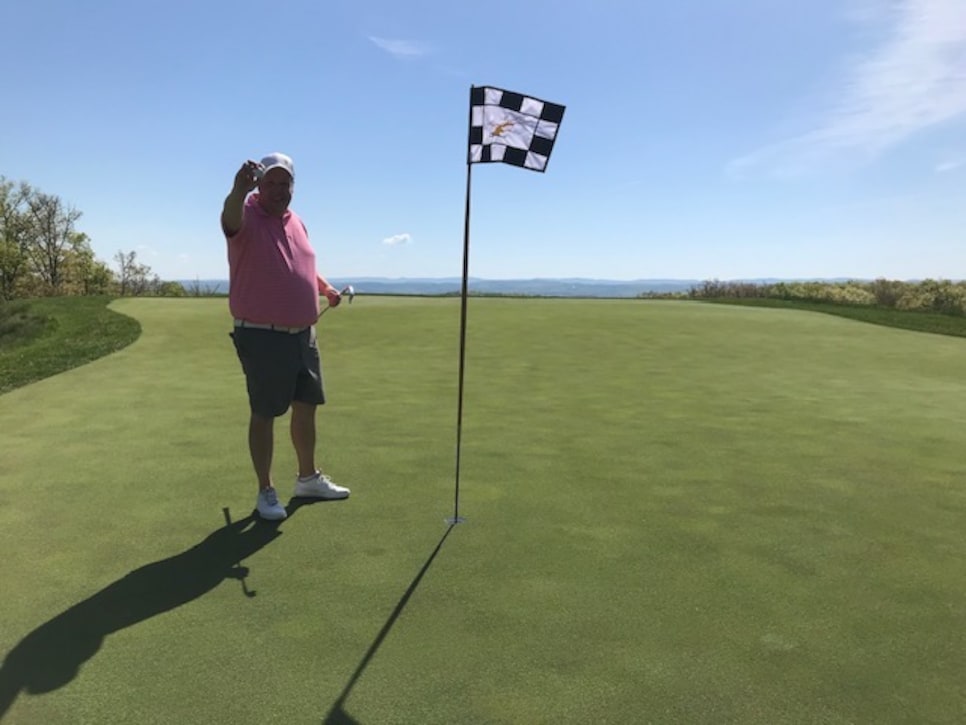 Klune celebrating his first hole-in-one in May 2021 at Pikewood National's third hole.
"My buddy Pratt had played out there, not with me but in the interim," Klune says. "After he saw the hole, he gave me some good-natured ribbing of like, 'There's no chance you hole-in-one'd that hole. That's too hard of a hole. That didn't happen.'"
Doubting Todd would get his proof a couple years later, when in late May 2023, he, Klune and six others took a trip back up to Pikewood. When Klune returned almost two years to the day of his ace, reports were that it was still the only hole-in-one ever made on the third. With the pin now in the back of the long green, the hole was playing all of its 226 yards, and Klune took out a hybrid, thinking, "I just want to hit the green. It's a tough hole," he says.
"Right before I hit it, Pratt says, 'Hey, not sure you're actually gonna do it again just to prove it,' or something like that," Klune says. "The pin was in the back left. I hit a great shot, and it hit the green and rolled in."
Two holes-in-one on the same hole in two consecutive rounds, almost exactly two years apart. They are Klune's only two holes-in-one and the only two ever made on that hole.
"I had a hard time believing it," Klune says of the moment his second ace dropped. In neither instance was he or anyone on the tee able to see them go in. Given it's a long hole and the sun often sits at a low angle behind the green, the caddies stand greenside to watch where the balls end up.
The first time, the forecaddie "flipped out," and everyone knew immediately after. The second time, however, "he kind of half-celebrated and then stopped, so we were kind of like, What happened? At some point then, he walks to the back of the green, looks down, and then waves his hands in the air," Klune says.
The reaction from the group was equal parts celebration and disbelief. "I think everyone in the group was kind of like, Wait, what just happened," he says.
As for which ace was his favorite, Klune, as if debating whether to admit his favorite child, pauses.
"No, they're both incredible memories to have, obviously, but I can't say that one was better than the other," he says diplomatically. "It's a fun story to think about: To have played the hole four times total and have two holes-in-one is kind of fun."
We'll say. Our only request is that the cameras are rolling next May, when Klune hopes to get back to Pikewood—invite permitting—to try for three in a row. Something tells us he'll have no issue getting the return invite. After all, when Klune shows up, drinks are free.