The Y--s
Pro stunningly admits he's been fighting the Y word all year: 'The hardest battle I've ever faced'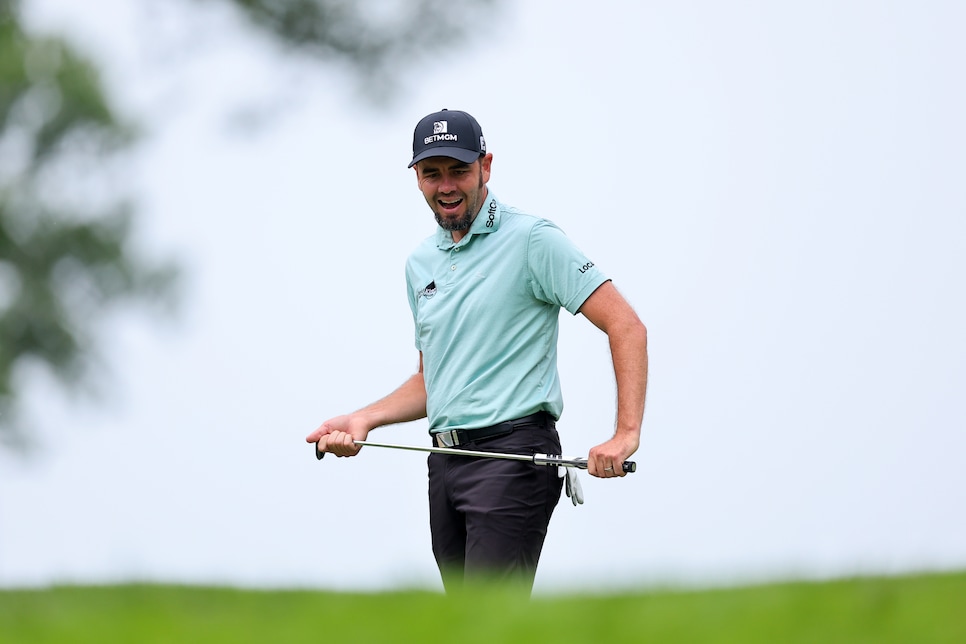 Despite not posting a victory, the last two seasons prior to this one were two of the best of Troy Merritt's career. He made over $1.8 million on the course in both 2020-'21 and 2021-'22, just shy of his career-high of $2,092,669 in 2014-'15. It stood to reason that a third PGA Tour win was on the horizon this season for the two-time tour winner given how close he was getting.
That win nearly came late in the fall, Merritt tying for third at the World Wide Technology Championship. But he's since fallen off a cliff, the 37-year-old missing 15 out of his next 17 cuts including a brutal stretch of 14 in a row, not counting his T-13 in the Zurich Classic of New Orleans, a team event he paired up with Robert Streb in. As a solo act, 2023 has been downright dreadful to the tour veteran.
While he's been noticeably worse in every major statistical area this year compared to the last two, it's been the putting numbers that have been the most shocking. The flat stick is normally one of, if not the, best clubs in his bag, with Merritt ranking inside the top 52 on tour in strokes-gained/putting in each of the last three seasons. As Merritt explained on Twitter on Friday evening, the putter hasn't really been in issue his entire life.
But it's been a major issue in 2023 because of ... gulp ... the dreaded Y word, a disease Merritt admitted, stunningly, has been plagued with of late. That explains everything.
Deep down, a small part of all of us who play this maddening sport probably thinks the yips are a myth, too. But once they come for you (hopefully never), your opinion changes quickly. Pretty wild for a tour pro to admit this mid-season. The Y-word is usually something you don't even say out loud, hence why we used Y-word in the headline. And here's Merritt just admitting he's got the Y-word.
The worst of it appears to have come at the Travelers Championship, where Merritt lost a staggering 7.5 strokes on the greens, an amount he's only exceeded once in his career in a measured event, per Fantasy National. Merritt lost 7.8 strokes putting at the 2010 Wells Fargo, which was so long ago that it was called the Quail Hollow Championship then.
Fortunately, Merritt is starting to see a tiny spec of light at the end of the tunnel. He still lost 2.4 strokes putting a week ago at the Rocket Mortgage Classic, but managed a T-17 finish, his best since November. He made his second straight cut this week at the John Deere Classic, where he currently sits inside the top 40 while still losing over two strokes putting (so far). The problem isn't going away any time soon, but he's working through it as best he can.
Making it all the more confounding is the fact it's only occurring in tournament rounds, thus threatening the man's livelihood. Merritt calls it "the hardest battle I've ever faced."
Brutal. As if the yips alone weren't enough of a mental hurdle, Merritt is only exempt on tour through the end of this season, and he's currently 133rd in the FedEx Cup standings. He's got a lot of work to do and very little time to do it. Here's hoping he can figure it out soon.