FIRE PIT COLLECTIVE
A tribute to a friend heading into the Barracuda Championship
Editor's Note: This article first appeared in Fire Pit Collective, a Golf Digest content partner.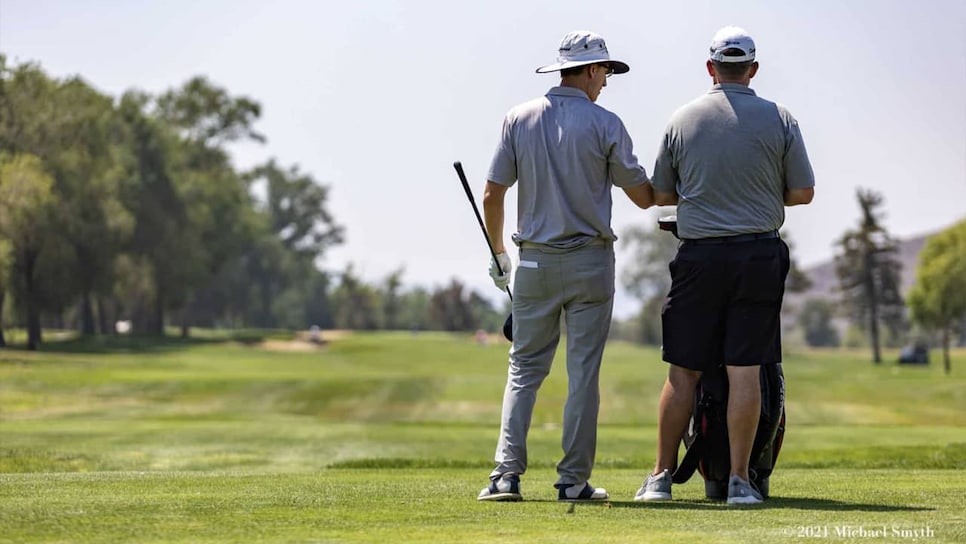 TRUCKEE, Calif. — Mark Baldwin is 38. He is married with a 2-year-old son. Status might be the most important word in professional golf. Well, Mark doesn't have any. He has played professionally around the world—in Japan, Korea, China, Canada, Australia and most places in between. And now we are back here for the Barracuda Championship, the site of the most remarkable experience I've had in golf. This week might signal the end of a career. Or it might be the jump-start of one. Before the tournament begins, I want to thank a friend. The best way I know how is with a series of vignettes.
• Last Friday, my family and I celebrated the 9th birthday of our daughter, Annie. I will be on the road when her birthday rolls around, so we pushed the party date up. As any 9-year-old would, Annie was ecstatic about the getting presents early. But my dad, who has dementia, was having a bad day. He was irritable and standoffish. Dementia has robbed him of the ability to be appropriate or independent. But that is hard for a 9-year-old to understand; rightfully so, she was angry. After the house had cleared out, I called Mark to talk about travel plans for this week. He asked how the party had gone, and I vented my frustrations and sadness for my dad, my daughter and me. Mark, as always, just listened. At the end of my rant, he said, "I'm sorry, man."
• It was 50 degrees and windy, and the rain was coming down sideways. Mark bogeyed three of the last four holes to miss the cut at a Korn Ferry event in Chicago in 2019. Miserable gets thrown around a lot in golf, but dinner that night was genuinely miserable. Mark called home to Arizona to tell his wife, Sarah, he had missed the cut, his fourth in a row. Sarah was struggling with health issues. There are so many low points in professional golf, but this was hard even for a longtime pro like Mark. I had only met him earlier in the week, yet there he was at dinner, answering questions for the article he knew I was writing. His responses were enlightening and honest, as they always are.
• What can I say about the week that I haven't already? Pebble Beach. Pebble Beach! Fluff Cowan, Peter Jacobsen and Steve Young, along with some of the best courses in the world. It was unreal. And I was alongside for every step of the ride. There are many memories from that week, but the putt at the last hole on Saturday was so special. With a three-course rotation, the cut at the AT&T comes on Saturday, and we hovered around it for most of the day until a late-round surge at Monterey Peninsula. On our 18th hole, Mark had a 40-foot birdie putt; with the cut in hand, we were in a great mood. Jacobsen, playing in his final PGA Tour event, was cheering for us; Young, the Hall of Fame quarterback, too. Mark drained it. This image will be a lasting memory of that week for me.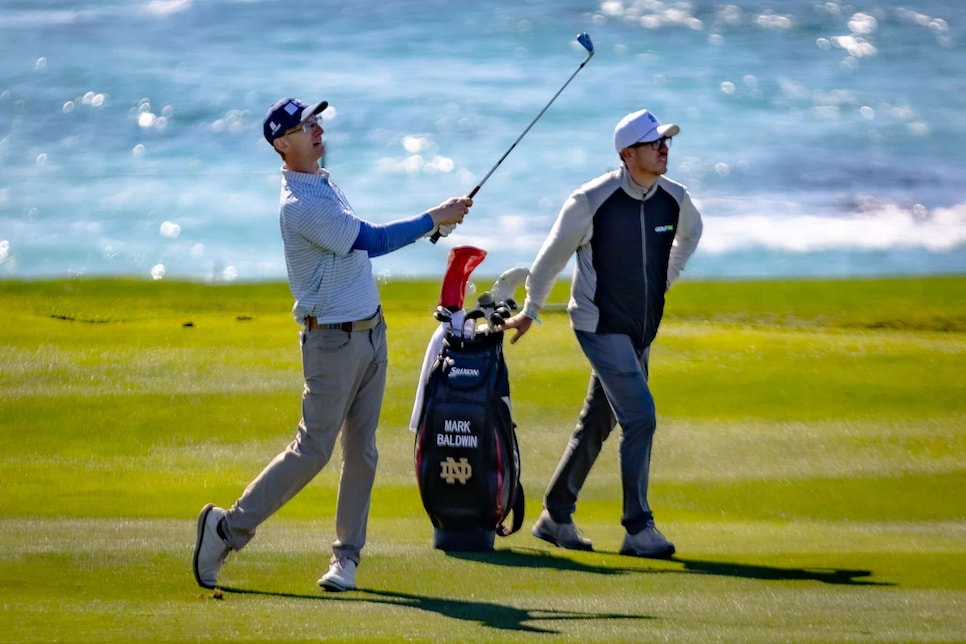 • It all began about a year ago. Mark was far down the Korn Ferry Tour points list, so he decided to play the last few PGA Tour Monday qualifiers. "I have to win somewhere to keep my card," he said. "It might as well be on the PGA Tour." He targeted the Barracuda. He had planned to come in early on Sunday for a practice round, but Sarah was sick, so he delayed his flight until the evening. He landed in Reno, Nev., around 1 a.m. and got to sleep about 2:30. With a tee time just six hours away, his chances for qualifying seemed minuscule. I was on the bag.
Mark birdied three of the last four holes, signed for a 65 and won in a playoff. We broke into a celebration on the green. After countless attempts over more than a decade, he was going to tee it up in a PGA Tour event. He called Sarah to share the great news. As we walked back to the clubhouse, I told Mark he should take a professional caddie for the Barracuda. I had never caddied on the PGA Tour. "No way," came the quick reply.
• Sunday at the Barracuda was a struggle, and we misjudged some winds that cost Mark a few strokes. I felt terrible. Mark had an opportunity for a career-changing day. This wasn't the time to be making mistakes. I still think about it a lot. After the round, I apologized. Mark put his hand on my shoulder and said, "I was there too, man. We made a mistake, but if it weren't for you, I wouldn't have been here, so forget about it. It was an amazing week."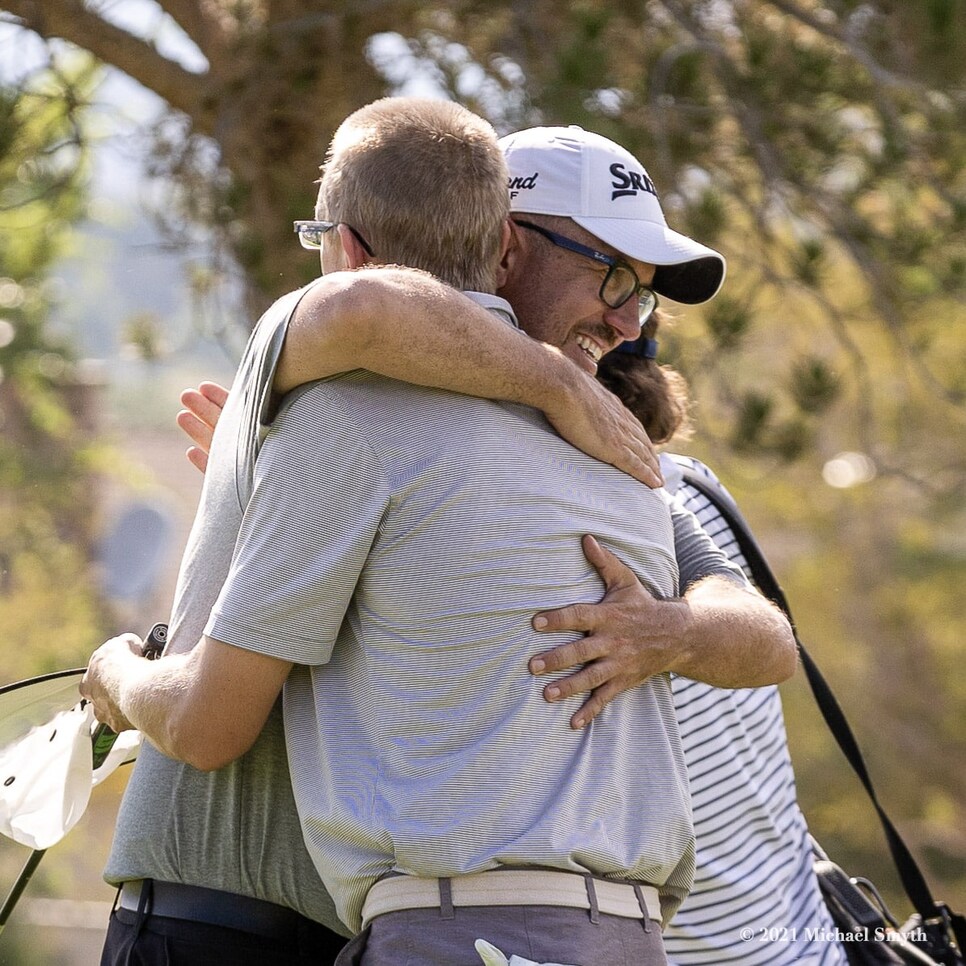 Now we are back in the field, thanks to the good folks at the Barracuda Championship, who months ago gave Mark a coveted sponsor's exemption. It will be just my third PGA Tour event as a caddie, and I will soak up every second. But there is nothing like that first one. I'll never forget the buckets of range balls separated by brand and type. All shiny and new. The perfectly manicured range, the challenging course. The (stolen) caddie bib hangs in a frame with a flag Mark signed for me. It reads: "Thank you for a great week; the Barracuda will always be the fifth major."
Mark made the cut that week and finished T34, and the walk up 18 that Sunday is a moment I'll never forget. Mark turned to me and said, "I'm not sure when my career is going. This might be the end, but thanks for making this an amazing week." I thanked him and said no matter what, he would always be able to say that he made a cut on the PGA Tour. After a solid approach, he nailed a 15-foot, left-to-right breaker for a birdie. It was the perfect end to a dream week.
Where Mark Baldwin is in his career now feels eerily similar to last year. He knows he can play on the PGA Tour, but the rent and the car payment don't get paid with belief. With no status and bills that need to be paid, he is at yet another crossroads. Does he continue to grind? Or does he settle into a job at Fire Pit Collective where he can count on a regular paycheck?
Me? I just want to say thank you. Thank you, Mark, for giving me a chance to caddie for you at that Korn Ferry event. Thank you for taking me inside the hard times in golf; if I weren't on the bag that week in Chicago, I wouldn't have appreciated how much this game can sting. Thank you for having the faith in me to caddie in my first PGA Tour event. Thank you for Pebble Beach. Thank you for the Cuda.
But most of all, thank you, Mark, for the conversations and the phone calls that will never make it to Twitter or on a podcast. Thank you for listening as I've talked about my dad and how much I miss him. Thank you for being a great friend.
When we tee off on Thursday, I won't be thinking about an article or a podcast or a tweet I want to send out. I'll just help as much as I can and pull like crazy for a friend I desperately want to see make it on the PGA Tour.
Now let's go win the Cuda.